"Aimer ce que nous sommes", Exhibition by Eyes in Progress
21 members of today's French photographic scene will present their work as part of the "Aimer ce que nous sommes" exhibition, on Wednesday June 21, 2023 in Paris.
Valérie Fougeirol, independent curator and artistic director, has chosen to present their photographs around the notion of collective. The exhibition will begin with a fresco and a field of free expression at 32 rue Saint-Paul in the Marais district. This exhibition will also be nomadic, taking to the streets with a spontaneous display on one of the large walls of one of the adjoining streets. These posters will echo the photographs exhibited in the fresco, and will also be folded into a collective artists' edition.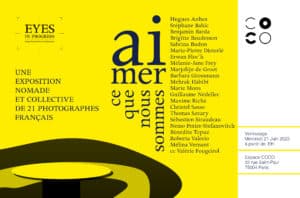 For more information: Eyes in Progress