You can choose not to read a text, but once you've seen an image, it's in your memory forever, whether you like it or not. And even if you think you've forgotten it, it can turn into something else. In desires, in aspirations, in an understanding of the world… At least that's what photographer Anastasia Samoylova believes. Through photography, she questions the influence of images in the public space and, by extension, the consumerism in which we live.
Originally from Russia, the photographer planned to study politics there. But her hopes of democracy were soon dashed by her country's pervasive authoritarianism. After studying environmental design and architecture, she flew to the United States for her Master of Fine Arts. At the crossroads of architectural and documentary photography, she is inspired by the work of Walker Evans, Berenice Abbott and Luigi Ghirri, whose images capture observations rather than moments of action. Her photographic work questions the space that surrounds us, the places where we live, build and travel. 
For the first time, Anastasia Samoylova is exhibiting her work in France, at Paris Photo. Dot Fiftyone Gallery is exhibiting a selection of photos from her "Image Cities" project, also published in book form. Through an exploration of 17 of the world's most influential cities, including New York, Paris, London, Zurich, Tokyo and Milan, she reveals the increasing domination of corporations over the world. Her compositions create a dialogue between fiction and reality, poeticizing the public images that saturate the surfaces of these metropolises.
For Blind, the artist talks about her Image Cities project, the standardization of modern cities and the relationship between city and creativity as a woman street photographer.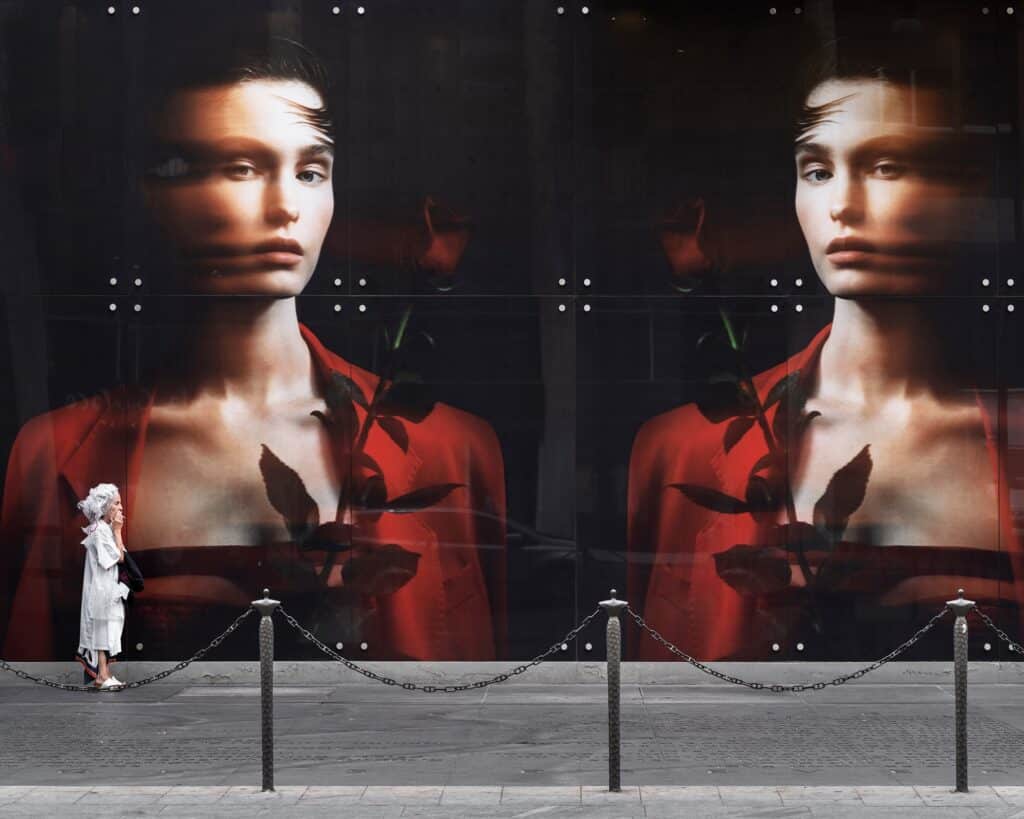 Tell me about Image Cities. When did you start this series? What triggered it?
I've been working on this project for a year and a half, maybe two years. The project was inspired by a French film I love, Jacques Tati's Playtime. In the film, there's a scene in a tourist office, with posters of extraordinary cities from all over the world. The 1960s saw a massive boom in the minimal, scaled-down, glass-and-steel architecture we know today.
Like all art masterpieces, this film really predicts our contemporary experience of a globalized world. We have massive, global brands, dominating style in fashion, architecture, phone design…In every major city, you see the same advertisements, sometimes occupying the entire facade of the building. When I was traveling for this project, I sometimes even forgot which city I was in. They're starting to blend in.
You've photographed 17 of the world's most influential cities, including New York, Paris, Tokyo and Milan. In these highly urbanized cities, the urban landscape is constantly changing. Do you think your photos will have a place as a memory of what the city was like at a given time?
Yes, I do. And that's the best thing about photography, isn't it? It's never just art, it's always a record of the moment. What's more, I love it when people from very different backgrounds look at my work and interpret it in their own way. An architect will get something different out of it than a fashion designer or an advertising executive. There are many facets to this work.
The composition of your photos is very elaborate, with double exposures reminiscent of collage. What technique do you use?
I use a very unusual camera, even for a documentary. It's a medium-format telephoto lens with a very long focal length, around 110. This allows me to really flatten out the space. I don't have a tripod, I do a lot of hand-held photography. They're all snapshots. None of them are collages: it's an art of selection. In this sense, it's also close to Henri Cartier Bresson and the "decisive moment".
First of all, it's the composition that counts; I find the geometry of the image, like the architectural lines of a theatrical set. Then I wait for people to pass through the urban landscape. Most of the time, they know I'm photographing them and give me their contact details. So there's an exchange, a connection.
The motif of women in the city recurs throughout the series. Is this a subject close to your heart as a woman photographer?
Women on their own is a very interesting concept, and a very recent one at that. It's a common thread running through all my work. In that sense, I draw inspiration from literature. There's an excellent book called Feminist City, written by Leslie Kern, which explains that historically, cities were designed by men and for men, and that women were essentially confined to the side of their apartment complex, or shopping malls. There were few other spaces for women. Even today, there are still very specific considerations for women. Rebecca Solnit, one of my favorite writers, asked the question, "What would you do if there were no more men in the world for one day?". And I immediately thought, "Oh my God, I can finally do night photography and not worry about a thing". So there are these considerations. Maybe with photography I'm trying to reclaim our space as women in the urban landscape.
The French word "flâneur" resonates with me in that sense. For a long time, there was no equivalent in English, at least not for women. So "flâneuse" is a very new idea. Previously, when a woman dawdled in the streets, she was considered a "fille de joie". While it's admirable to draw inspiration from urban landscapes and channel it into one's creative work, it has to be said that this pastime used to be reserved for the bourgeoisie. I want to break out of this framework and show the contemporary experience of life in metropolises, and image cities in particular.
Do you think these ubiquitous urban images change who we are or how we act?
Absolutely. I think visual culture is inseparable from everything else. For me, photography and art in general are just an extension of it. Visual communication is a thought process that is visualized. What I like about photography, especially documentary photography, is that it allows you to make up your own mind, while encouraging you to ask questions. That's the aim of my work.
So there's a political background to this photographic project?
Yes, there is. Photography has never been innocent. Photography often sells something. In "Image Cities", we see a lot of people on their phones. So what we see outside is also reflected on our screens. We're constantly inundated with images. There's this contrast between a normal person and all these idealized figures surrounding them.
And then, when you start paying attention, you get the impression – I don't have any statistics on this – that most advertising targets women. And not just fashion or cosmetics, much of the advertising for lifestyle, home, real estate, even cars, is now aimed at women. Women make many economic decisions, even if they don't earn as much as men.
That's why I have so many photos of reflections. You often find yourself in the reflection of all these perfect bodies, and for the most part, these are still very heteronormative, very traditional and outdated standards of beauty.
How do you think we can protect ourselves from this impact of images?
It's an important question because visual literacy, I think, needs to be taught now, from a very early age. I have a 13-year-old son, and the amount of images he looks at is impressive. We now know that this is a major problem for the mental health of young people, especially young girls. Sometimes these images are debunked, but there's still this prevailing view that they should be taken at face value.
So people continue to believe in the realism of these images, even though we know they are a distorted reality. We have to be very critical and attentive to photography. What I'm trying to do is reverse this idealized image and show the gigantic scale of these images, so that we are sometimes aware of where these ideas come from, what the standards of beauty are, how we should live, what we should want and what kind of lifestyle we should have.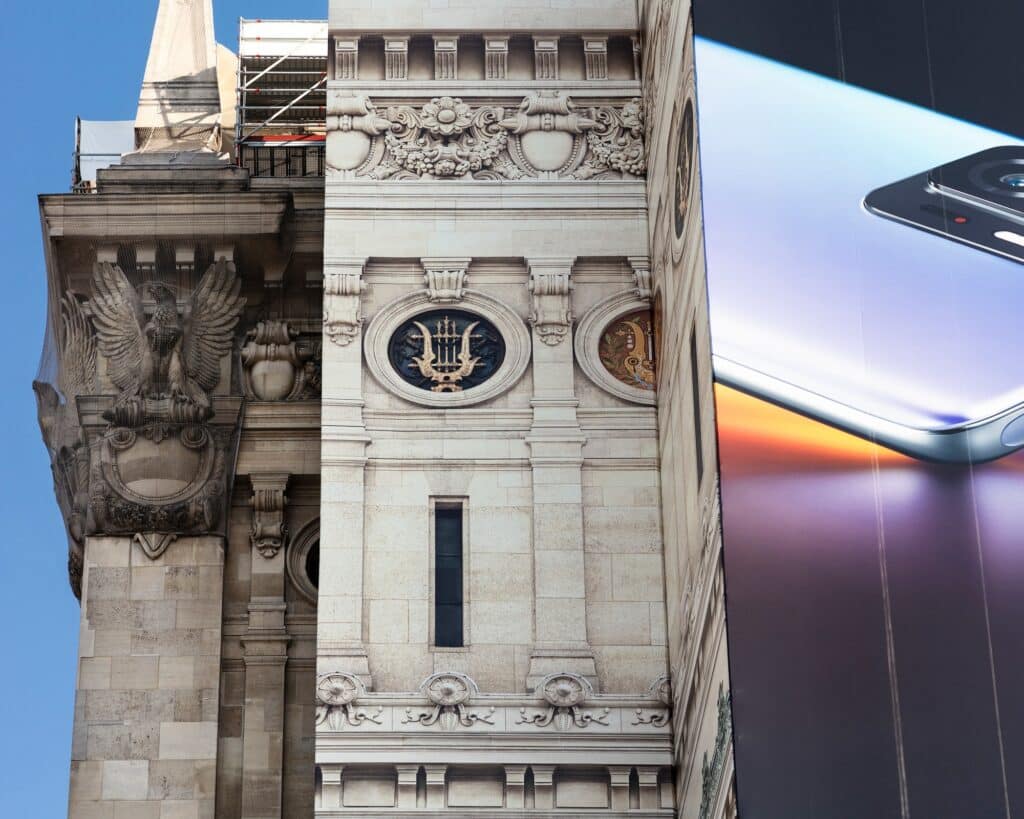 26th Paris Photo, Grand Palais Éphémère, Place Joffre, Paris 7e, November 9 to 12, 2023. "Image Cities" can be viewed on Anastasia Samoylova's website.