When Zanele Muholi, a non-binary* activist artist, began their work in 2004, their country had entered a new era of transition that raised new hopes marred violence. The election of Nelson Mandela as South Africa's first black president ten years earlier had sent shockwaves around the world.
South Africa had avoided a civil war, reconciled the irreconcilable, and became the first country in the world to ban sexual discrimination in its 1996 Constitution. It was also the first country on the continent to allow same-sex couples to adopt a child.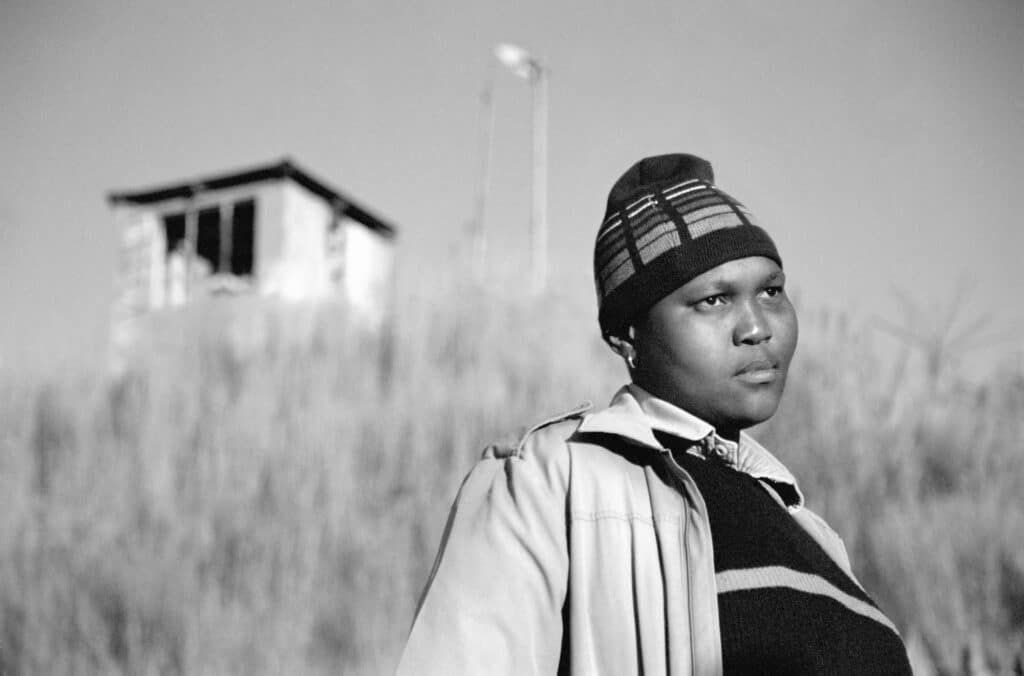 The country is still recovering from the worst, and nothing is taken for granted: queer and racialized people continue to suffer discrimination, when they're not victims of "corrective" rape or hate crimes.
Muholi entered their private circles to portray the norm-defying lives they have built. The activist recounts the LGBTQIA+ community's struggle for survival, and reminds us that, excluded from official history, it remains poorly represented, if not invisible. "Nobody can tell our story better than ourselves," asserts Muholi.
Brave beauties
Muholi photographs couples in unsettling intimacy and domesticity, portraying simple, everyday moments of love. The artist documents these forbidden, oppressed lives and challenges the established order and the paradigms instilled in our minds since childhood (heterosexual vs. homosexual, male vs. female, African vs. non-African) which are so difficult to undo.
Some of the photographs in this series, entitled Brave Beauties, are strikingly natural.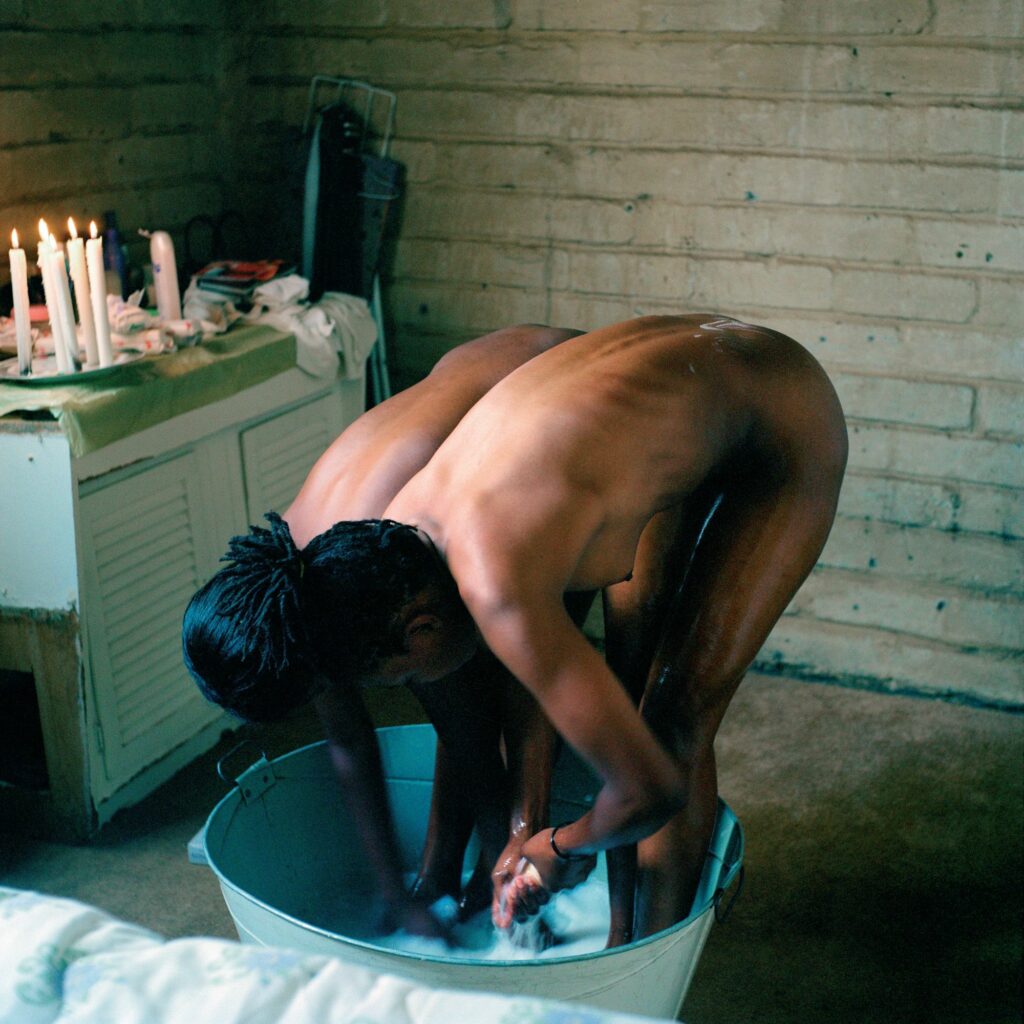 Body pride
Zanele Muholi has also attended queer beauty pageants, not unlike Diane Arbus who reached out to marginalized communities in American backwaters, and made them her prime subject, breaking down invisible barriers that traditionally keep us from going any further.
Having forged a space of resistance, the artist speaks out for body pride. In their images, transgender, non-binary, and drag queens pose with proud, unleashed energy, made possible by a tenacious collective liberated from fear, if only for the duration of the shot.
Some of the photographs are reminiscent of the voguing ballrooms frequented by African American gay and transgender people in New York in the 1970s, which have come to the fore in recent years.
The series has an evocative title, Becoming Beauties, as if these beauties were in the process of blossoming, and thus paving the way to redefining and multiplying the canons of beauty.
"Each and every person in the photos has a story to tell, but many of us come from spaces in which most Black people never had that opportunity. If they had it at all, their voices were told by other people."
By translating this struggle into images, Muholi tells the story of queer culture, of people whose sexual orientation or gender identity does not fit the dominant models. This way of life is brought to light and even made desirable: "We're 'queering' the space in order for us to access the space. We transition within the space in order to make sure that the Black trans bodies are part of this as well. We owe it to ourselves."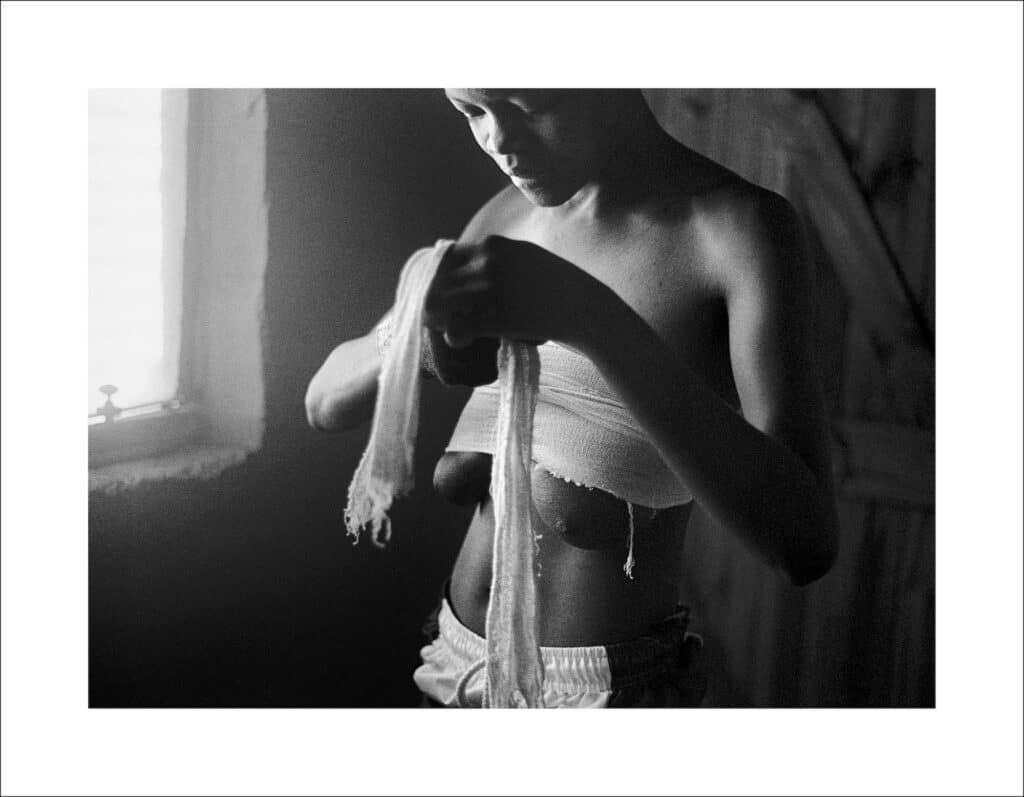 "Hail the dark lioness!"
"See, observe, think," said, with reference to photography, August Sander, who portrayed Germany in the 1930s. Similarly, Muholi produces a visual history of an everlasting struggle.
They generate a living archive by always following the same protocol: mostly black-and-white images taken in natural light; the subject placed at the same distance from the camera; their head slightly tilted or shot from the front; the use of bust shots; absence of any décor, costume, or other artifice; and—just as Nan Goldin did already in the 1990s with her New York community—reprisal of the same subjects.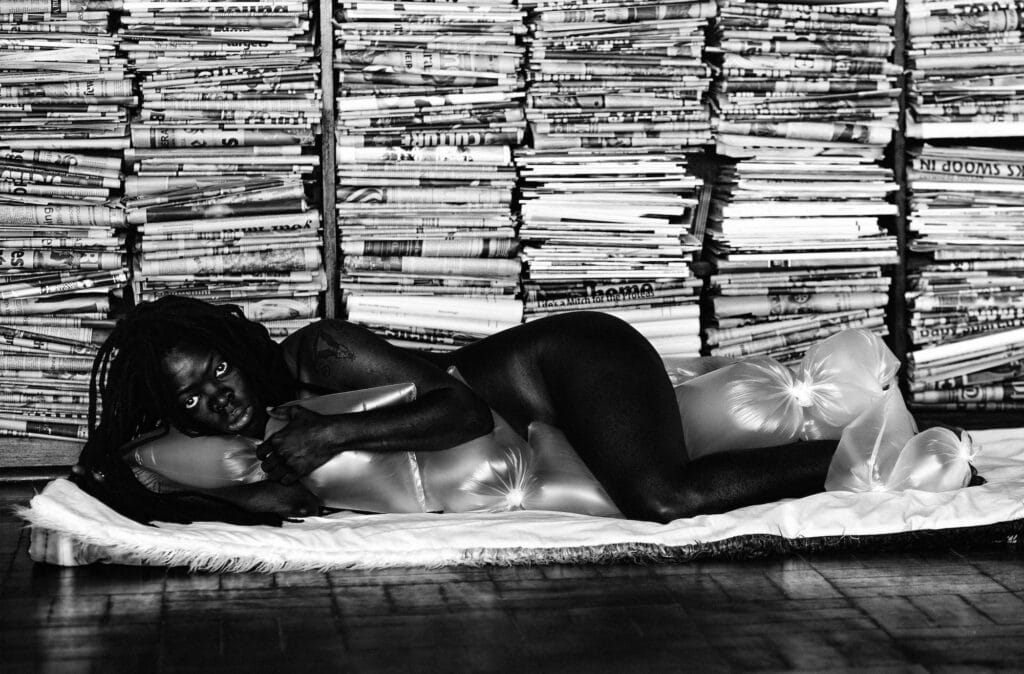 Muholi also turns the camera on themselves. Their solitude, their skin, their gaze, and their own story are the subject of self-portraits of rare intensity, images that instantly take on the status of a manifesto.
In the series Somnyama Ngonyama, which means "Hail the dark lioness" in Zulu (one of the eleven official languages of South Africa), they reassert their culture (and, needless to say, their anti-colonialism), prompting the French and European public to wonder: how do we approach a culture that is not ours?
Visual Testament
Sometimes looking straight into the lens to sustain our gaze or, on the contrary, looking away as if to free themselves from it, the artist provokes an unsettling encounter.
They foreground prejudices by questioning traditions and their connotations, for example by exaggerating the darkness of their skin (in post-production, rather than through makeup)—which goes against the tendency to lighten the color of the skin, for instance in popular magazines—or by using subverted accessories, such as clothespins, scouring pads, vacuum hoses, or jeans turned into a turban.
The choice of these items used as ornament is not neutral. The scouring pads evoke domestic tasks and the condition of black women and the difficulty of extract themselves from it. Muholi offers a poignant, fierce critique of dead-end jobs, of history ever repeating itself, and of ongoing class struggle.
The exhibition, designed by the two curators, Laurie Hurwitz and Victoria Aresheva, retraces the methodical research deployed by the visual activist in an effort to bear witness, relate, and help soften the most likely incurable traumas.
The resulting visual testament shows the queer culture at the Southern tip of the African continent, still living on high alert, still fighting to survive: often rejected by their family, their friends, their places of worship, and even grappling with self-hatred.
A universal message
This photographic project, developed over the course of fifteen years, speaks to the strength of the collective, to the possibility of reinventing oneself in "safe places" as a community, through mutual aid, unwavering love, and other forces.
Portraying the strength it must take to confront everyday life, homophobic crimes, and the repetition of history, Muholi gives expression to calm rage. They see their work as a powerful confirmation that another reception is possible, and assert their position as an important voice on the international scene.
Muholi's mother was a domestic worker in an Afrikaner family for over forty years, supporting a family of eight all on her own, ever since Zanele's father died shortly after they were born.
Muholi's strength of character is best understood in this light: the struggle seems to have always been there. This feeling overwhelms us in front of powerful, intimate, dramatic images, a unique body of work that enriches the visual history of the South African queer and transgender communities and transforms their members into dignified ambassadors of the culture.
What is most striking is that by making us turn our gaze to a country never visited by most exhibition viewers, Muholi manages to create something universal, something that speaks to everyone and inspires us to intransigence.
"Zanele Muholi, Retrospective", Februrary 1 to March 21, 2023. Maison Européenne de la Photographie, 5/7 Rue de Fourcy, 75004 Paris
*Zanele Muholi uses non-binary pronouns they/them/their.