"The Italy of landscapes is rooted in me. I have always studied the backgrounds of great classical paintings with a magnifying glass; the villages, the castles, and especially the hills, often painted in brown tints," writes Bernard Plossu in his book Journeys to Italy (Voyages Italiens) published in 2004. Italy for this photographer, born in Đà Lạt, in southern Vietnam, is a family story that goes far back. "I feel very Italian because of the color of my skin and my hair." His great-grandmother was from Urbino, the town about which he says in an interview with Bruno Ely, published in the "Plossu – Granet, Italia Discreta" exhibition book: "I always dream of going and still haven't been."
In February 1970, at the age of twenty-five, Bernard Plossu drove to Italy for the first time. "It was winter, with torrential rains, and I caught a terrible flu in Rome right before going to Pompeii. Pompeii was very dark. I was with a girlfriend at the time and there was no one there but us. When we got to Pompei, I thought to myself; something is happening!" Before seeing Italy, that something was to some extent the family but more so, like for many young French people of his generation, it was the cinema; the films of Don Camillo marked him for life.
"I remember the night I arrived in Genoa; I couldn't believe my eyes when I saw the fires at the harbour. It was winter and I saw prostitutes warming up around braziers… My girlfriend and I needed to find a place to stay. I actually don't remember where we stayed." He has few images of that first trip, one being a black and white photograph of Pompeii under the rain. He later settled in the United States, on the highlands of New Mexico for "a long American visit," images of which can be found in his book titled So Long. Vivre l'Ouest américain 1970/1985 published by Yellow Now editions.
"I moved back to Rome from New Mexico in 1979 and started a new era. As of 1985, I started traveling around Italy and went on at least forty short trips, especially to Tuscany and Liguria. Being based in La Ciotat, I could travel everywhere by car or train…" The photographer falls in love with Italy. He goes everywhere, "from mountainous landscapes near Cuneo to the border of the Col de l'Arche, from Chialvetta to Sicily or Sardinia." He never stopped his Italian Adventures, except during the Covid period.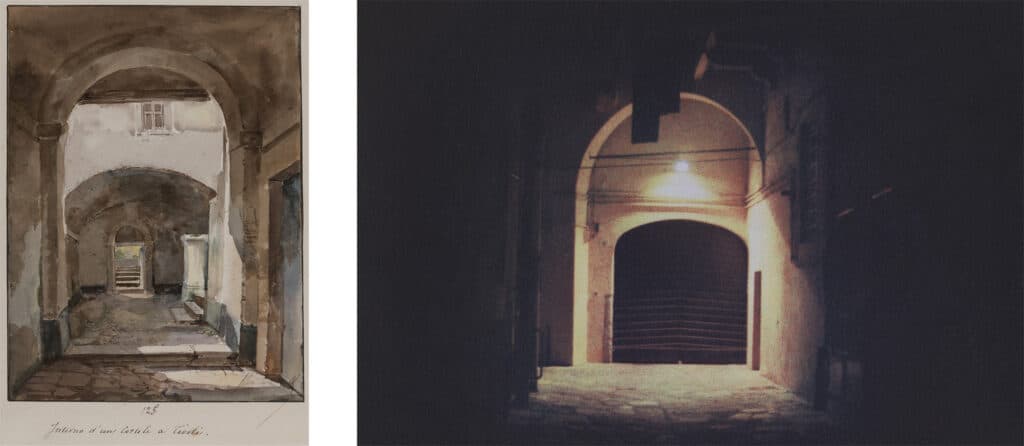 A fan of Italian literature, Bernard Plossu reads everything, from thrillers to poetry, mainly by contemporary writers whose "Italian humor" he likes. "The kind of humor that touches on the drama of life and can be summed up in an expression where you raise your eyebrows and say: 'Ecco!' That's it! And that is very Italian; something terrible happens to you, yet somehow you manage to embrace it." He is also captivated by Italian paintings: Campigli, Sironi, De Chirico, Melli, de Pisis, Scipione. "When I'm in Italy, I go to museums a lot. I always find one, or maybe two or three painters I don't know in every city, often with a catalog worth five euros because they aren't known and nobody wants them. »
In the exhibition "Plossu – Granet, Italia Discreta," curators Bruno Ely and Pamela Grimaud create links between Bernard Plossu's photography and the paintings of François-Marius Granet. "They lived two centuries apart, but it felt like two friends were brought together," writes Pamela Grimaud. François-Marius Granet (1775-1849), the emblematic painter from Aix, was also inspired and fascinated by Rome and Italy. "Both traveled through the Roman countryside," she continues, "caught by the light that animates the contemplated landscape. The photographer and the painter wished to demonstrate the quality of the space before them, the values ​​of chiaroscuro, the relationship between fullness and emptiness, and so many other criteria with a Nikkormat camera or in a sketchbook."
Bernard Plossu photographs Italy with a 50mm camera, "which resembles the unity of tone in the works of Corot and Granet's Italian artwork (…) With the 50mm, it is impossible to make an effect; there is neither the distortion of the wide-angle nor the flattening of the telephoto lens. It is the photographic lens closest to the eye." In alleys charged with history, culture, memories, and landscapes suspended in time, Bernard Plossu mainly works in black and white but sometimes experiments with color, printed with Fresson, that gives a faded, grainy, soft and almost powdery rendering to his images. There are about sixty wash drawings and watercolors by the painter François-Marius Granet in the Granet Museum and more than a hundred photographs by Bernard Plossu, most of them small and unpublished. "My miniatures," he says, "are undoubtedly set to respect the miniatural aspect of the backgrounds in the paintings. All of a sudden, I was thinking about it… In general, to do something right, that thing has to be stronger than itself, or better-said completely unconscious. That is exactly what made me photograph Italy."
"Plossu – Granet, Italia Discreta" at the Granet Museum, Pl. Saint-Jean de Malte, 13100 Aix-en-Provence, as part of the Grand-Arles Express, until August 28, 2022.
Plossu – Granet, Italia Discreta is published by Éditions Filigranes and the Musée Granet, 192 pages, €29.