Gordon Parks' place among the greats in photography is undisputed. Parks used his cameras as a "weapon" against racism, intolerance, and poverty, as his most famous quote states. But it was not just a quote for Parks. Rather, it was a precedent that guided Gordon Parks in all his photographic work.
Parks was inspired to become a photographer after he saw images in a magazine of migrant workers taken by the Farm Securities Administration (FSA) that someone had left behind on a train where he was working. He went out and bought himself a camera from a pawn shop and taught himself to make photographs. It was the start of a decades-long path.
Steidl has just published two new monographs of Gordon Parks' work: Pittsburgh Grease Plant, 1944/1946, co-published by The Gordon Parks Foundation and the Carnegie Museum of Art, and Stolkey Carmichael and Black Power, co-published with the Gordon Parks Foundation and the Museum of Fine Arts, Houston. 
These are joined by a newly expanded edition of Segregation Story, co-published with the Gordon Parks Foundation. This updated version of the book contains new texts and essays, along with many previously unseen photographs from the series.
Gordon Parks, journalistic portraiture
Collectively, the books show the power of Gordon Parks' photography over three different decades in his career, but they also expose America's long history of racism and division. The photographs show what those who fought during the Civil Rights Movement were working to change, and how they were trying to change it.
In 1944, Roy Stryker, who Gordon Parks had worked for at the FSA, was heading the public relations department of the Stand Oil Company, New Jersey (SONJ). Stryker sent Parks to photograph the Penola Grease Plant in Pittsburg, Pennsylvania. Parks returned in 1946.
The photographs were used for marketing purposes and were also made available to newspapers and magazines. But along with documenting the industry itself, they also work as an exploration of labor and its social and economic effects during World War II.
In Pittsburg Grease Plant, Gordon Parks' photographic prowess is on full display. It is the photographs of the workers that stand out, which he coined "journalistic portraiture."
They are dramatically lit, in some cases with multiple external flashes, and composed meticulously. They instill a heroic aura to those who worked in the plant. But they also expose the jobs of both Black and white workers, divided by race and class.
It was not just Gordon Parks' ability to make technically strong photographs that makes his work as powerful as it is. Rather, it was also his ability to connect with his subjects in a way that other photographers could not that gave him insight into the stories he covered and a relationship with his subjects.
In his essay in Pittsburg Grease Plant, Philip Brookman explains:
"Gordon Parks had experienced the camaraderie of hard labor in the Civilian Conservation Corps during the Depression and had worked segregated jobs on the Northern Pacific Railway with little possibility of advancement. He connected to the Black grease cookers through this shared experience. Though he was prevented from documenting Black soldiers in combat, Parks' photographs promoted the ambitions and importance of African American labor during the war. By creatively focusing on the decisive role of Black workers in the production of Eisenhower grease, Gordon Parks issued a powerful yet subversive message that also proved highly successful for SONJ's photography project."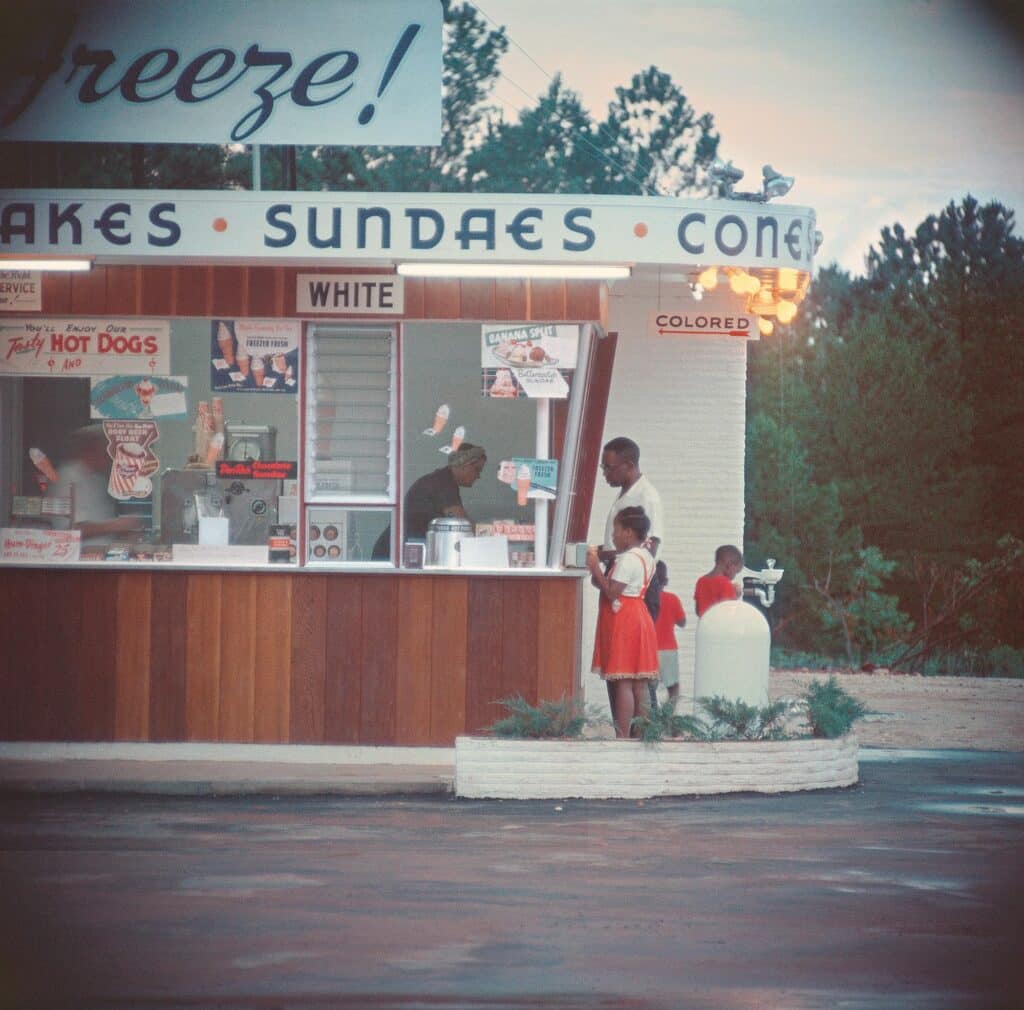 Gordon Parks: "Just a few miles down the road Klansmen are burning and shooting blacks and bombing their churches"
Ten years later, in the summer of 1956, Gordon Parks was sent by LIFE magazine to Alabama to document the realities of African Americans living under Jim Crow.
The story for LIFE was undertaken two years after the 1954 Supreme Court ruling in Brown v. The Board of Education, which ended the practice of legal segregation in schools. The ruling also helped establish the precedent that "separate-but-equal" was far from equal in education and other services.
Gordon Parks' story also came after the 1955 Montgomery Bus Boycott, which began when Rosa Parks was arrested and fined for refusing to give up her seat for a white person and move to the back of a public city bus. During the boycott, African Americans refused to ride the buses in Montgomery, Alabama, to protest their segregated seating. The boycott eventually led to the Supreme Court, whose decision in Browder v. Gayle in December of 1956 upheld a lower court ruling that segregation on buses was unconstitutional.
In Gordon Parks' photographs, we see the daily lives of African Americans under segregation. Separate water fountains bear clear labels as to who may drink. A Black family is forced to get their ice cream from a distinct window on the side of an ice cream shop. A segregated entrance to a movie theater remains, with its own brightly lit neon sign. A group of young children look through a fence at a Ferris wheel and other amusements that they are clearly not invited to.
Parks himself had grown up experiencing much of the same in both Kansas, where he was born, and later in Chicago. He could relate to what he saw, both the poverty and the segregation. But even while working for a major magazine, his safety was not guaranteed. The fact that Gordon Parks was there to document the Jim Crow South as a Black man called for even more precaution.
As Maurice Berger recounts in his essay in Segregation Story, LIFE was concerned enough about what might happen to Parks that they assigned a local man, Sam Yette, to act as a guide for Parks during part of his travels. But even with a guide, threats and harassment followed:
"Parks and Yette were routinely followed and harassed. Lacing his comments with racist expletives, a white townsman later remarked that Parks risked being 'tarred and feathered' for the trouble he was perceived to be causing.
Gordon Parks wrote in his diary of the terror he felt in Shady Grove: 'My thoughts swirl around the tragedies that brought me here. Just a few miles down the road Klansmen are burning and shooting blacks and bombing their churches. Southland is afire, and lying here in the dark, hunted, I feel death crawling the dusty roads. The silence is spattered with fear.'
His work complete, the photographer fled from the town with Yette via a back road: 'After reaching Birmingham at dawn I took the first plane to New York. Not until it roared upward did I breathe easily.'A decade later, in 1967, LIFE would publish "Whip of Black Power," a profile of the young civil rights leader Stokely Carmichael. Gordon Parks was working on contract for LIFE, and shadowed Carmichael from the fall of 1966 through the spring of 1967. The work is now published in Stokely Carmichael and Black Power.
Black Power
Carmichael's place in the civil rights movement was well established. He had been a Freedom Rider in 1961, and after graduating from Howard University in 1964, worked on the Mississippi Freedom Summer project and for the Mississippi Freedom Democratic Party.
After taking part in the Selma to Montgomery March in 1965, he stayed in Alabama, formed the Lowndes County Freedom Organization, and worked to register voters in the wake of the Voting Rights Act of 1965, which prohibited racial discrimination in voting.
He was also the chairman of the Student Nonviolent Coordinating Committee (SNCC), having taken over the role from John Lewis. But Carmichael had gained national attention and inspired media backlash when he issued the call for Black Power in Greenwood, Mississippi, in June 1966. The term electrified those who heard it and strove for it, while terrifying those who did not understand it.
James Baldwin, in his contemporary piece "In Defense of Stokely Carmichael," describes the outrage this way:
"[I]t was not in the least surprising for me to encounter (one more time) the American surprise when Stokley [sic]—as Americans allow themselves the luxury of supposing—coined the phrase, Black Power. He didn't coin it. He simply dug it up again from where it's been lying since the first slaves hit the gangplank. I have never known a Negro in all my life who was not obsessed with Black Power. These representatives of white power who are not too hopelessly brain-washed or eviscerated will understand that the only way for a black man in America not to [be] obsessed with the problem of how to control his destiny and protect his house, his women, and his children, is for that black man to become in his own mind the something less than a man which this republic, alas, has always considered him to be. And when a black man, whose destiny and identity have always been controlled by others, decides, and states that he will control his own destiny and rejects the identity given to him by others, he is talking revolution."
Gordon Parks' profile of Carmichael is more than a one-dimensional portrait of the man. Rather it is an in-depth look into both Carmichael's public persona and his private activities away from the spotlight. Parks photographed the fiery orator giving speeches, heading meetings, and working to register voters. 
But he also photographed Carmichael in more contemplative moments and with his family. It is a picture of the man as a whole, not just seen through the headlines. Parks also explores the movement that Carmichael led. In Stokely Carmichael and Black Power, Lisa Volpe further explores how Gordon Parks' own background and upbringing affected his view of the movement and his advocacy of Black Power and its message of love, self-determination, and brotherhood.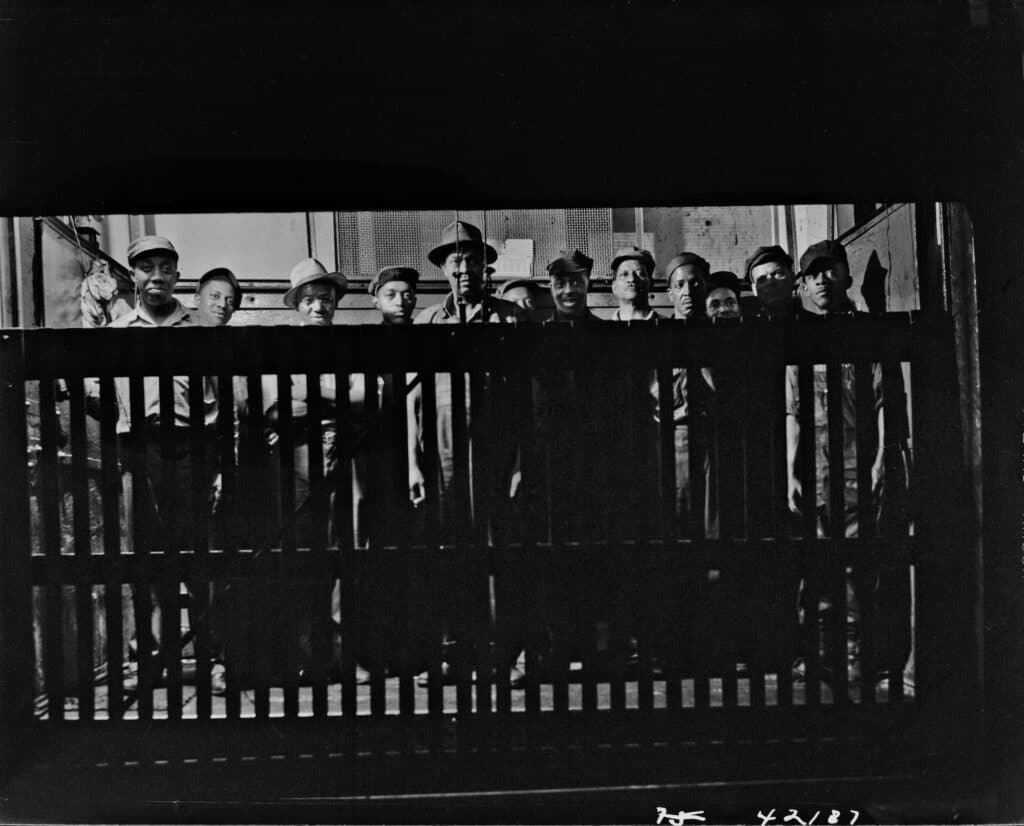 Taken together, these three books of Parks' work are poignant reminders of America's complex past. But they give historic context to a host of current issues in America, and even the Black Lives Matter movement.
The segregation and racism that Parks photographed in Pittsburg Grease Plant and Segregation Story drove the civil rights movement. This in turn led to the rise of leaders like Stokely Carmichael and his call for Black Power, freedom from oppression, and facing up to America's history.
These same themes run through the BLM movement today and feature in the current fight over access to voting, controversy over teaching Critical Race Theory, and the continued issues surrounding the American police's use of excessive force against Black and brown people.
Gordon Parks was right about the camera being a persuasive weapon against racism, oppression, and poverty. Cameras, and the photographs and videos they are used to make, can still influence the world, both through exploring stories in depth and by capturing events as they happen.
Darnella Frazier is one powerful example of this. Her video of the brutal killing of George Floyd changed the course of events around the world in 2020. The phone in her pocket became another weapon, like Gordon Parks' own, to move the fight for civil rights forward and drive people to action in ways not seen for decades.
All three books can be found on Steidl's website, along with their other books of the work of Gordon Parks.
The Museum of Fine Arts, Houston is also hosting an exhibition of Stokely Carmichael and Black Power from October 16, 2022 through January 16, 2023