Marc H. Miller and Bettie Ringma (1944–2018) established themselves in the 1970s New York downtown art scene as conceptual artists with a decidedly punk sensibility with their deliciously subversive series, "Paparazzi Self-Portraits."
Armed with a Polaroid SX-70 instamatic camera, Miller snapped shots of Ringma alongside luminaries including artist Andy Warhol, socialite Jacqueline Onassis, activist Angela Davis, and punk icons Patti Smith, Richard Hell, and the Ramones to explore notions of celebrity that prefigured the explosion of selfies and influencers in recent years.
In 1979, the dynamic duo decamped for Amsterdam so that Ringma could finalize her divorce. Needing income, they became the first photographers to hustle photographs in the city's red-light district. Night after night, they made the rounds through the traditional "brown" pubs, transgender bars, queer nightclubs, and Turkish cafes across Rembrandtplein and Leidseplein, selling Polaroid portraits for just six guilders (apx. $3) a shot.
At a time when analogue photography was largely reserved to make special occasions and personal milestones, Miller and Ringma tapped into our shared desire to celebrate the commonplace moments of daily life. The camera created an instant self-expression and validation that comes with the simple yet profound pleasures of seeing and being seen.
Customers were instantly entrance with this unexpected opportunity to preen, pose, and preserve scenes from a night on the town — no doubt fueled by the anything-goes spirit of alcohol. It proved to be a recipe for success both financially and creatively, as evidenced in the new book, Selling Polaroids in the Bars of Amsterdam 1980 (Leturis). The photographs themselves are now in the collection by the Amsterdam City Archives.
"But Is It Art?"
Moving along the fringes of society, Marc H. Miller and Bettie Ringma created a portrait of a people and place as it has never been seen before, chronicling those living and working on the margins of Amsterdam during a major time of transition.
By 1980, the Gay Liberation movement was in full swing, bringing to the fore a wealth of LGBTQ bars and clubs catering to communities that had been forced into hiding for much too long. At the same time, people from colonized lands gained Dutch citizenship and emigrated to the Netherlands with the hopes of forging better lives for their families
These newly emerging communities found kinship amid the flourishing nightlife scene as both workers and patrons pictured in Miller and Ringma's Polaroids. Recognizing the time had come to bring these portraits to a wider audience, they organized Amsterdam Privé, an exhibition at Art Something gallery on the Herengracht.
But some art critics struggled to reconcile conceptual art with a distinctly vernacular bent, and wrestled with the age-old question, "Is this art?" Fortunately, time was on their side. Four decades later, the question has answered itself, and also revealed a deeper layer to the art historical significance of the photographs themselves.
The Polaroids tapped into a deeper cultural touchstone: the longstanding tradition of Dutch tavern portraits, known as "tronies," which dates back to the work of 17th-century painters like Adriaen Brouwer and Jan Steen. The Dutch masters recognized the pub as integral to their times, a public space that drew characters and archetypes befitting the unflinching gaze of the portrait artist.
Miller and Ringma picked up where they left off, creating intimate scenes of revelry across markers of class, race, gender, and sexuality. These works were so vivid that Parool journalist Frans Kotterer recognized this crucial link after seeing Amsterdam Privé.
"If the seventeenth­century painter and bar owner Jan Steen…would have had the instant photography of the Polaroid camera at his disposal in his days, would he ever have painted anything?" Kotterer wondered. "Wouldn't he have much preferred to use precisely that camera to capture the atmosphere of the bars, of people with booze in their bodies?"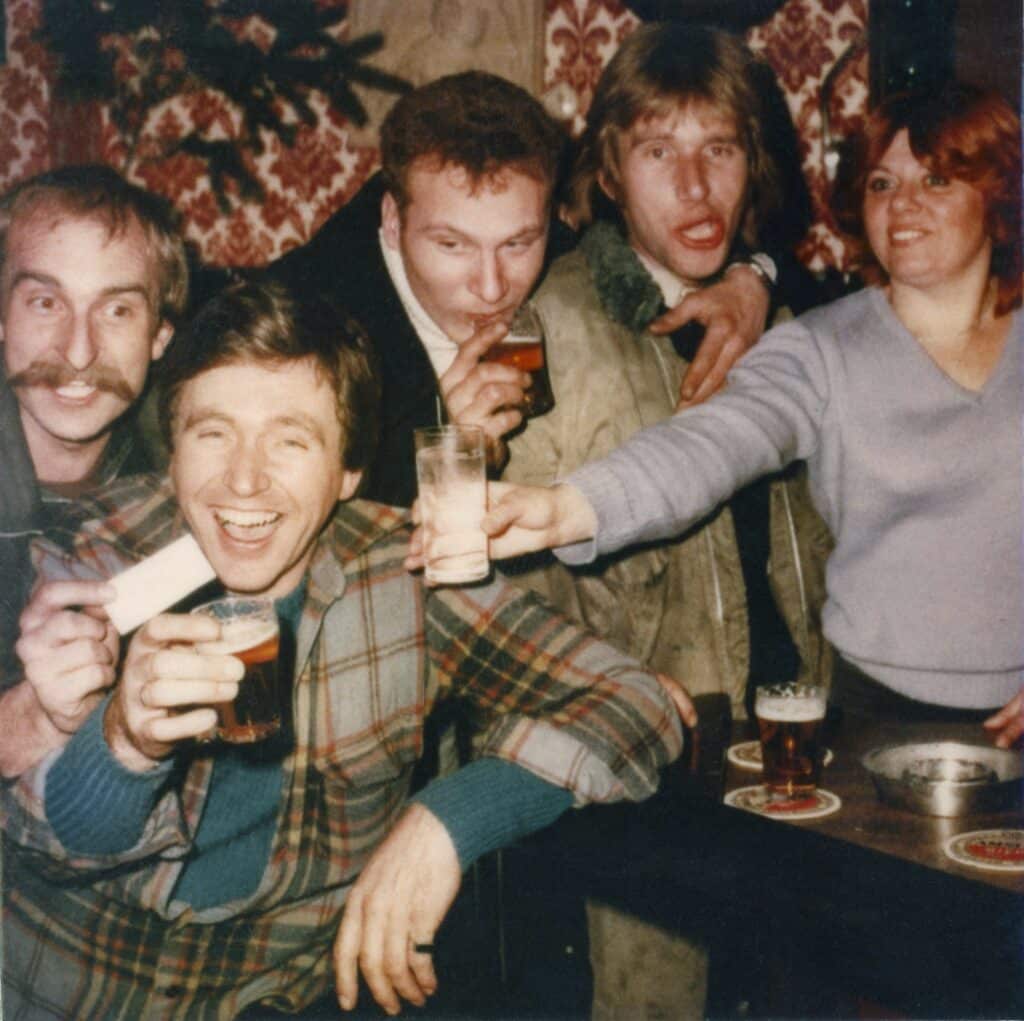 Selling Polaroids in the Bars of Amsterdam 1980 is edited by Leonor Faber-Jonker and published by Leturis, €37,50.