In Joel-Peter Witkin's world, death is not to be feared. Instead, there is beauty in the macabre, and some humor there too, as evidenced from his lifelong career creating photographs that evoke a range of reactions from outrage to wonder.
With still lifes featuring dismembered body parts, and portraits of transsexual people posed in classical art forms, Witkin's brand of subversiveness has established him as one of the most important contemporary photographers today. 
An exhibition at galerie baudoin lebon, in Paris, "Joel-Peter Witkin: The Untold Life of the Photograph" explores Witkin's creative process: encaustic photography, props from his immaculately staged tableaus, and contact sheets with scribbled handwriting all plunge the viewer into Joel-Peter Witkin's world, by turns dark and paradisiacal.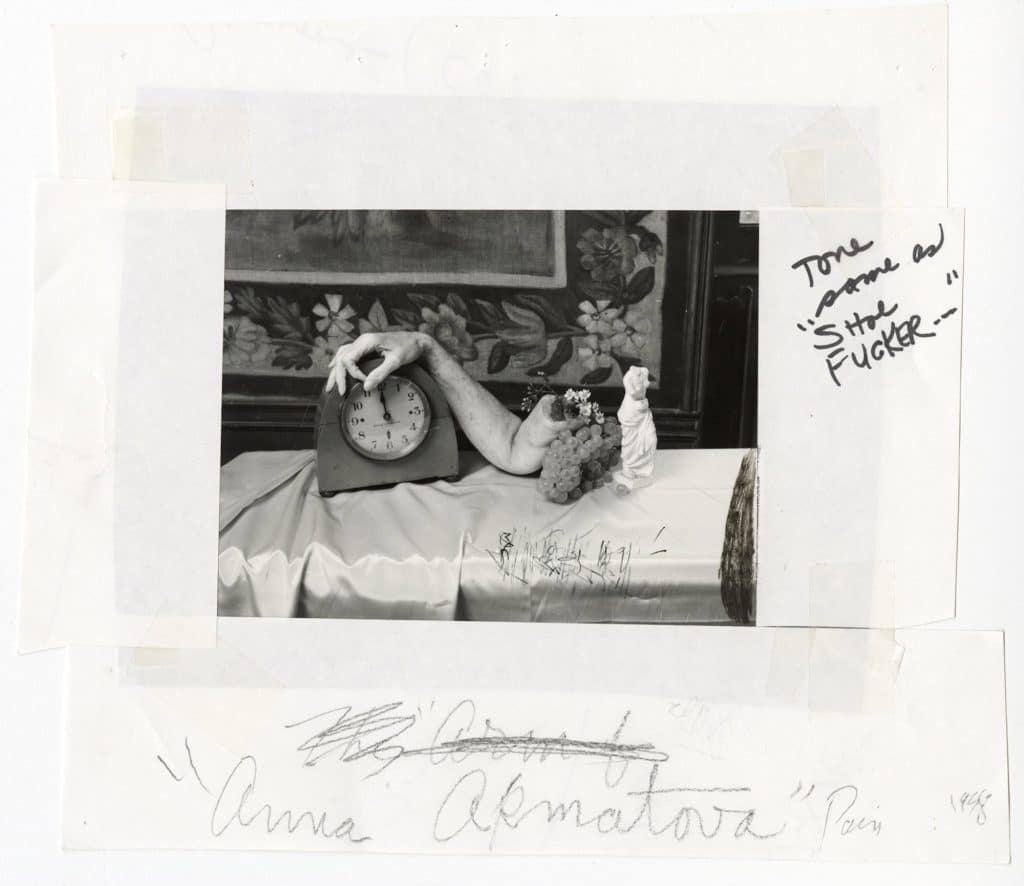 Joel-Peter Witkin, blending the romantic with the tragic
An avid follower of Romanticism, Witkin presents twists on classic works from the period, giving his photographs a painterly feel by using encaustic processes, creating a thin film and soft sheen over the images that makes their medium difficult to ascertain at first glance.
One such image, a lamb's head resting gently on a wooden base, looks so tender that it's easy to forget the animal isn't alive. The starkness of the black background is Goyaesque, though Goya's brand of horror is not present here: rather, there's a sweetness to Witkin's imagery.
A more direct reference is Joel-Peter Witkin's take on Gericault's 1819 masterpiece, The Raft of Medusa, recreated by Witkin as The Raft of George Bush, which he refers to as "a contemporary 'Ship of Fools,'" replete with Bush's administration: Colin Powell, Dick Cheney, Condoleeza Rice, even Bush's mother Barbara.
Witkin became inspired after seeing Gericault's painting in the Louvre, and contemplating the effect of the Bush years; one figure in the image, an angel, "holds a large bone signifying cannibalistic capitalism, that charnel house of our dismal social progress," as he explained in a statement. 
One of Joel-Peter Witkin's most famous images, Harvest, is on view at the Musée du Louvre as a part of their "Les Choses: Une histoire de la nature morte" exhibition. A face is strung across a gathering of branches and leaves, with the same whimsy as Arcimboldo's Vertumnus, a 16th century painting depicting a man made entirely out of vegetables and flowers. But where Vertumnus was made for humorous effect, there's a beauty and tranquility in Harvest.
The grotesque is a recurrent theme woven throughout Witkin's work, with cadavers and dismembered body parts; another of his famous images, Le Baiser (The Kiss) depicted a human head, cut in two, which he was given permission to photograph from a medical facility.
While setting it up, one of the halves slipped, each half of a lip touching the other. Joel-Peter Witkin knew, right then, he had found his image, perfectly nestled between the vibrancy of life and the coldness of death.
"Everyone is a freak!"
As is well known in the Witkin lore, when he was only six years old he witnessed an explosion that decapitated a young girl. That Joel-Peter Witkin witnessed horror and dismemberment as a youth, and then spent his adult life creating photography populated with dismembered specimens, seems an easy connection to make.
Yet whatever he experienced that day — from shock to awe, from horror to captivation — seems separate from these images. Witkin's reverence for life seems to be the driving force, rather than a desire for shock value. "Most people don't get it," Joel-Peter Witkin says when asked about the reaction to his work.
(He does, however, concede that the French have a different reaction to his work, and tend to understand it more as they "are more deeply linked to the history of art!") His message, Witkins says, is "that we are everlasting beings! That we are all made by God, and the great enemy is selfishness!"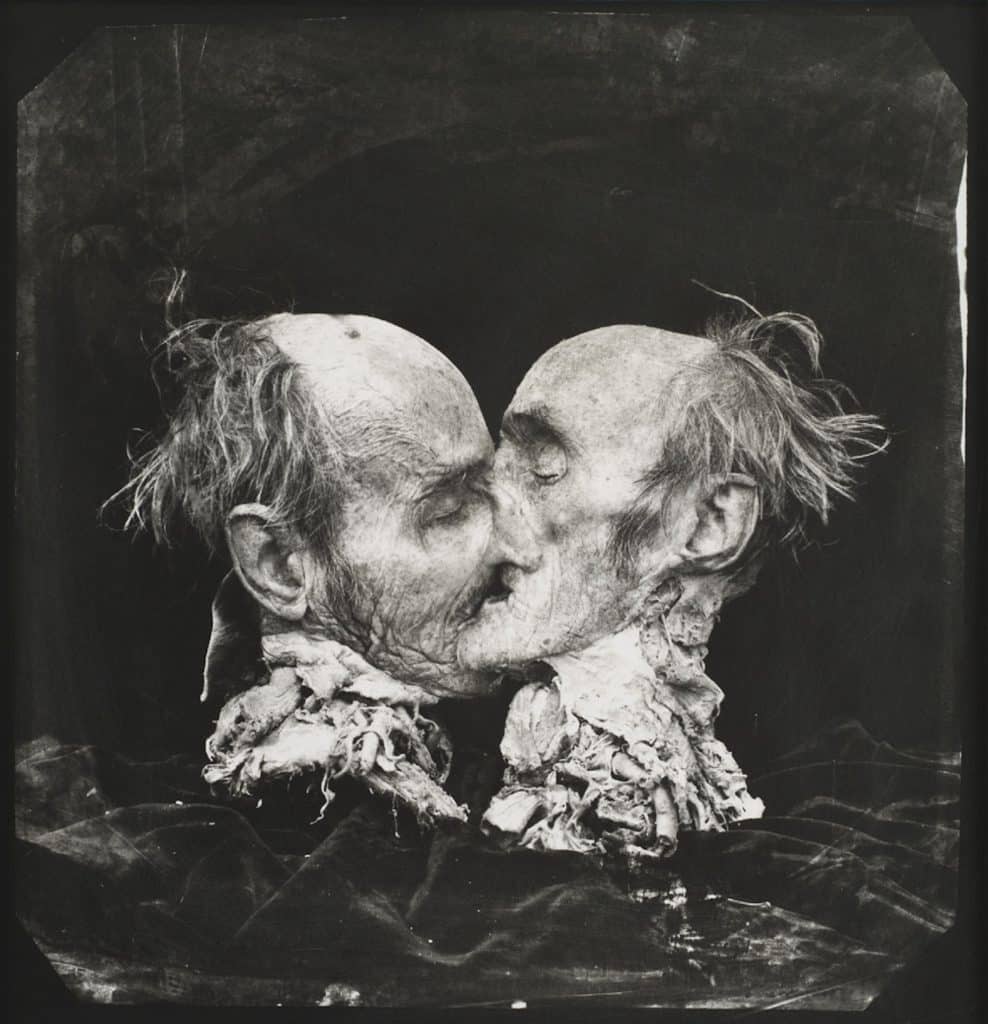 Indeed, the genesis of much of Joel-Peter Witkin's work is not only rooted in curiosity, but in a desire to make people feel seen and understood. And while there are sexual themes throughout many of the images, many fantasies fulfilled on photographic film, they don't feel pornographic or require averted eyes.
There are also portraits of transsexual people and amputees, but the images don't exploit their otherness, instead presenting their differences with a shrugging indifference. "I've always hated the term 'freak show' because everyone is a freak," Joel-Peter Witkin once explained in a speech at the Maison Européenne de la Photographie. "We're on earth because we all must overcome our spiritual, mental, and physical; by 'unselfish' love, and by the faith that we're really citizens of another world — of Heaven."
The exhibition at baudoin lebon gives a rare look at Witkin's process, including a pale blue painted backdrop that features in an image hanging alongside it. With his more major works, Witkin would spend months meticulously planning out his tableaus with drawings and studies. 
In a digital age, where more realms are possible with the help of Photoshop, Joel-Peter Witkin remains a photography purist, not using any software to manipulate his imagery, and instead relying on the analog method of collage and other printing techniques.
In response to what work remains in his life, Joel-Peter Witkin simply says he is retired. "I've done the best I could, given what's come into my life as subjects for photography!" he says. "And I am proud of what I've created!"