Since 2010, the Pavillon Populaire has offered a rich and wide-ranging photography programming. Fashion, advertising, documentary, and propaganda photography, as well as coverage of major social movements: photography in all its forms. This year, the Pavilion once again explores connections between photography and history.
The retrospective entitled The Surface and the Flesh: Madame d'Ora, Vienna–Paris, 1907–1957, traces the career of a female artist confronting the upheavals of the Great War. This very first retrospective devoted to the artist's work in France brings together nearly 200 photographs from Austrian, German, and French collections. Gilles Mora, director of the Pavillon Populaire, wanted to offer visitors a moving aesthetic experience that testifies to the power and relevance of the work of Dora Kallmus, better known as Madame d'Ora.
A laboratory of modernity in Europe
Born in 1881 into a well-to-do Jewish family in Vienna, Dora Kallmus was introduced to photography at an early age. She trained with renowned photographers, including Nicola Perscheid, one of the first professional German photographers.
Kallmus was determined to follow a path that was at the time largely reserved for men. In 1907, using the pseudonym Madame d'Ora, she was one of the first women to open a photography studio, which quickly became the most prominent high-end address for portrait photography in Vienna. Her reputation as a talented portrait photographer soon won her many prestigious clients. She photographed celebrities such as the painter Gustav Klimt, the fashion designer Emilie Flöge, the painter Alma Mahler-Werfel, the ballerina Anna Pavlova, as well as political figures and members of Viennese high society.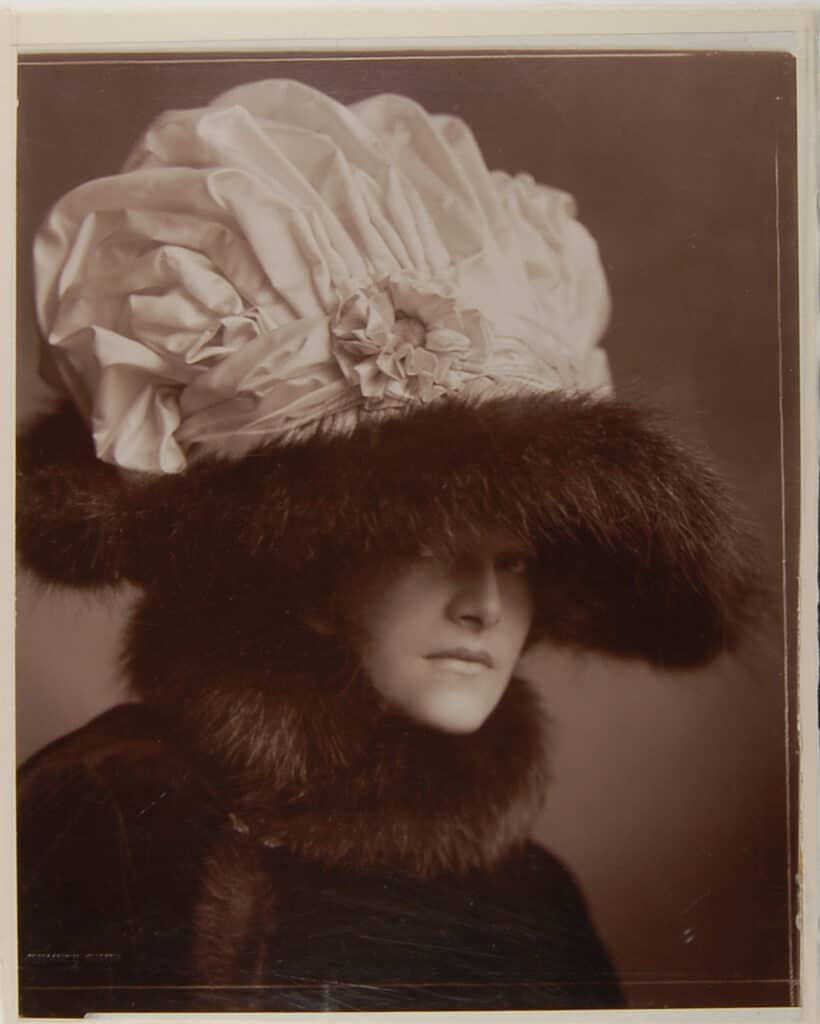 The golden age of d'Ora
A seasoned portrait artist, Madame d'Ora next tried her hand at fashion photography. She moved to Paris at the beginning of the Roaring Twenties and fit right in in the capital of haute couture. She met the greatest fashion designers of the time: Balenciaga, Schiaparelli, Madame Agnès…. D'Ora worked intensely. Her photographs flooded the fashion and tabloid press in France, Germany, Austria, and Italy. Vogue and Harper's Bazaar competed for her work. A social and artistic photographer, her influence spread worldwide.
In 1929, the German women's magazine Die Dame wrote: "D'Ora can look at any woman and see the dress she should wear to bring out her innate assets: she notices the alignment of her eyes, the tilt of her shoulders, the position of her hands that symbolize her individual character—and suddenly the woman has been photographed, and she imagines that it was God that made her so beautiful. But it wasn't God, it was d'Ora."
Her output was influenced by the 1930s and the fresh breath of modernity. Moving away from haute couture, d'Ora ventured into the world of theater, film, song, and cabaret and music hall. Fascinated by the new dance styles of the 1920s, she photographed both classical and avant-garde dancers, such as Lizica Codreanu. Her daring portrait of a fully nude Anita Berber alongside her stage partner Sebastian Drosten is emblematic of this spirit of excess. Madame d'Ora was particularly fond of this sultry side, which she sublimated in her experiments with form and light.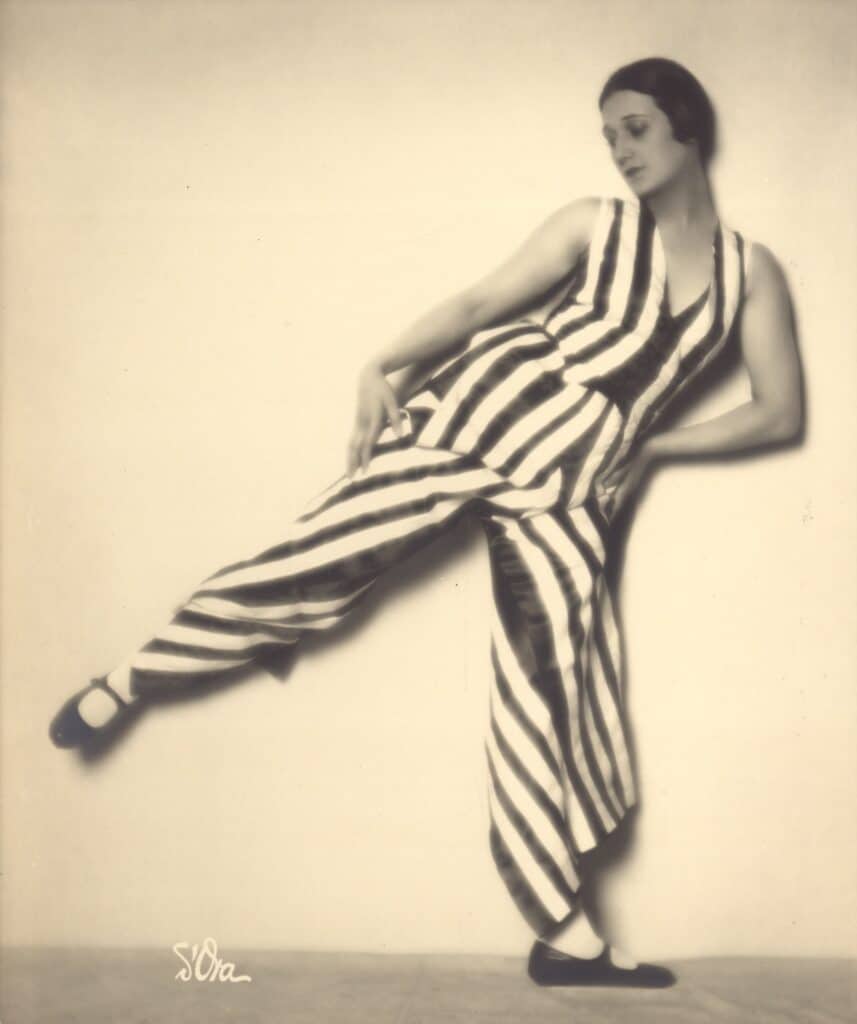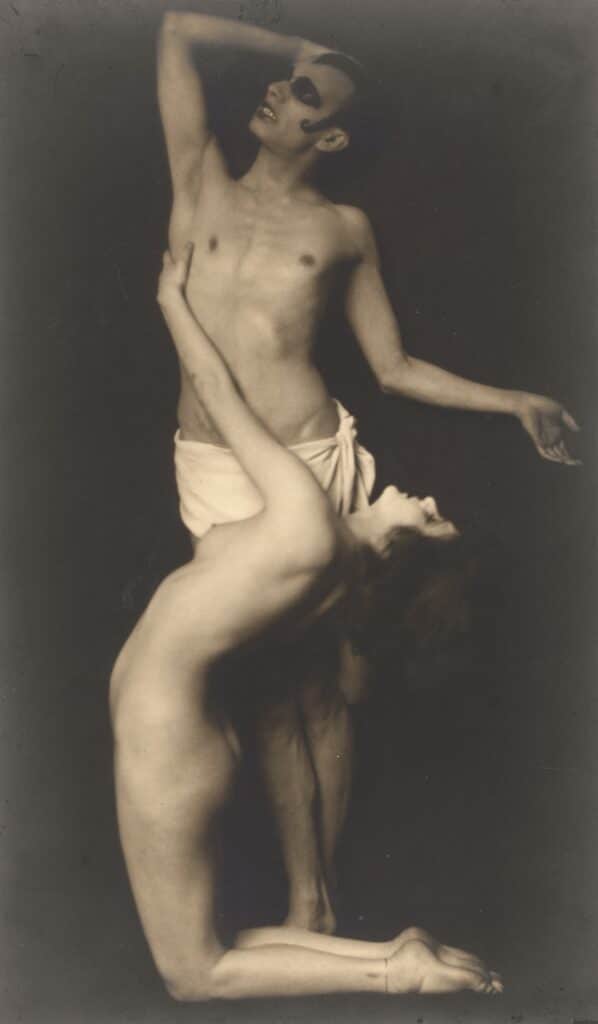 War and flight
Paris's bedazzlement gave way to the shadows of the Occupation. With Hitler in power, the Third Reich prohibited all artistic production by Jews. Unable to work, Madame d'Ora gradually turned away from glamour.
Working on a United Nations commission, she produced a series about refugee camps in Austria. Equipped with a new portable Rolleiflex, Madame d'Ora turned her lens onto war-weary faces. An unvarnished exactitude, not unlike the photographic reports featured in the American Life Magazine, replaced the blurred aesthetic of her early work.
However, Madame d'Ora refused to dwell on the sordid side of life. "She shows people who retain a certain dignity despite the fact that they have lost everything: they are in the same situation as she is," emphasizes Julien Prade, head of the City of Montpellier's Lieux d'Art et d'Histoire.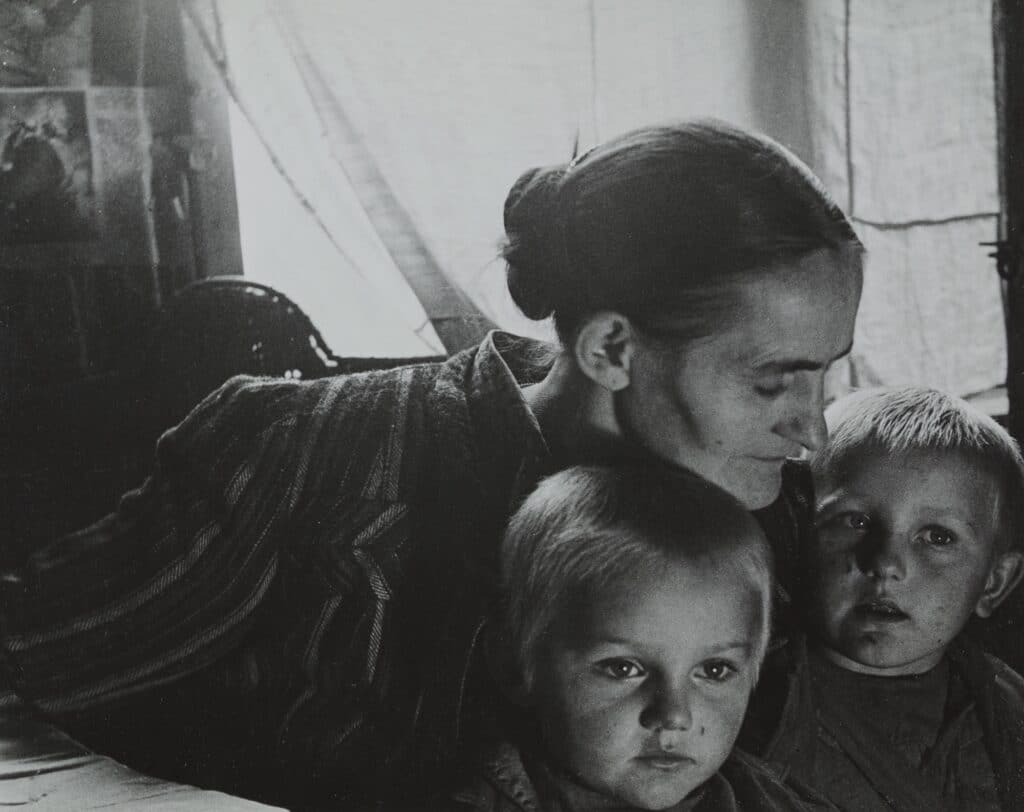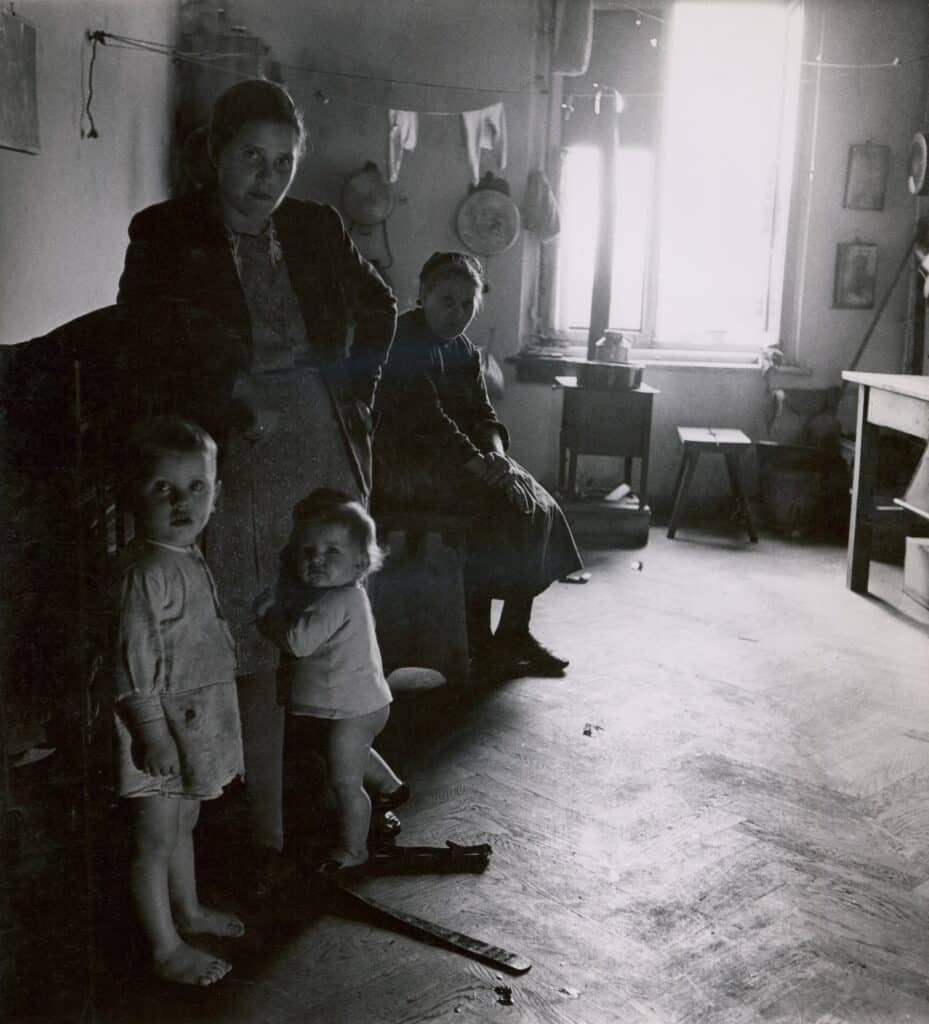 A new look
Forced to flee France, Madame d'Ora did not return until after World War II. Broke and with no equipment, she undertook the most striking project in her entire career.
"She went to Parisian slaughterhouses and photographed dead animals in an unprecedented way. Her images were not intended to be shocking, militant, or documentary. Her intention was more artistic," explains Julien Prade. D'Ora produced over a hundred photos of butchered animals. In her abstract compositions, such as the one in which two halves of a calf's head, split in half, appear to kiss, Madame d'Ora aestheticizes blood and entrails. This poetization of horror harks back to surrealism. In color or in black and white, her photographs bring flesh to the fore.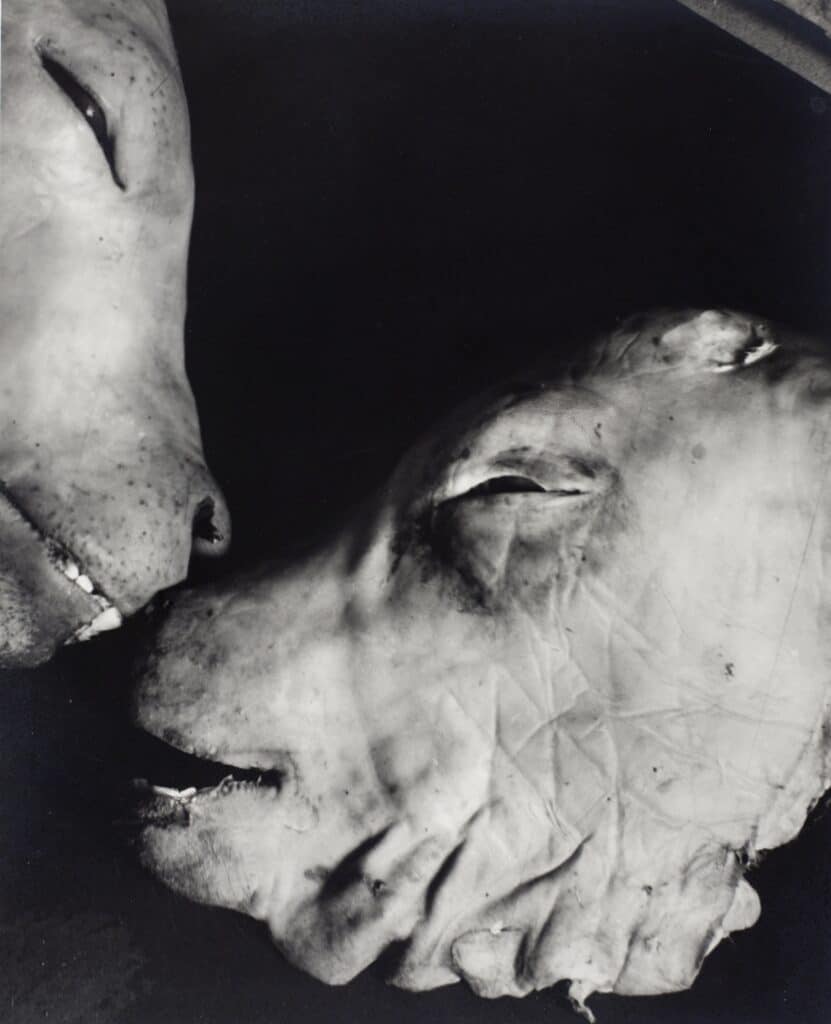 At the same time, Madame d'Ora resumed her activity in Paris. Aged almost sixty, she returned to French capital out of necessity: "I've spent too much money, I've invested too much in my ideas, and so I had to return to portraits, at least in part, just for the money," she wrote in a letter to a friend in 1954.
Commissions kept piling up, from Picasso to François Mauriac, as did her publications in the press. However, her work of this period keeps a cool distance from high society. Madame d'Ora refused to embellish it. The ghostly portrait of Colette, taken shortly before the writer's death epitomizes this new look. This look embodies an aesthetic gap: between shadow and light, between the Roaring Twenties and the wartime years.
The Surface and the Flesh: Madame d'Ora, Vienna–Paris, 1907–1957, Pavillon Populaire, Montpellier, February 18 to April 16, 2023.