Henri Cartier-Bresson, Frank Horvat or Diane Arbus… Blind is suggesting 10 classics of street photography to offer this holiday season.
1/ Saul Leiter, The Unseen
Now firmly established as one of the world's greatest photographers, Saul Leiter (1923–2013) was relatively little known until the 2006 publication of Saul Leiter: Early Color, when he was already in his eighties. Choosing to shoot in color when black and white was the norm, Leiter portrayed midcentury New York's street life with a gorgeous painterliness that evoked the sensuality of his Abstract Expressionist contemporaries Rothko and Newman. His studio in the East Village, where he lived from 1952 until his death in 2013, is now the home of the Saul Leiter Foundation, which has commenced a full-scale survey of his more than 80,000 works.
This volume contains works discovered through this project—specifically, color photography from slides never before published or seen by the public. It is edited by Margit Erb and Michael Parillo of the Saul Leiter Foundation, and is embellished with texts that describe how Leiter assembled his slide archive and how it is being catalogued and restored.
The Unseen de Saul Leiter, published by Thames and Hudson, 160 pages, 35 £.
2/ Mitch Epstein, Recreation
Women in colorful dresses and with elegant hairstyles crouch on the sidewalk on Madison Avenue in New York. The first photo in Recreation captures the Zeitgeist and above all the fleeting nature of the moment. The handpicked images are like souvenirs of a bygone era. All have been newly processed, while remaining faithful to the vintage feel of 1970s' and 1980s' photography, and about a third are published for the first time.
This new edition of Recreation chronicles some twenty years' journey to restore the negatives. Mitch Epstein reexamines his archive, identifying which of the images are "enduring" and which he can part with: "One of the benefits of having worked in this field for a long time is that the longer I'm in it, the clearer and more concise I am about what I want to do or not do."
Recreation de Mitch Epstein, published by Steidl, 176 pages, 75€.
3/ William Eggleston, Chromes
This is the long-awaited reprint of William Eggleston's Chromes, the first in the ongoing series of boxed sets published by Steidl examining the entirety of Eggleston's seminal œuvre. Eggleston's standing as one of the masters of color photography is widely acknowledged. But the gradual steps by which he transformed from an unknown into a leading artist are less well known. Chromes is an edit of more than 5,000 Kodachromes and Ektachromes taken from ten chronologically ordered binders found in a safe at the Eggleston Artistic Trust. This archive had once been used by John Szarkowski who selected the 48 images printed in Eggleston's seminal book William Eggleston's Guide, while the rest of the archive has remained almost entirely unpublished. This book presents Eggleston's early Memphis imagery, his testing of color and compositional strategies, and the development towards the "poetic snapshot." In short, Chromes shows a master in the making.
Chromes de William Eggleston, published by Steidl, 432 pages, 380€.
4/ Jessica Lange, Dérive: Photographs
Acclaimed actor and photographer Jessica Lange embraced the onslaught of the pandemic and the initial lockdown in New York City in a remarkably intimate and engaging way: having been tempted to read French philosopher Guy Debord's landmark text, Theory of the Dérive, (drift), she set out any given day with no destination, no purpose in mind, and observed and engaged in (photographed) what prompted her.
The results of these excursions and purposeful, intellectual drifting are gathered in her third PowerHouse Books volume, Dérive, at once her most audacious and most ambitious photography project to date: gloriously empty streets, mysteriously bustling with compositional energy; perfectly poised individuals, captured as if unwitting extras staged on set; vivid chiaroscuro, voluminous in a wide-pan tableau. New York City was empty in the first few days of the pandemic, but its bones have never been documented in such a manner before Jessica Lange's masterful eye.
Dérive: Photographs de Jessica Lang, published by PowerHouse Books, 104 pages, 60$.
5/ Trent Parke, Cue The Sun, Artist Edition
A week before the global COVID-19 pandemic took hold in 2020 the Australian artist Trent Parke found himself on a whirlwind road trip across Northern India. The frenetic photographs in Parke's new book Cue the Sun were produced while travelling between Agra, Amritsar, Delhi, Dharamshala, Meerut and Mathura, from fast moving vehicles, of the outside world as it rushed by, almost as if in a dream.
The people rendered at 1000th of a second, are working through the night, pushing towards a smartphone driven modernity. "I kept feeling as though I could have been in any number of other countries at a given time. Though the windows I felt the past and future collide. The contradiction, beauty, chaos and hope. Humanity on the move," tells Trent Parke.
This artists book is constructed as a unique, vast, double printed concertina, taking you on a fantastical journey through the kinetic Indian night to a breath-taking dawn.
Cue The Sun de Trent Parke, Artist Edition publié par Stanley/Barker.
6/ Susanna Brown et Virginie Chardin, Frank Horvat: 50-65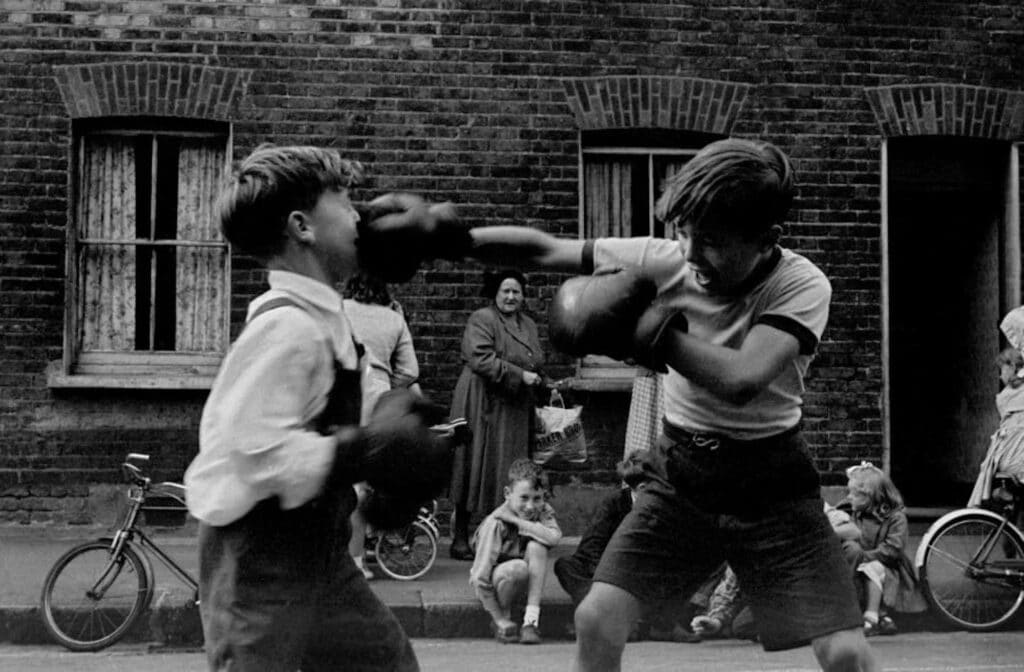 Born in Italy in 1928 to Jewish parents from Central Europe, Frank Horvat took refuge in Switzerland in 1939. From 1952 to 1955, his first trips to Pakistan, India, Israel and England earned him numerous publications in the international press. Managing to capture in close-up scenes of great intensity and sometimes forbidden places, he reveals himself as a photographer of the body and the intimate. A fascination that he will also express in his fashion images for magazines such as Jardin des modes, Vogue, Harper's Bazaar or in the hallucinated vibrations of a world tour in 1962-1963, largely unknown.
Published on the occasion of the exhibition at the Jeu de Paume-Tours, in France, this catalog focuses on the first 15 years of Frank Horvat's career, a period during which he asserted his extraordinary personality as an author-reporter and fashion photographer. This book is the first historical monograph on Frank Horvat's work, renewing the vision and analysis of his work, through a set of photographs, unpublished documents and texts by specialists; texts by Virgine Chardin, Susanna Brown and Bernard Wooding, photos in black in white and in color.
Frank Horvat: 50-65, texts by Brown Susanna and Chardin Virginie, 288 pages, 45€.
7/ Henri Cartier-Bresson et Delpire & co, Henri Cartier-Bresson Photographe
"I turn around the subject like the referee in a boxing match. We are passive in front of a moving world and our only moment of creation is the 1/25th of a second when the button is pressed, the moment of tilt when the knife falls," said once Henri Cartier-Bresson.
In the late 1970s, Henri Cartier-Bresson and his publisher Robert Delpire decided to produce a book that would cover his entire career under the title Henri Cartier-Bresson Photographer. Since its first publication more than 40 years ago, this book has been translated into seven languages, republished 11 times and is considered the essential reference of the master.
Through this collection of 155 images taken between 1926 and 1978, the man who has often been called "the eye of the century" presents us with his intimate vision of a world whose landscapes he traveled through, whose actors he met – artists, writers, anonymous people – and whose major historical events he immortalized.
Henri Cartier-Bresson Photographe by Henri Cartier-Bresson and Delpire & co, published by Delpire & co, 344 pages, 65€.
8/ Bruno Barbey, Les Italiens
In the early 1960s, Bruno Barbey, seeking to depict the Italians, photographs all strata of society in the street as well as in the interiors. The young photographer presented this collection of images to Robert Delpire, who immediately offered to publish them in the "Encyclopédie essentielle" series, a collection of books juxtaposing text and images, which already included Robert Frank's Les Américains (1958) and René Burri's Les Allemands (1962).
As Giosuè Calaciura writes in his preface, "These photos are both literature and cinema, an account of Italians that seems the work of an Italian, whether Carlo Levi in Words are Stones or Luchino Visconti in Rocco and his brothers. Or Pasolini. In Italy, Bruno Barbey feels like a man of the South among men of the South. An affectionate feeling of belonging is apparent in these shots where we see individuals trying to renew the broken threads of social and private life, to turn the page after the parenthesis of the war that called everything into question by sweeping away certainties and chronic despair. An opportunity to erase what one was with the promise of what will be."
Circumstances at the time prevented the book from being produced, but the portfolio of Italian photographs convinced the members of the Magnum Photos agency of the potential of the young Barbey, who was quickly accepted into the cooperative. After decades of work and numerous volumes on other countries, Bruno Barbey finally published a first version of this work in 2002, with an introduction by Tahar Ben Jelloun, long since out of print. The present edition is a return to Robert Delpire's original idea, in a reduced format coinciding with the edition of Les Américains and the new release Les Anglais, by Henri Cartier-Bresson and Martin Parr, as well as the forthcoming one of Les Allemands (2023).
Les Italiens, by Bruno Barbey published by Delpire & co, 184 pages, 42€.
9/ Tom Arndt, American Reflections
For this monograph, Tom Arndt, one of the masters of documentary photography, opened his archives. Over a hundred images, half a century of American history (from 1970 to 2015) is told in a wandering led like a road-movie. Each photograph tells a story. Under a sociological and empathetic gaze, Tom Arndt captures fragments of the lives of women and men from the middle class, the agricultural world, the dreary suburbs or the hectic streets of the great metropolises of New York, Chicago, Los Angeles or still his hometown, Minneapolis.
The illuminated signs, the reflections in the windows (themes that run through all of the photographer's work), the silhouettes taken from life, are all details that structure the photographic image. Lights and architectural lines compose powerful images, icons of a timeless America.
Two essays by Sarah Hermanson Meister, former director of photography at MoMA NY and current director of the Aperture Foundation in New York, and Yasufumi Nakamori, senior curator at the Tate Modern in London, contextualize Arndt's work in the history of American photography.
American Reflections, by Tom Arndt published by Atelier EXB, 152 pages, 45€.
10/ Diane Arbus, Diane Arbus Revelations
Revelations explores the origins, scope, and aspirations of Arbus's wholly original voice. Arbus's frank treatment of her subjects and her faith in the intrinsic power of the medium have produced a body of work that is often shocking in its purity, in its steadfast celebration of things as they are. Presenting many of her lesser-known or previously unpublished photographs in the context of the iconic images reveals a subtle yet persistent view of the world.
The book reproduces two hundred full-page duotones of Diane Arbus photographs spanning her entire career. It also includes a new contribution by Sarah Meister, executive director of Aperture, alongside essays by Sandra S. Phillips, senior curator of photography, emeritus, at the San Francisco Museum of Modern Art, and a discussion of Arbus's printing techniques by Neil Selkirk, the only person authorized to print her photographs since her death. An extensive chronology by Elisabeth Sussman, guest curator of the San Francisco Museum of Modern Art show, and Doon Arbus, the artist's eldest daughter, is illustrated by more than three hundred additional images and composed primarily of excerpts from the artist's letters, notebooks, and other writings, amounting to a kind of autobiography. These texts help illuminate the meaning of Diane Arbus's controversial and astonishing vision.
Diane Arbus Revelations, Diane Arbus published by Aperture, 352 pages, 80$.