"It should be the responsibility of modern photographers to free women, and ultimately everyone, from the tyranny of youth and perfection." This says everything. Peter Lindbergh is not just another fashion photographer.
The great age of supermodels at the turn of the 1980s and 1990s—with Linda Evangelista, Estelle Lefébure, Karen Alexander and others on a beach in Malibu (1988) or Naomi Campbell and Cindy Crawford in the streets of New York (1989)—is known to us thanks to Peter Lindbergh. His session for Comme des Garçons, with the models wearing white shirts, has become cult. Tara Longi, guest curator of the exhibition "Becoming. Peter Lindbergh", currently on view at the Pavillon Populaire in Montpellier, France, writes: "This group portrait gave rise to the phenomenon of supermodels, created a new feminine ideal and redefined relations between women in our collective unconscious."
This was indeed the first generation of models to reach star status. By showing them move, blossom, and interact in front of the camera as a group of friends, Peter Lindbergh made them look like real people, like us. "He did not treat women as an object but the subject of his photographs," notes Gilles Morat, artistic director of the Pavillon Populaire. Many of the German photographer's icons are to be found in the exhibition: the beautiful and the extraterrestrial on a dirt road in California (1990), the views of a factory in Nancy (1988), Amber Valletta with her angel wings in the streets of New York (1993), and many others memorable compositions.
Peter Lindbergh is also identifiable by his use of black and white, a constant in his work decade after decade: soft and deep, the shades of gray are timeless, as if covered with patina. "He found his style very quickly," says Simon, his son, who opened up the photographer's archives and became very involved in the exhibition, "because he wanted to be faithful to the human being he was." As Peter Lindbergh himself said: "With black and white, you don't try to make things prettier, make things chic or make things agreeable, no, black and white is authentic… The color stops on the surface. Black and white penetrates the skin: for me, it's not about beautiful or not beautiful, but about real or not real."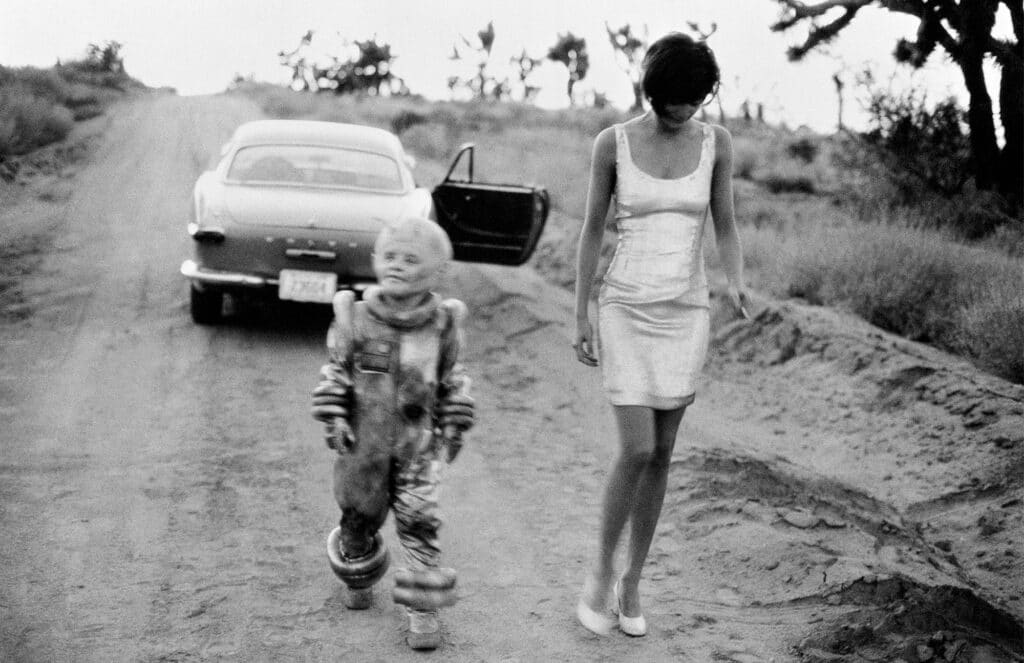 Peter Lindbergh is also remembered for his 1993 close-up of Berri Smither and her freckles. His other great mark of distinction is the refusal of excessive retouching. In 1997, his book Images of Women made a statement. Against the grain of the fashion world which swears by bodily perfection, Peter Lindbergh advocated naturalness, both in his fashion work and his portraits, regardless of the age of the models: Charlotte Rampling, Jeanne Moreau, Kate Moss over the decades, etc. "Beauty is the courage to be oneself. … It should be the responsibility of modern photographers to free women, and ultimately everyone, from the tyranny of youth and perfection," he said.
This first retrospective in France since his death in September 2019 not only focuses on the classics but also sheds light on his journey before photography. "He wanted to be an artist very early on. Not coming from a cultured background, he set out to follow in the footsteps of Vincent Van Gogh in Arles, then attended evening classes at an art school in Düsseldorf where he experienced the beginnings of recognition. Eventually, however, he abandoned conceptual art for photography because he needed contact with others," says Simon. Lindbergh chose fashion because he knew he would have more freedom there than in advertising.
From room to room, the exhibition highlights his influences and inspirations, whether cultural, such as direct tributes, to the famous image of Marlon Brando on his motorcycle, to the Beatles, to Josephine Baker reincarnated in Naomie Campbell. There are references to great figures: Lewis Hine, Dorothea Lange, Walker Evans, August Sander, Sandro Botticelli, Alberto Giacometti, Wim Wenders, etc.
Very dynamic yet uncluttered—there are not too many images, which is for the best—the scenography of the exhibition is alternates between large and smaller formats, which, as Simon points out, is "his trademark." There are prints made during Lindbergh's lifetime of two seminal exhibitions: at the Hamburger Bahnhof in Berlin (1997) and the Kunsthal in Rotterdam (2016). Added to this are films by or about Lindbergh, as well as display tables gathering contact sheets, magazine spreads, and personal objects, such as the photographer's glasses and journal. This intimate point of view is particularly appropriate for a photographer who has been perpetually in search of authenticity.
"Becoming. Peter Lindbergh", Pavillon populaire, Montpellier, June 23 to September 25, 2022.