It's cleverly fitting that Penny Wolin's intriguing book, Guest Register, is covered in shagreen, a centuries-old sharkskin-like rawhide whose pebbly texture provides a smooth but durable surface first found in the tombs of the pharaohs in ancient Egypt.
In subtle ways, the cover adds a similar sense of protection to the material inside: Wolin's intimate portraits of the residents of a down-at-the-heels hotel in 1975 Hollywood. Most of the forty-one residents are portrayed as if their very existence hovers on a fragile plane in a world speeding along just outside the windows of their bare-bones rooms: dreamers who haven't landed the big one and find comfort in a world populated by others in similar straits.
Room 526
In its square-format homage to Diane Arbus, the revealing photographs let the viewer feel an awkward sympathy with people locked into their own harsh realities, yet just a small step away from where they might easily find something more. Embedding herself in the rhythms of an SRO hotel in the storied land of Hollywood, Wolin gained access and trust by moving into Room 526, where she could honestly say she found herself "fascinated by being a tenant."
It's not until the end of her moving essay do we learn that in the three short weeks that 'Room 526' (as Wolin refers to herself) lived there, she also blew past those who, because of fear, jealousy, or the failings of their own characters said no to her entreaties to be photographed, missing out on the rare opportunity to have their private dignities recorded as part of a disparate yet very human family. Wolin's photographs dispel the notion that a soul is stolen when etched by light on a simple piece of plastic. If anything, they impart a lack of pretense or barrier to that real connection that can prove all too elusive in photography as raw as this.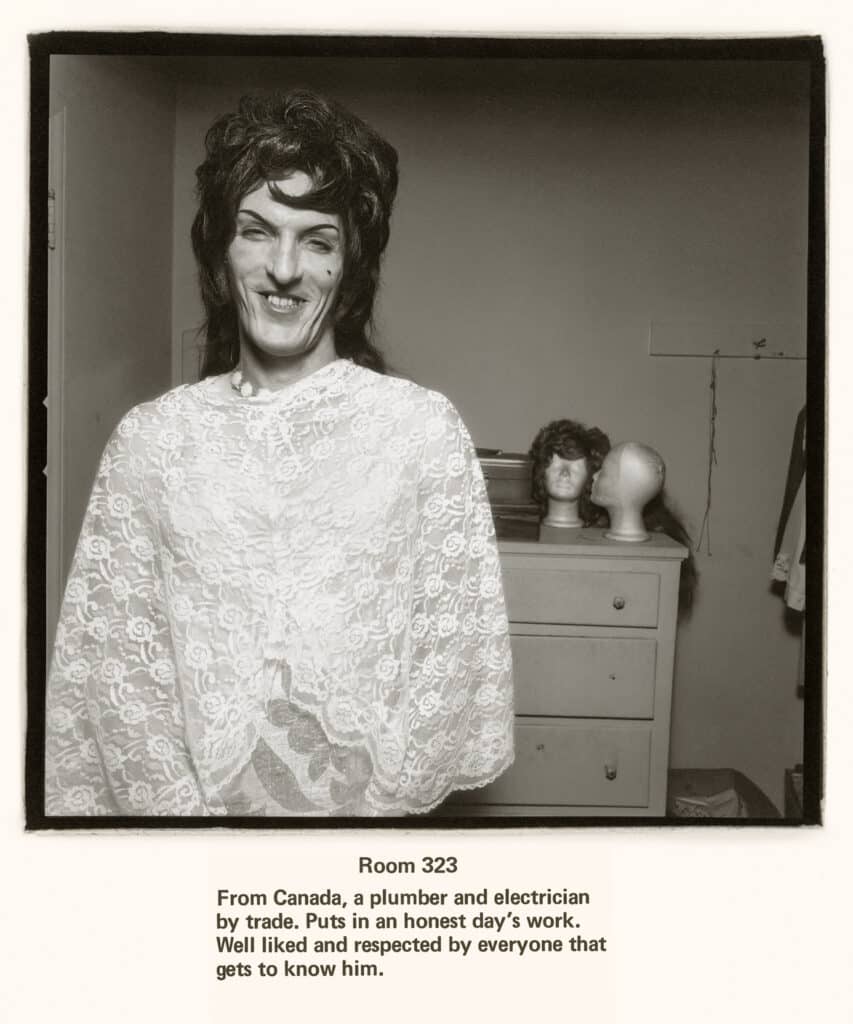 Most of the stories shared by the sparse captions and melancholy portraits in Guest Register tread lightly but lovingly, a presentation that fortunately preserves the poignancy therein. The couple referred to as Room 222—a man and woman in their late thirties shown with their shirts open—"Live together, love together; make babies together." Room 333 portrays a smiling, elderly woman sitting on her bed with a walker close by with a caption that reads "From a wealthy French family, came to America at 30 years old. Studied French literature at Columbia University. Now lives on 166.00 per month."
The ghost of Diane Arbus is ever-present, sliding in and out of the pages like a persistent reminder that (as often occurs with the square format) the proverbial fourth wall is breached, allowing an intimacy rare in most bodies of portraiture. Roommate 540 shows a handsome, buff man with a striking resemblance to Paul Kantner of Jefferson Airplane fame, wearing shorts and hoisting a small set of weights while staring gently into the camera. He is referenced as "Big, strong, and obedient."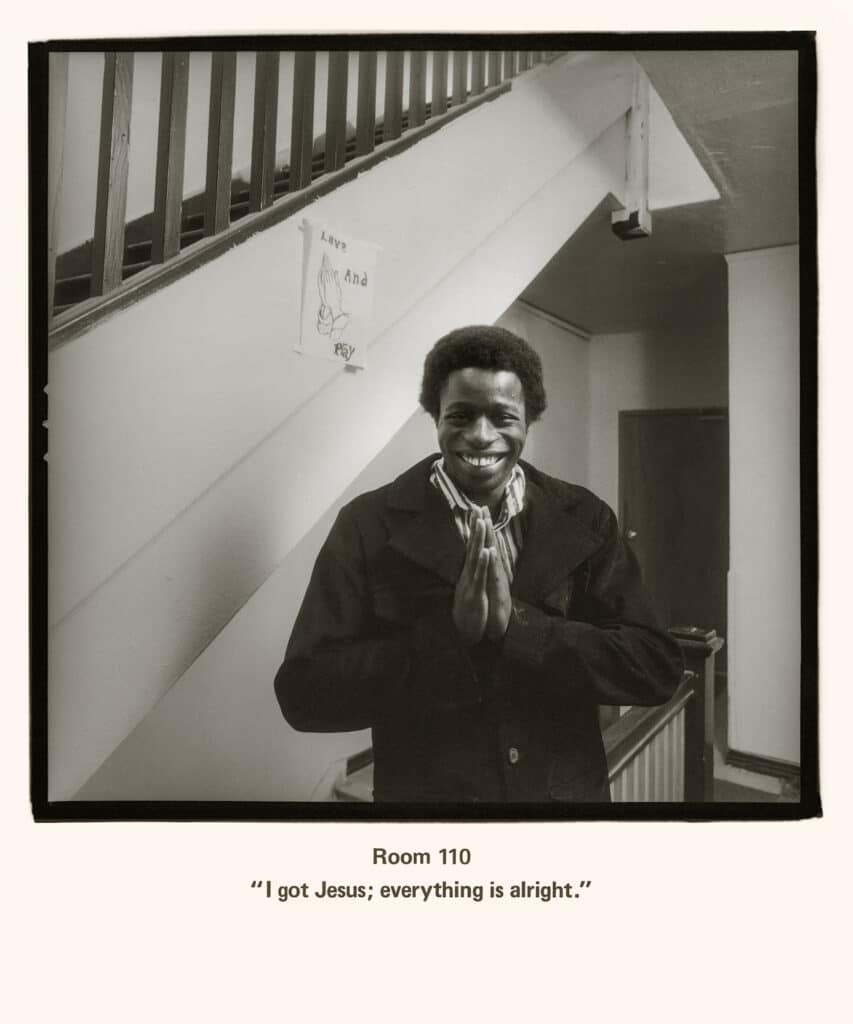 A world both fascinating yet fleeting
Wolin capitalized on the strength of her images to gain access to plum assignments and "meetings with wondrous people" as she navigated the unsure waters of the photography/publishing world of the 1970s and 80s. As evidenced by the humane and non-confrontational nature of the work in Guest Register, her photographs allow us access to a world both fascinating yet fleeting, as if we are driving along an elevated highway catching glimpses-as-novellas through the windows of a derelict building in an anonymous metropolis.
So much can be gleaned from the random details in the pictures, elements of commonality like empty beer cans and unmade beds, hair-care products and threadbare furniture, all revealed in the glare of a bare overhead light or the occasional punch of a camera flash.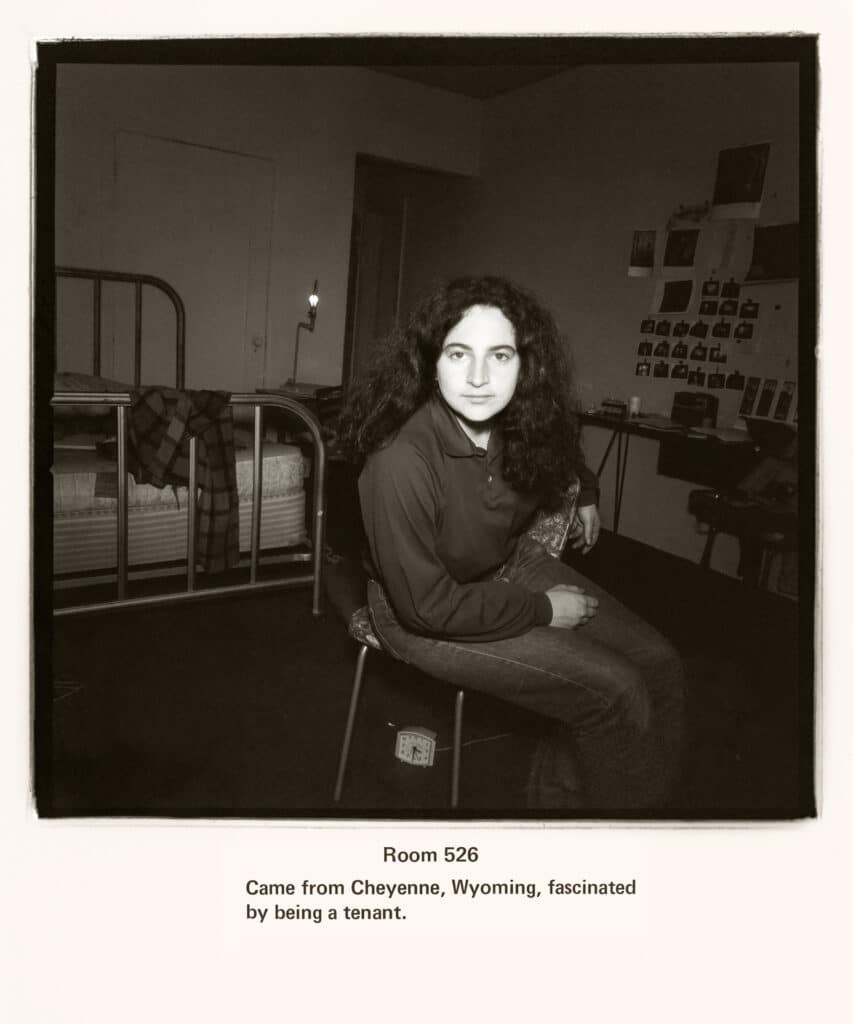 Guest Register, published by Crazy Woman Creek Press, photographs and texts by Penny Wolin, 88 pages, 125$.