Photographer Wayne Levin was nineteen in 1965. A year earlier, the U.S. Congress passed the Civil Rights Act, which theoretically ended segregation of Black Americans. In the South, however, local authorities and the Ku Klux Klan continued to enforce a de facto apartheid regime. For example, in Alabama, African Americans were blocked from registering to vote. Only 300 of the 15,000 Blacks were able to register.
In protest, a demonstration was organized on February 18, 1965. It was violently repressed by the police. One demonstrator was killed. Martin Luther King took the lead and called for a second protest on March 7. About 600 people gathered to walk the 50 miles from Selma to Montgomery. The police, armed with batons and tear gas, and aided by a hostile crowd, blocked their way. Eighty people were injured, some of them seriously. That Sunday went down in history as Selma's "Bloody Sunday." The images traveled around the world. More recently, even a feature film was made about the history of this civil rights protest: Selma, directed by Ava Duvernay.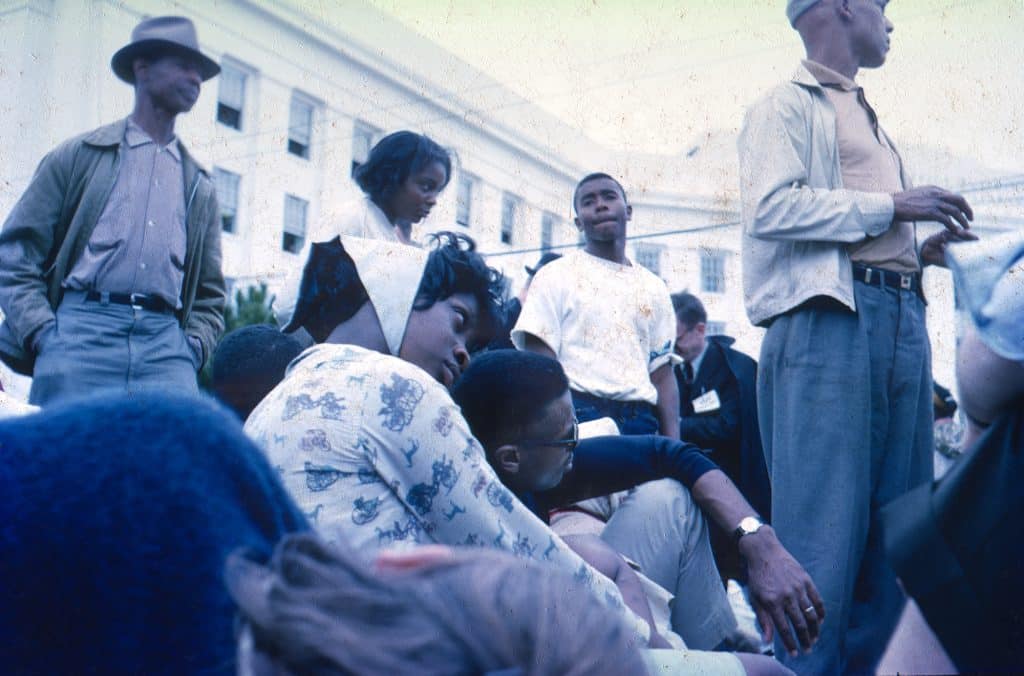 On March 25, 1965, yet another march of more than 50,000 demonstrators reached Montgomery unhindered, this time led by Martin Luther King. Wayne Levin participated in the final day. "I was active in the civil rights movement then, in the Los Angeles chapter of the Congress of Racial Equality." It was while diving into his archives many years later that the photographer became aware of the value of his photographs. "I realized that, while they were far from technically perfect, they were different from most images shot at the head of the march, because they were taken in the midst of it."
Wayne Levin photographed the protest from the inside. You can see some of the people wearing orange vests: these are the citizens who participated in the previous marches which were violently dispersed. "These original marchers and some of the civil rights leaders were the only ones who made the entire five-day journey from Selma to Montgomery." At the behest of President Johnson, the U.S. Congress finally passed the Voting Rights Act in August 1965, which permanently enshrined voting rights for African Americans.
Wayne Levin, Selma to Montgomery March, Tritone Press, 40 pp., €8.