Imagine you are strolling down in a market when a large suitcase with unidentified photos of unknown origin catches your eye. Diving into the lives of the anonymous people, you imagine their lives and try to make sense of them. The artist duo Elsa and Johanna have reproduced the work of an imaginary photographer who had met several different characters. "The Timeless Story of Moormerland" presents an iconography worthy of old family albums. It unveils traditional silver prints and a projection of 160 slides by combining photography, performance and video.
Reconstructing a fictional universe
Elsa Parra et Johanna Benaïnous, interpreters of real visual stories, stage themselves via sixteen anonymous characters. "We portray our characters a bit like dolls, with their silhouettes and costumes. The characters emerge gradually, giving us a global view of the roles we have played and what's lacking to create a heterogeneous form", specify the two French photographers. They don't try to wipe themselves out entirely and remain recognizable despite the costumes. The characters are "a clever mix of the clothes we found, the territory that inspired us, wigs and hairstyles." Elsa says: "There is a bit of us, of our families, our readers and our favorite film characters in them… Many things have come together and created images that belong to the collective imagination."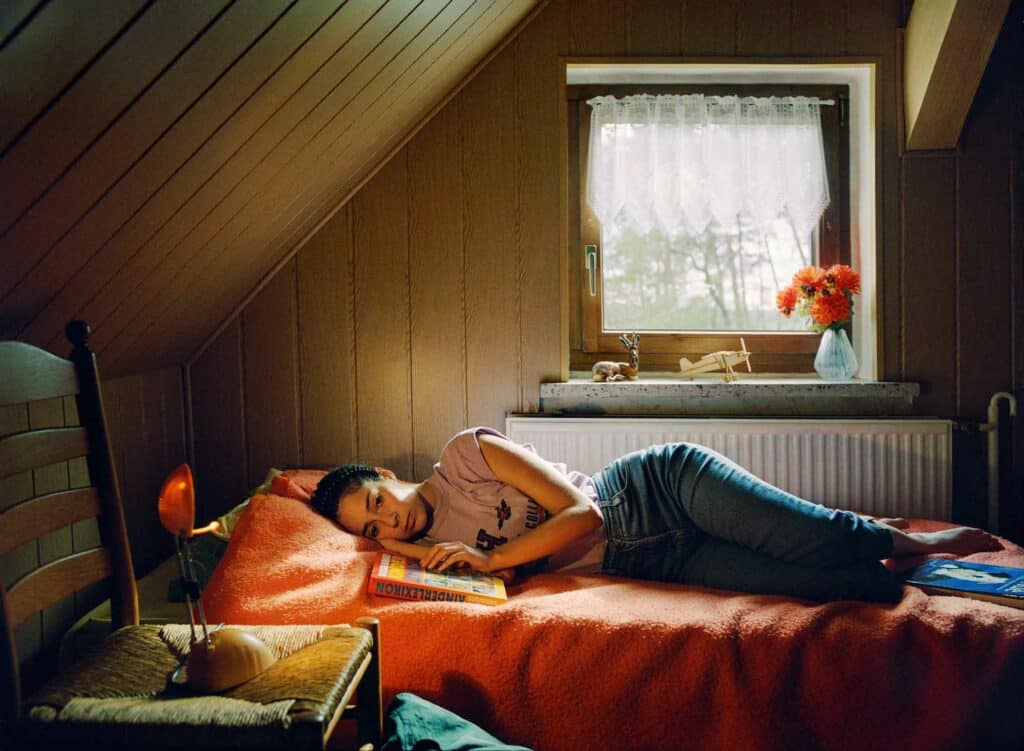 Questioning identity
LThe series is produced in May 2021 in a vague backdrop where logistical and health constraints collide. After scouting homes via platforms like Abritel, the duo settles in Germany. "Through the prism of our projects, we not only visit a territory but discover an environment." They travel around twenty different regions for four weeks, including Moormerland, which gives its name to the series. This small German town near the Dutch border alone captures the eerie atmosphere of the series. The interiors, the details, the moldings and the super polished ambiance recall the dollhouse universe. This almost sickly coquetry, a trend specific to western Germany, says a lot about the relationship between individuals and their space and the need to create a representation of themselves through their houses and gardens. For the duo, The Timeless Story of Moormerland is a form of questioning intimacy, memory and how we present ourselves."
More than a journey through time, "The Timeless Story of Moormerland" is a journey into another reality. The photographs evoke non-existent personal stories or existing ones that are unknown. Elsa and Johanna are convinced that each individual has a multitude of possibilities within oneself, like a palette of colors not fully exploited. "There's a bit of quantum metaphysics in there," says Elsa. "These characters exist in the form of reality that we have created for them. We even give them names, which we keep private. »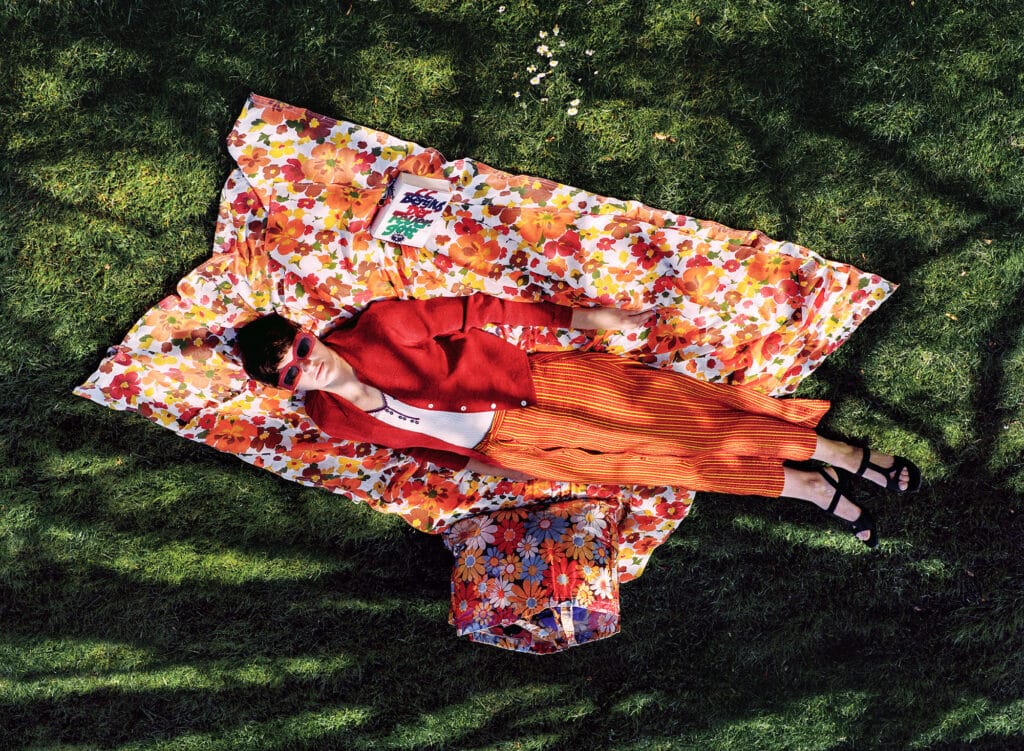 Weird, cinematic aesthetic
Elsa and Johanna are inspired by The Anonymous Project, a collector of slides from the past 70 years that revives an anonymous collective memory. Their aim, above all, is to "create moments of life, smiles, exalting moments and at the same time photos that have truly been worked on." Despite seeming like accidental photographs, the composition is very organized. They photograph with natural light, which offers a striking and highly saturated color rendering. The unexpected angles and finesse of color tones notably remind us of the works of William Eggleston, a great inspiration for the duo. The 1950s set decor seems straight out of Revolutionary Road, a film by Sam Mendes.
The series, bordering between dream and reality, convenes a cinematographic atmosphere somewhere between Peter Weir's The Truman Show and Tim Burton's Big Fish. "In cinema, stories are written through shots, the sequence of images and objects. We explore, on different scales, the world that is designed and constructed. In this series, this scale work can serve as a metaphor.
"The Timeless Story of Moormerland," exhibition by Elsa and Johanna, at the European House of Photography Studio. Paris 4th Arr., from September 7 to November 6, 2022.