unRepresented is an art fair like no other. This new format launched by Emilia Genuardi on the model of Approche, which she co-founded in 2017, brings together artists not represented by any gallery. This is a singular model since fairs are usually synonymous with galleries showcasing their artists.
Another originality: featured projects have been "endorsed" by collectors who cover the artists' participation fees. In exchange, each participant offers a work to the collector who has sponsored them. "The proceeds from all the sales go to the artists. Artists are present at the fair to welcome collectors and talk to visitors. Like Approche, unRepresented takes the form of a large exhibition, so there are no booths," explains Genuardi.
Designed on a human scale, this commercial event brings together fourteen artists presenting works valued from 1,000 to 25,000 euros. Jacques Deret, collector "sponsoring" Laure Tiberghien, was immediately seduced: "I am a regular visitor at Approche, and I appreciate the small size of the show, which allows me to discover the works in depth. To a collector, collecting an artist is equivalent to supporting them; in my case, participating in unRepresented is a logical extension of an approach I have followed since 2011 through the Prix Art [] Collector. In both cases, the idea is that collectors can play an active role in artists' development."

This new fair is an opportunity for Blind to interview four participants—Dana Cojbuc, David Fathi, Bruno Fontana et Julien Lombardi —about the behind-the-scenes aspects of being an artist in addition to making their work.
How is having gallery representation different?
"The main advantage is being able to focus your time and energy on creative activity," explains Dana Cojbuc, who has never been represented by a gallery, just like Julien Lombardi. "Until now, [the lack of representation] hasn't bothered me, because my practice combines different activities related to photography. Thanks to the support of public cultural institutions, I have managed to finance the majority of my projects and to secure the means of production through the organizations that have exhibited my work. Awards, residencies, commissions, and exhibitions have also facilitated the acquisition of my work by several public and private collections. However, for several years now, my creative work has involved longer-term creative processes and more complex techniques, and the tasks to be carried out are constantly multiplying, both in France and abroad. These new conditions of production and distribution are difficult to manage alone, so working with a gallery could be an important asset to pursuing my goals."
David Fathi, who had collaborated with Galerie Particulière until its closure in 2019, says: "This was a beautiful experience, but unfortunately it was cut short. A relationship with a gallery should be built over the long term, and we were only just starting to work on major acquisitions and exhibitions. … In my case, no longer having gallery representation is complicated, because I want to keep my full-time job in parallel (IT project manager), and completing acquisition files for institutions and maintaining the relations with collectors takes a lot of effort. The support of a gallery was immensely helpful."
Bruno Fontana: "Having gallery representation has allowed me to understand the ins and outs of the art market, art fairs, and relationships with collectors. My work was regularly exhibited at fairs and shows. It is this visibility that has allowed my work to attract the attention of collectors. This period was very stimulating because my time was entirely dedicated to my artistic work."
What do you expect from your participation in this fair, where you will have to pitch your own sales, a task usually taken up by gallery owners?
Bruno Fontana: "The idea of having this collector/artist duo is very innovative. It allows the collector to directly support, and express their commitment to, the selected artist(s). The collector thus becomes an actor at the fair by boosting the artist's visibility and offering the public hand-picked works of art. Thanks to the relationships previously established by the Approche fair in this friendly venue, we (the artists) will benefit from interacting with an ecosystem of publishers, institutions, gallery owners, and collectors…." 
Julien Lombardi: "I think it's an original initiative that shakes up the conventions of the art market and questions what it means to support an artist. It is commonly accepted that the purchase of a work of art means supporting contemporary creation. This is a fact. Nonetheless, I find it positive to highlight other forms of commitment and relationship between actors in the art world. Frédéric de Goldschmidt, the collector who sponsors my entry, called me up to suggest that we join forces in this first edition of the fair, even though we had never met personally. Another reason why I agreed to participate in unRepresented was because there is a curatorial project, and as a visitor to the Approche fair, I have always found that event very inspiring in its format and its selection of artists. I'm not a regular visitor to fairs, so I approach this event the way I would an exhibition. I expect the same thing from this event as I do from any event I participate in: namely, to share my work, my approach, my projects, and to create the conditions necessary to pursue my artistic projects.
Dana Cojbuc: "I don't find it hard to talk about my work; selling it is another thing. … This fair should be a wonderful way to showcase my work, and a great springboard for an emerging artist like me."
David Fathi: "This is a very exciting project and a bigger challenge than I had expected. The team is very professional and really raises our profile, allowing us to network, which is hard to do on your own. I'm mainly looking forward to building professional contacts that may blossom over time. It's also an opportunity to physically formalize my new project based on generative artificial intelligence. So I am really looking forward to it, although I'm a little anxious about meeting with the public for the first time."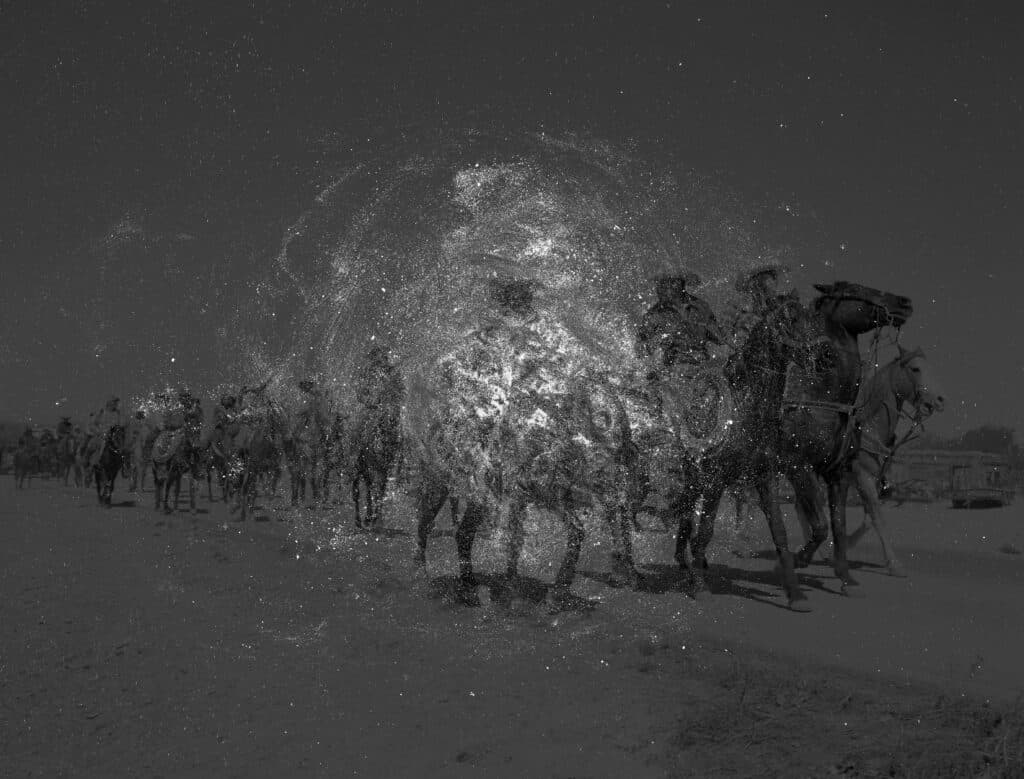 unRepresented by approche, 1st edition, March 31–April 2, 2023, La Molière, 40 rue de Richelieu 75001