"Can you imagine a world without birds, bees, hedgehogs or even polar bears?… No! And yet… We are currently facing a discreet but massive extinction of animal species in the four corners of the planet and just down the road from us. It was by this observation that Tony Crocetta, photographer, founder and artistic director of Animal Latitudes, opened the 8th edition. Since 2008, this biennale of wildlife photography in Drancy (Seine-Saint-Denis) has been gaining ground, alongside Montier-en-Der, its internationally renowned counterpart, magnifying ever more the emblematic, unloved or poorly represented species that we know so little about after all.
The Environment, a Matter for All
The choice of poster is also quite moving: a mother polar bear with her cubs. For, that is what we are talking about today. This symbol of global warming, affected by melting ice and forced to migrate to survive, is becoming a priority species. Figures from the IPCC and on biodiversity sadly confirm this fact. The photo-poster is signed by guests of honor Dorota & Bruno Sénéchal, from their White on White series, representing ten years of reporting and expeditions in cold regions (-57° Celsius).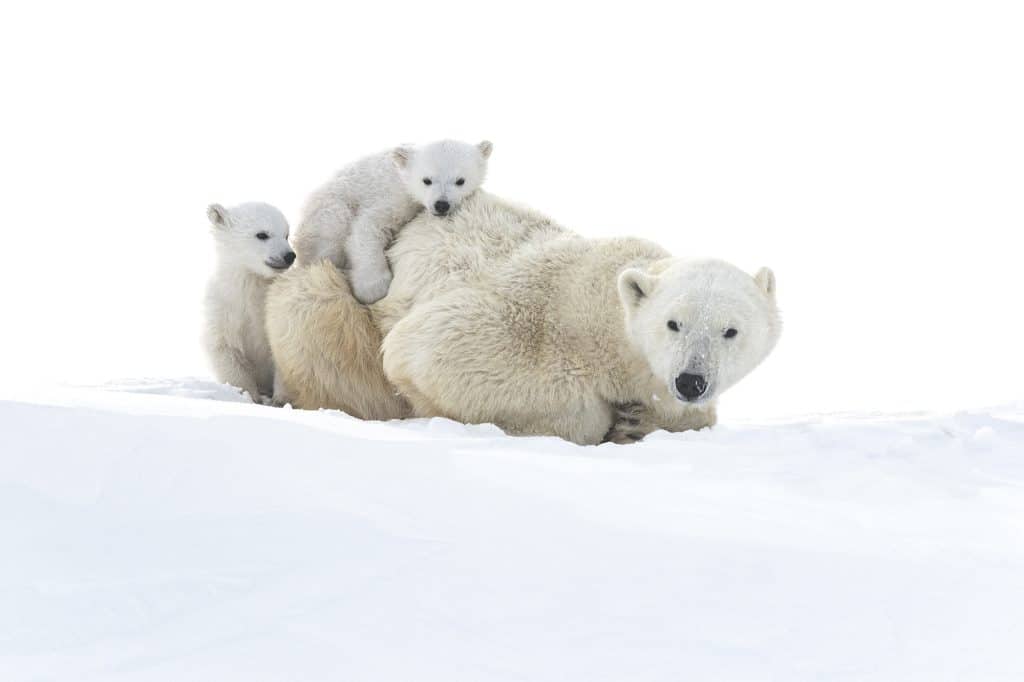 The exhibition presents four species in white fur and plumage (polar bear, arctic fox, snowy owl, harp seal) from four different places: "We were looking for a more intimate experience with images rarely seen," explains Bruno Sénéchal. "For the polar bears, we went to northern Canada to follow in the mothers' footsteps when they come out of their dens for the first time with their cubs. It is a brief moment in their life because they only stay 3-4 days on land before returning to the ice floe to feed."
The scenography, located in the Cultural Space of the Park, immerses us in a reconstruction of the frozen vastness made out of white sheets. Luminous, tender and moving photos hang in a variation of opaline tones. "We photographed polar bears along Hudson Bay," specifies the photographer. "The species has lost one month of hunting over six months of the year. However, it can regulate itself. If the mother knows that there won't be sufficient reserve, she will only give birth to one baby instead of two on average." Heartbreaking words that indicate the first consequences of climate change. "We were at the southern limit of the distribution schedule," he says. "Some specialists declare that within 35 years, there will be no more polar bears in this place, for example. And soon, they won't be able to go any further north. How can we imagine these regions without this fantastic and symbolic animal?"
Capturing Beauty Before Liquidation
This awakening, therefore, must intrinsically prevail in terms of the environment and favor the preservation of our natural heritage. The collective exhibition, located in the same place in the park, reinforces this position, featuring in a jungle-like atmosphere some forty images signed by five specialized photographers: Lionel Maye, Carole Reboul, Benoît Féron, Joël Brunet and Nicolas Orillard-Demaire. Because, as usual with Animal Latitudes, there is no call for projects, the choice is made by heart to represent biodiversity in all its richness and vulnerability. "One more stone in the building of global awareness," adds Véronique Fournier, program manager, nature animator of the festival and photographer behind the poster for the 6th edition.
The gaze of Carole Reboul, the only female solo photographer this year, stands out, inviting contemplation of the infinitely small (macro-photography) and the infinitely large (nightscapes) in her series "Once upon a time there was night," from her book that came out in the fall. Poetic and delicate shots, taken in the four corners of France. "I want to show people that we are missing out on wonders," says the photographer. "As we miss them, we don't get to know them, and therefore, don't protect them. Insects or the night; it is always about interconnection because everything is linked. Fauna, flora and human beings need darkness."
The exhibition is accompanied by a conference she gives on the theme of preserving the starry sky and the fight against light pollution. How many children have the chance to gaze upon a starry sky still today? Though, in her words, "rapid urbanization and the generalization of artificial lighting threaten to reduce the night into a shrinking trickle," the Cévennes remains an "eternal optimist." "I have been doing night photography for over five years. The tendency to take into account the existence of the night is emerging in France. Many places are going in the right direction," she enthuses. "Villages turn off their lights. This was not the case before. Some cities have set up black trams, corridors of darkness for nocturnal animals. Otherwise, we face a complete disruption of their life cycle."
This risk of disappearance is also in the subtext of Tony Crocetta's new project. This year, he exhibits his images in large format in three halls of the Château de Ladoucette. The creator of Animal Latitudes, who lives between France and Kenya, has teamed up with the designer-graphist Marcello Pettineo. Between photos and drawings, "Chronicles, Tales & Legends of the African savannah and bush" recounts 35 years of travel in Africa. "We observed the deterioration of the African wildlife," he says. "We only have a few crumbs of a lost paradise left and it is always a miracle if we can still see them today. Biodiversity, in Africa as everywhere else, is silently dying out." This lifetime project will also be published in a beautiful book in classic format and a prestigious version designed by artisans at the end of the year.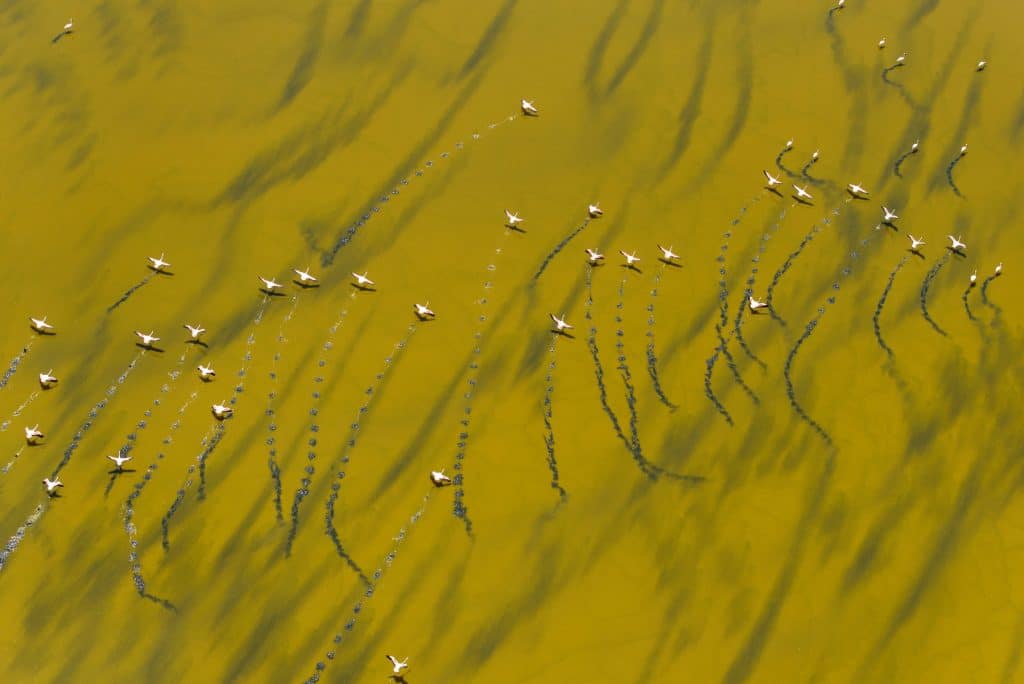 Wildlife for the Survival of the Human Species
The exhibited photographs thus captivate the eye when their visual beauty transcends the message. Joël Brunet, who searches for beautiful light and perfect framing, considers his profession "a real therapy." As we see in this wild cat that faces us and the poetic group of fieldfares. Likewise, Nicolas Cegalerba's series honors the mysterious Komodo dragon, the central Indonesian reptile with a forked tongue.
For his part, Julien Boulé focuses on the tiger, "the real king," less represented than lions, to better inform us of its story, life, and protection. The Belgian Jeff Marlier distills the Vosges chamois, an emblem of the fauna of the Grand Est region, in a blazing sunset. Jean-Philippe Borg takes us to Yellowstone National Park to immortalize the mythical bison of the American West. And as for Nicolas Orillard-Demaire, he splits emotions between a comic gannet with a feather in its beak that is not his and a grimacing lion swept away by flood in Kenya.
There are more than 250 photographs to discover and demonstrate the essential interactions between living beings and the ecosystems in need of protection before they become souvenir postcards.
Animal Latitudes. 8th edition from March 7 to 27, 2022. Free entrance. Cultural Space of the Park / 120 Rue Sadi Carnot – Château de Ladoucette / Rue de Ladoucette, 93700 Drancy, France.