Reality — like nature — is a wild, savage, and beautiful force, a truth so grand as to be sublime that we can never truly fathom it, though we most certainly may try. Art, in its most exalted form, transports us into an ineffable realm, a space where understanding lays beyond the word itself. "We all know that Art is not truth," Pablo Picasso famously said. "Art is a lie that makes us realize truth at least the truth that is given us to understand. The artist must know the manner whereby to convince others of the truthfulness of his lies."
These sentiments speak to the work of Dutch photographer and multimedia artist Erwin Olaf, whose carefully staged images occupy the liminal space between fact and fiction. In the new exhibitions "New Series: April Fool and In the Forest" and "Strange Beauty", on view in Munich, Germany along with a catalogue, Olaf revisits his archive, looking back over his 40-year career that explores meditative aspects of human emotion, motivation, and thought as well as pressing social and political issues facing women, people of color, and the LGBTQ+ community.
"I always have to be a little bit angry otherwise I don't work," Olaf says with a frankness that underlies the heart of a true revolutionary. A rebellion is driven by love, and a desire to tear down false truths propped up by our current world. "I always get the question, 'Is it real or unreal?' With photography, why are we thinking we are looking at reality? Olaf asks. "For me, the camera is an instrument to register my imagination and to translate the things in my mind into an image. When we see a painting, we accept that it is from the mind and the spirit of the painter. It's the same with music, literature, and film. You can go to the cinema in the afternoon, watch a movie, and cry your heart out when you know it's totally artificial. But when it's photography, it should be part of the 'real world.' I don't think so."
Butterflies of the Night
From the outset of his career, Erwin Olaf rejected the premise of documenting reality, recognizing that the story he wanted to tell came not from the outside world, but from a vision inside his mind. "When I close my eye, I could see a perfect world and I could not find that in reality," he says.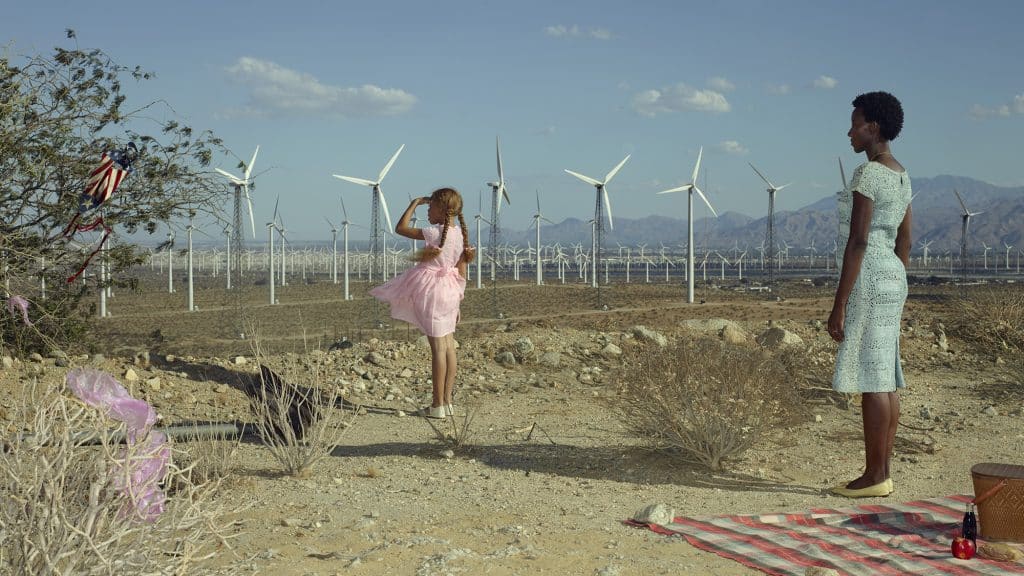 Coming of age in Amsterdam in the 1980s, Olaf discovered nightlife culture was the perfect space to explore all of that. "The camera gave me the key to enter worlds that intrigued me," he tells. "Nightlife is filled with butterflies of the most beautiful colors and sizes. You find each other in dark corners, dance, and celebrate life and freedom. When you look through the lens you see what is fantastic, intriguing, and special."
Like Robert Mapplethorpe and Joel Peter Witkin, Olaf recognized photography could be used to construct reality rather than document it as it was. "I was using the camera to find out what I was thinking, who I was, where I was going, and explore the world surrounding me," Olaf explains the genesis of "Squares", a series of iconic black and white portraits of the LGBTQ community made between 1983–2018.
"I was interested in the people, their thoughts, and the way they were. I started to invite them to my studio, where I could create my own world and photograph them based on ideas I had about what they told me or inspired by their behavior. I didn't have a plan. I was just following my instincts."
The Turning Point
Throughout his career, Erwin Olaf has maintained a healthy balance between personal and professional work. He transfers the skills and money he makes on assignment to support his personal work, creating a strong foundation upon which he can continuously expand his vision and practice. After completing the series "Royal Blood" (2000), in which Olaf takes on the high society and explores the martyrdom of prominent historical figures like Diana Princess of Wales, Olaf wanted to do more quiet, interior work with series like "Rain" (2004), "Hope" (2005), and "Grief" (2007).
Inspired by the work of American illustrator Norman Rockwell, Olaf set out to create a series of work situated in his youth during the 1950s and '60s. But the first day on the shoot for "Rain" sent Olaf into a panic. "The pictures looked so bad. These were the most expensive photographs I had ever made,' he recalls.
Olaf intuitively understood that underneath the idyllic images of 1950s America, a darker truth about the horrors of segregation and systemic racism loomed. Watching the models, he saw that their subtle response to the setting was a revelation unto itself. "I made one of the Polaroids and saw that this is the moment in life I want to photograph," he says. "I found the idea in "Rain" and also in "Hope" about the moment between action and reaction. I was interested in the body language and the way the look in the model's eyes could influence the story without me dictating everything. That opened a new door for me."
More recently Olaf has returned to the outdoors for the first time in 25 years after a shoot in the 1990s went awry to create new series including "Palm Springs" (2018) and "Im Wald" (2020). For "Im Wald", Olaf traveled to the German Alps to take on the subject of man vs. nature. "We as human beings are so arrogant and blind — we think we are superior to nature," he says. "We don't realize we have to be more careful because our behavior will ruin us. In this series, I wanted to show that we are small and should know our place in the world. We need to respect nature." Nature — like reality — is the ultimate force of truth, whether we choose to recognize it or not."
By Miss Rosen

Miss Rosen is a New York-based writer focusing on art, photography, and culture. Her work has been published in books, magazines, including Time, Vogue, Aperture, and Vice, among others.
"Erwin Olaf – New Series: April Fool and In the Forest"
"Erwin Olaf: Strange Beauty", through September 26, 2021, Kunathalle Munich, Theatinerstraße 8, 80333 München, Germany
Erwin Olaf: Strange Beauty, published by Hatje Cantz, € 44.00