In the mid-1980s, Swedish-French artist André Saraiva began writing graffiti on the streets of Paris. In 1989, he introduced Mr. A, the dapper chap whose incorrigible joie de vivre was brilliantly enhanced by a top hat and winking grin, long legs and stylish savoir faire. The now-iconic figure, which has danced up and down the streets for decades, marked the early years of street art, as artists began introducing icons in lieu of letterforms.
Like Andy Warhol, André Saraiva understands that graffiti is the ultimate manifestation of pop art because it possesses an infinite number of applications, making it accessible to anyone and everyone wherever they are. Over the course of 30 years, André Saraiva painted an estimated 20 Mr. As per night — amassing an army of some 216,000 characters traipsing their way around the globe.
"Graffiti has a history dating back to Ancient Egypt"
In that same time, André Saraiva has become an integral figure in the worlds of art, fashion, nightlife, and travel, collaborating with everyone from Louis Vuitton and Jean Paul Gaultier to Nike and Adidas and helping elevate graffiti to the pantheon of fine art. 
Its apotheosis is well earned and long overdue, as celebrated artist and designer Virgil Abloh notes in the introduction to André Saraiva: Graffiti Life. "With a history dating back to Ancient Egypt, Greece, and the Roman Empire, graffiti exists as an art form on the outskirts of society—ranging from simple written words, to elaborate multi-storey paintings, and often on walls within public view without permission," Albloh writes. 
"It was, and still often is, seen as a symbol of growing urban 'problems' for many cities, but for many marginalized communities it is a form of visual communication through art expression."
André Saraiva in one word: Andrépolitan
Next to markers and spray paint, the camera is the most important tool in a graffiti writer's arsenal. Photographs, usually made immediately after the work is completed, preserve one of the most ephemeral — and polarizing — forms of art, existing long after the work disappears from the public eye. The compulsion to create, to get up and be seen, to be bigger and badder than the last, drives many writers to new feats of innovation and ingenuity.
"In the late '80s and early '90s, Paris was busy with graffiti, the walls were being covered with tags, throw-ups, and toys," André Saraiva writes of his early days in the game. "The streets were invaded, sometimes you could barely read the names. So I began to replace my name with a drawing, using a few lines just like a tag…. This was the birth of Mr. A. Thirty years later he's still my accomplice."
Instantly recognizable, Mr. A took Paris by storm, occupying the distinct space between graffiti and the emergence of a new movement: street art. But André Saraiva never abandoned graffiti's adherence to letterforms for the pictorial movement, and instead wed the two together as a love letter to the city. 
Recognizing graffiti's distinct ability to act as a public declaration of love, André Saraiva continued writing the names of those nearest and dearest to his heart, giving them the same pop sensibilities that Mr. A possessed.
In turn, people took notice, crafting their own response. Famed cultural icon Glenn O'Brien penned a poem to André Saraiva, words from one writer to another. In the poem, O'Brien paid homage to the art of spectacle, describing André as "amusing, bemused, perused, shrewd but fine-tuned, gentleman tough" — or in a single word, "Andrépolitan," a portmanteau as elegant and eloquent as Mr. A's giddy grin and winking visage.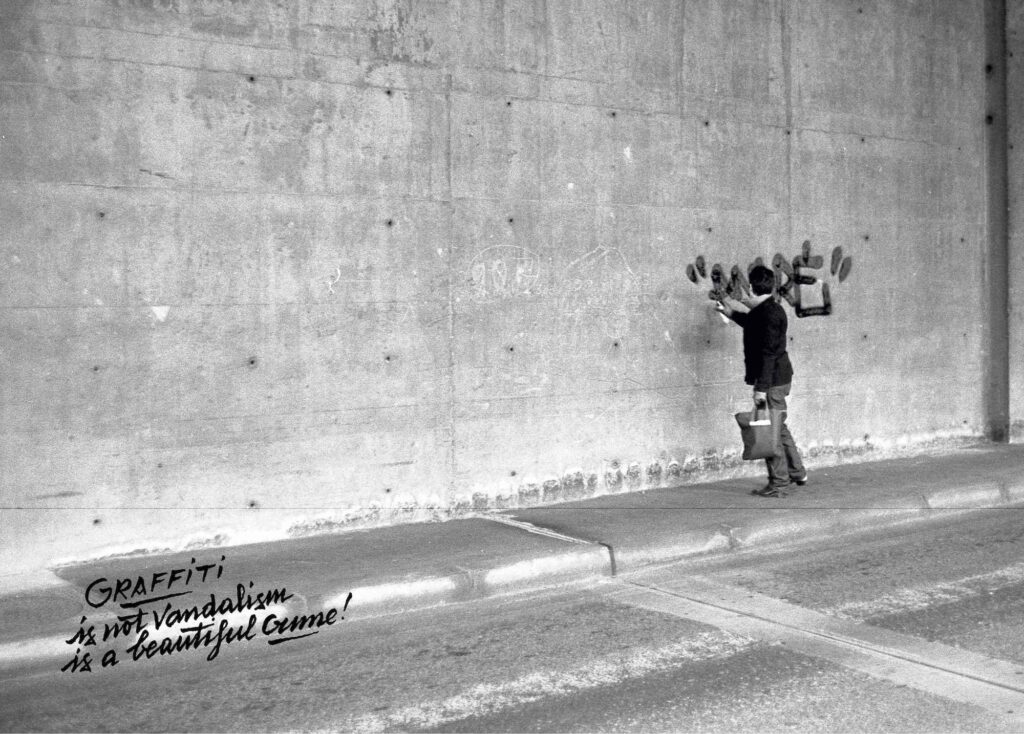 André Saraiva: Graffiti Life is published by Rizzoli New York, $85.