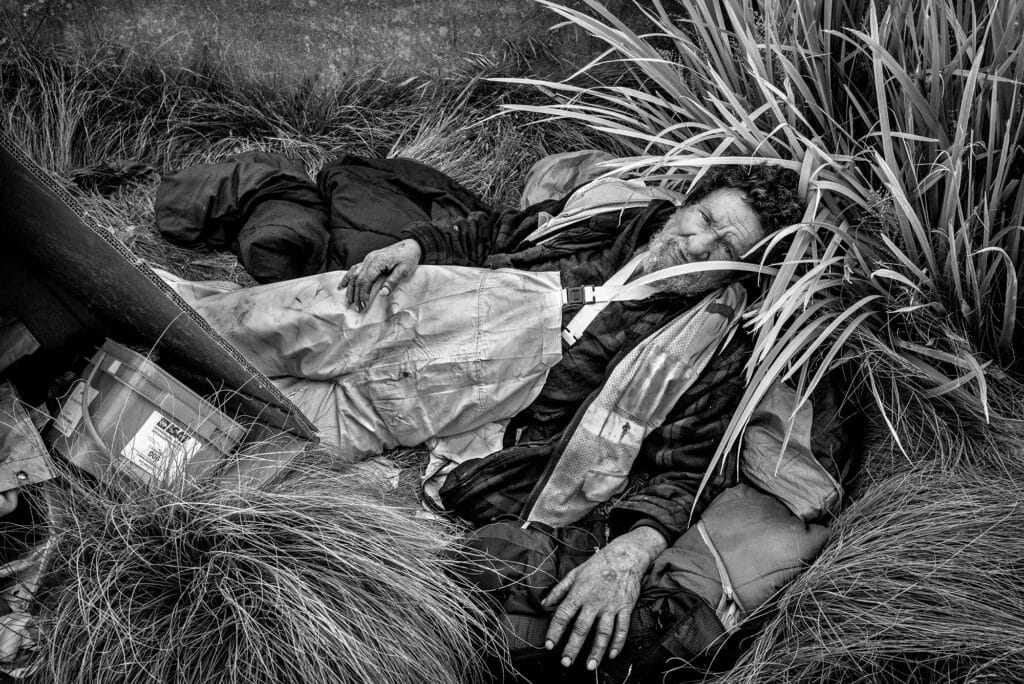 Superbowl 50, between the Denver Broncos and the Carolina Panthers, came to Levi's Stadium in Santa Clara, California, in the San Francisco Bay area, in February of 2016. According to reports for Forbes, the game was expected to generate at least $620 million. A 30-second ad during the game cost $5 million dollars, and CBS, who broadcast the game on television, generated roughly $350 million from ads. Direct visitor spending related to the game was estimated to top $220 million.
But as San Francisco geared up for the big game, the city began to urge the unhoused to relocate from the areas where the tourists would be. The city wanted them hidden from the cameras and the eyes of the people, that would come for the week of festivities before the game itself.
Many of the unhoused ended up on Division Street in San Francisco. Living under a highway overpass, news reports at the time called the area a "21st-Centry Hooverville," after the name used for homeless encampments around the United States during the great depression.
San Francisco based photographer Robert Gumpert, was working on a project at the time that had begun in 2006. The work was a series of portraits and recordings of the stories of prisoners in the San Francisco jail. But as that project continued, he was also looking for a second project that was more than just portrait photography.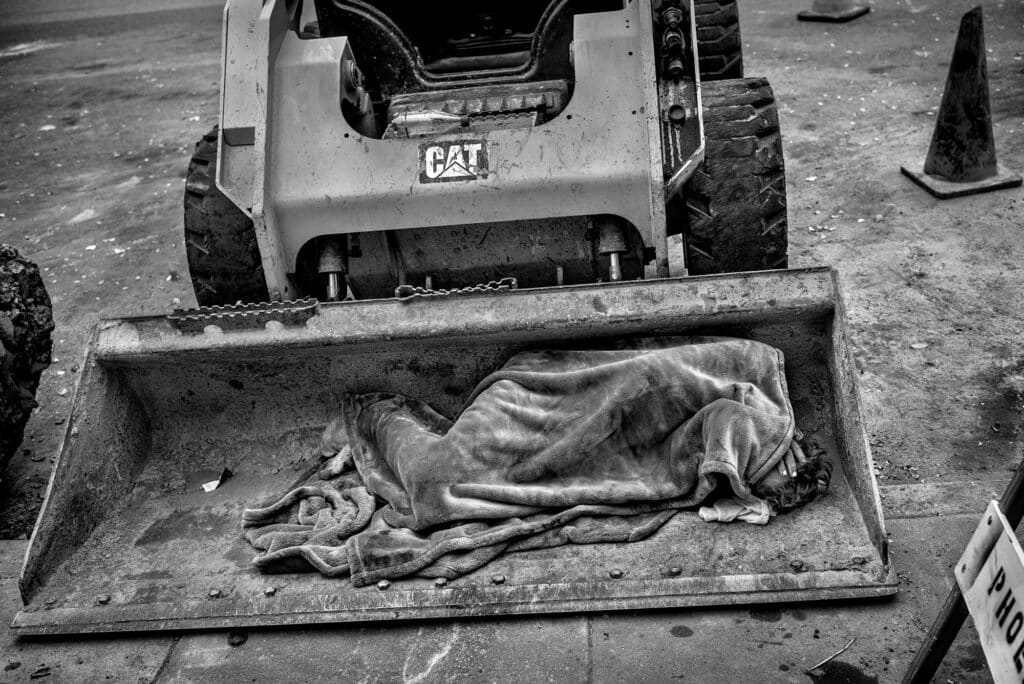 "I began walking the streets and thinking about what I was seeing. Walking home from the jail I would sometimes run into people living on the street who I 'knew' from jail. Some of them wanted copies of their jail photos; or a new one, which I did."
On one of those walks, he came to Division Street.
"After a trip to London in February 2016, I came home and one of my first walks ended up on Division Street, there were tents and reporters everywhere. The Super Bowl was coming and the city's powerful wanted the unhoused in a less visibly location. That's when the project started 'officially' and got it's name."
Gumpert's time and work with those in jail in San Francisco helped him gain the trust of the people he met, and get access to their lives.
"I think the work I did in the jail is the answer to both access and trust. There were people who knew me, and to the degree that trust is possible in these situations, trusted me… That, and that I'd say hello and stop to talk. For the most part I'd ask about taking images, ask people's names, and generally show an interest in who they were/are. If they wanted copies of the photos, I'd bring them copies when I said I would."
Gumpert was born in Los Angeles and raised by a single mother who had come to the United States from Germany, via England, just before the outbreak of World War II. She was an artist, but for economic reasons, went to work at a grocery story. She was also a union member, and took Gumpert to strike meetings, which is something that had a profound effect on him.
His mother also encouraged his interest in photography. "When I was perhaps 11 or 12, I wanted a camera. My mom said I could get one only if I first learned to develop and print. So, I did."
Gumpert went on to do overseas stories for British and European publications and began long term projects on health care, criminal justice, and the options exchange all while continuing doing daily photo work in the Bay Area. From 1999 through 2003 he had a contact with the California Department of Industrial Relations, and then in 2004 he was offered a yearly contract with the Labor Management Partnership, which is a group that works with a number of unions. Then in 2006, he began his work in the jail.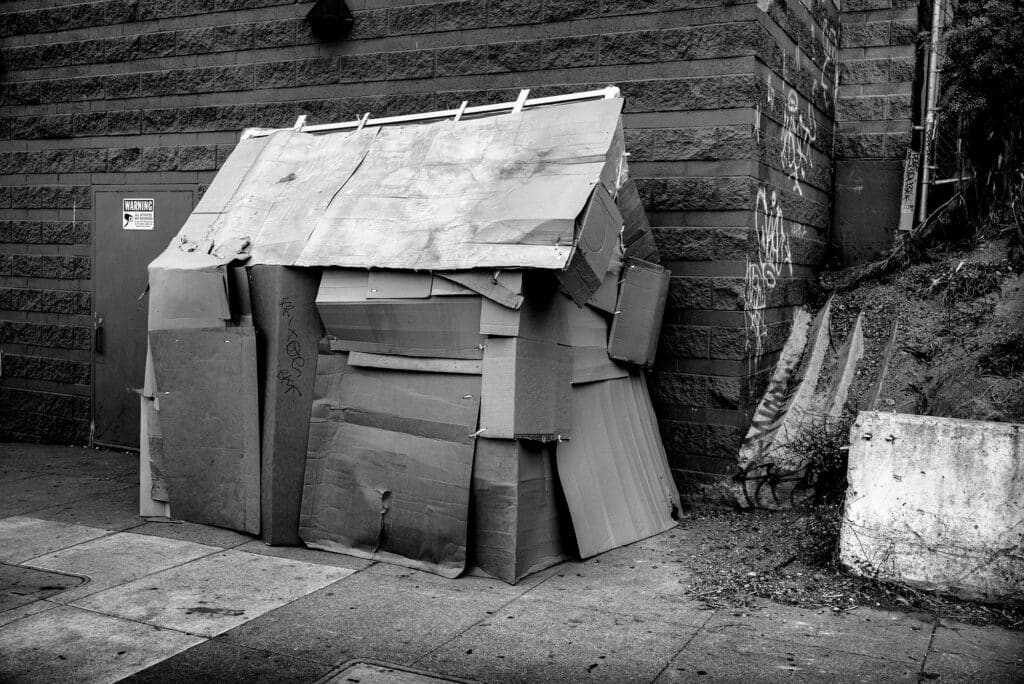 As the Division Street project continued, Gumpert also began to photograph other areas where the un-housed were living. He did not have an exact plan of where to go, or what to photograph.
"Once the project began there wasn't any thought-out plan as to where and when to go someplace. I just went for walks: what I shot was dictated by what I encountered, and what I felt like shooting that day: portraits, wealth, cityscapes, etc. I tried to vary the what and how."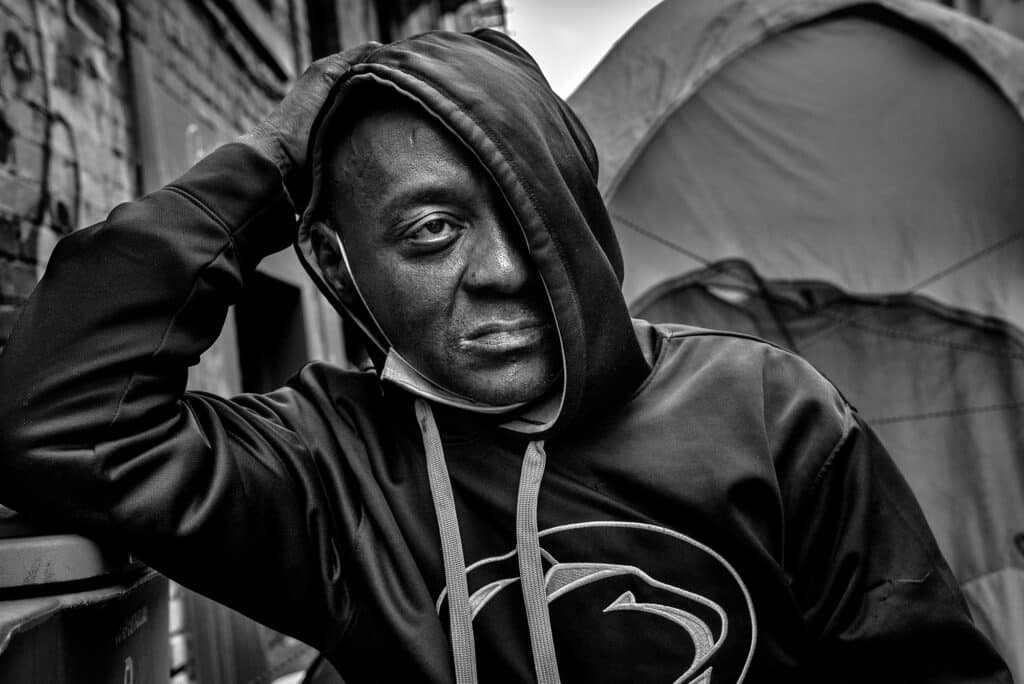 Sometimes people were willing to share a story, but now do a photograph. But Gumpert's methods for approaching people and interacting with them was the same no matter what.
"It's not that complex: I treat folks like I would want to be treated. And I work with them the way I would work on any assignment: Causally, business like, clear and outwardly confident. I don't want to waste their time and it's obvious I appreciate the access and time they are willing to give and that I'm interested in how their lives work."
He also did not pressure people to take part in the project, and was open about what he was doing.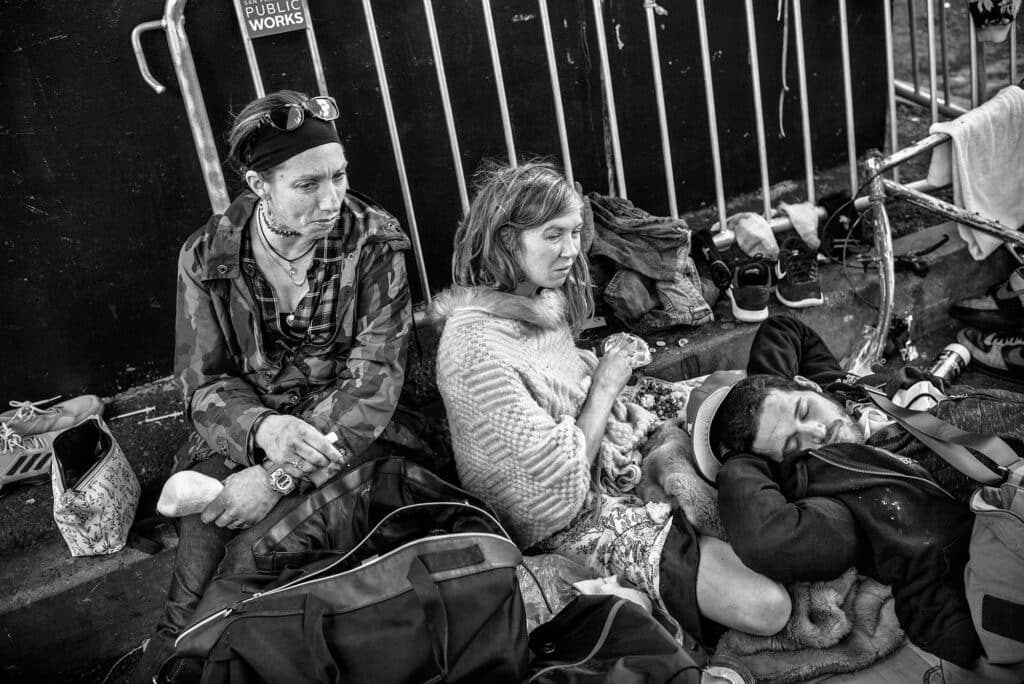 "I asked them. That is not meant to be a flippant answer, it is exactly what I have done and do. If they say no, I say thanks. If there is more to say, I stick around, and if not, I move on. I don't try and talk people into doing it."
But the main theme that runs through the book is not just about San Francisco, but cities in general.
"The project has always been at its core about disparity in San Francisco, but really it's about any city in these times. And perhaps it is also about fear. The fear of those who have for those that don't. Fear of contact."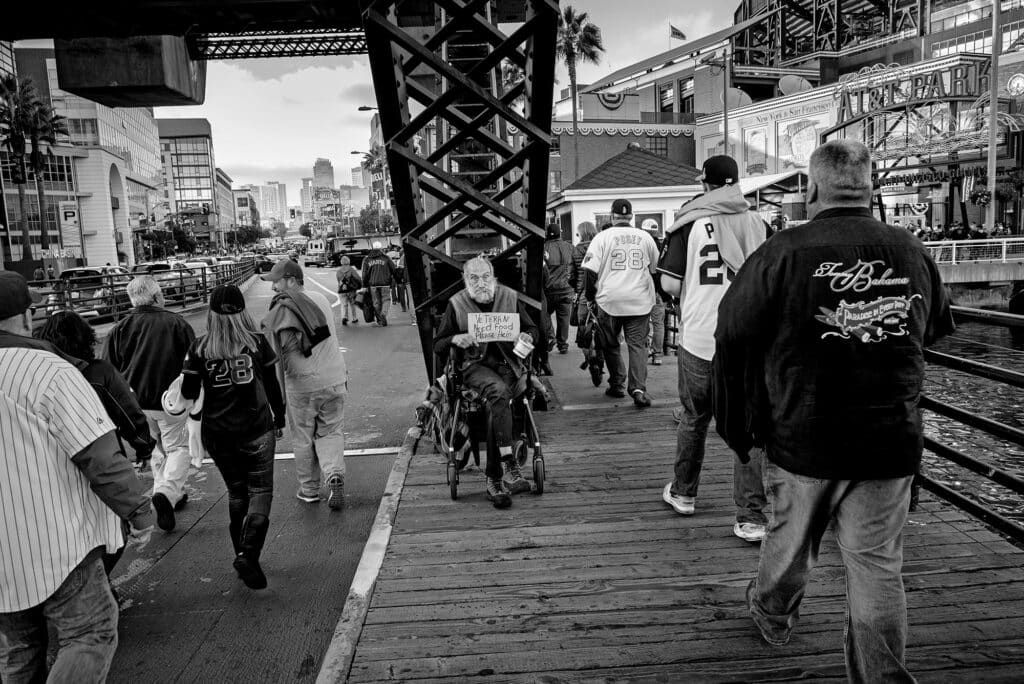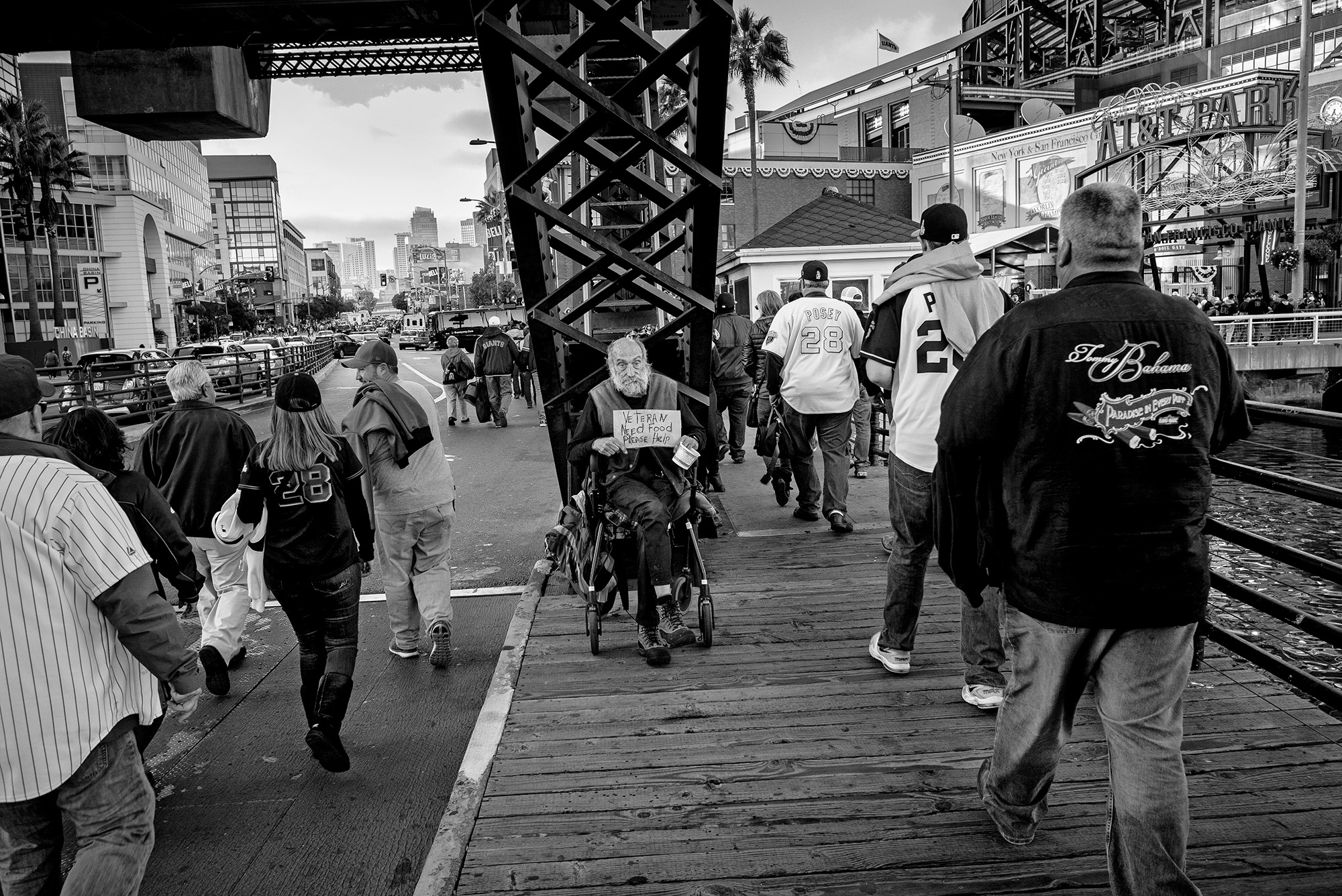 In the end Gumpert hopes his work can help those who are un-housed, but he is also aware enough to know that the chances of the work making great changes are slim.
"In my fever dreams the book would raise all boats, so to speak. Change policy, make housing affordable and available to all, put an end to regressive conditions for even a shelter bed and …, but that's not happening. Even if the Mayor, and those with the power to change policy saw the book, the reality is, it's a book of photos and found text against the twin pillars of money and power … So, I would hope the book would play a part in some people coming to see their fellow residents as people. See that while living different circumstances, the unhoused have versions of the same dreams, hopes and desires."
And even with the book out and published, the work itself continues.
Division Street by Robert Gumpert can be purchased through Dewi Lewis publishing, 114p., 49$, £35.