Hailing from Montreal, Marcus Leatherdale moved to San Francisco in the 1970s to study photography at the San Francisco Art Institute. He quickly gravitated toward portraiture, a practice he would master after moving to New York in spring 1978. New in town, Marcus Leatherdale stayed at Robert Mapplethorpe's loft while the photographer was in Amsterdam.
"I was only 25 and I didn't have many friends," he recalled in 2019. "I got to know New York through Robert Mapplethorpe, Marcia Resnick, and Larissa — and going to Studio 54 twice a week. I remember I went one night and a thousand people were outside, so I got up on a fire hydrant to see what was going on. Steve Rubell pointed to me, and the sea parted. I had a New York City guardian angel."
A punk at heart, Leatherdale shaved his head before it was in vogue. "That may be why I stood out," he said. "People would say, 'You're a good looking guy. Why do you shave your head?' and I would say, 'Just because of that!' I would pogo around the disco floor until Mudd Club opened and that changed everything."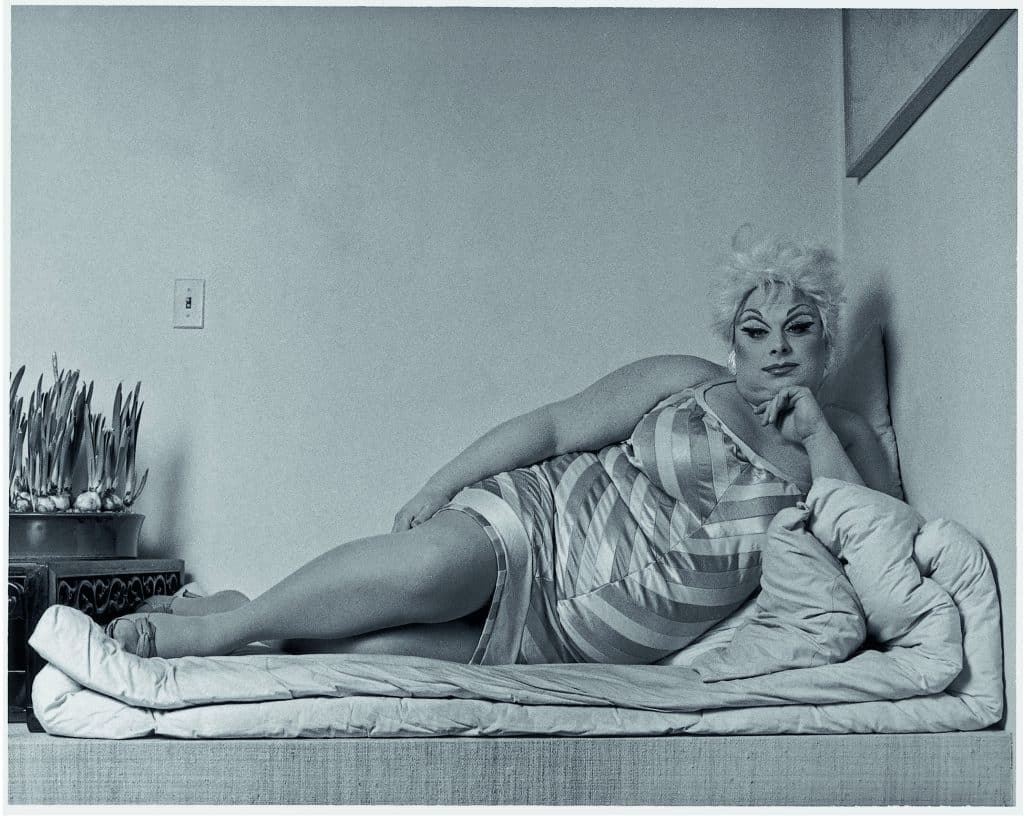 As a fixture in the city's pulsating nightlife scene, Leatherdale became close with luminaries of the times, photographing artists, performers, and models including Andy Warhol, Madonna, and Debbie Harry as well as underground icons like performance artist Leigh Bowery, event producer Susanne Bartsch, and cabaret singer Joey Arias.
In 2019, Marcus Leatherdale finally published the photos in Out of the Shadows – Marcus Leatherdale: Photographs New York City 1980-1992 (ACC Art Books), which includes a luminous essay by his former wife of 39 years, Claudia Summers.
Marcus Leatherdale – New Kid in Town
When Marcus Leatherdale arrived in New York in 1978, he quickly became ensconced with the downtown art world. "I got to know people like Andy Warhol, who was my idol at the time," Leatherdale said in 2019.
"Andy was always kind to me. One time we were at Radio City Music Hall and he was clicking away. Then he turned around to me and said, 'I don't even know if there is any film in the camera but it makes them feel good.' Him taking a picture wasn't about getting a good picture; it was about creating a moment. That 15 minutes of fame — he gave that to people. He paid attention to you and you felt like a million dollars."
Marcus Leatherdale began working as Robert Mapplethorpe's office manager and photographic subject. "Robert had a very different process from me," Leatherdale said. "He had a particular idea and would spin a web. You were photographed as a still life — an object of beauty, desire, or wherever his focus was. It's cold, like the beauty of marble. That's what he was going for and he did it very well."
Through Mapplethorpe, Marcus Leatherdale learned the practical realities of running a photo studio, and how to survive in the New York art world. "It was helpful to have a hands-on apprenticeship," he recalled. "Robert was just learning himself when we met, and he was hand-to-mouth on a lot of levels. Sam Wagstaff was backing him but it wasn't a smooth operation yet."
East Village Energy
After completing his work for Robert Mapplethorpe, Marcus Leatherdale served as assistant curator to Sam Wagstaff, while launching a photography career of his own. In 1978, Leatherdale and Claudia Summers moved to a loft on Grand Street, east of the Bowery, shortly before marrying. "Claudia and I met in San Francisco and it turned out we were both moving to New York," Marcus Leatherdale said in 2019.
In an interview with Blind, Summers recalled, "We both came to New York at the same time, but I didn't know where Marcus was. My first day, I was walking on the Bowery and ran into him. From then on we were joined at the hip. The loft had a constant influx of friends who went on to become cultural icons and people creatively living on the margins in society. Marcus treated them all with the same respect he gave Andy Warhol."
Summers, not so much. "Claudia was not a Studio 54 girl. She used to hang up on famous people when they called, saying, 'I'm on the line," Marcus Leatherdale said with a laugh.
Summers, who went on to become a writer, musician and dominatrix, observed, "Marcus always called me his muse, but I thought it was something much deeper than that. He recognized I was a complex woman with many facets, and he wanted to capture all those different sides of me."
For Marcus Leatherdale, a portrait of any depth was a collaboration that required give and take. Unlike Mapplethorpe, he did not go into the shoot with a preconceived idea. "I'm intrigued by a person and I want to bring those things out," Leatherdale said. "It was a channeling — just let the magic happen. I wasn't in control of the situation. We played and we shot a lot of film and eventually something would come out of it."
In the Public Eye
In 1983, Marcus Leatherdale partnered with Issey Miyake on a book called Body Works featuring luminaries like Grace Jones and Tina Chow wearing the Japanese designer's avant-garde fashions. "Miyake wanted a non-fashion photographer to photograph fashion.
Nowadays that's normal but back then it wasn't," Leatherdale said. "He wanted me to pick not fashion models and I picked a few like Iman and Pat Cleveland but I also picked Andy Warhol. He was wearing a black tuxedo and had his hand up to his face to hide a blemish."
That same year, Marcus Leatherdale began shooting his groundbreaking "Hidden Identities" series while attending a Dada-inspired party at New York's Underground nightclub. He transformed a go-go dancer cage into an impromptu photo studio and began making portraits that hid the sitter's face. The idea strongly resonated and club goers stood in line, awaiting Leatherdale's subversive eye.
"Back then, it was pretty unusual to see famous people hiding themselves in front of a camera. The idea was your personal style was enough to be recognizable. You didn't need to see the face of a person to know who they were," Leatherdale said in 2019.
"Shortly later, Stephen Saban and Annie Flanders came to me and said they were starting Details magazine and they would like me to have a page with those images. I had total freedom. It went for 10 years. I would have done it for nothing."
Out of the Shadows
For years, Marcus Leatherdale avoided looking at the photographs he had made, not wanting to revisit this chapter of his history. "These photographs were in my closet for a long time," he said in 2019, reflecting on the devastating impact of the AIDS epidemic.
"It was a very tough period. I knew Henry Post, one of the first people to pass away from AIDS," Leatherdale said. "I remember going to the hospital and I would have to wear a whole outfit like I was going to go to a radioactive area. I would go into his room, take all it off, sit on the bed, and talk to Henry. The nurses would get wind of that and when I walked out, they were up against the wall like I was a radioactive Godzilla. But somehow I knew you don't get it from holding someone's hand."
In 1988, Marcus Leatherdale photographed Stephen Reichard, a month before he died from AIDS, seated nude on a chair, his body ravaged by the disease and an experimental drug. Reichard told the photographer he wanted to do "a portrait of the dead" that recalled the work of Austrian painter Egon Schiele, one of Leatherdale's favorites.
"This was the only time Marcus blatantly photographed someone that was sick because they wanted to document what Steve looked like,' Claudia Summers said. "When Steve rang the bell it took him some time to get up the stairs because he was so weak. Then he took off his clothes and Marcus photographed him. It was a rare moment for someone who celebrated outlier ideas of beauty and glamour. This is probably the only photograph Marcus ever took where he stripped away any illusions. That photograph, and the memory of Steve's life, symbolized what we were going through."
Marcus Leatherdale – All This and Woodstock, Too
"Marcus Leatherdale photographed what has become history," Claudia Summers said, "It was a pure, rich cultural moment that expanded and recognized all kinds of ambiguous sexualities when it was still an outlaw thing to do. Marcus captured a time in New York that might seem like it was tiny but actually was a web of connections that extended outward. You didn't stay in your own little clique."
In 2019, Marcus Leatherdale waxed philosophically about the joys of New York's pre-gentrification era, which he considered the best time in the city's history. "Back in those days you didn't need a credit card, you didn't need reservations. You had the presence of being you, of being interesting and that was enough. And if you were all those things nothing cost you anything," he said.
"I never paid to get into clubs or for drinks, drugs, or cigarettes. I was a little more indulgent in those days than I am now. I did everything for a year or two, and then I did nothing. I haven't smoked a cigarette or had a drink in 40 years. But up until then I did so much acid I didn't know I went to Woodstock. They say if you remember the 1960s, you weren't really there."