These are the final verses of Patrick Kavanagh's poem "The Hospital." A complete illustration of the notion of "looking." Once you truly look, you can find beauty in the most unexpected places. Sometimes the extraordinary appears in the ordinary. Tom Wood knows that well and does it naturally. His latest book, Snatch out of Time, was named after the poem's last verse.
"Every photograph is a moment"
Ocean blue eyes that challenge the lens, others that escape it to light a cigarette, a languid kiss on a station platform… Tom Wood glides through British people's everyday life with his Leica equipped with black and white and color film. The photographer, a keen observer, casts a kind eye on people. With his distinct vision of England in the 80s and 90s, Tom Wood's photographic work is brought together in his latest book, Snatch out of time.
"Snatch out of Time is about photography. It's also about people," says Tom Wood. It follows the photographer's friends and family and strangers in their daily lives. "I tell a story in every picture. There are so many personal photos in there," he admits. However, the beauty of the images outweighs their sentimental aspect. The photographs selected, edited and sequenced by his friend Padraig Timoney change in format and style. There is some sort of rhythm. You go through the book like a journey; you ponder and then scroll back. You sometimes pause between two photos; take your time. That's when the meaning of "snatch out of time" materializes in your mind.
Evoke rather than compile
Tom Wood describes his working method as a very complex, difficult-to-explain process. He has written down his readings and thoughts in a notebook since he was a student. One day, he comes across a quote from James Joyce, whose words immediately resonated with him. Like an explanation of how the human mind functions when faced with its passion, Joyce put the photographer's practice into words. Wood explains, "Every photograph is a moment. Testimonies of what I have done accumulate. The features become repetitive by collecting these small details, which begin to define themselves while they only appear to multiply. The goal is to evoke rather than compile. That's what this book is about."
A true enthusiast, Tom Wood compares his practice to that of a sportsman or a musician. "To get on stage and play, a musician must go into a trance. I, too, sometimes go into some kind of trance when I photograph. I feel good; I get high, stimulated."
Live to photograph, not photograph to live, would be Tom Wood's motto. The photographer did not earn money with his pictures, quite the contrary. "My wife worked as a midwife, and I took care of the children. I taught classes two days a week and spent most of my salary on film," he says. Wood loves people, so he photographs them. In his pictures, faces parade like a family album. The process matters more to him than the result: "I am always learning something, even when I miss a picture."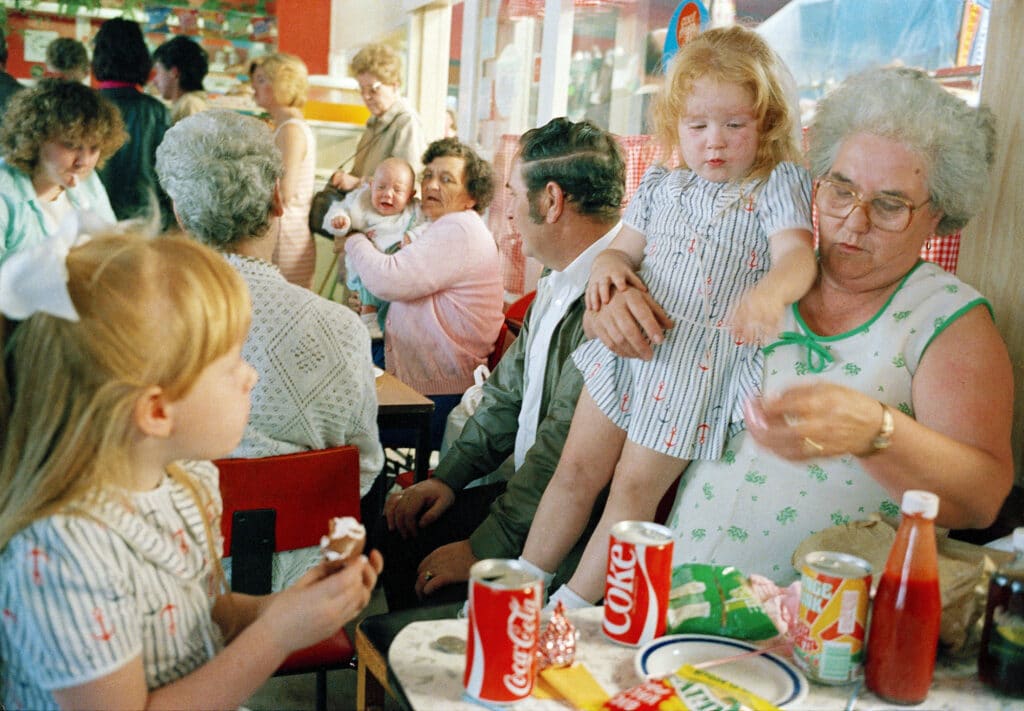 Obsessed with detail
"I live my life, and photography is an integral part of it," says Wood. He strives to represent everything—an entire, meaningful and poetic world. Yet, when he was younger, Tom Wood didn't take pictures. He collected them. From family albums to recovered postcards, he willingly mixed his relatives' portraits with images of strangers. Soldiers, weddings, churches, obscure landscapes, mothers, daughters, or sisters… it is a world that unfolds behind forgotten memories. For some reason, certain images seem more interesting or perhaps more alive to him. He puts them together and experiments. "These people are no longer alive, but they are still there and alive in the picture," he says.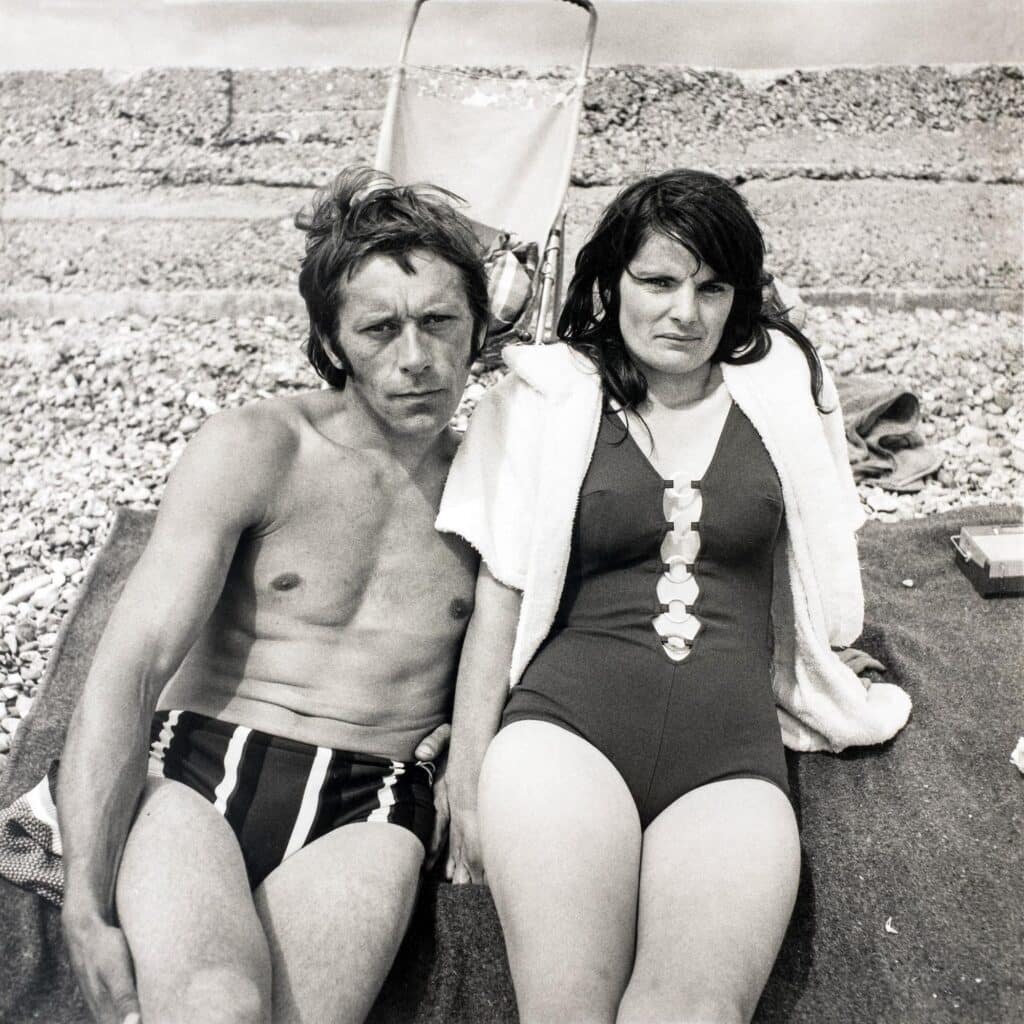 Always camera in hand, Tom Wood claims to practice photography obsessively and daily. He participates in weddings or parties but is constantly taking pictures: "I had dinner with friends last night. The father was alone with his two children, and the house was a mess… So what did I do? I photographed them. I both lived and captured the unique moment."
He is also obsessed with detail. "What's really special about this image?" says Tom Wood, pointing to the portrait of a mother breastfeeding her child. At first glance, nothing stands out. Only after careful observation do we see the baby's tiny fingers on the nipple. "See how precise it is! "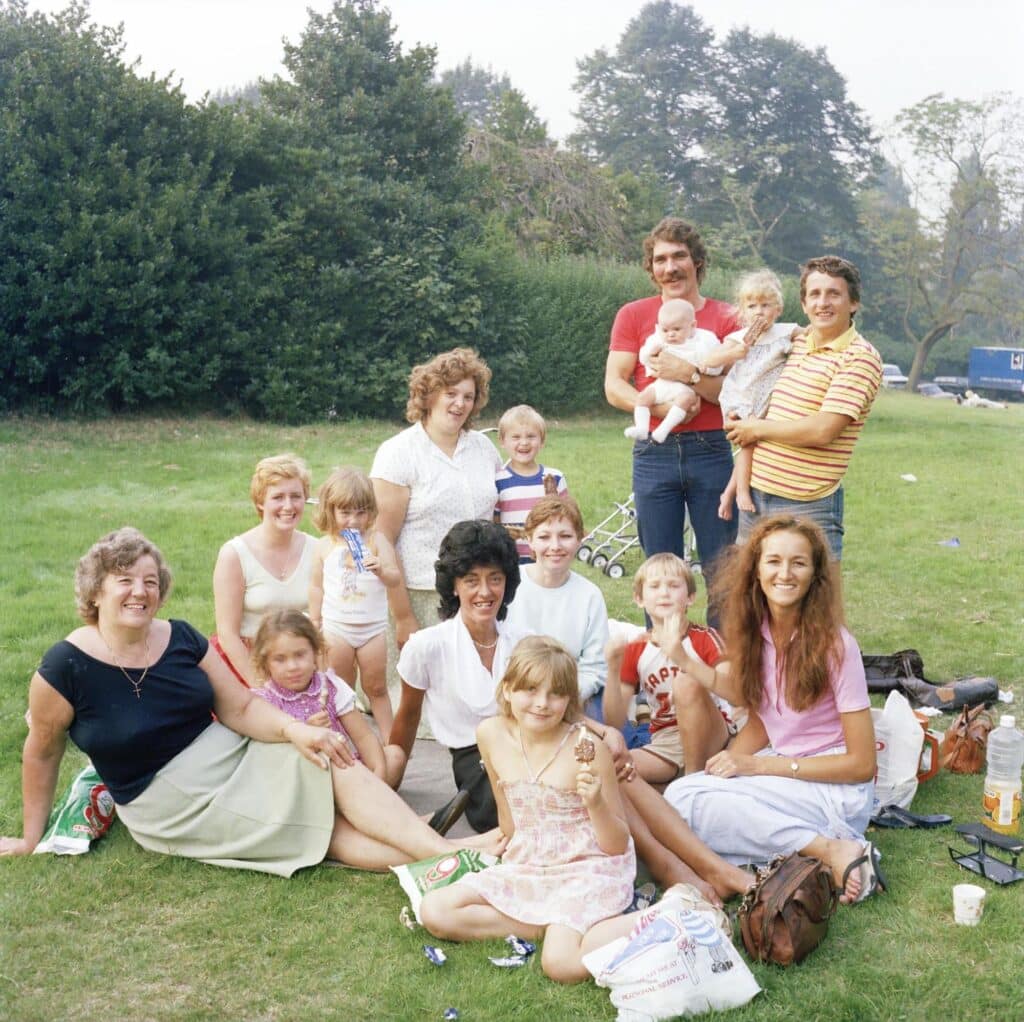 Timeless moments
Snatch out of time does justice to Liverpool, the city Tom Wood lived in for 25 years. Every day in the streets with his camera, the children nicknamed him "Photie Man." He tries to be visible when photographing. "I went to the same place every week for ten years. I eventually became part of the landscape. I became just another person next to the hot dog vendors."
Like a photographic journey, Snatch out of time parallels images from different eras. From black and white to color photography, we see the evolution of architecture and clothing styles. The first photos are from 1974. We rediscover the colors, dresses, suits, shapes and customs of the time. As time passes, new details and new meanings appear.
However, we notice familiar motifs in this passage of time. Because in the end, we all have the same expressions, the same way of looking and talking to each other. Tom Wood captures a glimpse of humanity, a timeless humanity, in all of his photographs. Pointing to one of his images, he whispers, "Maybe that won't be too different in the future…"
SNATCH OUT OF TIME, Photographs by Tom Wood, Galerie Sit Down, Paris. Exhibition from November 18, 2022, to January 14, 2023, as part of Photo Days.
Book: Tom Wood, Snatch out of time, SUPER LABO Editions, Published in October 2022, Hardcover, 168 Pages. 75.00€.