Over the past 30 years, Zana Briski has traveled alone to remote corners of the world to photograph the animal kingdom in all its splendors. Being at one with fauna was a relationship she sought from a young age. While society demands performance ritualized gestures and acts, Briski felt more aligned with the raw purity of the natural world.
"Animals know who they are. There is no pretense," she says. "They are connected in the true sense. When I am with an animal in the wild, boundaries dissolve."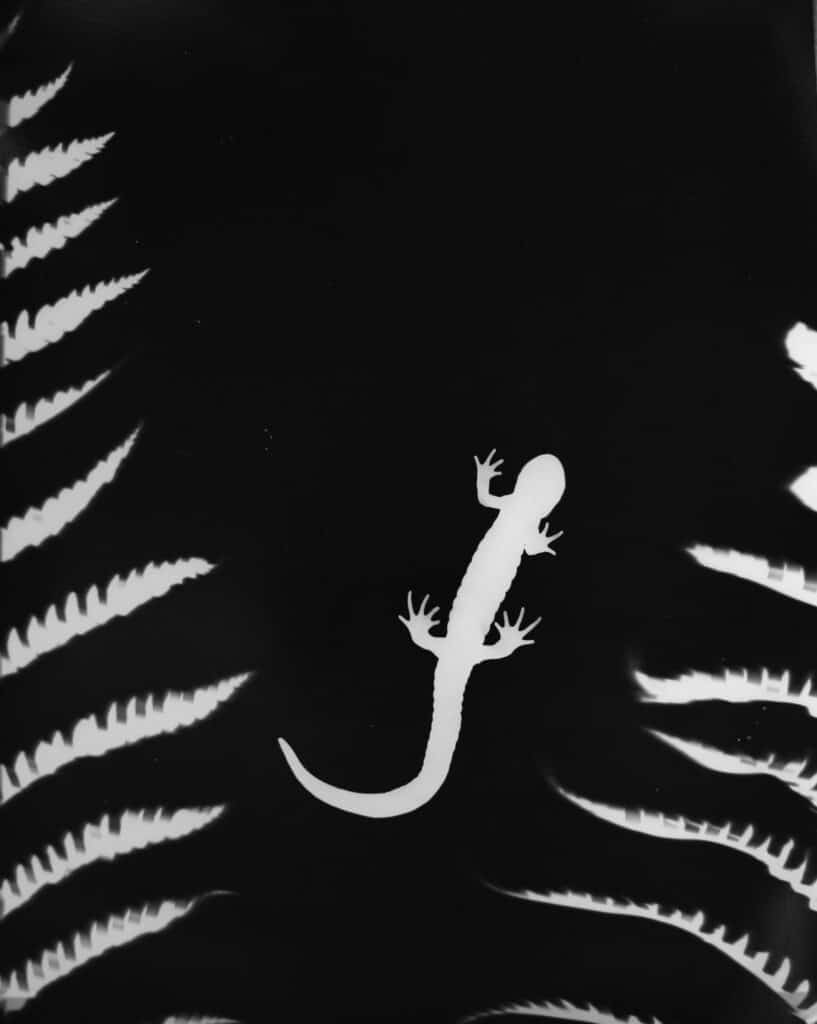 Somewhere along the way, Briski realized that working with a camera introduced a third object to the equation that created a sense of distance she needed to overcome. In order to get closer, she would have to abandon the control it offered and tap into the deeper frequencies of the creatures themselves.
On a 2016 trip to Borneo, Briski set the camera aside to make photograms of live insects. "When the images were revealed in the darkroom back in New York, they were beautiful, immediate and profound," she says. "I could feel the presence of the insect on the paper and I was captivated."
Over the past eight years, Briski has gone off the trail, forging her own path to create Animalograms, a new exhibition of collection of one-of-a-kind, life size photograms of bears, tarantulas, coatimundi, and skunks, and other wild creatures under the quiet cover of night.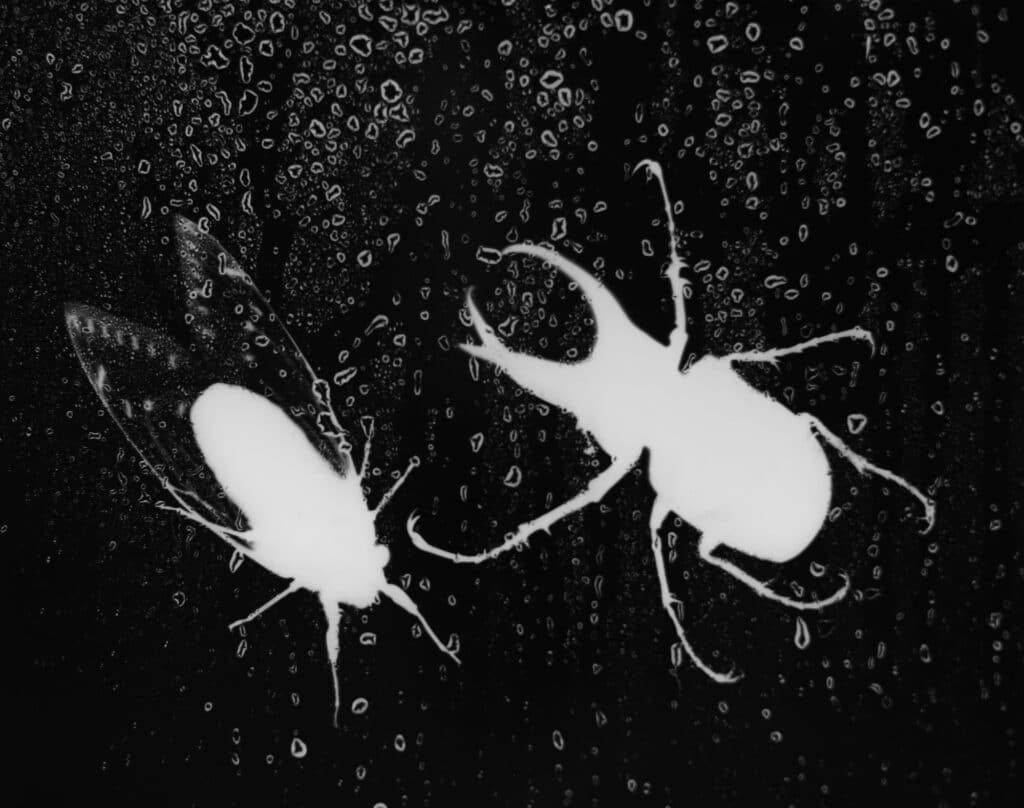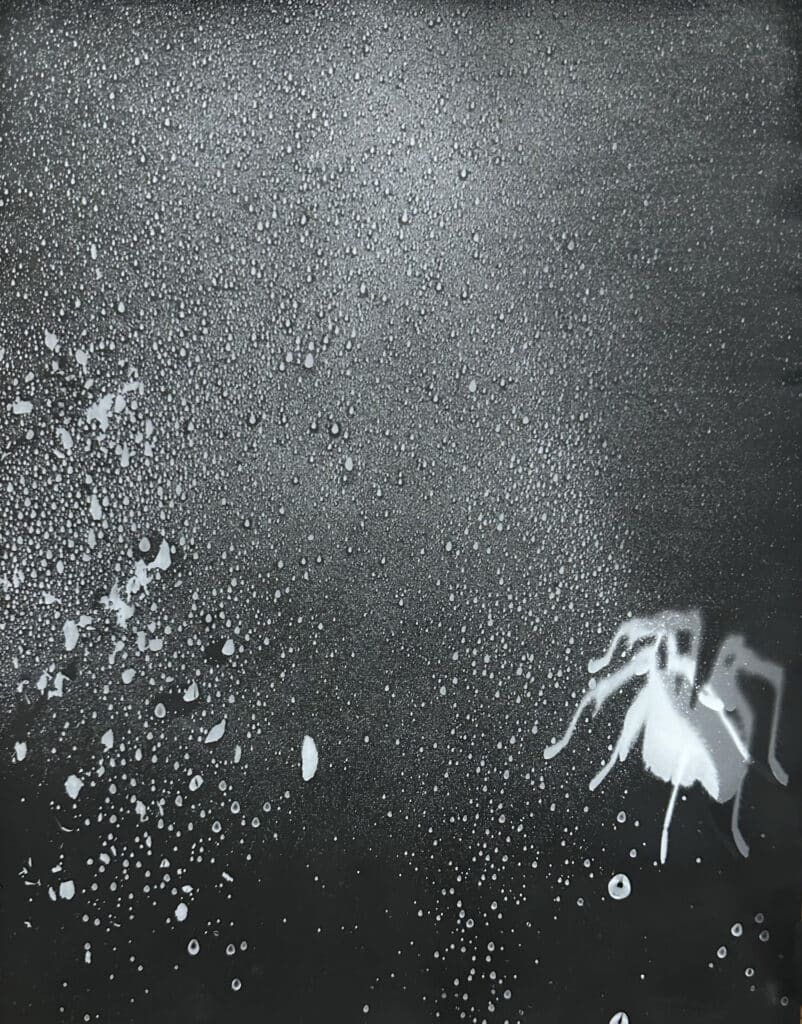 Strangers in the Night
To make Animalograms, Zana Briski slips into the moonless night, unfurling large sheets of light sensitive silver gelatin photographic paper, and then sitting in full view, patiently awaiting any creature moved by mutual curiosity.
"I love being out in the wild," says Briski. "There is nothing like sitting in the jungle in Borneo or the bush in Australia under visible galaxies and just listening and waiting and being open. The beauty and pleasure of this work is the trust that the animal bestows on me. I actively seek that connection."
Moving as a guest in another's home, Briski has created a process that is both noninvasive and collaborative. After setting out the paper, her sole act is to determine the moment to shine a virtually imperceptible flash to expose the film once an animal has engaged. The exposure has been determined by years of experimentation and hard work.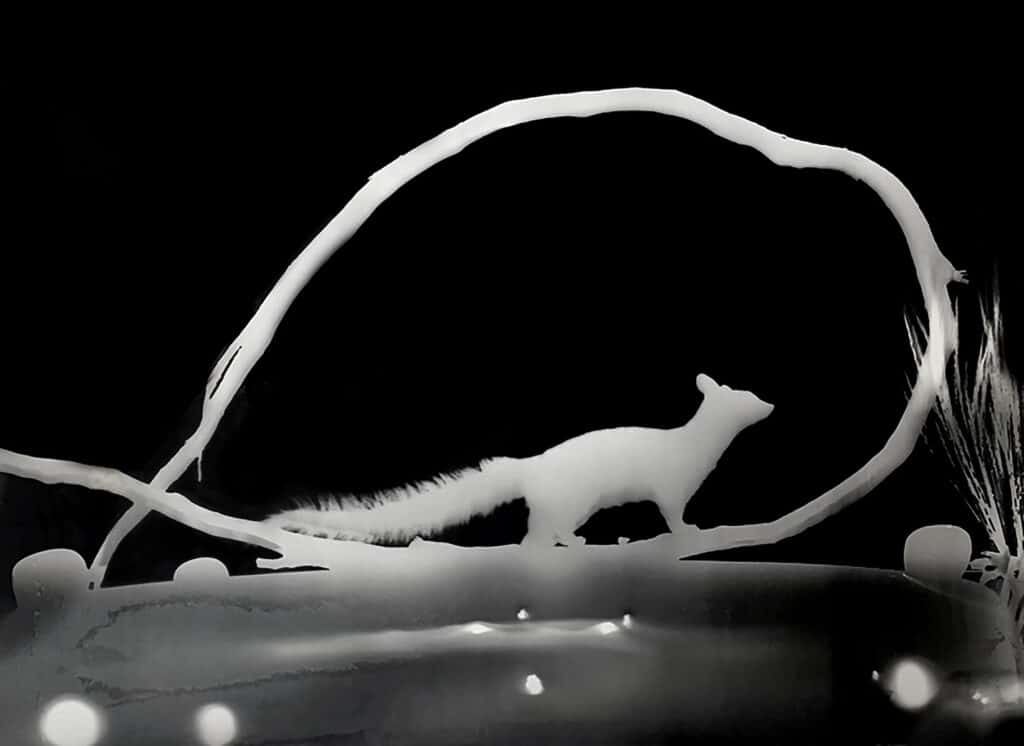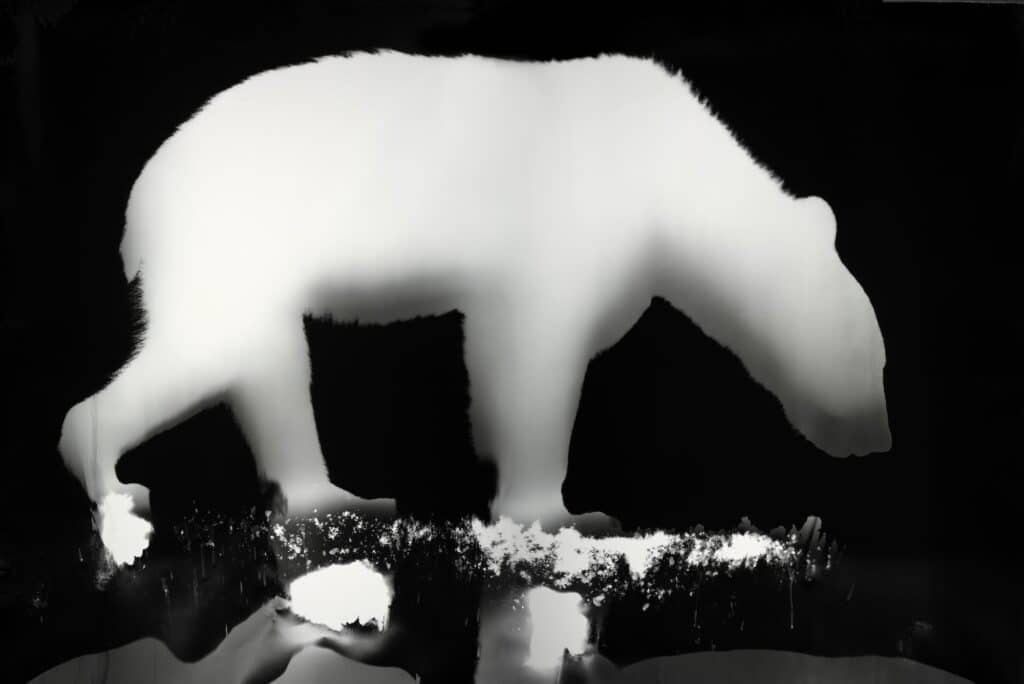 Although the shoots are not easy, Briski wouldn't have it any other way. She'll gladly hunt down 98ft rolls of photographic paper and haul them halfway around the globe, risking ruin at the hand of x­rays, heat, pressure, and light before even arriving at her destination.
The photogram might have gone off perfectly, only to be destroyed during another critical link on the chain. Or she might have missed the moment all together, dozing off before the sun came up. "It's not uncommon for me to keel over and wake up with my face in the mud," Briski says.
"Bear With Me"
Truth be told, Zana Briski has reached the point of no return. "I can't imagine using a camera again," she says. "There is something so magical about the actual impression of a wild animal onto photographic paper. Each print is unique, life sized, and is a true collaboration with a sentient being whom I deeply love and respect."
And that respect is often reciprocal. Briski shares an encounter with a bear that spent time observing her before choosing to engage. "He came out of the woods to copy me and sit upright and crossed legged in an Adirondack chair," she says. "I think he wanted me to bring him a glass of wine so he could fully appreciate the sunset."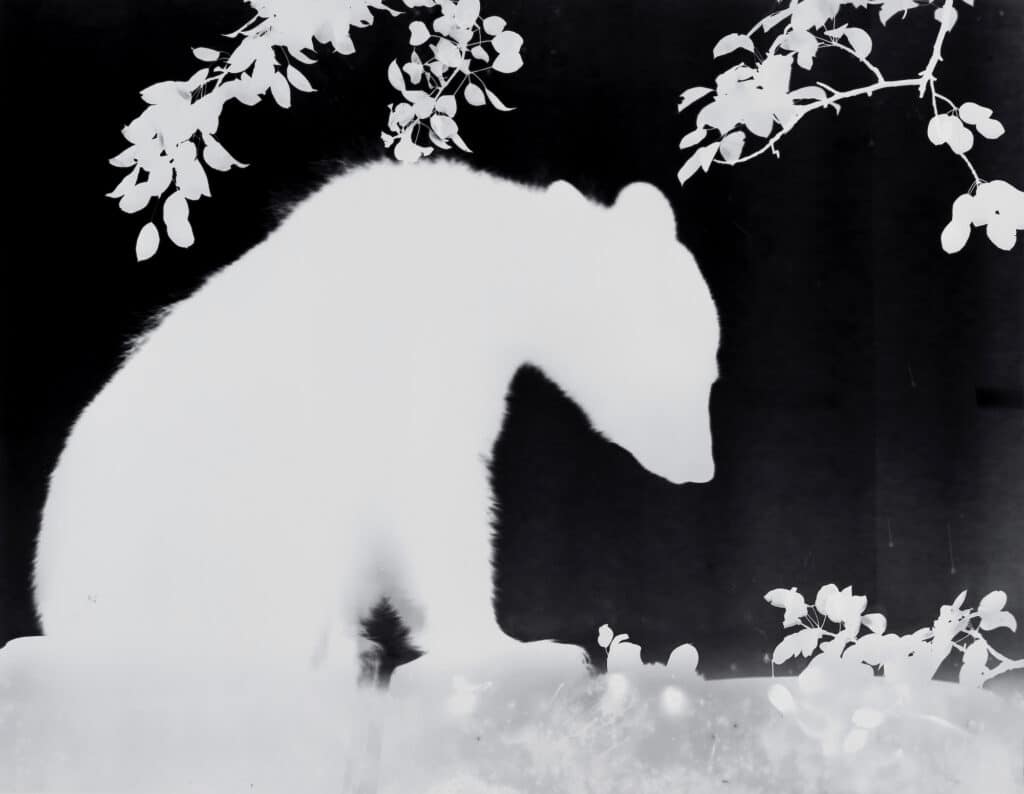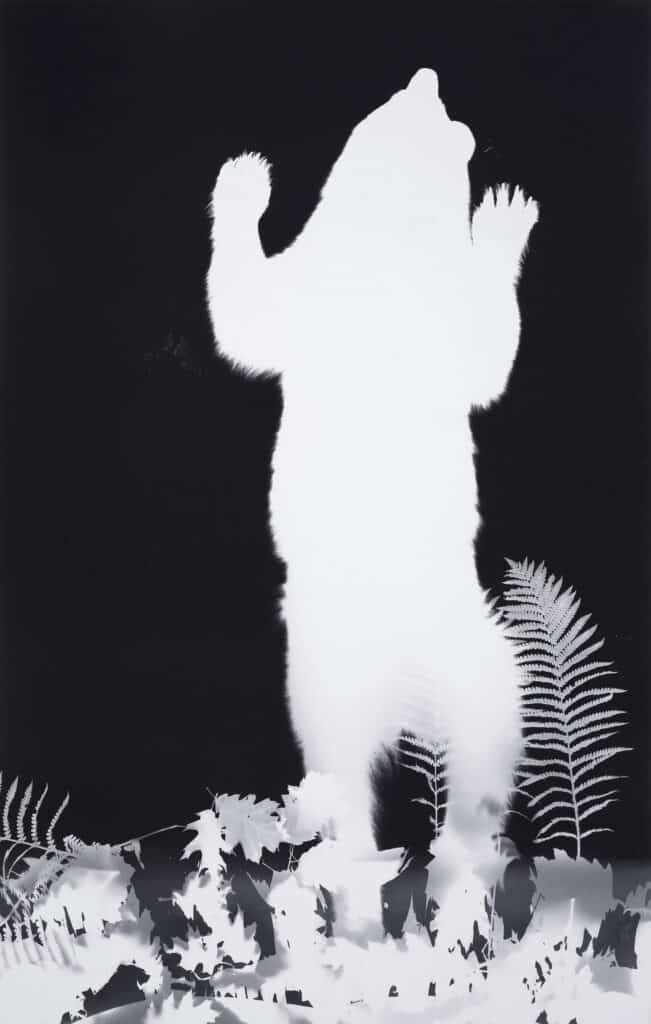 Zana Briski: Animalograms is on view at Edwynn Houk Gallery in New York (through October 14, 2023); Robert Koch Gallery in San Francisco, CA (opening October 26, 2023); and Etherton Gallery in Tucson, AZ (opening November 28, 2023).