The frontline city of Bakhmut is destroyed beyond recognition. Only a small portion of its population remains. Those who have stayed are either the most vulnerable or most desperate. Often it's both. And among them are the disabled residents of Bakhmut.
The constant shelling of Bakhmut has brought the formerly vibrant town of about 70,000 to ruins. Bakhmut has been in close proximity to fighting since the war broke out in eastern Ukraine in 2015, but the full-scale Russian invasion has brought destruction behind its front doors. The streets are empty and desolate except for the military vehicles and occasional passers-by.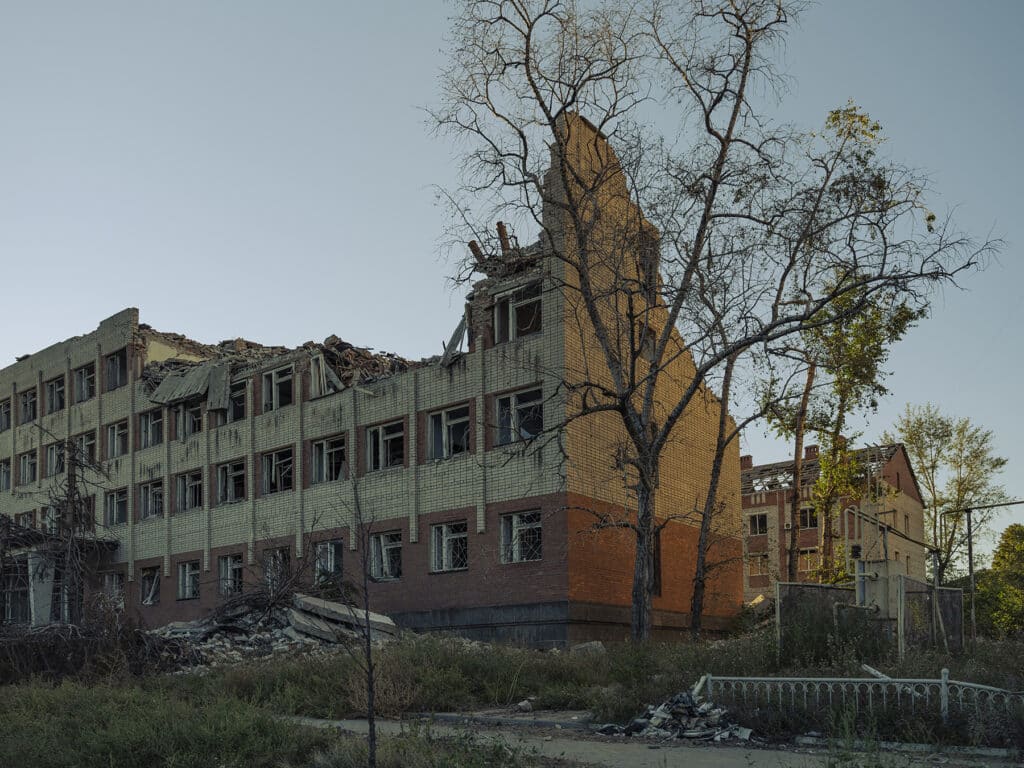 The city is located in the Donetsk region of Ukraine, which has been an outpost of fierce resistance and fights between the Ukrainian Armed Forces and the Russian Army. And as the advances of the Ukrainian Army are progressing in other directions, this area remains a stalemate. The separation line lies just outside its Eastern border of town but the Russians have failed to make any meaningful advancements in capturing Bakhmut in the past months.
Hope has 197 members, around 80 of whom are still in town. Most people have no means or ability to leave or are too afraid to go elsewhere, fearing they wouldn't be able to get help in an evacuation. To most people who pass through Bakhmut, it's shocking that people want to remain. "The question isn't: Why are we staying?" Olena Bondarenko rebuttals, "The question is: why do we have to leave?"
Olena Bondarenko feels strong about the resistance and says she believes in the Ukrainian Army and knows they won't leave anyone behind, including civilians. A member of the Ukrainian Army regularly checks in with her and helps bring anything their group might need, like adult diapers, medicine, and equipment. Whenever someone brings her supplies, they ask if she's changed her mind about leaving. But the answer is always no.
Like most organization members, she doesn't want to abandon her hometown, even though her house and office have been damaged or destroyed. The offices of the non-profit were bombed, and almost nothing survived the shelling. Olena moved the headquarters to an apartment offered up by friends.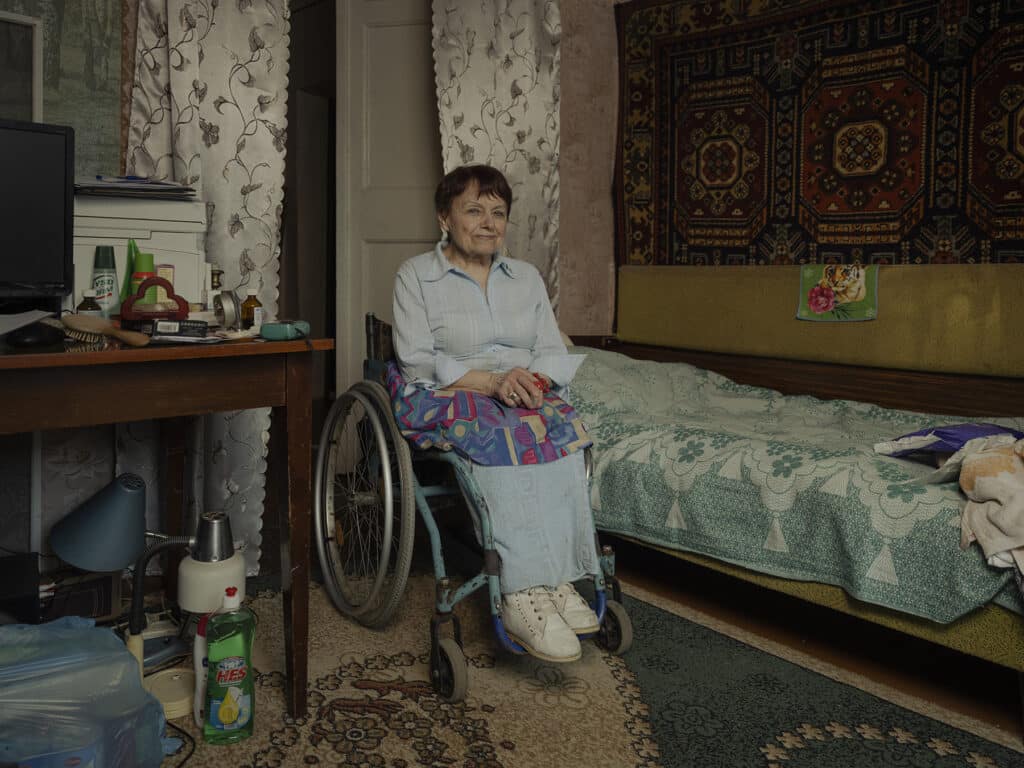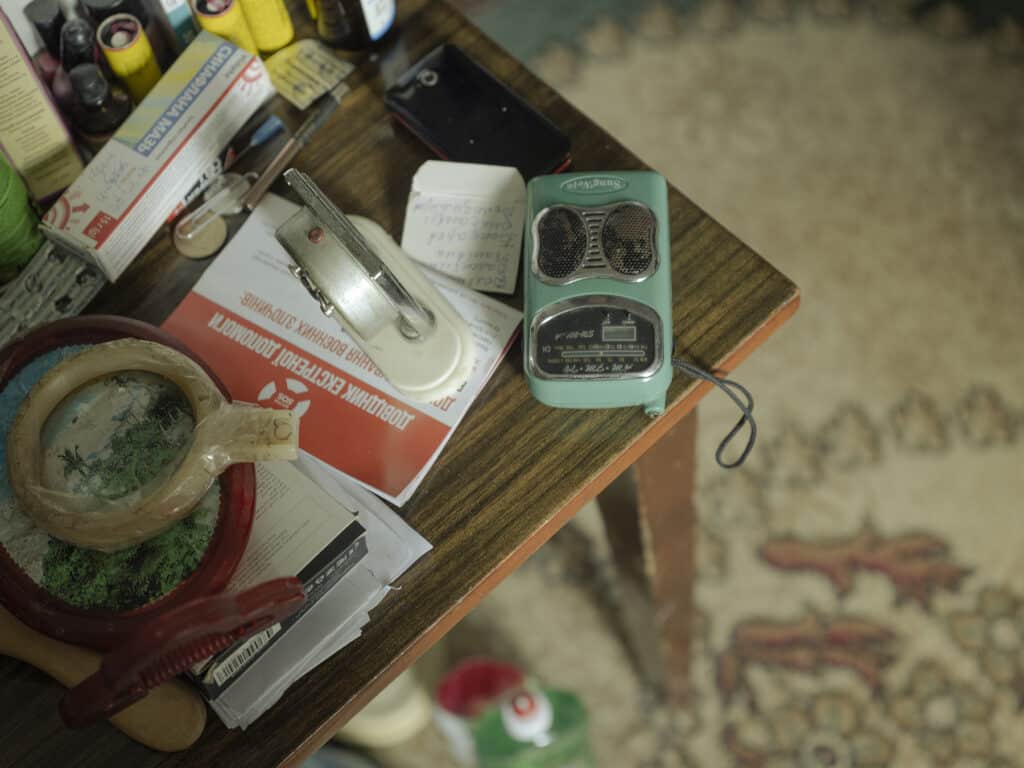 Her duties now are to provide the remaining members with food, medicine, and supplies. Relying on volunteers, she organizes drop-offs and pick-ups, calls to check in on members, and keeps in touch with the city government to get assistance in any urgent matters. She has the mayor's phone number and is not afraid to call him.
As Bakhmut has ongoing issues with electricity and water, as well as Internet and cell service, needs vary from power banks to wood-burning stoves. As the Winter approaches and the town of Bakhmut still has no natural gas supply, heating will become increasingly problematic for those who want to remain.
However, Olena is unafraid of the cold and concerns herself only with the well-being of the disabled people under her care. "If even one person from our organization remains here, I will not go. I will be with them."
Volodymyr Skabelka, 70, and Alla Zellena, 66, have been married for 25 years. "This is the man I want," Alla said to herself when she saw him at a friend's party almost 30 years ago. Volodymyr has a rare disability of muscular dystrophy. After a work accident in 1977, he became fully disabled. "My life passes by at home, by this table," he nods at the computer desk. Every day, Alla helps Volodymyr get to the table to sit near the computer. There Volodymyr spends his days. Artillery barrage echoes outside their windows as he watches movies, reads books, and scrolls through the news on his computer, unless the Internet is down. Alla, who had three strokes and is also disabled, brings her husband tea and helps him eat.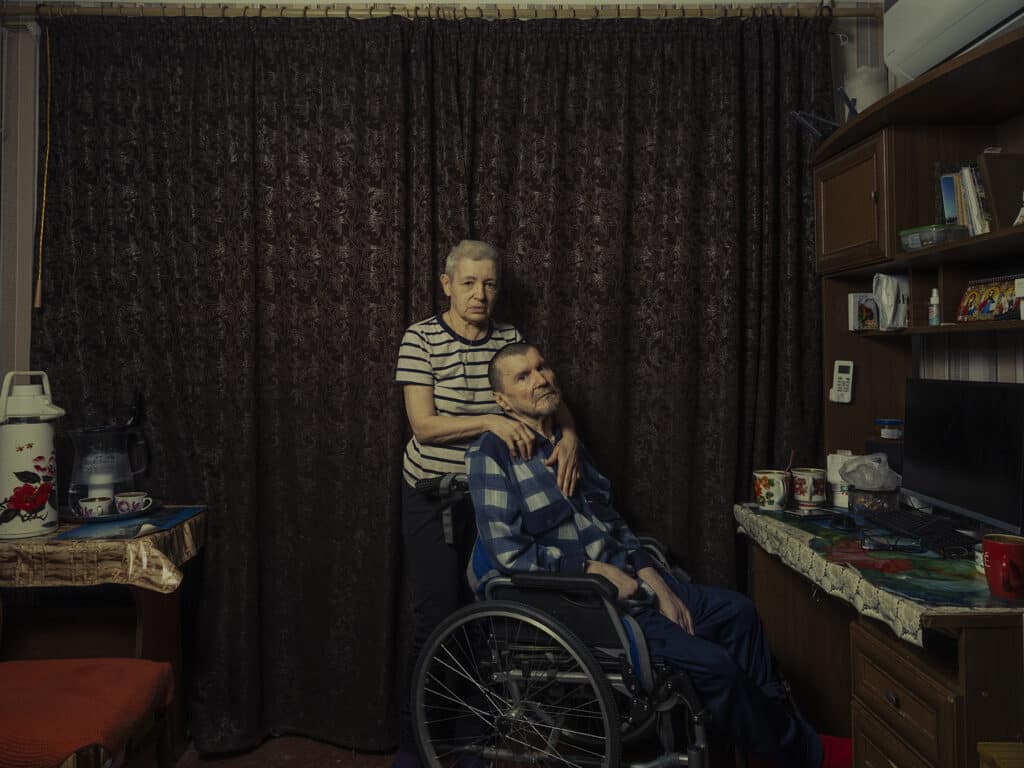 One supermarket is still open in town, depending on the day some other stores could open. There is a guy in town you can call to make shawarma. But the city of Bakhmut, which in peacetime is a lively place, looks like a scene for a post-apocalyptic video game.
Alla and Volodymyr are from the area, as are their parents and grandparents before them. "How can we leave?" Alla says, "We were born here. Our parents are buried here. It's all ours; it's our home." They have two daughters, and both have offered them assistance in leaving Bakhmut. But Volodymyr and Alla are concerned about his comfort elsewhere. They are worried that if they evacuate to Dnipro, or Western Ukraine, Volodymyr won't receive the special care he requires. They don't want to burden their daughters. Both fled the war: one to Dnipro, the other to France.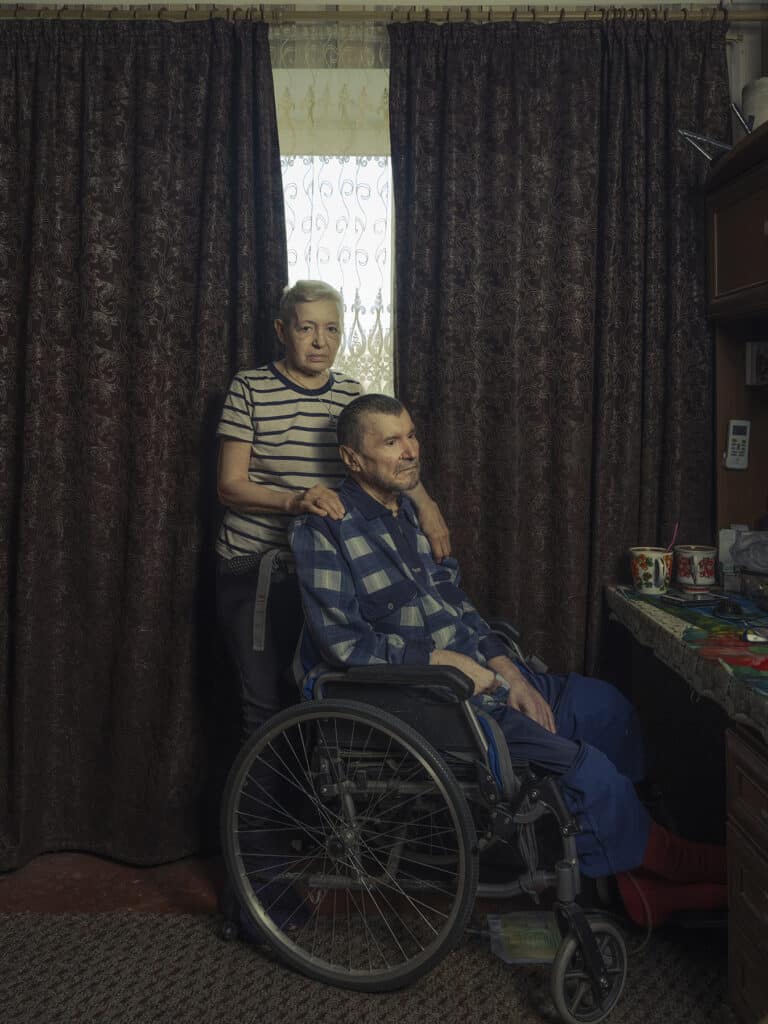 So they rely on a network of neighbors, volunteers, and military members who come to deliver them groceries, medicine, and supplies. The local hospital is closed, and the town of Bakhmut has only one doctor left that they know of. On August 16th, his 73-year-old sister, Antonina, was killed by shelling in Zaitsevo, a village nearby. The ambulance never came. Antonina's husband buried her in their yard by her favorite apple tree.
Alexei, 54, and Lyudmila Demidova, 52, met in Kharkiv, where they both studied at an accounting school. They both have the same disability in which they were born partially paralyzed. They both refer to their hometown as Artyomovsk, a Soviet name for Bakhmut that was used from 1924 up until 2016.
"Now only the most poor or the most dumb have stayed," Alaexaei says. "I guess I'm from the dumb category." But in reality, they are also doing well financially and don't have too many options. The disability pension they receive hasn't increased while the price of goods and services has risen 5-fold since March 2022. Bakhmut has been cut off from the main supply lines within the country, and most things brought into town come via volunteers or individual shop owners.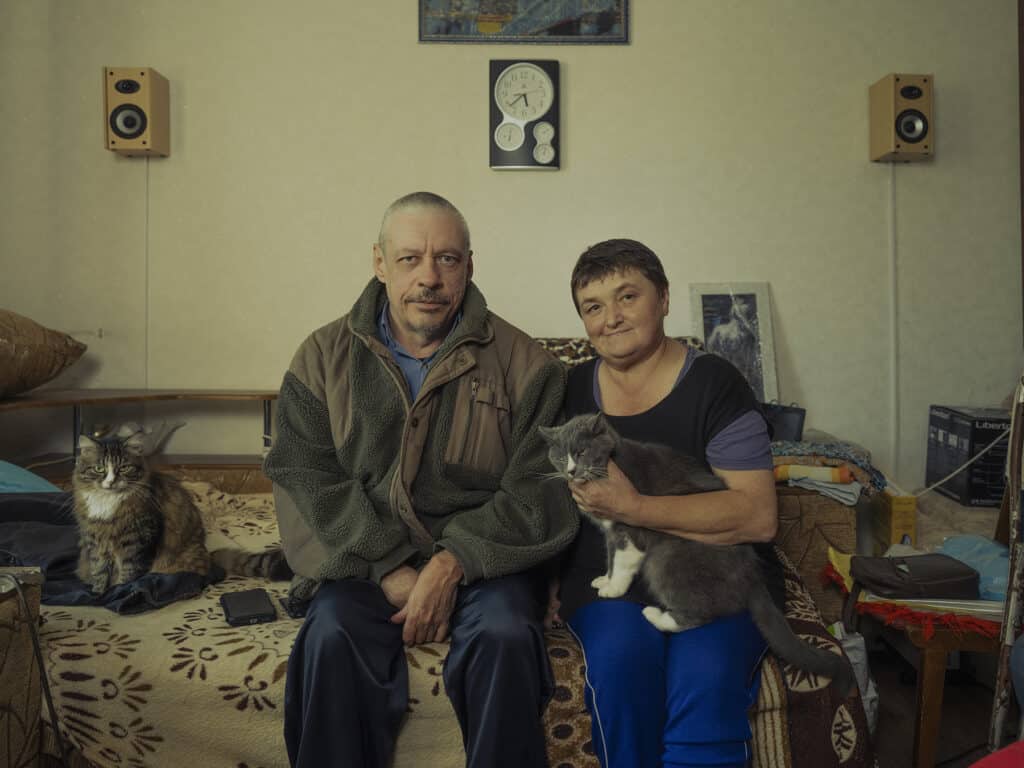 "Noone needs us [elsewhere] anyway," Lyudmila adds with a sigh. Lyudmila and Alexei have been married for almost 35 years and don't have any children, they have been living in the same apartment since they moved back after school, rarely leaving town.
When the electricity is out, they cook meals in the front courtyard, accompanied by their two cats. The gas supply has been shut down since May, while water, internet, and cell service are unreliable.
Alexei is nostalgic for the Soviet past. He is suspicious of other areas of Ukraine where he fears his Russian will be a deterring factor. "The language barrier or the language misunderstandings have split our society," he says. Fearing prejudice, holding on to the only place they know, and honoring their parents, they are steadfast. "If our fate is to die here, we'll die here."
As Lyudmila looks away, Alexey finally says: "I only blame myself." He saw the danger living in Bakhmut since 2014, as it fell on the separation line between Russian-controlled territory and Ukraine. "There's been so much aggression since then, I should have known it will end up like this."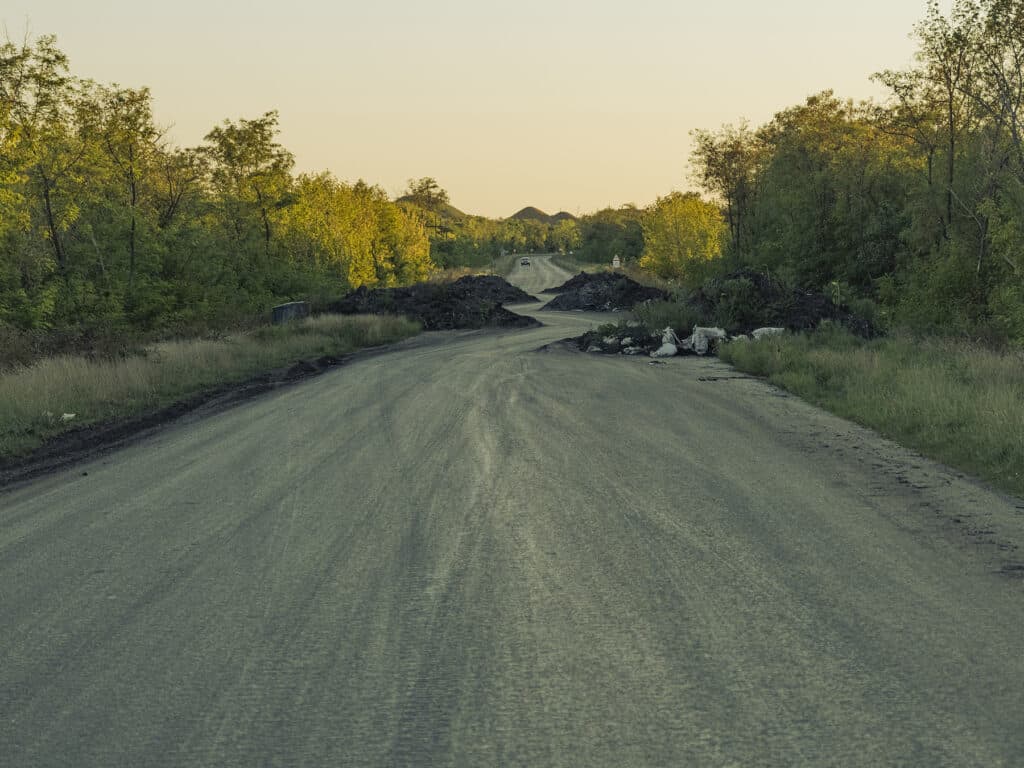 More information on Sasha Maslov on his website.