The old elevated southern section of Boston's Orange Line ran in a four-mile-long section down Washington Street from Boston's Chinatown Station to Forest Hills Station in the area known as Jamaica Plain. Built in 1901, it was an antiquated and deteriorating railway, an eye-sore that made the pavement below vibrate and shudder whenever a train passed above.
The communities along the route had to deal not just with the railway's physical unsightliness, but also its inefficiency and the increasing crime rate that ran along the line as well. Poverty and homelessness became issues in the areas the line serviced. These factors worked together to depress local property values.
This led to one unintended, but advantageous, consequence: affordable housing. The people who lived along the Orange Line's route did not have to worry much about rising rents by a subway line that no one else wanted to live beside. It was a thriving working-class and low-income community of people who, for the most part, could never have afforded to live in other parts of Boston.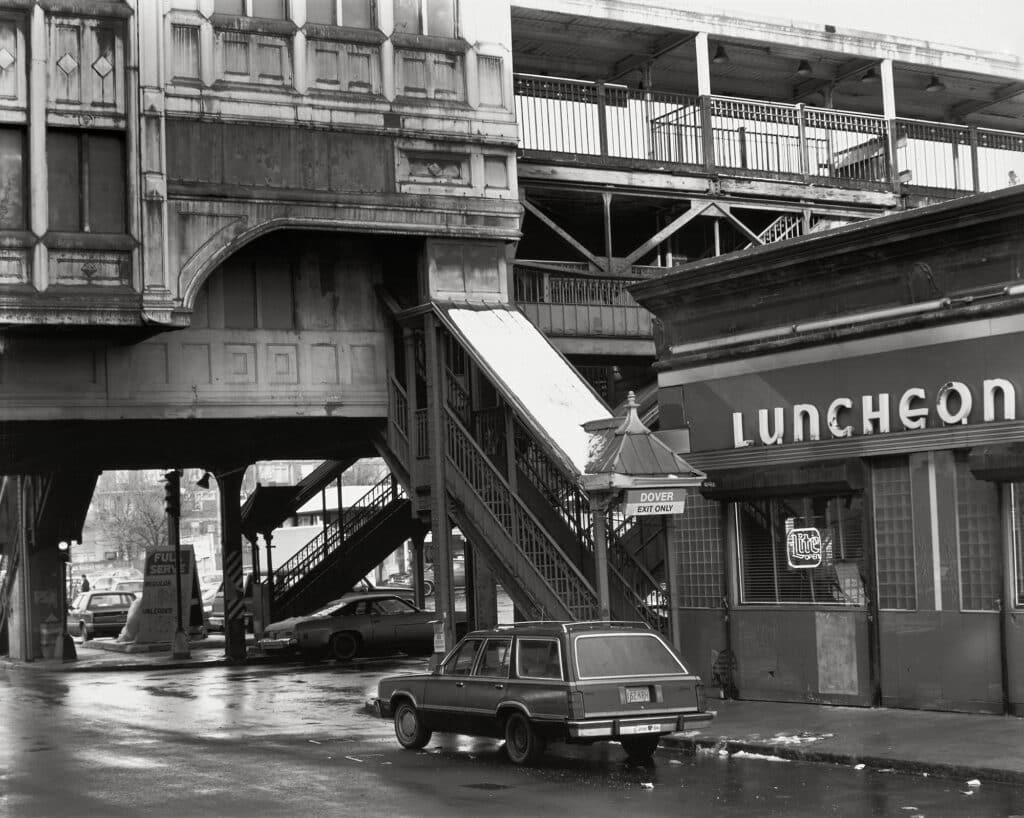 But in 1985, things changed. The southern section of the Orange Line was scheduled to be demolished and rerouted west of the train's original path. This sent shockwaves through the communities who saw change in many forms coming their way. They feared the prospect of rising rents, the loss of access to public transportation, and the possibility of being displaced from their homes and communities through gentrification.
Into this foray stepped UrbanArts, a non-profit arts group which facilitated public arts and design projects in Boston. UrbanArts commissioned 5 photographers to document the neighborhoods along the soon-to-be-demolished stretch of the Orange Line. One of those photographers was Jack Lueders-Booth.
A passion for photography
Lueders-Booth's career in photography started much later than most. He did not truly start to learn the craft till his early 20s, though he was first introduced to it through his father, who was a mathematician, chemist, and physicist in addition to a serious amateur photographer who mixed all of his own chemicals from the raw compounds. Lueders-Booth was more an observer in the process, as his father did not teach him, thinking that his attention belonged more with his school studies.
In his early 20s, after he had moved out on his own, Lueders-Booth's photography studies began in earnest with the help of his cousin John Booth, a colonel in the Air Force and avid photographer, who sent him an inexpensive Japanese rangefinder camera. Lueders-Booth set to work mastering the technical aspects of photography, even building his own darkroom in a large closet of his house. All the while, he continued in his business career full time.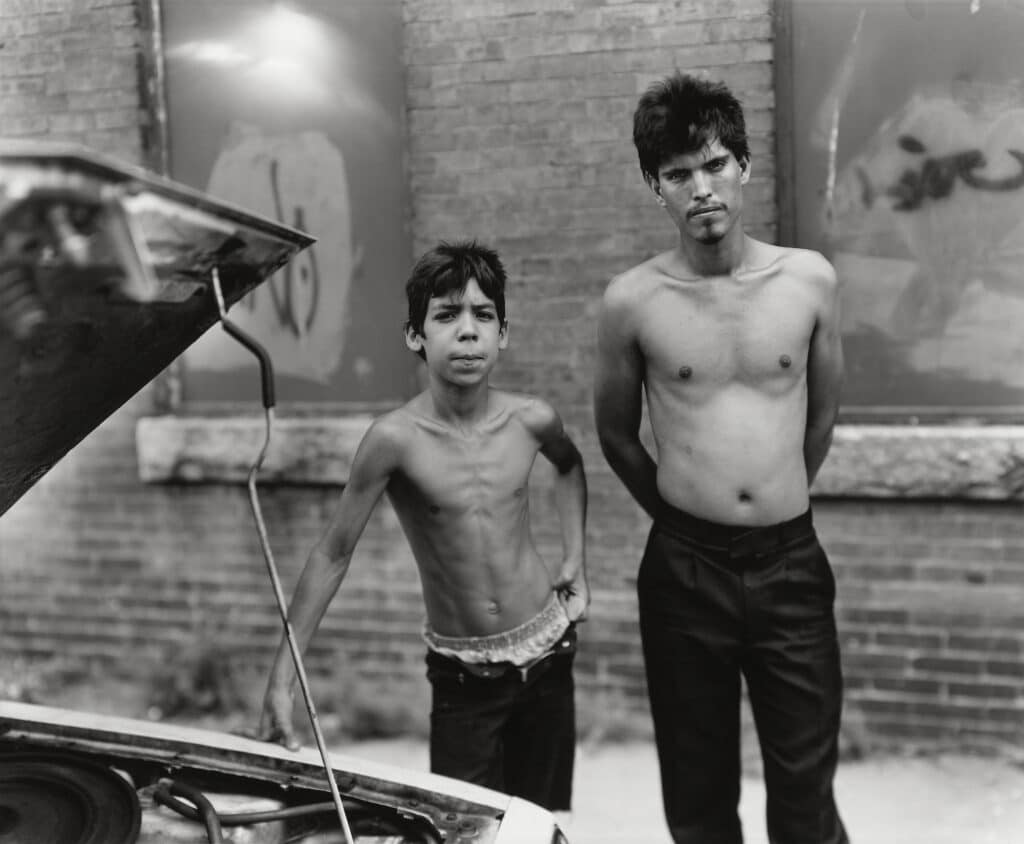 Lueders-Booth reflects on his early experiments with photography: "I introduced a piece of exposed photographic paper into a tray of developer under the romantic, or eerie, dim yellow light, to first be rewarded by seeing nothing, and then more nothing, and then finally, magically, an image begins to appear. Bleak and pale at first, and then, after some minutes, the full print emerges in all of its splendor and glory. That entirely technical event, completely devoid of all aesthetic suggestion, was addictive."
Addicted soul
As he worked to master the technical aspects of the medium, Lueders-Booth began to understand the power of photography to be not just merely descriptive of scenes but also a form of expression and interpretation. Having never studied photography, and not knowing the history of the medium, he began to look for photography study groups to satisfy his growing hunger. That search led him to his career as a photographer.
"I needed to talk with similarly addicted souls. I longed to be part of a community of kindred spirits from whom I could learn, exchange ideas, and maybe get some sense of what this mysterious and alluring world was about. I secured a part-time position as a photo lab monitor at Harvard, which did connect me with photo faculty, who did come to invite me to join them in informal meetings of critical discourse. In 1970, when I was 35, they invited me to be the administrator of their photography department, and in 1971 they invited me to join their faculty."
At the age of 35, Lueders-Booth left his business career permanently. He taught at Harvard until 1999, and then went on to teach at the Rhode Island School of Design, Tufts University, the School of the Museum of Fine Arts, and finally at the Art Institute of Boston — which is where I first met Lueders-Booth as a grad student in the mid 2000s, though it is now known as the Lesley University College of Art and Design.
But back in '85, Lueders-Booth was embarking on 18 months of photographing those who lived along the soon to be demolished elevated Orange Line with the support of UrbanArts. He worked along Washington Street and two blocks on each side of the line.
For this project, the camera itself became a tool to further his interactions with his subjects. Rather than relying on smaller and lighter 35mm equipment, Lueders-Booth used an 8″ x 10″ Deardorff camera made of rosewood and brass built in 1928. It was unmissable.
"I used it for its conspicuity. I wished to declare my presence. I was a white guy photographing people of color and did not want to be perceived as doing it surreptitiously."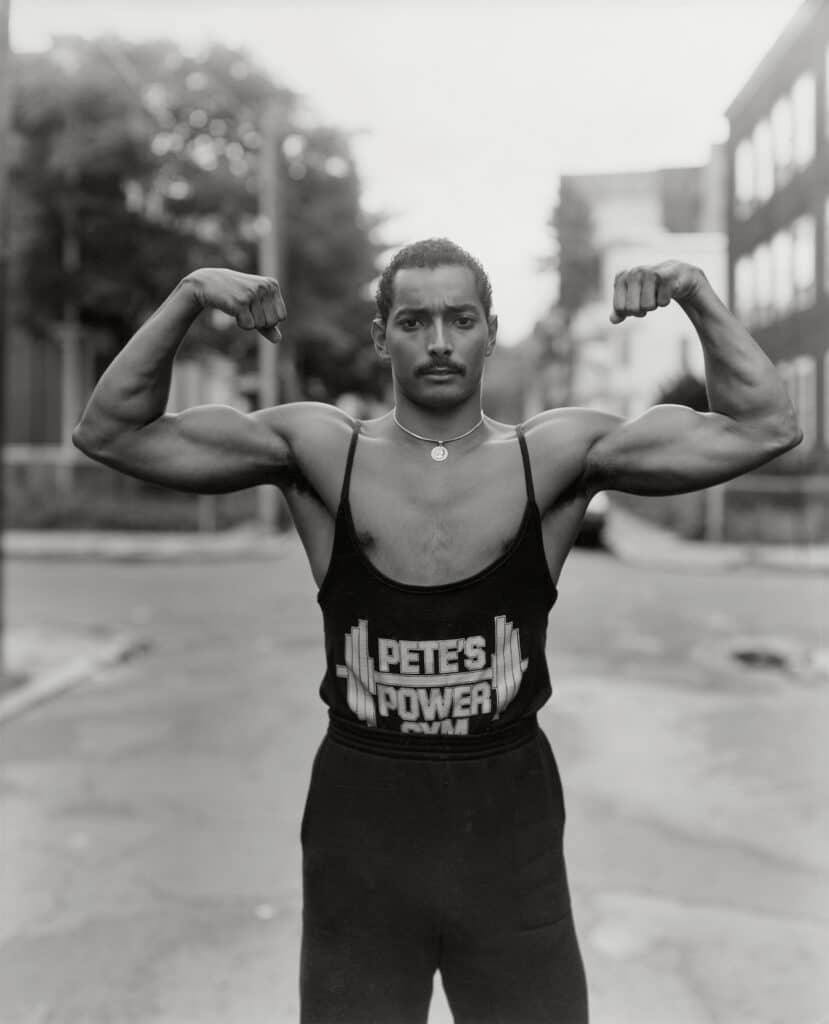 The camera needed to be set up on a heavy tripod to be steady, and the setup time allowed him the chance to interact with his subjects. He did not coach his subjects on where to stand or what to do, but rather worked to make them feel comfortable and let them choose what they wanted to express for the camera. As they talked, he would wait for the moment that felt descriptive, and then release the shutter
The moving of the Orange Line
The photographs themselves show the diversity of the people who lived in the neighborhood that would be lost when the Orange Line disappeared from their lives. There are children, teens, mothers, fathers, the elderly, workers, and people just living their daily lives. They are wearing their work clothes, play clothes, dress clothes, and sometimes just in their shirtsleeves. They are Black, white, and Hispanic.
When projects like the moving of the Orange Line are calculated by those in charge, communities are reduced to numbers: people displaced, population shifts, ethnic breakdowns. But as Lueders-Booth says, there is more to a neighborhood than that.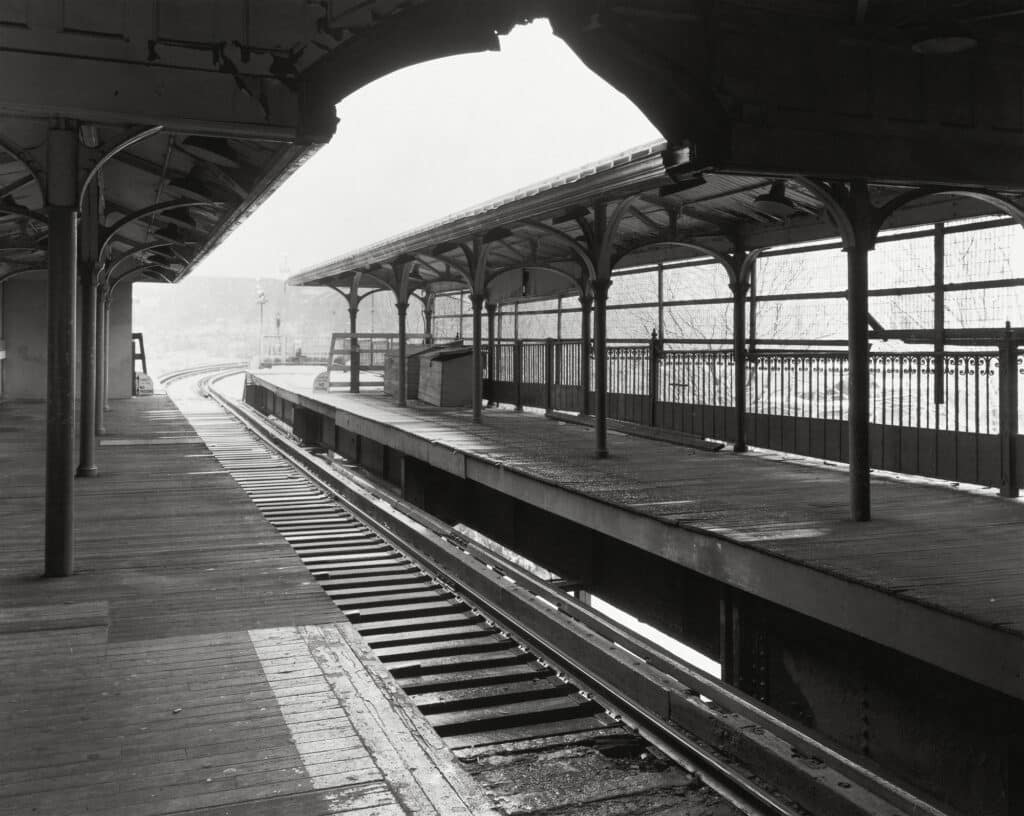 In the end, with the Orange Line gone, the fears of the community came to pass. Housing prices rose, driving out many of the people who once lived there and participated in Lueders-Booth's photographs. New stores and shops moved in as well, displacing the businesses that had been there to service the community. Gentrification set in, and the neighborhood is now nothing like it once was.
The Orange Line is published by Stanley/Barker and can be purchased through their website, $54.