Bob Dylan has a song called, "Love Minus Zero". He says he thought of the title before he wrote the lyrics. I did something similar. I thought of the title, "Edge of Texas", before I took the photographs. I'm not the most analytical of photographers. What good ideas I have mostly tiptoe in unannounced and tap me on the shoulder.
In the fall of 2018, it occurred to me that it might be interesting to see how people live at the very edges of our state. Culture, geography, accents, demographics…all differ a great deal from East Texas to West Texas. From the Rio Grande to the Oklahoma border.
So, in February of 2019, I set out to drive the perimeter of this huge state. To find things to photograph. My inspiration was Robert Frank's book The Americans. He was Swiss and used a Guggenheim Grant back in the 50s to travel across the United States. He saw this country with totally new eyes, wandering and taking pictures of what intrigued him.
I was going to get as close to the border – close to the Gulf, close to the river, close to Louisiana – as I possibly could on these little back roads and follow my nose and take pictures of what appealed to me. I wanted to see what extent the Rio Grande influenced life along its banks, how life in Louisiana, along Oklahoma, and New Mexico influenced Texas. There's been a cross-pollination going on both sides since forever.
I've been a commercial photographer for many years. My clients would give me parameters for what they wanted photographed. For "Edge of Texas" I would be my own client. I'd try to satisfy myself. No one else. I would follow my nose and take photos of what drew my interest. This would not be a documentary where I felt obligated to take photos in every small town. If I saw something interesting, I'd shoot.
I realized early on that this endeavor couldn't be done all in one long trip. I divided my touring into what I call legs. I started south on Interstate 35 to Laredo on my first leg. I had no idea what I would shoot or if I'd find anything to shoot at all. I walked around downtown Laredo for most of a day, limbering up my photographic muscles, shooting what caught my eye.
Then I headed west along the Rio Grande to Eagle Pass, toBig Bend, along what must surely be one of the most beautiful drives in America, FM-170, the Texas River Road. Finally to El Paso. From there I drove back to San Antonio to take a look at what I'd shot. For me, getting the photos on a big monitor is where I find out if I've been wasting my time or not.
The second leg was to Laredo again, then along HWY 281 to Los Ebanos, where the state operates the last hand-pulled ferry across the Rio Grande. Down to Brownsville and Boca Chica, where the Rio Grande flows into the Gulf of Mexico. North to Kingsville and back to San Antonio.
The third and fourth legs were much the same. Corpus to Newton, Jasper to Selfs, Powderly to Pecos. Young people with guns on the banks of the Prairie Dog Town Fork of the Red River, Big Tex Muffler Man in Conlen, an interesting ranch gate near Ft. Stockton.
When I finished my trip, I did a rough edit of the 3,000 or so photographs I'd taken. I put the best 200 shots together to see how everything held up. I'm happy with the result.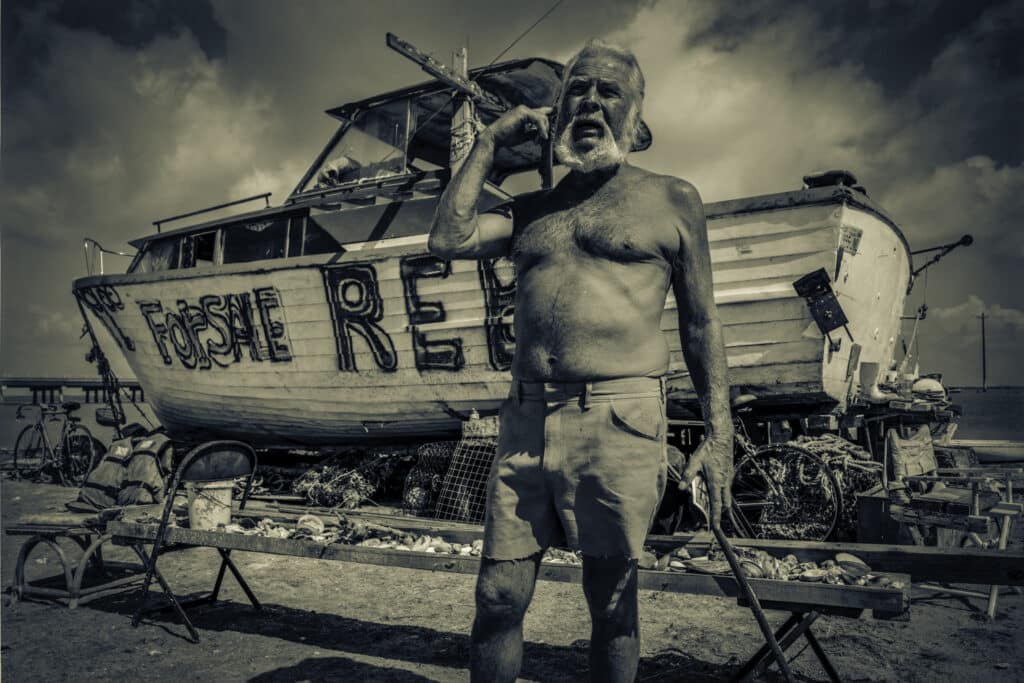 John Dyer's work is represented by Heidi Vaughan Fine Art in Houston.