When Hunter S.Thompson killed himself with a handgun in 2005, he left behind a legacy of high energy drug-fuelled journalism that covered American politics, music, and culture over the previous 50 years. Much of this was made at Owl Farm, the Colorado retreat where typewriters, drugs, whiskey, and guns were all part of the creative mix. Hot Damn! is a document of those Owl Farm years.
Chloe Sells began working for Hunter S. Thompson in 2003. Officially she was a personal assistant who was supposed to keep him up to speed on editing his book. Unofficially she "…did anything and everything that needed doing".
Then one day Thompson came up to her and said, "So you say you're a photographer. Well, Taschen is doing a book of my photographs." It turned out that all his life had been photographed but not Owl Farm, the home that features so largely in Thompson's writing. It needed to be visually archived, Thompson told her, and it was hers to photograph.
And that is how Hot Damn! started out, as a creative endeavour handed to Sells by Hunter S.Thompson himself. It's a book that mirrors the energy and chaos of Thompson's life, with illustrations by Ana Rocha there to add to the pharmacological mix.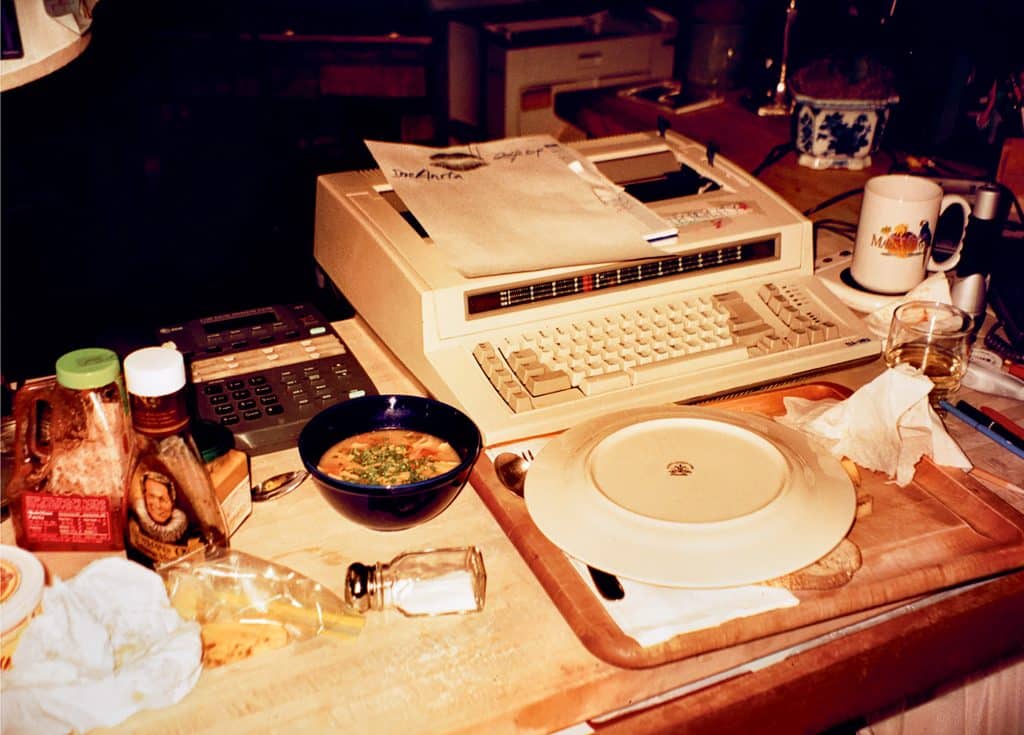 The first picture is one of a metal doorway. It's battered and scratched and has a German Eagle and swastika with he legend Eingang Verboten written on it. Another sticker tells potential visitors that "if you come through this door you will be killed" in both English and Spanish. The point is made in three languages.
But Chloe is invited, and enters the sacred interior of cars, cops, porn, and guns. There is Thompson's old school electric typewriter surrounded by the detritus of eating, drinking, writing, and thinking. The writing is everywhere, words are scratched onto post-it-notes, scraps of paper are pinned onto the wall; "Never call 911. Never. This means you. HST", reads one. A doormat reads "Come back with a warrant", and a note pinned to a corkboard reads "Beware. The floor is slick and greasy and dangerous. Get down on all fours to proceed."
Sells photographs former arrest warrants and pages from Fear and Loathing in Las Vegas, Hells Angels, Fear and Loathing on the Campaign Trail, and the Great Shark Hunt, and these appear along with strips of paper reading "Animals – Whores – Dialogue – Electricity" that are taped onto Thompson's electric typewriter as the detritus of decades of hoarding and collecting mounts up on the shelves, walls, and tables all around. Marie Kondo, one feels, has never set foot in Owl Farm, and if she did it might not end well for her.
You get the feeling Thompson wasn't much for throwing things away. Stuffed birds and animals litter the premises, including a stuffed porcupine that relates to the time he defended himself against the accusation that he shot into a neighbour's house by saying he was defending himself against a porcupine.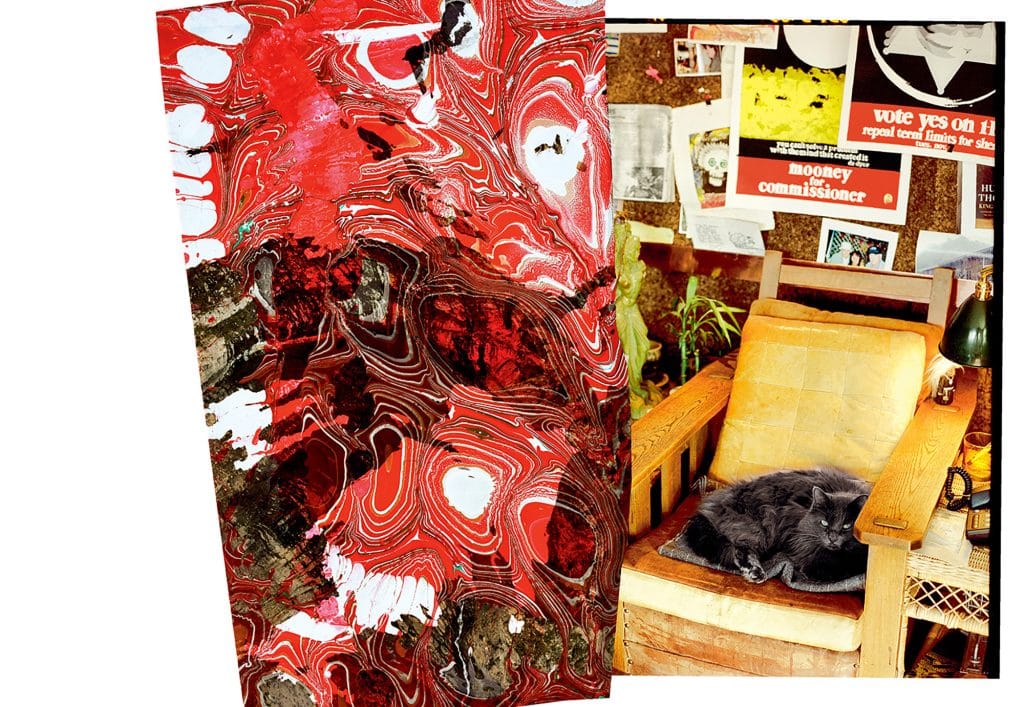 The back of the book has annotated images that add information to the visual biography on hand. There are details on his campaign to run for sheriff of Aspen ("The name Aspen would be changed to Fat City to prevent greed-heads and land-rapers from capitalizing on the place. No drug worth taking would sell for profit…"), on the origins of the word gonzo, scarves blessed by the Dalai Lama, and notes on the meals he ate ("It was a cacophony of flavour: box soup, chutney, peanut butter, salsa, mustard, endive, celery, garlic salt, microwave turkey dinner, Paul Newman's sald dressing, whiskey, coffeed, beer, a cigarette").
If you've read Hunter S.Thompson before, this book is a visual biography that will make you want to read again. And if you haven't read Hunter S. Thompson before, now is as good a time to start as any.
Hot Damn! by Chloe Sells, is published by Gost, 184 pages, $70.00.