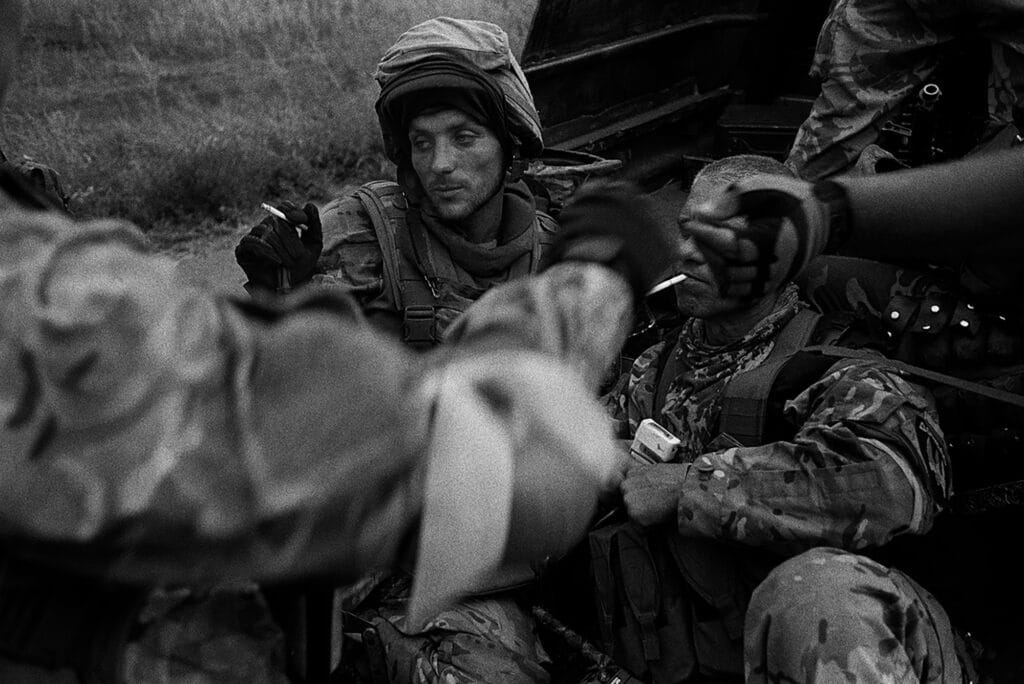 Oleksandr Glyadyelov doesn't like to think of himself as a war photographer despite all the time he has spent photographing conflict. Born in Poland, he has been living in Kyiv with his family since 1974. Over the course of six years (2014-2020), he captured the conflict in the Donbass region. That war took on a different form than the one that was ongoing in 2021 throughout Ukraine; it was not continuous but rather sporadic, with moments of conflict followed by moments of relative calm.
Oleksandr Glyadyelov, who was wounded during the siege of Ilovaisk in 2014, has a huge collection of images from his years in the Donbass. One of his two editors, the curator and art critic Kateryna Filyuk, writes in the introduction to the book War (2014-2022), comprised of two booklets: "He (Oleksandr Glyadyelov) gives war – abstract, immeasurable, cruel in its indifference to human destinies – another dimension. No, the horrors don't go away, but through everyday life, through soldiers making funny faces, the moments of rest or of maximum tension engraved on film, something so human appears – vulnerability, courage, dignity and victory."
Next to the black and white images of soldiers waging war in the book are other images captured more recently during the first weeks of the Russian invasion of Ukraine. Continuing the work he began in the Donbass, Oleksandr Glyadyelov points his lens at the destruction and at the civilians trying to escape the disasters of war. What is found consistently from one war to the next are the same images of suffering, ruin and pain.
War (2014-2022) by Oleksandr Glyadyelov, published by 89 books, 40 pages + 44 pages, 25€.