In the essay at the end of his new book, From the Heads of the Hollers, published by GOST, photographer Shelby Lee Adams writes "I ask folks to look into the camera lens and find their own reflection while thinking about significant events in their lives that are important to them. Life experiences for all of us vary greatly and are imprinted in our core being and that bears through, influencing our appearances. When a photographer is connected to his subjects, pretenses and masks fall away, bringing forward a more unrestrained and engaging portrait", says the photographer.
Appalachian mountain culture is independent from popular culture and there is a distinct look to images that embrace their way of life. "Often, when viewing photographs, we can discover a part of ourselves, recall our history, recollect memories and discover glimpses of our own character. It is important to me that my subjects see and approve of my photographs and find them genuine."
For more than 40 years, Adams has spent his summers traveling around the mountains of Eastern Kentucky to photograph the people who call this part of Appalachia home. He has photographed some people multiple times over many years, some just once, and in some cases, he has photographed multiple generations of the same family over the years. Each is depicted as they choose to be seen. Some sit, while others stand. Some are inside their homes, while others are outside. But all the photographs reveal details of the subjects' lives.
These annual summer trips allowed him to renew and relive his childhood in the same mountains and the hollers, the narrow valleys usually with just a single lane road that dot the isolated mountain areas, where he grew up.
Adams was born in Hazard, Kentucky in 1950. But while growing up he spent a lot of time with his grandparents, who lived in Johnson's Fork, a hollow near Hot Spot, Kentucky. Adams' father worked for a private gas company, and was on the road a lot up and down the Eastern seaboard.
"By the time I was about ready to enter high school, my father had an opportunity to go to work in Utrecht, Holland. They were going to go to Holland for the year. I was going to have to go to military school because that was the only school available to me in Utrech. And I did not want to do that, so we decided I would stay with my grandparents in Eastern Kentucky and go to high school, taking a bus from where they lived to a little town of Whitesburg."
Youth as mediator
And it was during his high school years that Adams was first exposed to working photographers, what they did, and how they worked. In April of 1964 in Inez, Kentucky, President Lyndon Johnson announced his "War on Poverty" while sitting on the porch of Tommy Fletcher, a father of 8 children, who in the mind of many, came to epitomize the conditions of those living in Appalachia. The President's plan was to help the underprivileged break the cycle of poverty by providing job skills, education, and support to help find work. The news crews were quick to descend on the area.
Adams helped the press as a sort of fixer. His uncle was a country doctor, and when journalists would show up at his uncle's office to ask to be shown around, Adams was tasked with the job. During his high school years there were many documentaries being made, the Washington Post and other papers would send journalists, and there were big spreads in magazines like Life and Look. It was a busy time. He wasn't making photographs, but rather driving the photographers around, and observing how they worked to cover the issues of poverty.
"That was really my introduction to working photographers. I wasn't really working for them or do anything, except driving them around, showing them the different places that they asked to go. It was my intro to photography. I had done drawing and painting all through high school and had a good high school art teacher. I wanted to go to art school and my mother supported that idea, and I ended up at the Cleveland Art Institute. I didn't take photography in my first year, but in my second year that's when I got my first photo course and changed my major from drawing and painting to photography."
Proof through images
And it was, in a way, to prove one of his photography teachers wrong that he began photographing the people of Eastern Kentucky. The professor showed the class the photographs from the Farm Security Administration, and in those photographs, Adams saw the kinds of people he grew up with.
"I raised my hand in class, I remember doing this, and I couldn't believe it. I said 'But this isn't history. I know people like this today.' Of course, I'm in Cleveland, Ohio, and it didn't go over too well. So I decided to prove this guy wrong. So on spring break I went home and started photographing Appalachia the way I knew it."
When he came back with his photographs, not done like Walker Evans or others from the FSA, but rather in his style, his teachers were impressed, and encouraged him to do more. Adams worked to show that there is culture in Appalachia, and while there were problems, and some things were still needed, it was not all bleek.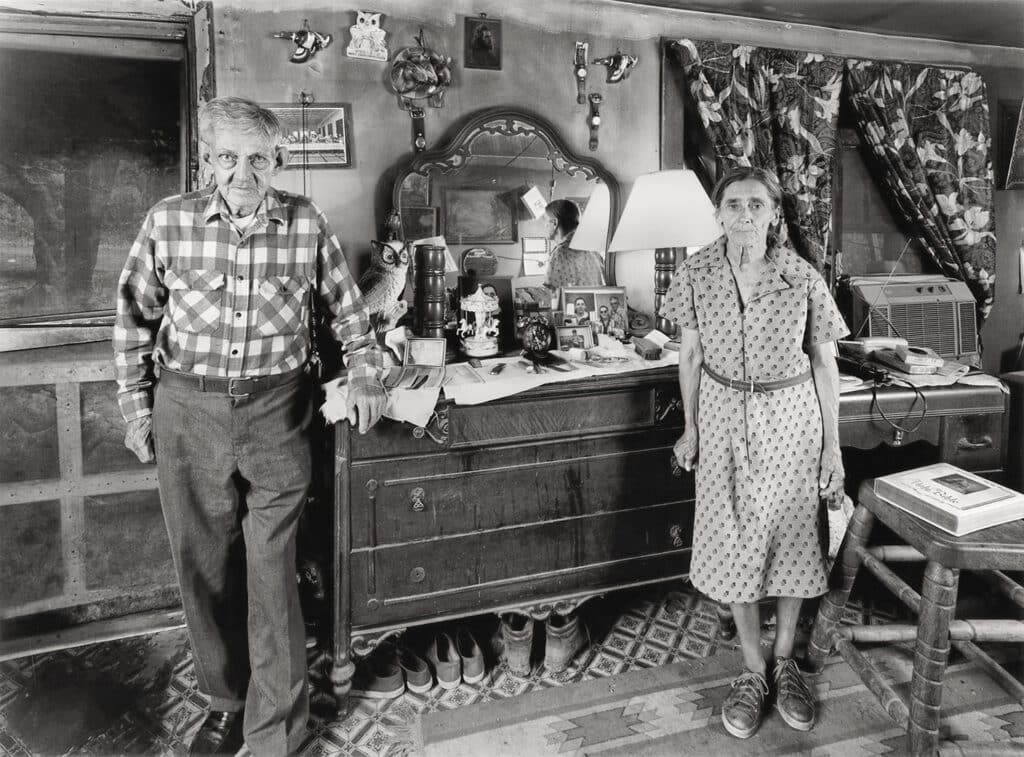 He had begun by photographing his grandparents, other relatives, and the patients of his uncle the doctor. As his work continued, he would take back prints to give to the people that he photographed. And he would use that opportunity to ask his subjects to introduce him to another family so that he could continue photographing. And over the years, his web of connections has steadily grown.
This method of working through personal connections, repeated visits, and a collaborative working method with his subjects, differed from how he had seen others work when he had helped them in high school. Adams also sees his work as subjective, not objective. It is important to him that his subjects want to be photographed. And he will not try to photograph someone who doesn't want to be a participant.
"From the beginning, repeating visits changed my perspective in how I saw my work and people. Over time, I perceive different characteristics in my subjects and myself. I felt we were working in more of a collaboration. My subjects gave more of themselves in making their own images because they saw the previous sessions, the Polaroids, and that inspired their own ideas about how and where to be photographed a new. With my guiding tools we made pictures more as equals."
While Adams continues going through his archive and printing himself all the photographs he overlooked before, he also continues to travel to Kentucky to photograph. He has had to change his methods, though. While he originally would use a 4×5″ camera and Polaroid film, now he has switched to digital, though it was not of his own choosing.
"They stopped manufacturing the film I used, the Polaroid part, in 2010. Polaroid Type 52. It took 20 seconds to develop a beautiful print. When they stopped manufacturing that, then I couldn't pull the print to show my subjects in 20, 30 seconds. And really, field work got difficult. Now, the last 10 years, I've been just doing digital color … But my real love was working with four by five making Polaroids. Then after the Polaroid, we would expose negatives. I was shooting the Polaroids just to share with my subjects, to have as a record, giving them one, then I keep one. Then when I bring back prints, 8 by 10s or 11 by 14s, then I give my subjects those prints and ask for a model release to be signed."
Authentic culture
Time has also changed life in Appalachia as well over the years. The area now has many more modern developments that once were totally absent. There are new hospitals and roads, junior colleges, fast food restaurants, Cable TV, internet access, and more modern housing. But Adams continues to seek out those who still live in the old way.
"Yet in the heads of the hollers some folks still reside much the way they have always survived. Those are the people I'm interested in photographing, they represent the authentic culture that has its own look and values, like my grandparents. Now that look of mountain culture is disappearing."
Adams work is also not without controversy. The changes in Appalachia have also led to a growing middle class, who feel that the photos are trying to make them all look bad by only focusing on the rural way of life.
"The controversy around my work as I see it is perpetuated by the new middle class who now live-in brick homes on the hill sides or doublewide trailers and they feel shame when they see my pictures. Some say, 'We don't look like that, these photographers are trying to make us all look bad.' They do not see that I am preserving a cultural way of rural life that is disappearing from America."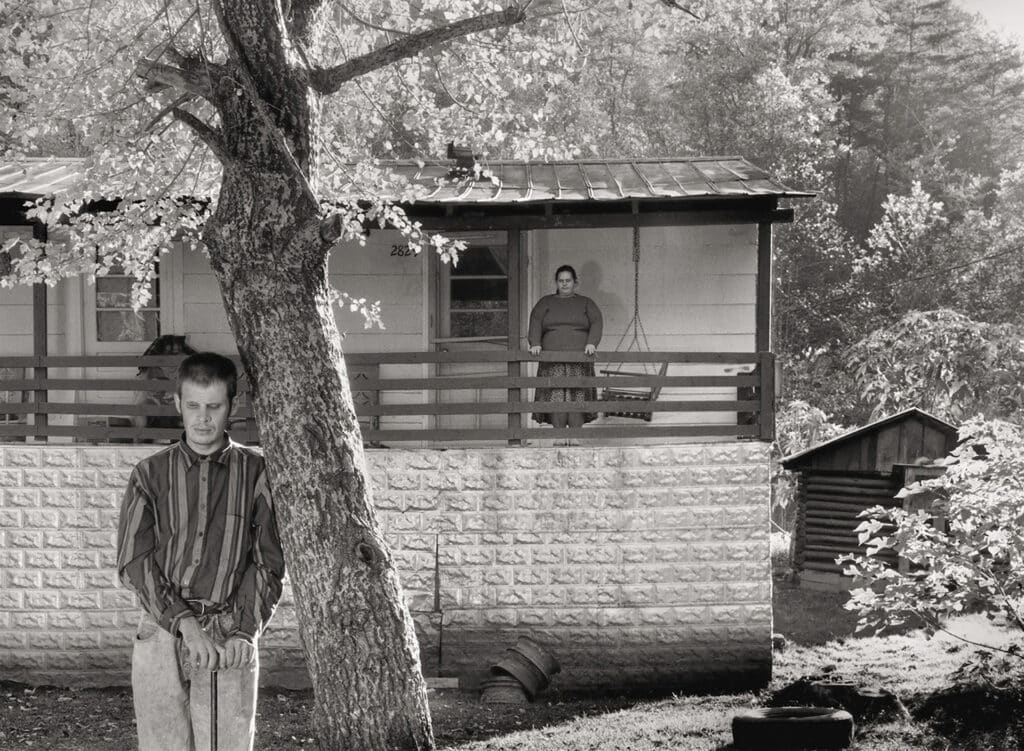 It is against this backdrop of the economic and social prejudice against the poor, that Adams' work to preserve their disappearing way of life becomes culturally important. And it is only with the help and cooperation of the mountain people in the hollers that the story can really be told.
"Now in our region we do have an economic prejudice against the poor. The wealthier people ignore the poor and the poor resent those that have something. My work is illustrating only one side and that is my subjects call, which is always explained in the text of my books and exhibitions. Rather than show conditions, I'm trying to show the rituals, spirit, dignity, grace, generosity and the humanity of a people often ignored with the mountain people's full corporation."
From the Heads of the Hollers is published by GOST, and can be purchased through their website here. A donation of 10% of proceeds from the sale of the book purchased directly through GOST will be donated to Team Kentucky Relief Fund.

The publication of the book coincides with the exhibition From the Heads of the Hollers at the Paul Paletti Gallery in Louisville, Kentucky from October 5 through December 29th, 2023 as part of the Louisville Photo Biennial.