Lucha libre, a Mexican form of wrestling, strikes a balance between combat sport and theatrical performance. Although this discipline is largely unknown in France, it is deeply ingrained in Mexican popular culture which captivated Théo Saffroy. A self-taught photographer, Saffroy found his calling in photography during a motorcycle road trip across South America. In the wake of a Covid lockdown in France, and following some commissioned work for L'Équipe and some other press pieces, he returned to Mexico with the intention of producing a documentary series. Equipped with his 28mm Leica and his best Spanish accent, he immersed himself in the vibrant world of lucha libre.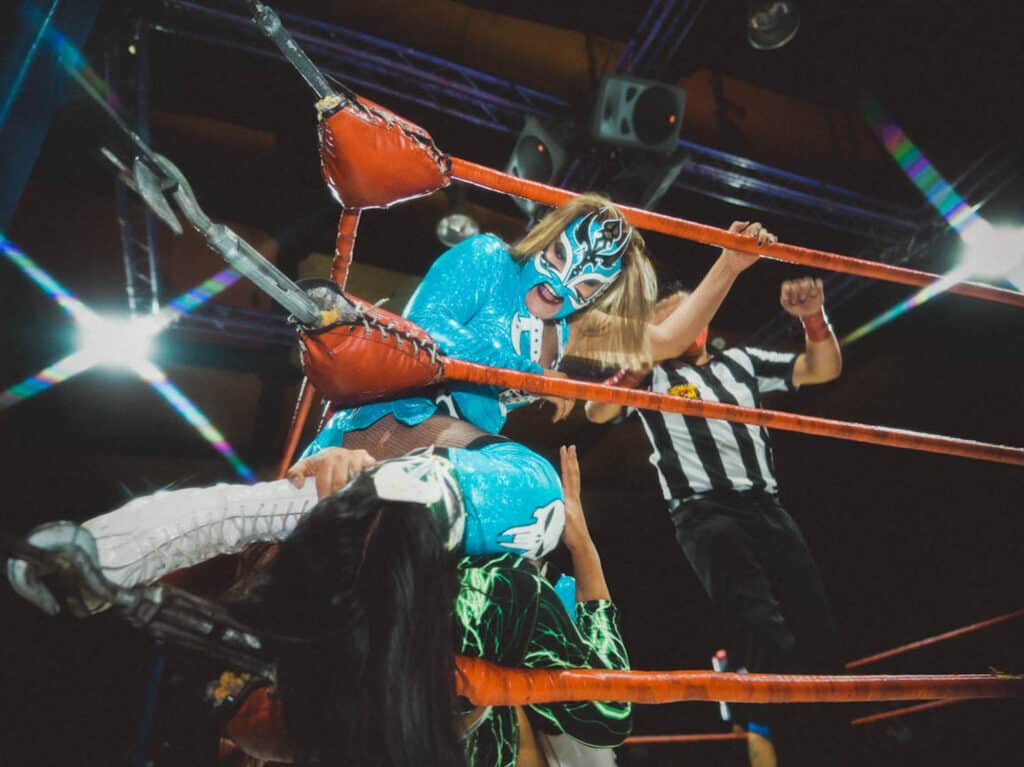 Metamorphosis
Straddling the line between documentary and fiction, Saffroy seeks to tell people's stories: "I don't shoot sports photos; I capture images that talk about people and society through sport." In his Reines du Ring series, he not only unveils the fantastical world of the luchadoras but, more importantly, offers an intimate snapshot of their daily lives. "The goal was to meet and understand the women behind the masks," Saffroy explains. "As we talked, I discovered that many had a troubled past marked by sexual assault, financial instability, and poverty. Lucha libre offers them a way to break free and reinvent themselves."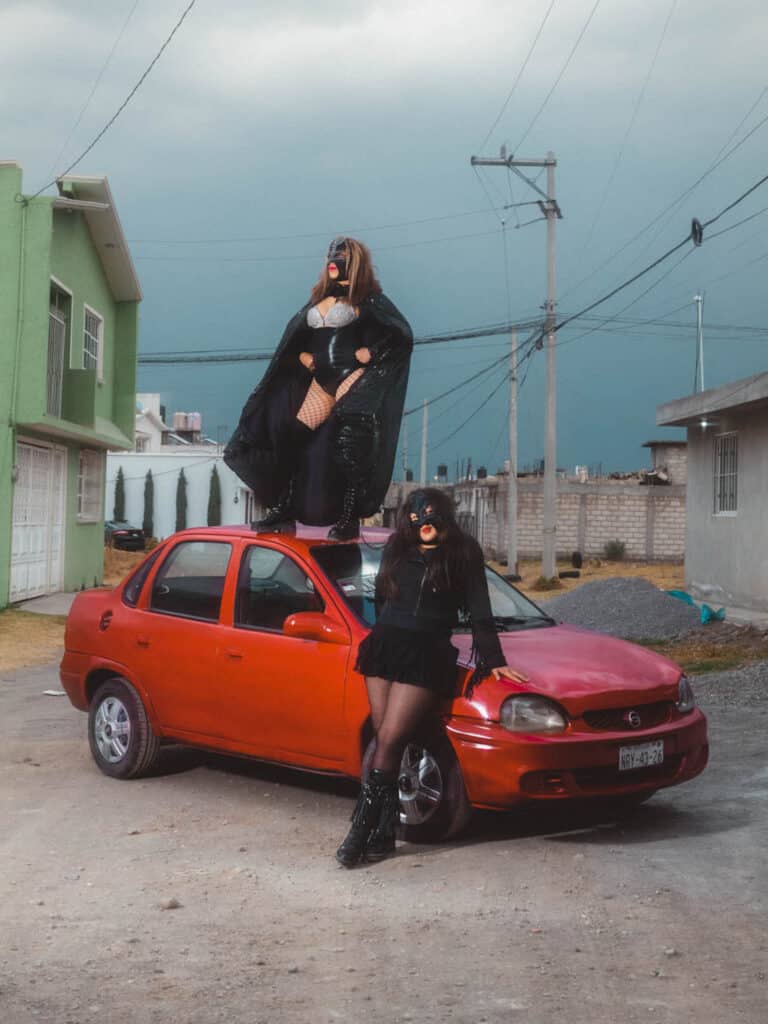 Most of these women are mothers juggling additional jobs and adopting a persona just for an evening's performance. In this role, luchadoras turn motherhood into a strength and use lucha libre as a tool for social emancipation. Defying societal stigmas, they boldly embrace and showcase their femininity in a predominantly misogynistic setting. Donning multicolored Lycra outfits, sequins, false eyelashes, and their decorated masks, they transform into nothing short of superheroines. "In Mexico, they're superstars!"
The luchadoras also symbolize the reappropriation of violence as a form of empowerment in Mexico. The mask serves as a transformative object, contributing to the creation of their personas. Saffroy notes that this transformation is all-encompassing: "Once they put on the mask, their voice and behavior undergo change. This series could very well have been titled Metamorphosis."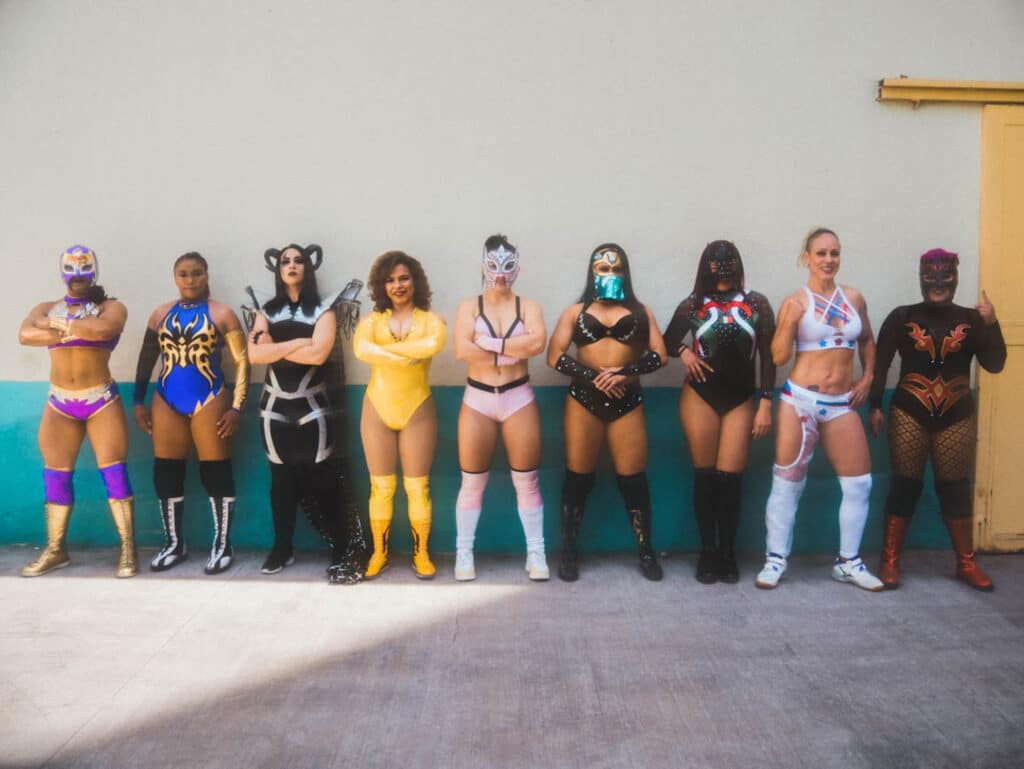 Theatrical and social struggle
"Esto es Lucha!," roars the crowd in the arena, where beams of light and vibrant colors blend with the fervor of euphoric spectators. The entrance of the wrestlers, who emerge in a haze of smoke like modern-day Roman gladiators, sets the room ablaze. Influenced by Harry Gruyaert, especially his work with color, Saffroy employs wide-angle lenses and flash photography to capture the visual spectacle of lucha libre. His carefully staged compositions capture the drama and the mystique of each bout, a theatrical affair that unites multiple generations—from grandparents to grandchildren.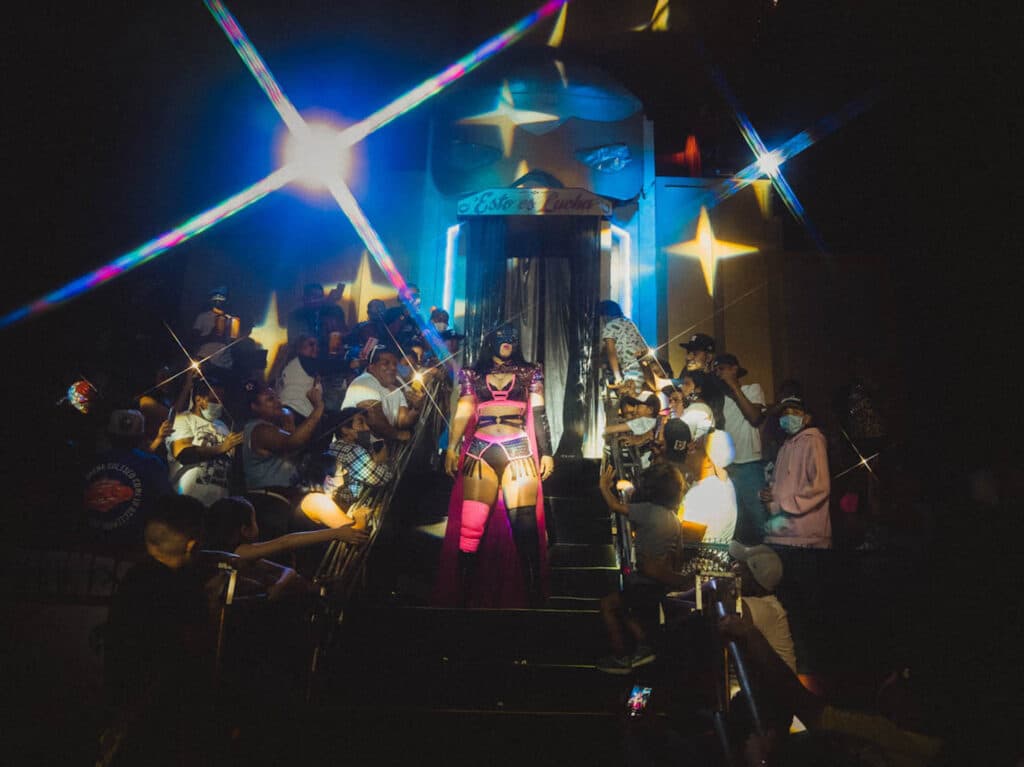 Whether in the ring or in the bleachers, lucha libre is as a cross-generational platform for women fighters. It transcends a mere sporting event; it's a symbolic battleground against gender inequality in Mexico. Veteran luchadoras Marcela and Princessa Sugehit, aged 40 and 44 respectively, can attest to this. They have navigated the early days of this male-dominated sport, fighting every step of the way from training to the ring. Recent years have seen a shift, particularly facilitated by social media—an increasingly vital forum for advocacy. Areas once exclusive to men are gradually being claimed by a younger generation of women. However, Saffroy observes, "the sport remains overwhelmingly male-dominated. Out of five fights on any given evening, only one is typically a women's match, and some nights there are none."
Théo Saffroy's series is showcased at Pont Saint-Ange as part of the Rencontres Photographiques du 10ème, from September 28 to October 28, 2023, and at the Parc de la Gare, avenue de la République, in Beauvais, as part of the Photaumnales, from September 16, 2023 to December 31, 2023.
You can find all the photographer's work on his website and Instagram account.