Back in the early 2000s, a long buried treasure emerged amid the wealth of forgotten treasures at Manhattan's fabled 26th Street Flea Market. There amid the tattered tapestries and fading chiffon of a golden age lay a lost history of gender variance: the story of Casa Susanna, an idyllic countryside estate nestled in the verdant acres of upstate New York during the 1960s.
Here a bevy of beauties gathered, perfectly turned out and ready for a close up to rival Gloria Swanson's silver screen visage. They posed and preened for the camera, delighting in this rare moment of freedom at a time when cross-dressing was criminalized. Liberated from social stigma and shame, they formed a community wholly their own, creating a space for self-expression that was transformative.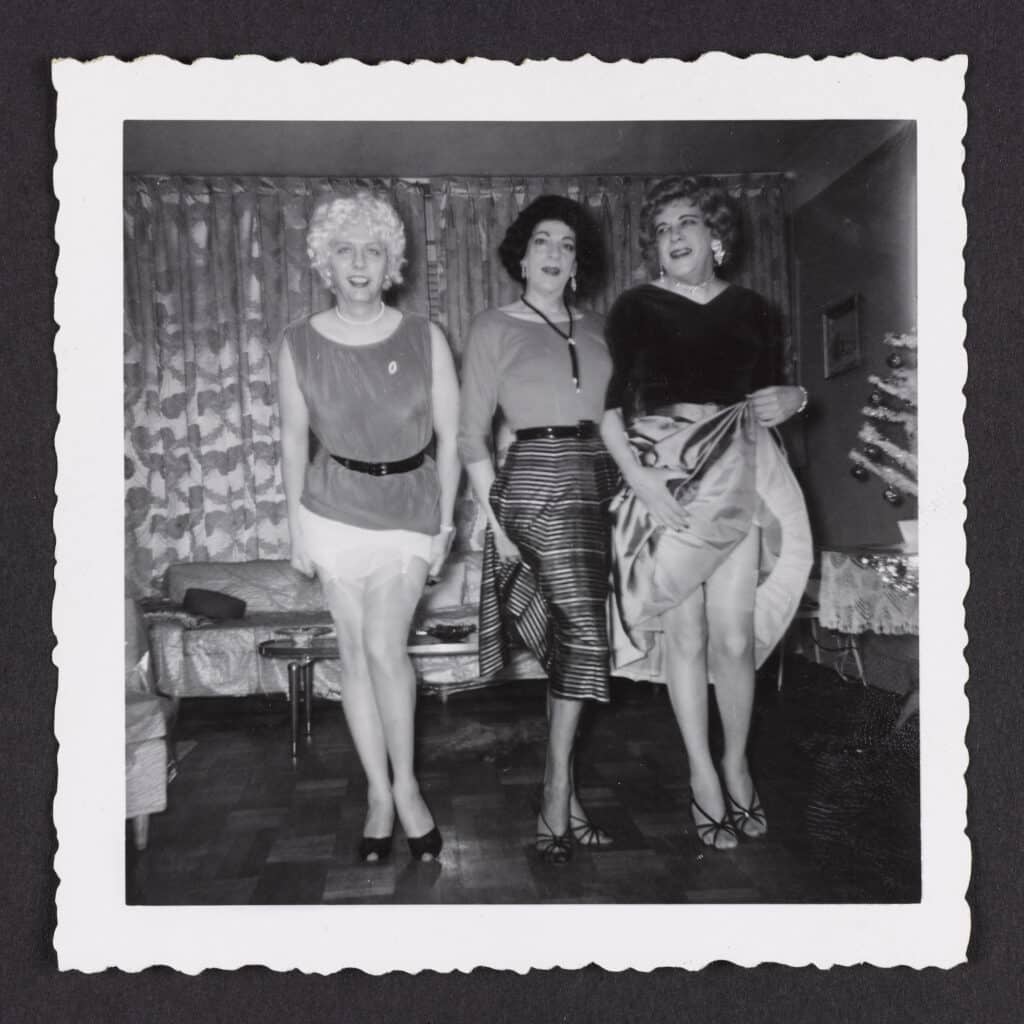 Their pride, courage, and strength radiated from the photographs like a beacon of joy, independently catching the eye of artist Cindy Sherman, and antique dealers Michel Hurst & Robert Swope as each made their way through the Chelsea flea market four decades later.
In 2005, Swope and Hurst published the photographs as Casa Susanna, an intimate art book, which brought the story to light for the first time. But there was far more to the story, as photography historian Isabelle Bonnet would reveal. She embarked on a journey of rediscovery into the hidden world of Casa Susanna.
"The photographs are an incredibly rare document of a pre-Stonewall group," says Sophie Hackett, who presented 20 works from Hurst & Swope's collection for What It Means to be Seen: Photography and Queer Visibility, a 2014 group exhibition at the the Image Centre at TMU. 
"Isabelle Bonnet was writing her MA thesis at the same moment, and we met over email to discuss the work," Hackett continues. "She did an extraordinary amount of research on the locations and the narratives in Transvestia magazine to identify the people and the locations, which added so much context. We both were in touch with [Casa Susanna guest] Katherine Cummings, who has such incredible recall of the place, the people, and what it meant to be there."
With the benefit of their shared discoveries, Hackett and Bonnet now restore Casa Susanna in its full glory to the pantheon of LGBTQ history with the new exhibition and book, which brings together both Cindy Sherman and Hurst & Swope's collections for the first time, along with archival materials from
"Susanna Says"
The criminalization of gender variance in the United States dates back to the mid-19th century, as cities across the nation began persecuting all forms of cross-dressing in public. The medical industry leveraged ignorance as expertise, mistaking gender variance for sexual deviancy and deeming it mental illness.
Adding insult to injury, Hollywood and the media seized every opportunity for ridicule. Few and far between were visionaries like Weegee, who famously photographed a young man in 1939 smiling joyously for the camera as he hikes up his skirt to flash leg in the doors of a police paddy wagon just before being hauled off to jail.
In the 1950s, Republican Senator Joseph McCarthy incited a climate of hatred, bigotry, and fear, fomenting waves of homophobia amid his anti-communist screed, smearing homosexuals as traitors as part of what became known as "The Lavender Scare." Amid this backdrop, the LGBTQ community was fractured and driven further underground, with fear of reprisal forcing them to live double lives.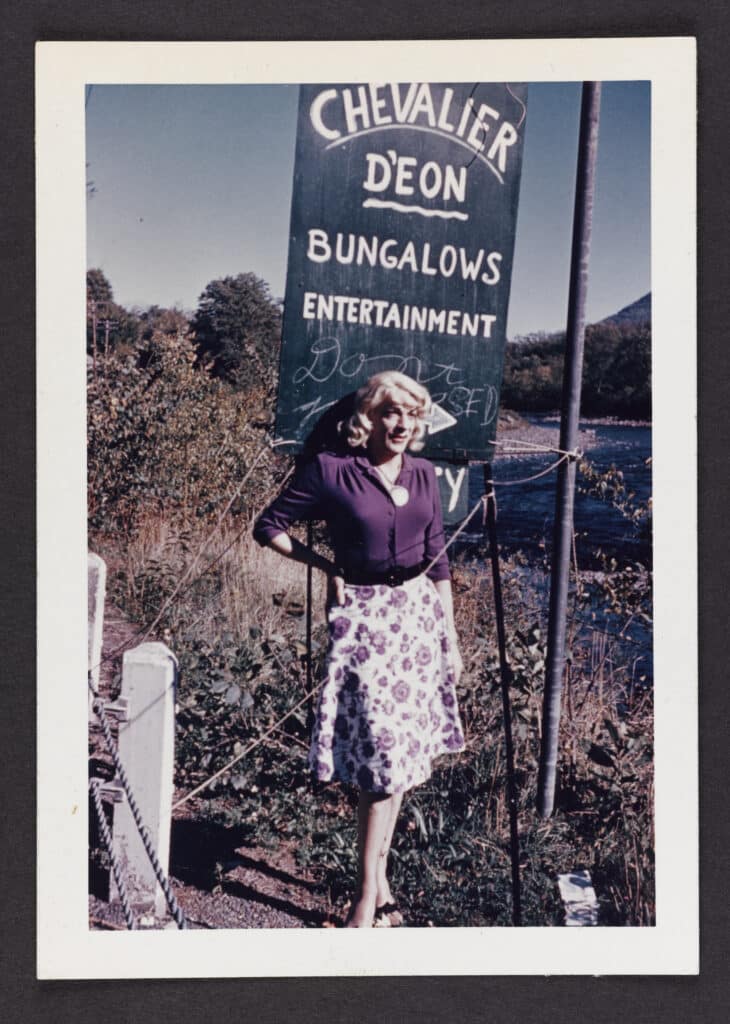 Some, like newly arriving Chilean immigrant Tito (Humberto) Arriagada, sought to create a path for themselves. Since he was a child, Arriagada led a secret life, creating a private space to explore and express himself as a girl. He tried to lead a conventional life, but the shame of hiding his truth behind a marriage proved to be a bridge too far. 
Then, one day while walking down Fifth Avenue in New York, Arriagada entered a wig store. There he met the owner, Marie Tornell, a lively Italian-American woman who soon became his second wife. Considered one of the finest wig-makers in the city, Marie regularly advertised in Transvestia, an underground magazine catering to the community. 
Although cross-dressing remained illegal in New York, business was booming. In the mid-1950s Marie purchased a 150-acre estate replete with a main house, barn, and guest cottages deep in the Catskill Mountains of New York. With the dream of creating an idyllic escape where men could live their feminine truth, they named Chevalier d'Eon after an 18th- century crossdresser and spy. They rented out bungalows for $25 ($278 today) for a weekend trip that covered food, board, and lessons on how to "pass" as a woman.
They wanted to share a wealth of knowledge and skills like walking in heels and cosmetic tricks to hide a five o'clock shadow, but clientele proved slim. To build her reputation, Susanna began penning an advice column for Transvestia under the header, "Susanna Says," coining the term the "girl-within" to describe her embrace of proscribed gender roles.
Hoping to reach a broader audience, she began hosting cross-dressing events for magazine readers at their Upper West Side Manhattan apartment before making the rounds at local nightclubs and drag balls.
But the United States government would not leave well enough alone. In 1961, US postal officials investigating Virginia Prince, publisher of Transvestia, summoned Tito Arriagada to their offices. Contributors to the magazine were being charged with obscenity and named Susanna Valenti in the case. Arriagada denounced the charges, claiming respectability.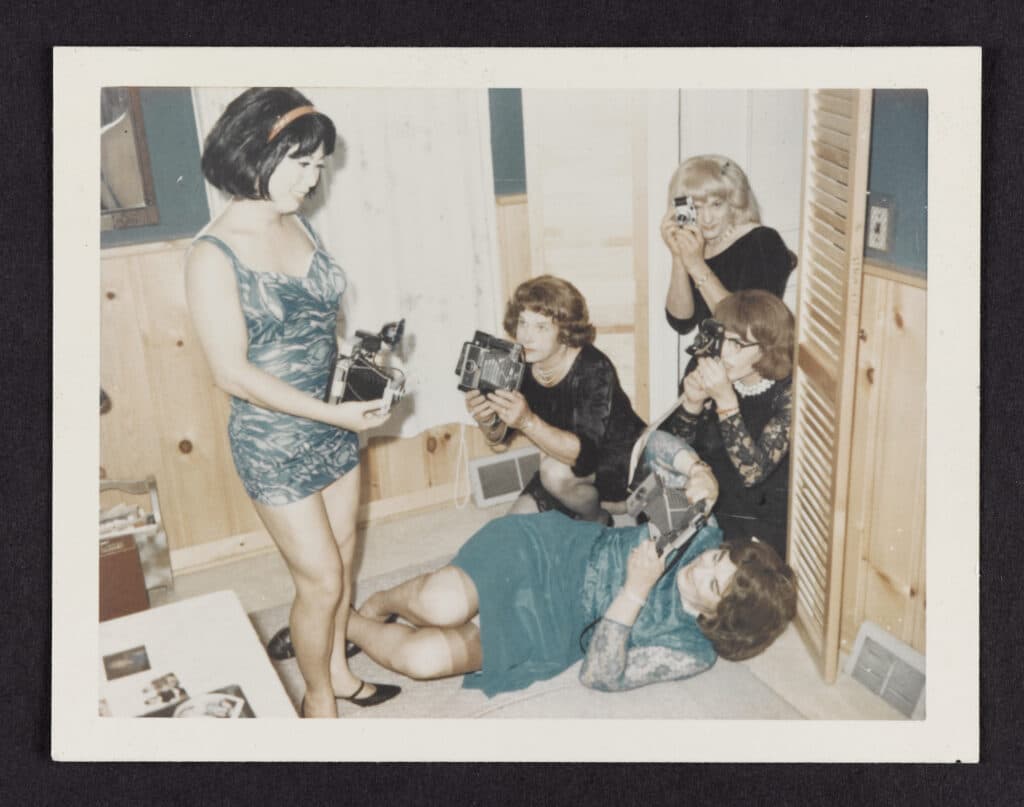 A World of Their Own
Although Chevalier D'Eon Resort was not the success they had hoped for, Marie Tornell and Susanna Valenti did not give up on their dream of creating the perfect country escape where crossdressers were free to live their truths. In 1964, they purchased another 150-acre estate in Jewett, New York, and dubbed it "Casa Susanna."
But there was just one catch: no openly homosexual men were allowed. Living and working at a time when both gender expression and sexuality were criminalized, Tornell and Valenti restricted admittance to self-professed heterosexual men and their wives. The presence of wives signified deference to patriarchal notions of heterosexual gender roles, simultaneously averting unfounded fears of the presence of queer desires that upended the status quo.
"These men believed—remember we're talking 1962, before Stonewall, before liberation—that no decent, God-fearing society would every accept homosexuals as normal," explained Harvey Fierstein who wrote the 2014 Tony-nominated Broadway play Casa Valentina, which was inspired by stories of Casa Susanna, Susanna Valenti, and Transvestia magazine publisher Virginia Prince.
"Virginia Prince was a polarizing figure in the queer and trans communities because she stuck to very rigid ideas of crossdressing : that you were a straight man who sometimes liked to wear women's clothing," says Sophie Hackett. "Her whole project was to normalize it but not everyone wanted to adhere to those dictates or the Ladies Home Journal kind of femininity that she and Susanna advocated."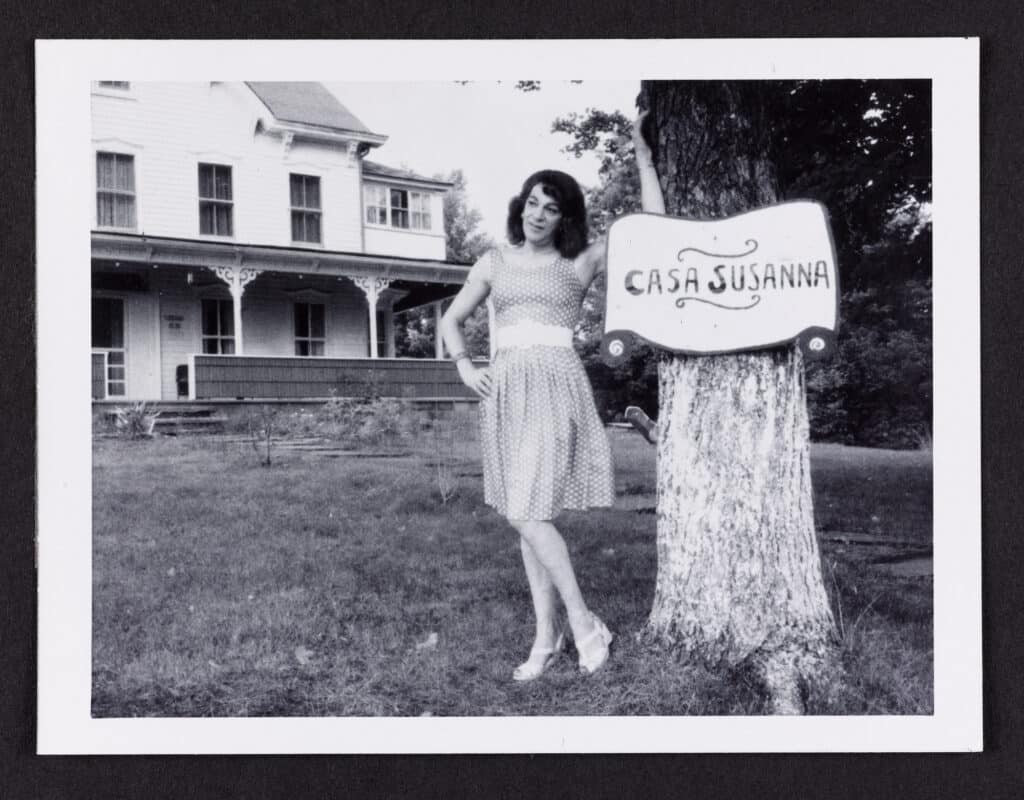 Holding fast to the 1950s image of the perfect woman as homemaker, hostess, and wife, Tornell and Valenti built Casa Susanna as a tight-knit community respected by many locals who benefited from economically from their presence. 
The grounds boasted Bungalow Colony, a theater where female impersonators regularly performed, drawing a subset of nearby Borscht belt hotel guests curious to see the scene for themselves. The Mayor of Jewett was a regular guest, his presence affirming all was right in this neck of the woods.
"People used to love to be here. They had total freedom. A total chance to be themselves," says Katherine Cummings, who narrates Casa Susanna, the 2022 documentary film by Sébastien Lifshitz in collaboration with Isabelle Bonnet.
Lost and Found
Among Casa Susanna's finest amenities was the work of photographer and guest, Andrea Susan, who chronicled the lively comings and goings of visitors. Photo sessions were formal and candid affairs, with Susan creating a captivating chronicle of guests living in their truth.
At risk of persecution and arrest for these images, an older group member named David Wilde helped fund Susan's darkroom at her home in Westchester County, New York, to make prints that were gifted to guests as mementos of their time together. 
"The making of photographs was central to any gathering and existed very much to affirm the possibility of embodying this life," says Sophie Hackett. "The joy and happiness in the pictures belies the day to day realities of their lives." They shared these pictures with each other and Transvestia magazine.
At Casa Susanna, guests embraced an American sensibility that had begun to fade with the passing of the times. Being older, they came of age during and after the war, when images of femininity were swept up in a distinct mix between Christian Dior's New Look glamour and Lucille Ball's TV housewife persona.
The results evoked the spirit of a bygone age, of Joan Crawford as Mildred Pierce burning up the screen with the smoldering fire of a woman reclaiming her glory. Guests came to Casa Susanna for sanctuary at a later stage in life, many married and heterosexual-identified, while others like Susanna and Transvestia publisher Virginia Prince eventually went on to live full lives as trans women.
Diana Merry-Shapiro, a research scientist for Xerox, transitioned after her time at Casa Susanna gave her courage to live her truth. "It was something I could never have hoped could happen," she revealed in the documentary film.
Exhibition: Casa Susanna is on view through September 24, 2023 at the Rencontres d'Arles, France.
Book: Casa Susanna: The Story of the First Trans Network in the United States by Isabelle Bonnet, Sophie Hackett, and Susan Stryker is published by Editions Textuel and the Art Gallery of Ontario, and is distributed by Thames & Hudson in the US and the UK.
Film: Casa Susanna by Sébastien Lifshitz, in collaboration with Isabelle Bonnet, coproduction ARTE France, Agat Films and American Experience Films in association with BBC Storyville, 2022 – 1h37.