The French artist JR traveled to Ukraine last week and enlisted local residents in a monumental public art action featuring a portrait of a 5-year-old refugee named Valeriia.
"This little girl is the future and, in this war, she reminds us what Ukrainians are fighting for," JR wrote on Instagram as he unveiled the image, which is one of two covers for the latest issue of TIME magazine.
The shot of Valeriia is the work of Ukrainian photographer Artem Iurchenko, who encountered the little girl and her mother at the Ukrainian border, fleeing the country. The two are from the central city of Kryvyi Rih, the hometown of Ukrainian President Volodymyr Zelensky, but are now safe in Poland.
"It was very hard to leave Ukraine, very hard…. We had to stand for 18 hours on the train to Lviv," the mother, Taisiia, told TIME. "I cannot find the words to express how grateful I am to everyone who has helped; I'm shocked in a good way."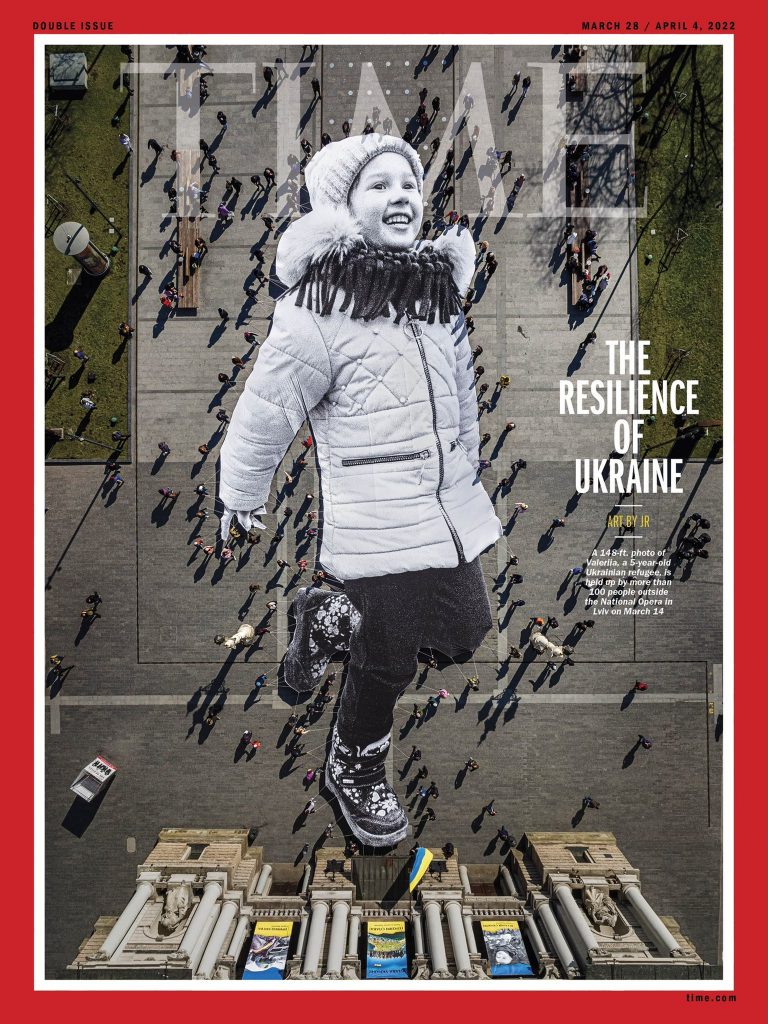 JR's project came together quickly, at the urging of Waone Interesni Kazki, an artist from Kyiv.
"He wrote me about a week ago. He said 'JR, you need to post about what's happening here,'" JR recalled on Instagram. "I said, 'I don't know what to repost, so why don't we try to do something?'"
In the hopes of communicating Ukraine's resilient spirit to the world, JR printed a 148-foot-tall version of Valeriia's photo on a massive tarp in his studio in Paris.
The artist then set about trying to arrange travel to the war-torn country, documenting the journey and the transport of the larger-than-life photo on his Instagram stories.
After entering the country, JR shot the cover image outside the national opera in Lviv, a Ukrainian city near the Polish border, using an overhead drone to capture the unfurling of Valeriia's portrait. A crew of more than 100 Ukrainian volunteers was on hand to help reveal the piece.
"Your smile is shining to the entire world," JR told Valeriia over video chat, an interaction he shared in his Instagram stories.
"It's very strange," JR added of life in Lviv. "Every morning here, there's sirens here and people have to go in the bunkers, and every day there is the most normal life ever."