The city of Kyoto is one of the most attractive tourist destinations in the world, with ancient cobbled alleys that lead to UNESCO-designated temples, pristine botanical gardens, and tiny shops selling traditional crafts and Japanese sweets.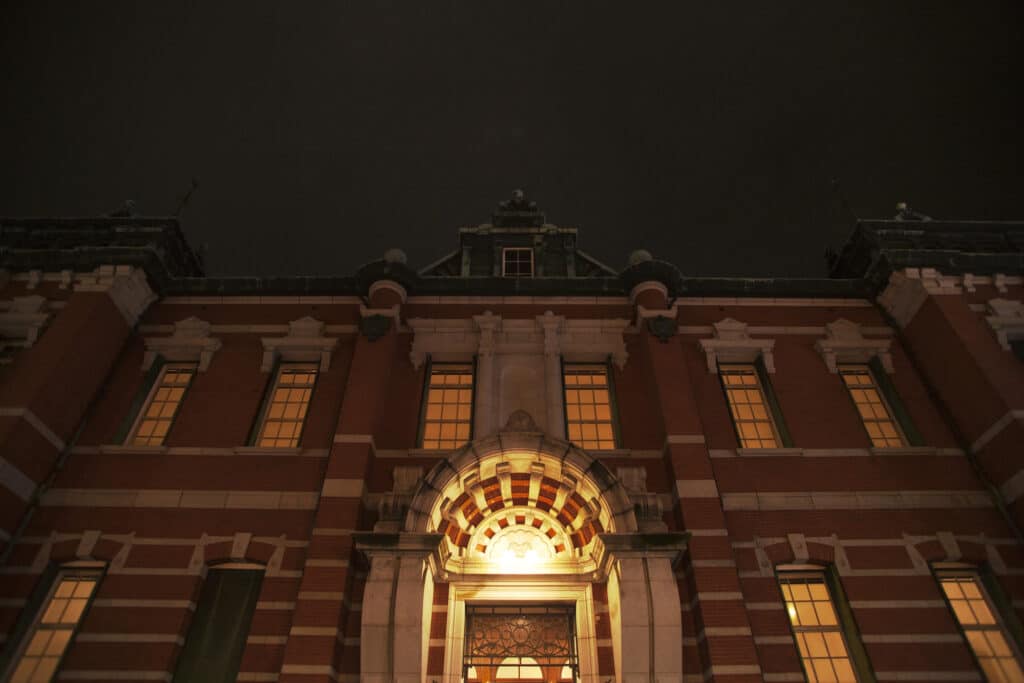 This year's edition features 14 shows curated around the theme 'Borders'. Its founders, French photographer Lucille Reyboz and Japanese lighting artist Yusuke Nakanishi, define this as "the lines that shape our existence and frame our experience". Challenging the idea of barriers – both physical and abstract – the theme feels especially pertinent now.
This year marks the first in four editions that Kyotographie is open to international visitors, following two and a half years of strict border restrictions. In the media, the period was often referred to as 'Sakoku 2.0' – a reference to the 265 years of isolation enforced in Japan from 1603-1868.
Beyond physical borders, Japan faces a slew of social issues and systematic barriers that affect some of society's most vulnerable people. An ageing society, lack of LGBTQ rights, and perhaps most concerning of all, a steep gender inequality that has rendered one of the most impenetrable glass ceilings in the world.
Grief and Spiritual Journey
Miyako Ishiuchi is one artist who has defied such structural barriers. The artist has received numerous international accolades, including the 2014 Hasselblad Foundation Award, yet she is one of the lesser-known figures of Japanese post-war photography in the West. She belongs to a generation of practitioners, which she describes as a "boys' club", most famously Shomei Tomatsu, Daidō Moriyama, Nobuyoshi Araki, and Masahisa Fukase.
Kyotographie invited Ishiuchi to exhibit alongside a young woman photographer of her choice. "I chose Yuhki Touyama, without hesitation," says Ishiuchi. Exhibited in Kondaya Genbei – a specialist obi and textile crafthouse – both artists are showing work around grief. Mother by Ishiuchi is a still-life series cataloguing her late mother's possessions in an effort to come to terms with their tricky relationship.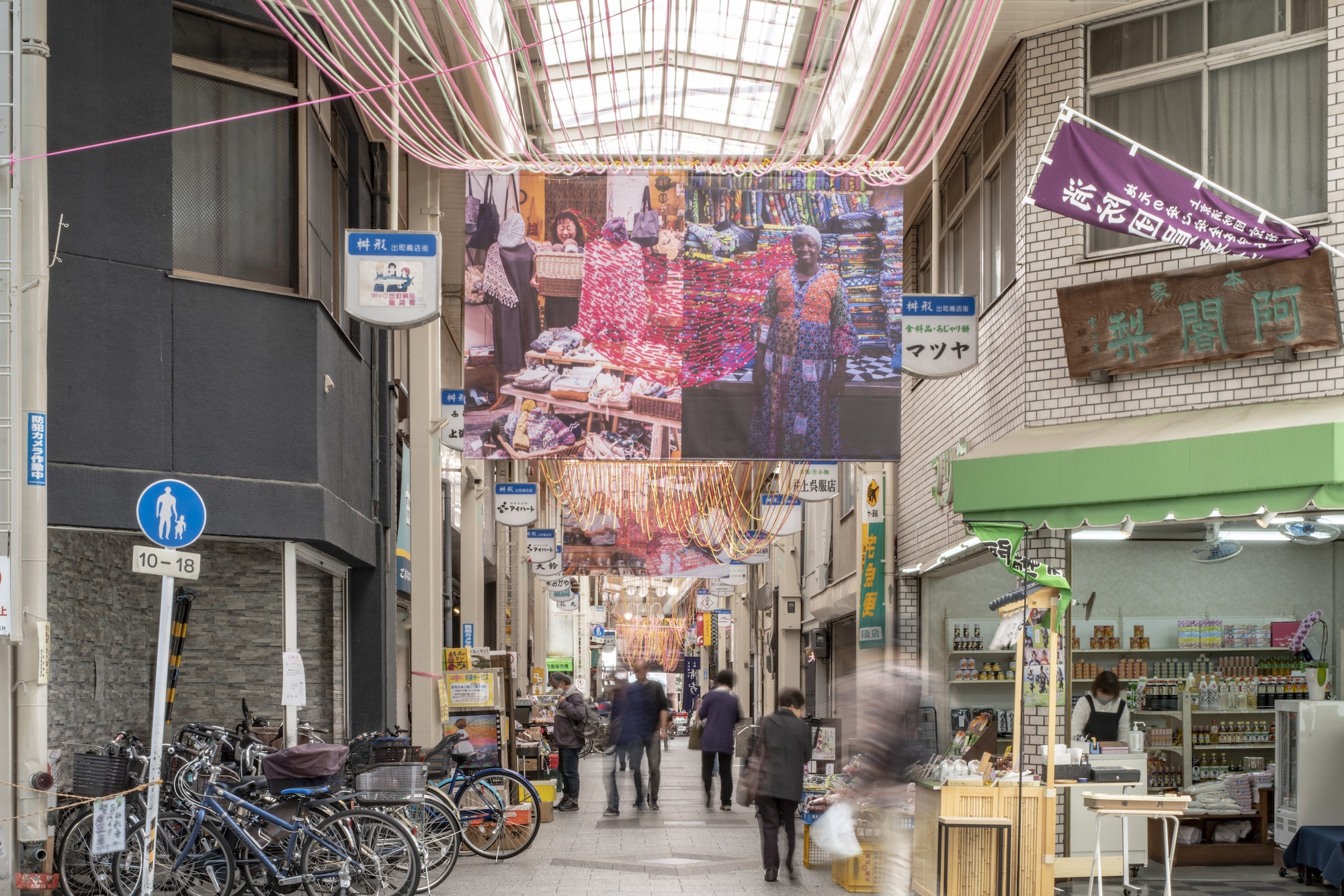 On the opposite wall, Touyama presents outtakes from her series Line 13. In the 15 years she has been working on the project, the artist has lost her mother, grandmother, and a close friend. Ishiuchi connected deeply with this work. "Though linked with my Mother's by gaze of mournful sadness, [the series is] by no means the same as mine… yet the resulting images do share a certain spirit," she reflects.
Grief continues as a theme in Joana Choumali's dazzling show, Aba'hian. In Agni – a language spoken in Choumali's native Côte d'Ivoire – 'Aba'hian' means the first light of the day. "Since I was a child I was obsessed with the light of the morning," says Choumali, who adopted the habit of taking walks at sunrise 5am and 7am every day. While walking, she began to recognise memories surfacing. "Thoughts and feelings were overlapping with the landscape. It was like my inner landscape was merging with the outer landscape," she says.
Back in the studio, she employed a mixed media approach of collage, embroidery and quilting to produce ethereal tapestries of this inner reality. The project dates back to 2018, but most of the works were created after her mother died, "brutally and suddenly", from Covid-19.
"This work literally saved my life," says Choumali. "It is way more than an artistic work, it is something I can rely on to learn about myself, learn about life, and survive life." Choumali sees this work as part of her "spiritual" journey. It is apt then, for it to be displayed in a Buddhist temple, Ryosokuin.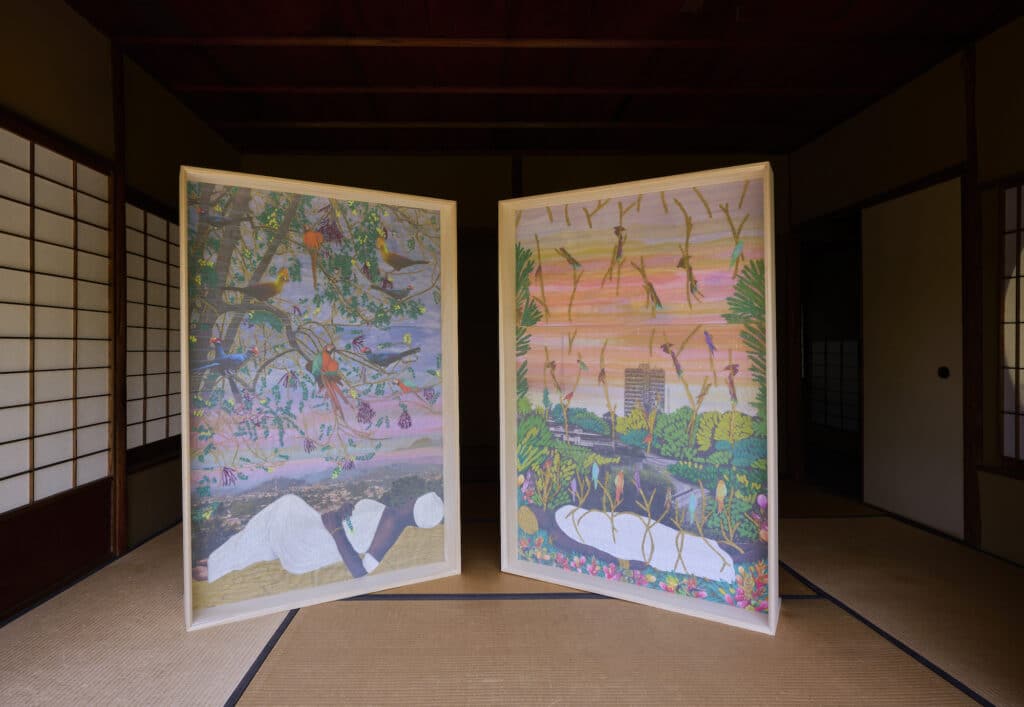 Poetizing social issues
A large part of Kyotographie's charm is in its use of unexpected spaces, including several of the city's famed Machiya: traditional townhouses that date as far back as the seventh century. Despite being part of Japan's cultural heritage, these wooden structures are rapidly declining, mainly due to expensive maintenance costs and disaster prevention measures.
Each year, Kyotographie breathes new life into these neglected structures, renewing their historical and cultural value in contemporary society. One such building is Hachiku-an, a machiya that serves as the festival's information centre, as well as an exhibition venue. This year, its second floor exhibits a poetic body of work by Kazuhiko Matsumura, which seeks to break the stigma surrounding dementia.
Japan is the oldest society in the world, and with that, it is at the forefront of a global dementia crisis. Heartstrings is Matsumura's attempt to raise public awareness. With a sensitive and considered approach, the artist seeks to visualise the experience of a fading memory, raising questions about how we can facilitate a more fulfilling life for those living with the disease.
In a country that is known for restrictive immigration policies, one exhibition offers a hard-hitting response to the refugee crisis. Every year, thousands of people attempt to cross the Mediterranean Sea from Africa to Europe. In the summer of 2016, César Dezfuli spent three weeks on board the Iuventa, a former fishing boat operated by the German NGO Jugend Rettet. On 01 August 2016, the NGO rescued 118 people who were attempting to cross the ocean on a small and packed boat from Libya to Italy.
Dezfuli photographed every passenger minutes after they were rescued, to attach names and faces to people often reduced to a statistic. Wrapped in a deep blue to symbolise the ocean, the exhibition space is punctuated by a floating structure in the middle of the room resembling the shape of a boat. Inside, viewers are confronted with 118 portraits – an intimate display that accentuates the migrants' humanity.
Dezfuli offers the chance for audiences to connect with the plight of migrants, and to reconsider the policies of their own countries. Crucially, it illustrates how photography can respond to such a brutal reality, experienced by more than 100 million forcibly displaced people across the world today
Extend the limits
Other highlights from the program include Boris Mikhailov's Yesterday's Sandwich. The moving display of the Ukrainian artist's coloured slides are presented in a dark room that emulates Mikhailov's apartment, where he would often host private screenings. According to MEP director Simon Baker, curator of Mikhailov's recent retrospective at the Paris institution, the installation is "as close as you'll get to the original setting that Mikhailov would have screened his films".
Elsewhere, we see a dramatic installation of work by Japanese master of fashion photography Yuriko Takagi in Ni-jo Castle, and Roger Eberhard's playful ode to escapism, through vibrant landscape images appropriated from Swiss coffee creamers.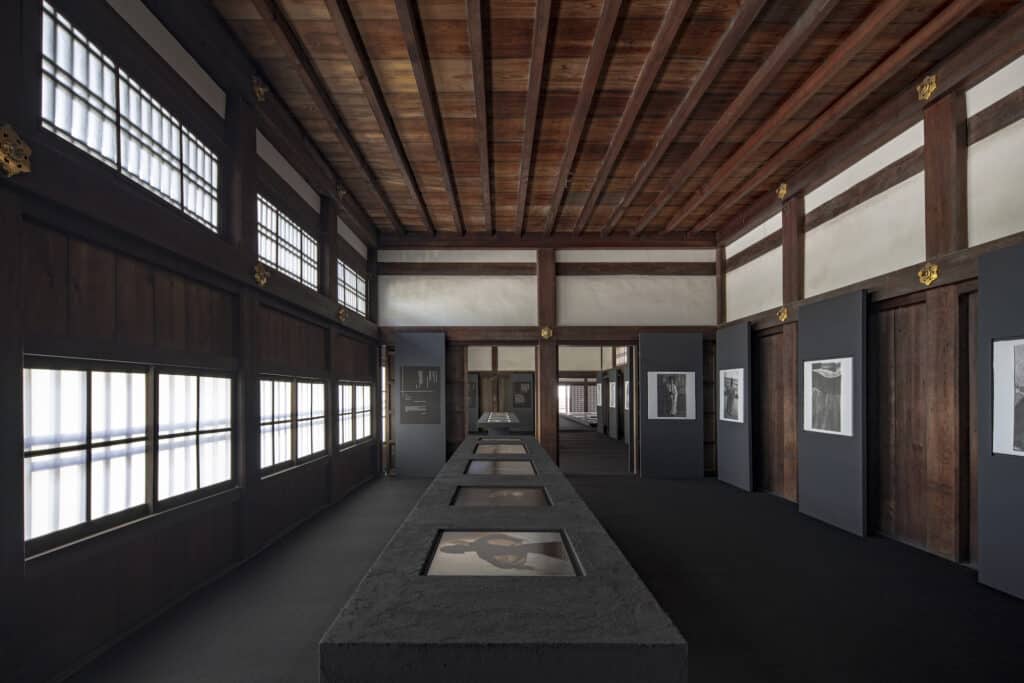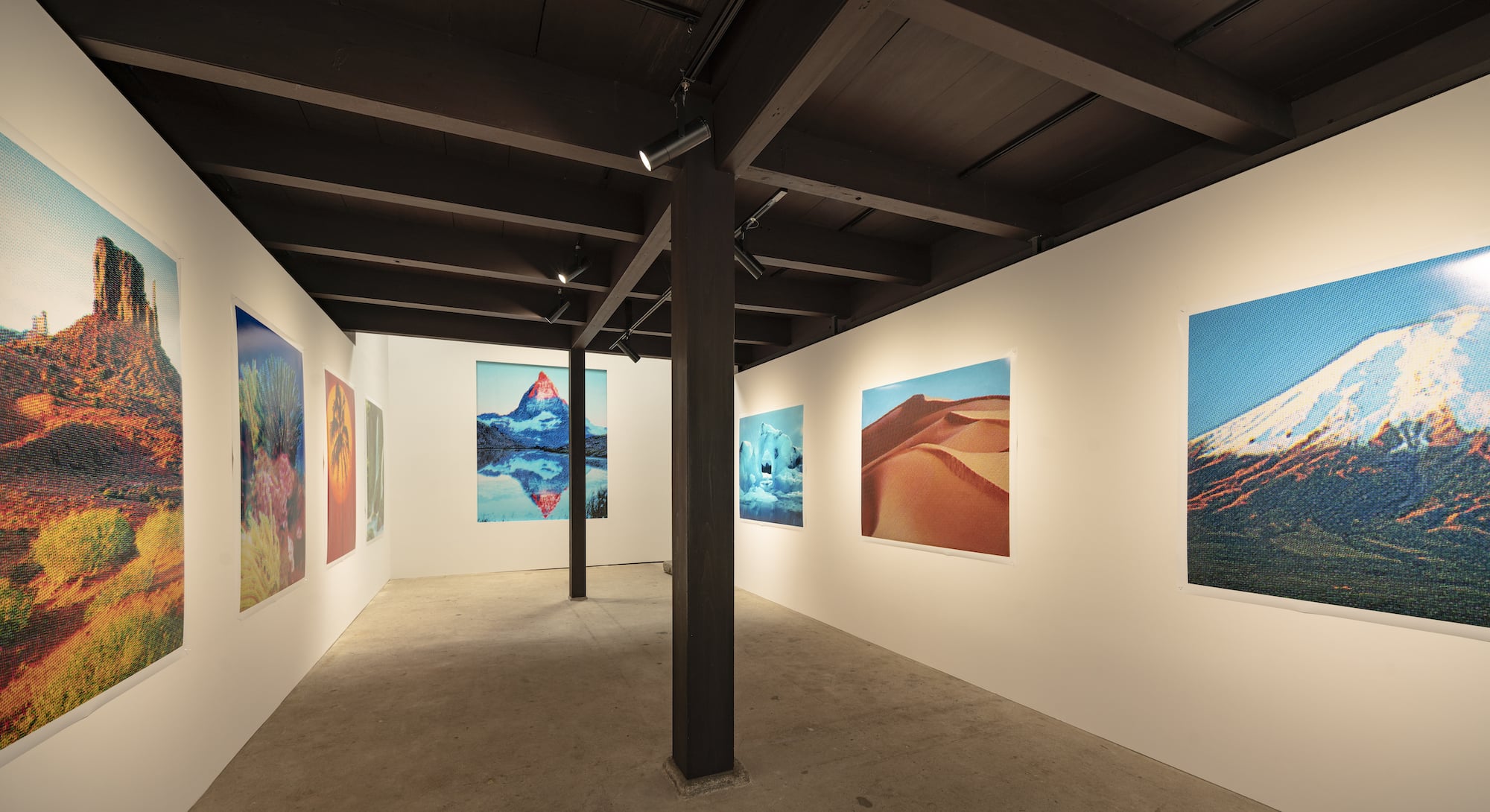 Through 14 site-specific installations, Kyotographie responds to borders in many forms, whether they are physical, abstract, or relating to the limitations of photography itself. Yet within Kyotographie as an organisation, it appears that there are no borders.
The festival continues to exhibit challenging subject matters in imaginative spaces, pushing against the grain of society and rigid definitions of the medium. Photography cannot change the world, but it can influence and inform. With its fearless approach, and inclusivity at the heart of its ethos, there is no better time and place for Kyotographie to emanate its values.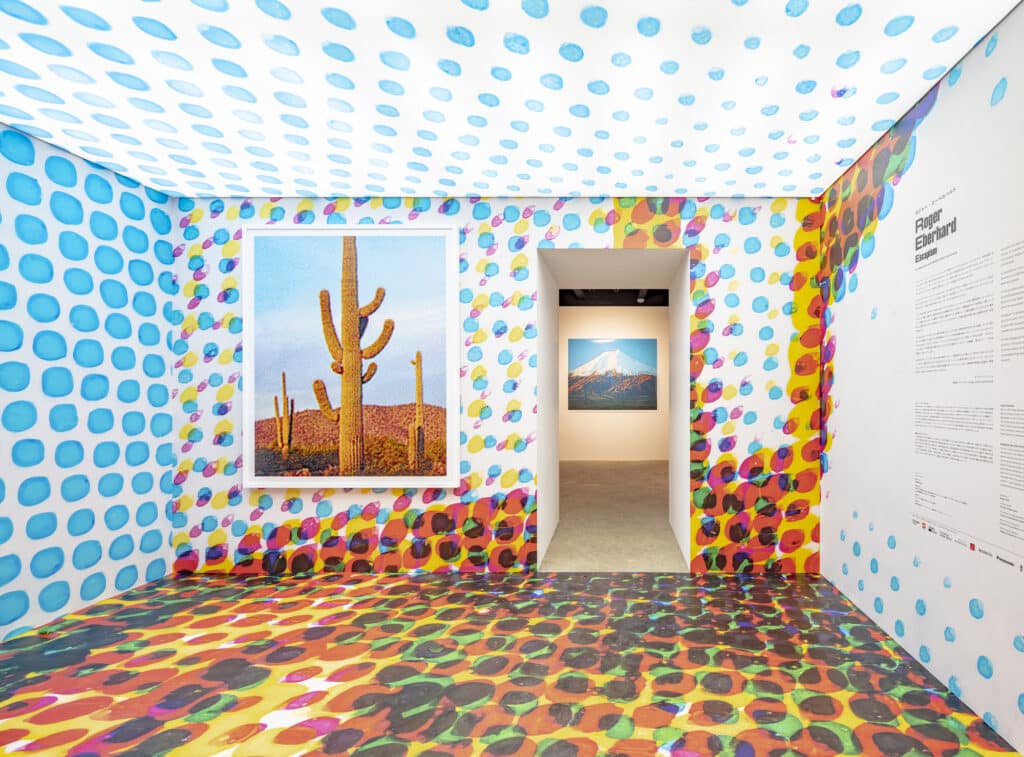 Kyotographie, Kyoto, Japon, from April 15 to May 14 2023.