Queer artist and educator Naima Green moved at the speed of a New York minute until a bad car accident in June 2021 forced her to slow down. She spent months on bed rest before embarking on the arduous journey to regain full use of her arms. No longer able to push her body to keep up with the breakneck pace she knew best, Green was forced to slow down and reassess what mattered most.
With nothing but time stretching out in front of her, Green delved deep into the recesses of her spirit and soul, embracing the desires that drove her as an artist, woman, friend, and partner. No longer able to hold her camera, she spent more time looking through her archive and thinking about the relationships between pictures that she had never considered before.
For Green, collaboration is an integral part of her work. She draws upon longstanding friendships and relationships to create images that explore ideas of mutuality, kinship, and intimacy. Green, who famously recreated Catherine Opie's landmark Dyke Deck as Pur·suit, featuring queer people of color in Brooklyn, is brilliantly attuned the ways in which photographs can used to build and strengthen community.
In transforming her images into playing cards, Green stripped away the preciousness of the photographic object, its inaccessible price point, and its largely immobile nature. Bringing her work to the people, rather than making them go to it, her photographs were brilliantly integrated into people's lives.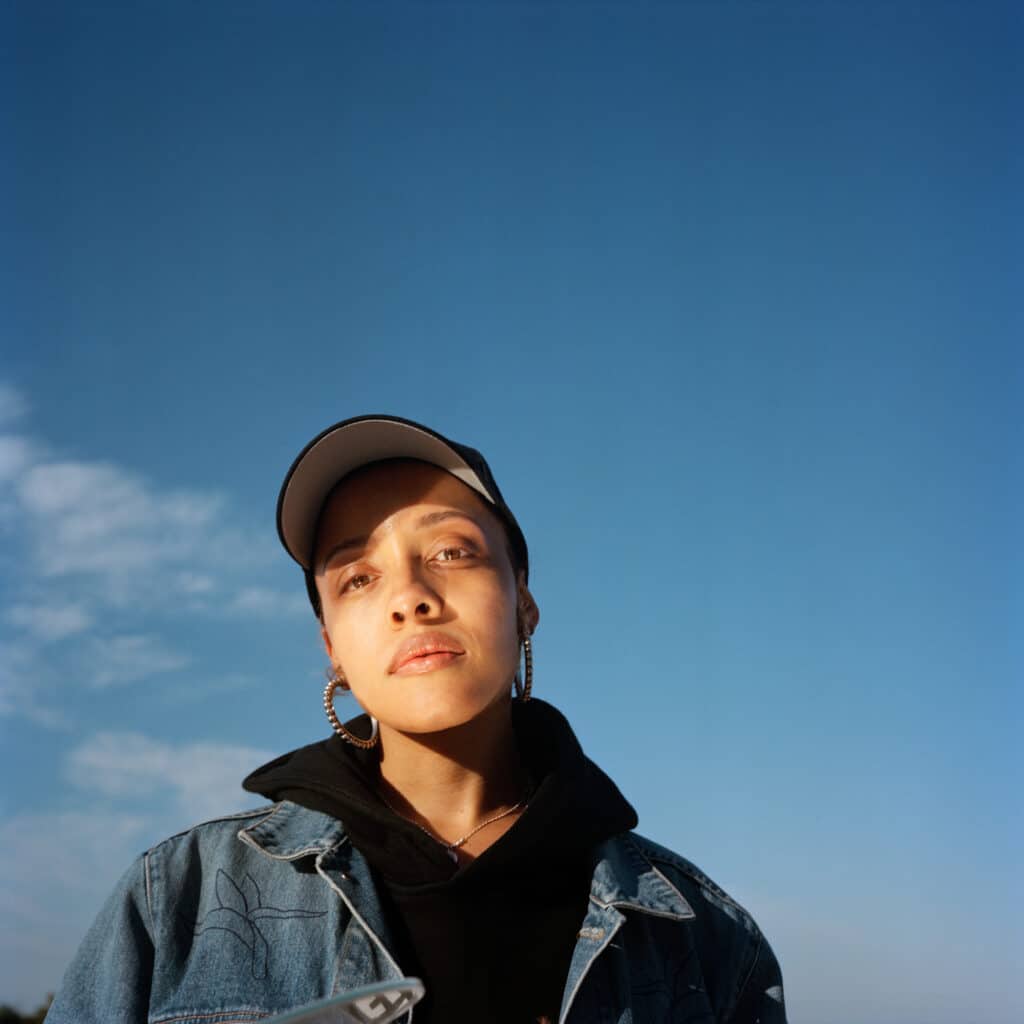 Although the final object broke rules, the creation of them did not. Green followed a clearly mapped concept planned well in advance. But once she was able to lift her camera again, she wanted to be unencumbered by such weight. Seeking new freedom, Green knew it was time to let herself venture freely as she sought to explore the visual language of queerness, domestic space, pleasure, and play for I Keep Missing My Water, her new exhibition on view at the Institute for Contemporary Art at VCU, curated by Amber Esseiva.
"I've been trying to follow the feeling rather than have all the answers — just following my instincts and intuition, and trusting that it's going to lead me somewhere even if I don't have the academic language around it yet," she says.
Letting Go and Holding On
As the Harnish Visiting Artist and Lecturer at Smith College teaching photography and digital media, Naima Green has been heavily immersed in an academic approach to photography throughout her career. But since her 2021 car accident, she is leaving those constructs behind and returning to the essence of creativity itself.
Inspired by Otis Redding's 1965 song "You Don't Miss Your Water," Green understood the importance of the King of Soul's message of taking pleasure in the things you have before they are gone. Redding, who would tragically perish in a plane accident just two years later at the age of 26, sang of love and loss, a loss that should have never come had he tended to the woman he loved.
"The way he is singing, the need, and vulnerability really touched me," says Green, who drew from the song to explore her own feelings of longing while transitioning into a new life. "You are living in it, soaking in it, appreciating it, and just letting it wash over you, really submitting to that feeling."
Recognizing that the best way to experience this feeling is as it unfolds, Green is fully present in both her life and work. Working with Polaroids, she introduces cinematic sequences, allowing us to share in the quiet joys of prosaic moments like eating a soft-boiled egg, sharing fleeting moments of pleasure that we enjoy and just as soon forget.
A Living (Loving) Archive
Over the past year, Naima Green has traveled across the United States making photographs around bodies of water as a metaphor for fluidity, vitality, sexuality, and liberty. "I think of water as a site of becoming swept up into something, whether difficult and dangerous or beautiful and pleasurable," says Green, who has experienced water's ability to sustain life as well as its power to take it away.
"I wanted to think more deeply around the ritual of everyday living and how water appears in both small and large ways, as well as the absence of water, which can be extreme and at the same time expansive and peaceful."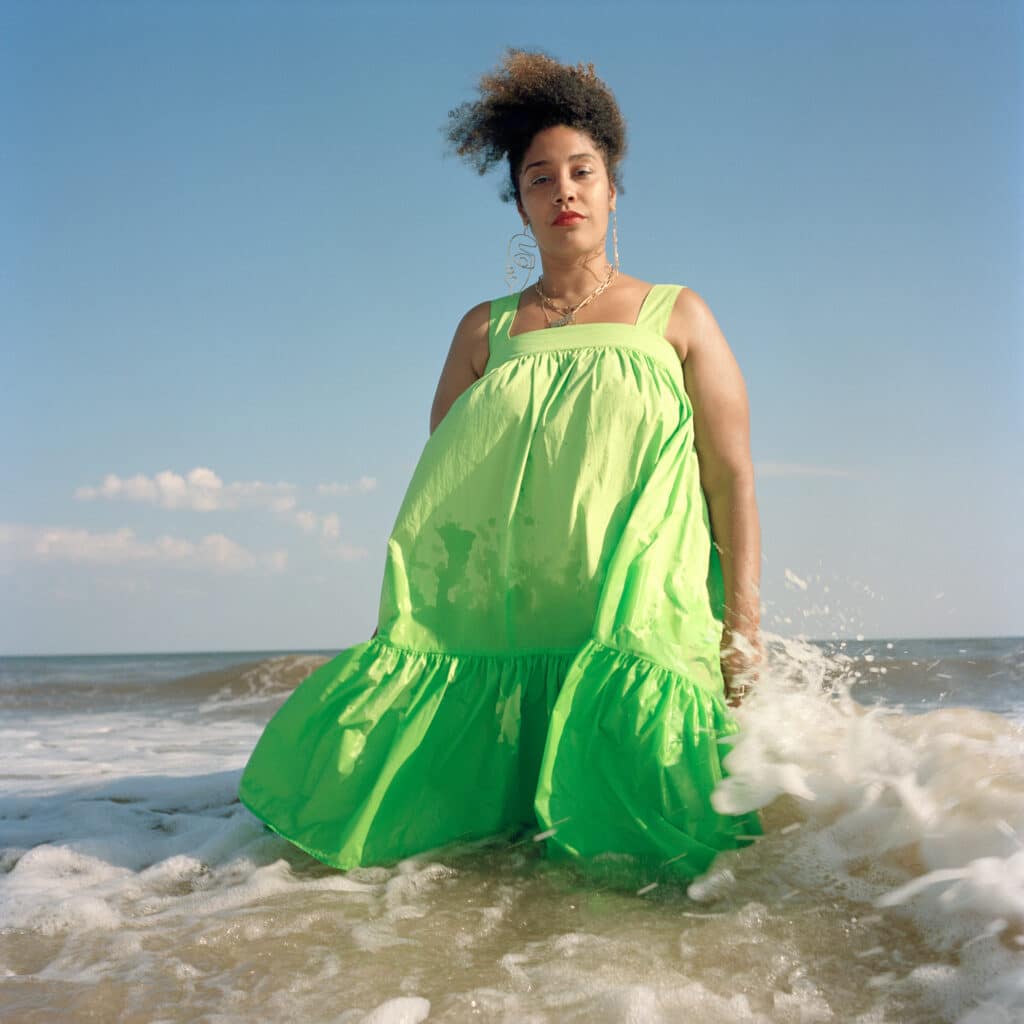 Seeing her practice as a living archive, Green creates a multi-sensory experience of these tender moments of pleasure and repose. With I Keep Missing My Water, Green brings together poems, playlists, questionnaires, love letters, audio recordings, and the residue of shared meals, allowing us to perceive the interior lives of those she holds closest to her heart.
"I really want to create something that is a record, but also not totally linear," says Green who points to a brief audio clip of older people gathered at Orchard Beach and playing music at the fabled Bronx Riviera. Unable to find the actual song anywhere, she takes solace in a brief snippet that perfectly captures this luminous slice of life.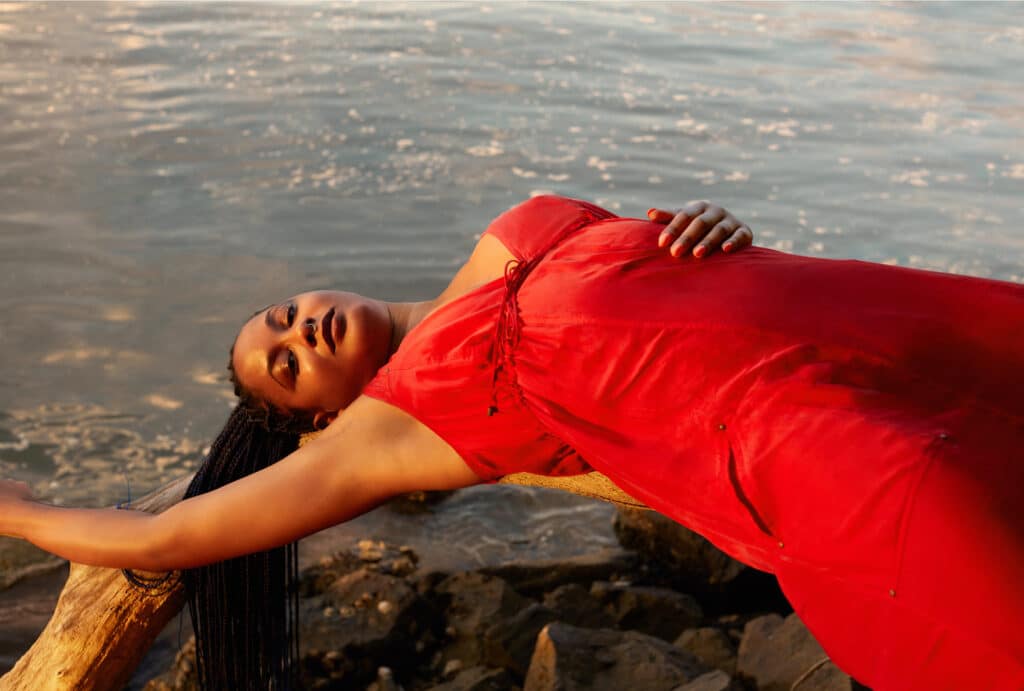 "I want to make photographs that people connect with, but also have that energy come through as well," Green says. "Photographs have always been a substantial part of my life and my family growing up. It's how you access elders that you weren't able to meet and remember the time that you spent with folks. It's about knowing your history and lineage and thinking about ancestors as spirits who love, support, and protect you."
For Green, the process of making intensely personal work is completed when she shares it with the world. "There's a huge sense of vulnerability and it's very emotional because I grew up in a way where we don't really talk about our bodies," she says. "To feel this freedom in my body and in the bodies of my intimate friends and partners is a celebration because I knew how much work it took for us to be fully who we are every single day. It feels like such a beautiful release and it's so rewarding. A year and a half ago, I couldn't get out of bed. It's overwhelming, and in the best way."
Naima Green: I Keep Missing My Water is on view at the Institute for Contemporary Art at Virginia Commonwealth University in Richmond, VA, through January 2, 2023.