Growing up in suburban California during the 1960s, photographer Rick Castro spent his formative years hanging out in his aunt's used bookstore. Although she prominently displayed magazines like Vogue, National Geographic, and Look magazines in the store, the more risqué girlie and bodybuilder mags like Bob Mizer's Tomorrow's Man and Athletic Model Guild were stashed underneath the counter, modestly clocked in brown paper bags. 
Castro remembers a certain clientele asking to see the magazines. "In my mind they were like the typical flasher in a trench coat. My aunt would look at them with disdain, pull out a magazine and hover over him as he read every article. I was nine and thought it was ridiculous. If she was so disapproving, why was she selling them?" he recalls. "But my mother was even worse. She would stand there glaring and show them reluctantly, then grab it and put it back in the bag. The customer would say, 'I might buy that' and she would put it off to the side without having any sort of conversation. Everyone felt uncomfortable."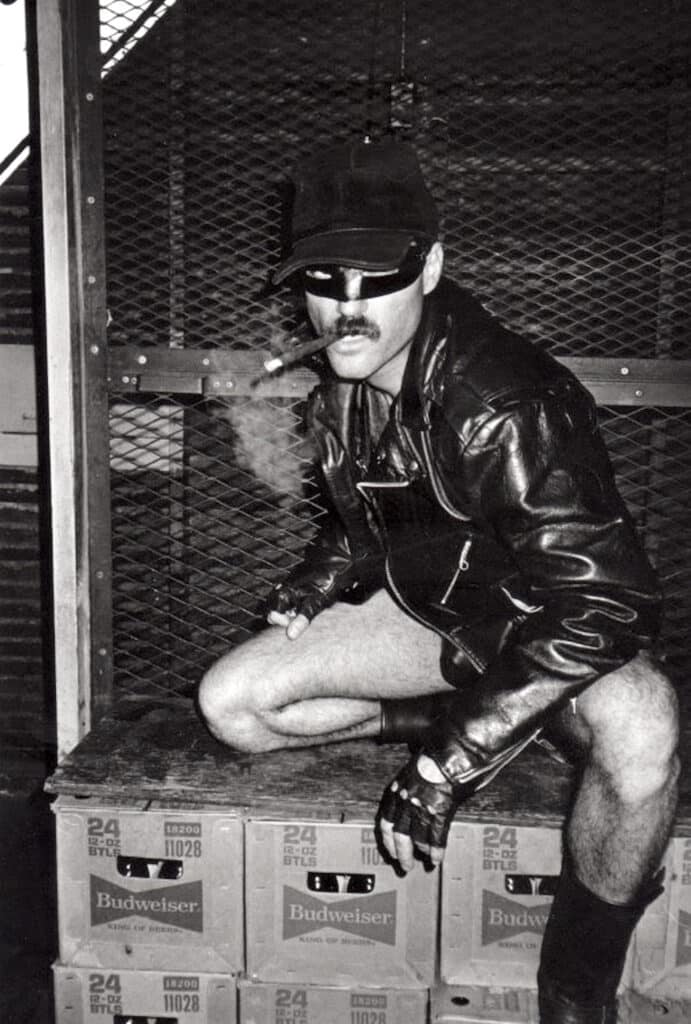 Yet, Castro noticed a clear distinction when Candy arrived and his aunt did windows to promote it. The scandalous 1958 porn novel, banned on its release, had become a counterculture classic in just 10 years. Literature, however smutty, met the threshold for respectability but photography remained the provenance of sinners and perverts. Needless to say, Castro didn't buy into false hierarchies.
Then, in 1971, Stanley Kubrick's landmark film, A Clockwork Orange, hit the theaters, and the dystopian 1962 Anthony Burgess novel went mainstream — introducing a new generation to hyper-stylized sadism and sociopathy of both juvenile delinquents and the state itself. Castro picked up a copy and found himself curiously drawn to the ultra-violence depicted within its pages but it would be some time before he knew what any of it meant.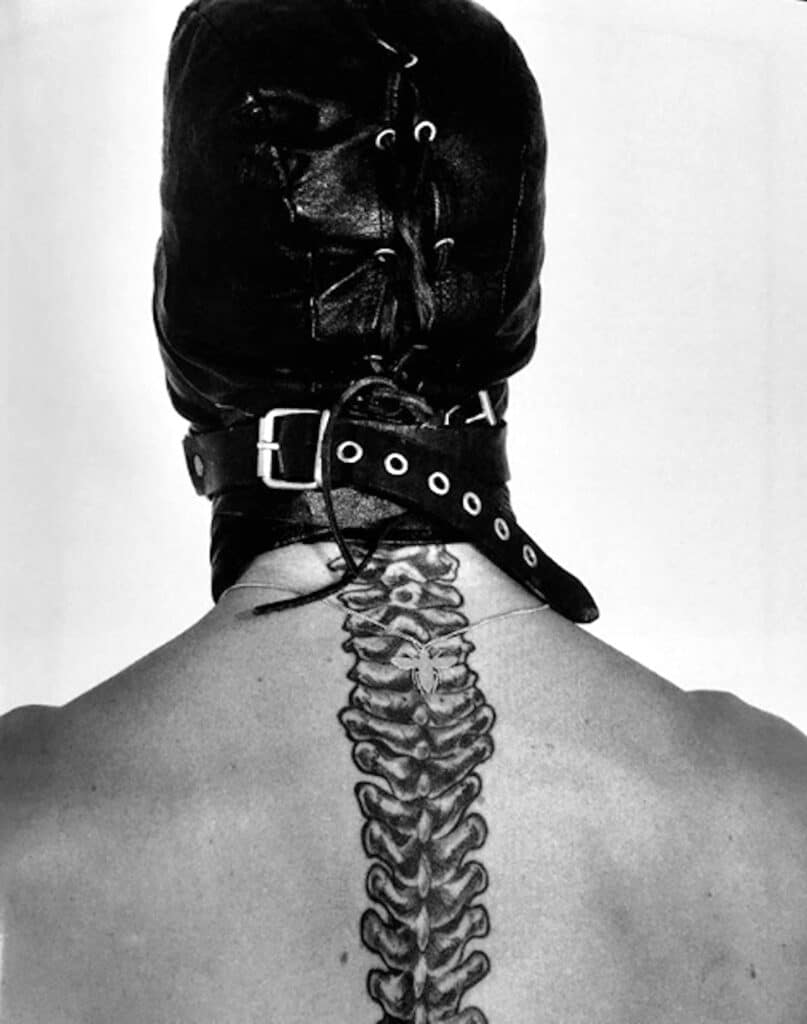 Hollywood or Bust
In the summer of 1976, 17-year-old Rick Castro was ready to strike out on his own after his mother riffled through his private belongings and read a sealed letter, which is a federal crime, outing him. "It was a big drama, really frustrating and annoying," Castro remembers. "We had a big blowout about that and I said, 'Well, I'm moving anyway.' I had my '67 Cougar packed up and moved to Hollywood."
But by the mid-70s, the sparkle on Tinseltown had faded and corroded with rust. With the collapse of the economy, the once bustling tourist district was filled with prostitutes, hustlers, pushers, and homeless people living on the street. But Castro couldn't be bothered. He had a sales job in Century City and got a place with a co-worker on Poinsetta Place for just $100 a month. Their apartment was just up the street from the Yukon Mining Compan, the only 24 hour LGBTQ coffee shop for miles around. Two decades later, Castro and Bruce LaBruce would film scenes at this iconic LA locale for their 1996 LGBTQ cult classic film, Hustler White, starring Castro's favorite model Tony Ward.
"When I first moved to Hollywood, it was all about disco, poppers, and stuff like that," he says. "Then it was all about punk. There was this incredible bar called the One Way on Hoover in Silverlake, a post punk leather bar with the best music, strong drinks, and you were guaranteed to get your dick sucked. That's where I met Durk Dehner from the Tom of Finland Foundation in the late 1980s."
By that time, Castro had discovered a personal inclination for fetish and kink, both in his life and art. He invited Dehner to his first photography exhibition at the original Different Light bookstore in Silverlake. After arriving on motorcycle, Dehner bought some prints — becoming Castro's first sale — and offered to publish the photographer's work. In 1990 they collaborated on Castro; in 1995 began working on the first annual Tom of Finland Art Festival, which will be held this October 8–9 in London and Los Angeles simultaneously.
Herb Ritts & the Golden Hour
Before embarking on his photography career in 1986, Rick Castro got his start working as a wardrobe stylist for Herb Ritts in 1980-81. Ritts had just risen to prominence after his photography of his roommate, Richard Gere, became wildly popular following the young actor's appearance in the sultry film, American Gigolo. Castro and Ritts first worked together on an editorial for the ultra-chic magazines, Lei and Per Lui magazines, on a football and cheerleaders inspired fashion story shot on location at Burbank High School.
The pair worked together throughout the '80s, with Castro as a driving force bringing just the right touch of edginess to Ritts' sumptuous work. "I interjected as much fetish as possible without telling anybody," he says. "I would put in black engineer boots, harnesses, and as much leather as I could get away with but it was like pulling teeth to have some guys in black jeans; it was such a big deal at the time: 'It's too black! So severe!'"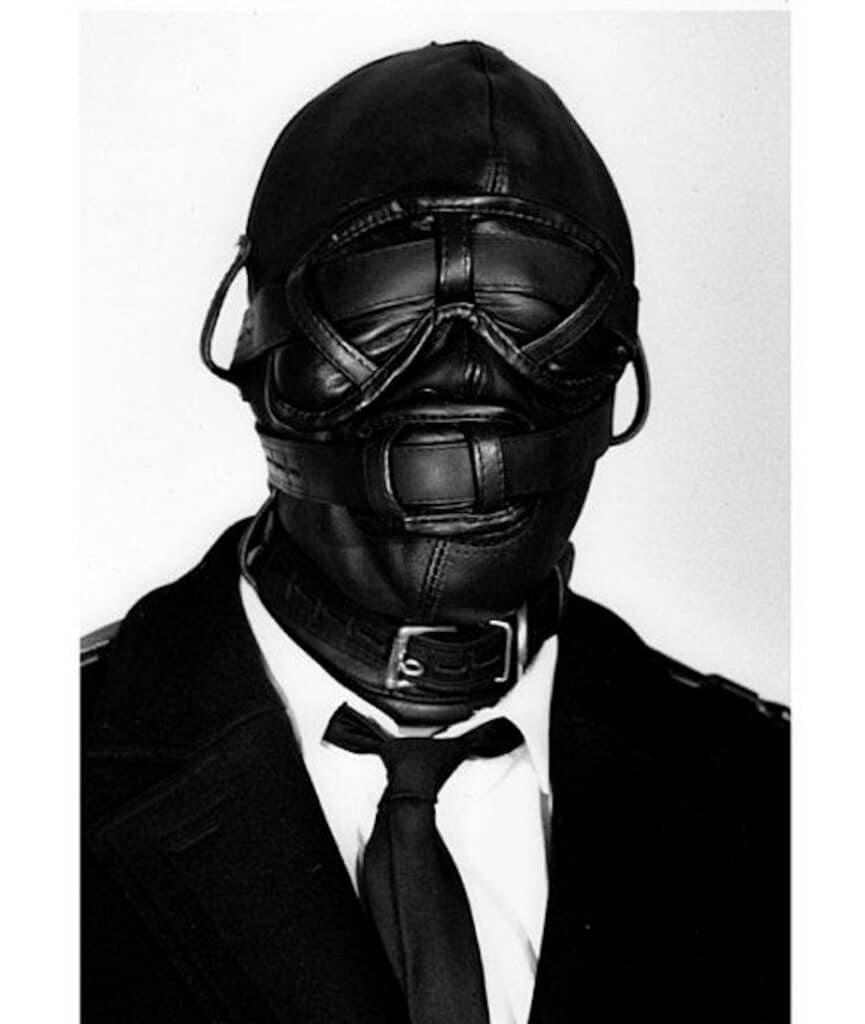 Working with Ritts, Castro picked up the idea of ambient lighting and brought this to his work when he launched his photography career in 1986. "His lighting was just beautiful so anything he shot, no matter how wild it was, looks classic," says Castro, a self-taught photographer who brings that same panache to scenes of men in bondage masks, ropes, and other BDSM accoutrements. "It's all about the golden hour, whether in the morning or late afternoon when the sun's on the side. It will flatter anybody."
As it so happened, Castro's his first model, Tony Ward, would go on to make headlines when he starred in Madonna's groundbreaking 1990 video for "Justify My Love," directed by fashion photographer Jean-Baptiste Mondino. With Madonna's backing, BDSM emerged from the shadows and began to make its way into the mainstream under the cover of fashion, music, and popular culture — planting the seeds for the suburban embrace of novel 50 Shades of Grey two decades later.
Glamour and Grace
Throughout his career as a wardrobe stylist, Rick Castro worked with leading photographers including Mario Testino and Annie Leibowitz, but found the greatest inspiration working with Herb Ritts, George Hurrell and Joel-Peter Witkin. Castro remembers meeting Hurrell in the 1980s, when the famous Hollywood portraitist reemerged in a wave of neo-glamour photography ushered in by Helmut Newton and Guy Bourdin.
"Everyone thought he was dead," Castro remembers. But Hurrell was very much alive, still a master of the form. "Hurrell was very formal and polite, no small talk," he says, "He would let us do what we needed to do; he wasn't even in the room. I'd be finessing the outfit and messing with the furniture, then he would come in and ask, 'Are you ready?' He would light it with tungsten — those giant Klieg lights on wheels — work with the lighting and the pose, and when it was perfect, he would take one shot using a large format camera."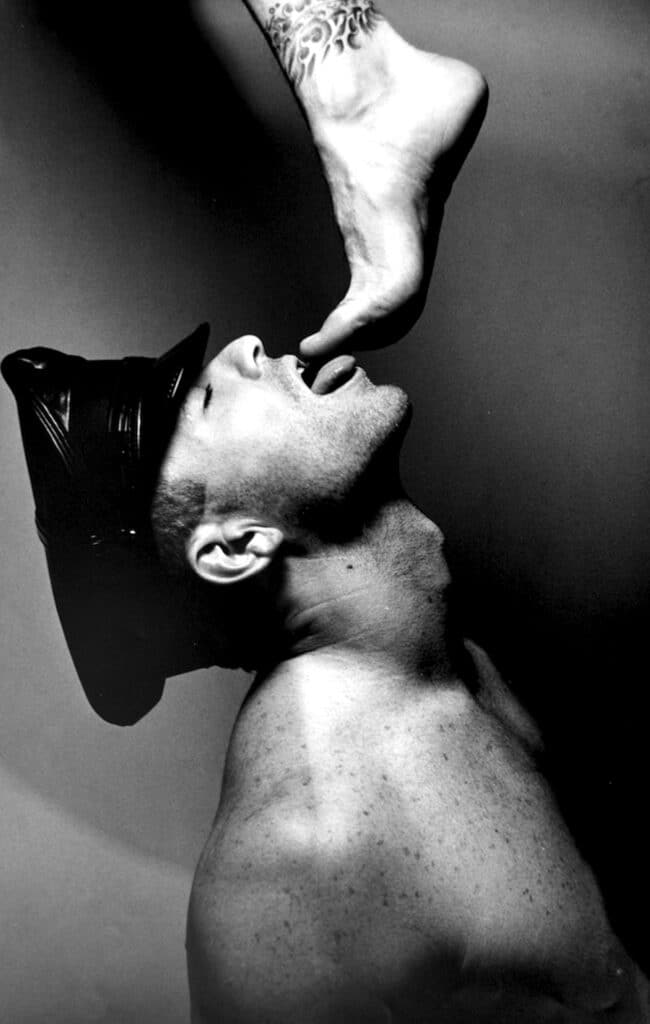 From Hurrell, Castro picked up the brilliance of tungsten. "I've never shot with any other equipment. I'm not a technical photographer. I work with whatever's available. I only have three cameras, maybe four. Joel-Peter Witkin took me to buy my first camera in the '80s and I still have it," says Castro, who counts Witkin as the third and final influence on his work. "I brought Joel the Goddess Bunny and we recreated 'Leda and the Swan. It took him at least eight months to organize the shoot and would send me these magazine clippings and sketches of what he wanted through the mail. From Joel, I learned how to do these tableaux and get a classical pose."
Infusing his work with Ritts' golden hour, Hurrell's Hollywood drama, and Witkin's historical poses, Castro has infused fetish photography with the language of fine art. Yet Castro is not precious with his work; he keeps it real and raw, refusing to retouch the details like dirt of the floor or cracked walls. "I'm not trying to make anything perfect," he says. "I like having things just as they are, which ends up looking very docudrama."
13 Years of Bondage
Despite becoming the world's premier fetish photographer, Rick Castro has long suffered the censorship at the hands of those who mistake his work for pornography. Like photographers Bob Mizer, Mel Roberts, and Jim French before him, Castro faces the stigma of depicting the male nude, which has long been considered obscene and treated as a criminal act until the 1970s.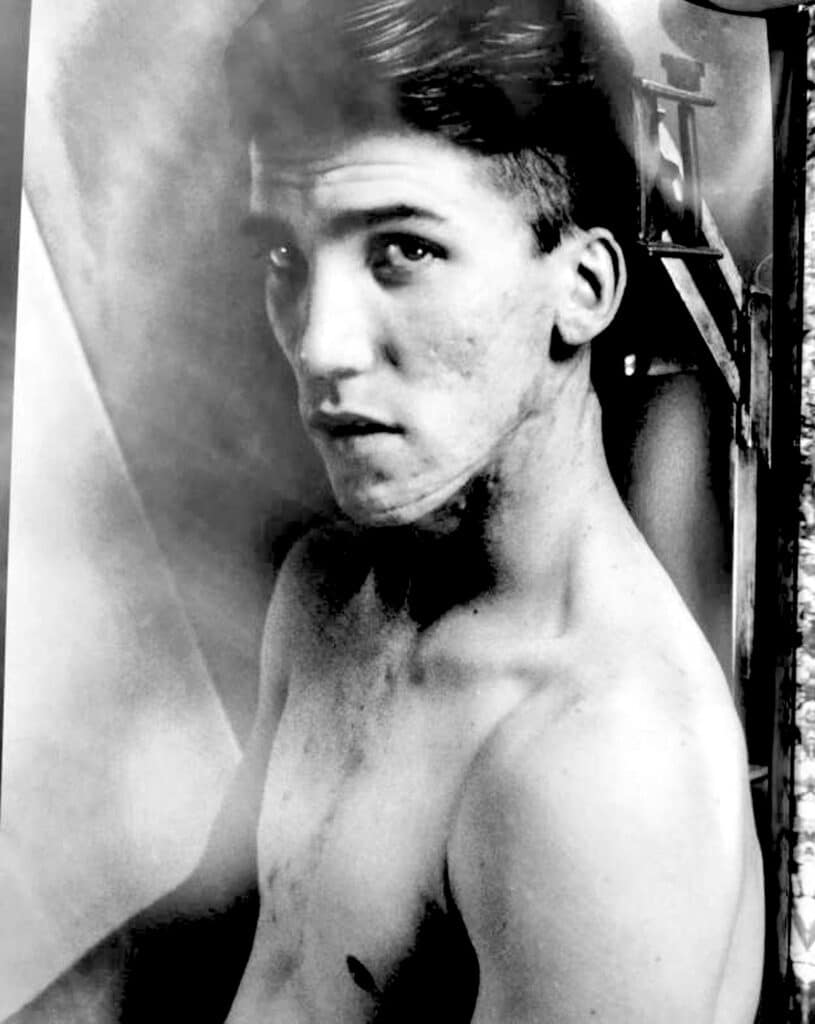 In 2004, Castro published his second book 13 Years of Bondage: The Photography of Rick Castro to great fanfare. But in the intervening decades, a culture of hysteria took root, and Google placed a warning label on the book claiming the "might" contain pedophilia. After months of fighting for his innocence, Castro finally got the erroneous warning removed, single handedly bearing the weight of a false accusation of a federal crime by a major multinational corporation. 
But Castro remains undeterred and has decided to relaunch the seminal book by himself. While attitudes in pop culture and fine art have shifted since he began making work 36 years ago, Castro still faces pushback from corporate platforms that independents artists use to promote their work. Although his accounts have been locked or disabled by Facebook and Instagram, his Castro refuses to be silenced  and still has all his accounts.
"From my point of view, social media is corporate and tainted. I'm never going to be able to do against Zuckerberg and that ilk, which to me is intertwined with the Trump world and the hypocrisy of the Religious Right where they are trying to control everybody's mindset," he says. "I go right back to my punk rock roots with D.I.Y. That's what I was doing when I was 18, and here I am at 64 going right back to it, because that's what works."
Rick Castro: 13 Years of Bondage is available exclusively through the artist at [email protected] and he will sign a copy. Rick Castro will be exhibiting work at the Tom of Finland Art Festival at Second Home Spitalfields in London on October 8-9, 2022.