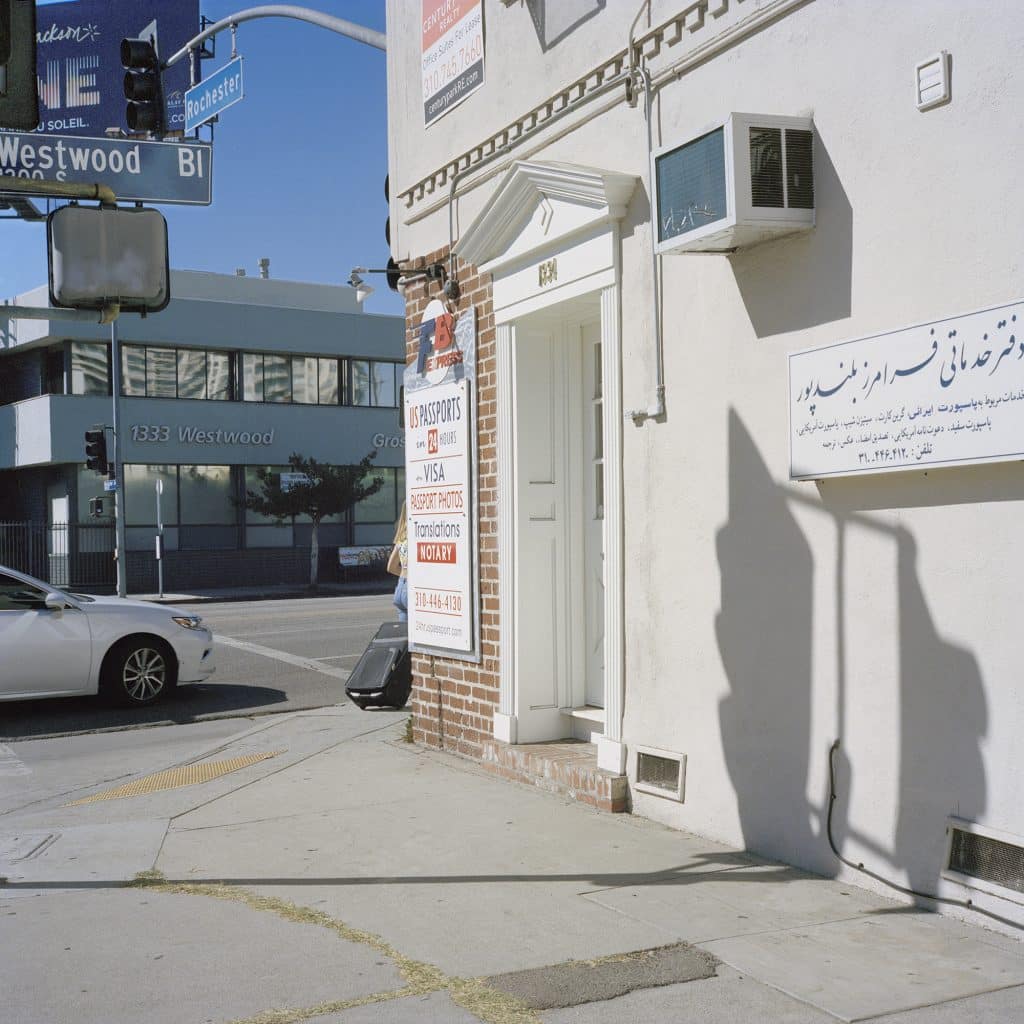 A contraction of Tehran and Los Angeles, "Tehrangeles" is a term coined by the Iranian diaspora to designate, and appropriate, their Los Angeles neighborhoods. More than a third of Iranians living in the United States are gathered in and around the city, especially in Orange County, whose epicenter is located at the intersection of Westwood Boulevard and Ohio Avenue. After the Iranian revolution of 1979, which led to the establishment of a theocratic regime aligned with traditional Islamic values, the first, unprecedented wave of migration took place, particularly to the United States.
Hannah Darabi, an Iranian visual artist now based in Paris, studied at the Faculty of Fine Arts in Tehran, then at the Université Paris-VIII. In her series "Soleil of Persian Square," she paints a picture of this fictional city named Tehrangeles, which she first got to know as a teenager, "through images associated with popular music. … 'Soleil of Persian Square' is in fact not only a journey from real to imaginary space, but also a way of life and a way of thinking embodied in popular culture."
Pop music produced in Tehrangeles is now at the center of this culture, which "today places itself in opposition to the moral values of the Iranian regime and which is criticized by intellectuals for its emphasis on 'low art'. This music that we love to 'hate' has never lost its place in the hearts of this scattered nation, and has never stopped moving our bodies, whether in a cab in Tehran, at friends' homes in Paris, or at a concert in Toronto." Hannah Darabi discovered this musical genre as a teenager on her TV screen in Tehran: "It was the first day of spring 1999. The festive music accompanied poor-quality images of famous Iranian pop singers, who would arrive here [the Los Angeles Airport Hilton], elegantly dressed and smiling. This was a Nowruz [Iranian New Year] special by Tanin, produced by Caltex Records, which in Iran we have watched with our families every year since the early 1990s."
"Soleil of Persian Square" paints a landscape that the artist describes as being populated with a thousand signs. Darabi's photographs are filled with little details of uncontrolled urbanization, typographic inscriptions, in English or in Persian, sometimes referring to American cinematographic imagination, sometimes to someplace else in the Middle East. Through "photos of urban landscapes that belong to a 1960s–1970s tradition of American landscape photography, … portraits of the inhabitants and of objects associated with popular culture, such as cassette tape cases, song lyrics, screenshots of music videos from the 1980s and 1990s, or even pages from phone directories referring to the activities of this diaspora," Hannah Darabi seeks "to evoke the spatial and temporal experience specific to exile."
"Soleil of Persian Square", at the Rencontres d'Arles, until September 24, 2023.
Hannah Darabi, Soleil of Persian Square, exhibition catalogue, editions GwinZegal, €35, 220 pp.