The Pinault Collection's extramural exhibition at Dinard's iconic Villa Les Roches Brunes, France, classified as a historical monument, is housed in a cinematic, even Hitchcockian, setting. This Belle Époque building, perched at the Pointe de la Malouine on the Emerald Coast, is an ideal venue where to breathe new life into the craft of Irving Penn (1917–2009). According to Matthieu Humery, curator and photography advisor to the Collection, not only is Dinard the collector's hometown, but François Pinault is a photographer at heart.
"The first photograph [by Irving Penn] Pinault acquired was the Cuzco Children, in 2007, when I was conducting my first auction for Christie's in New York. He has subsequently built his collections around different criteria. Today, he is probably the top collector of Irving Penn."
Like Chronorama, the present exhibition delves into the nature of pictorial and photographic techniques, showcasing silver gelatin and platinum prints depicting twentieth-century cultural icons and illustrating the mastery of this American visionary photographer over a career spanning more than 60 years.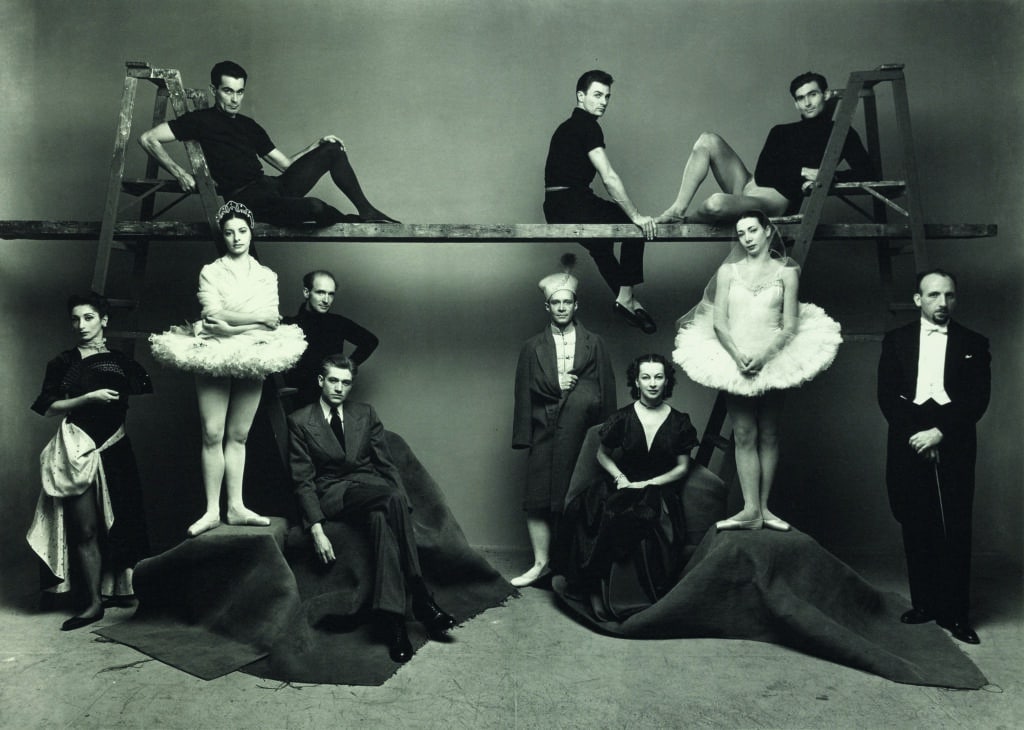 Minimalist decor
Salvador Dalí, chosen for the poster, Georgia O'Keeffe, Renata Adler, Marcel Duchamp, Albert Giacometti, Louis Armstrong, Saul Steinberg, Anouk Aimee, Truman Capote, Francis Bacon…: 74 artists, including painters, intellectuals, dancers, music and film stars populate the halls of the Villa. The exhibition is organized thematically, opening with Penn's famous "corner portraits." This exercise in style and quasi-ascetic simplicity inspired as much as it unsettled his renowned models, who were quite literally "cornered.
Joining forces with Alexander Liberman, then artistic director at Vogue, Penn helped transform modern photography from 1943 onwards, producing hundreds of covers, portraits, still lifes, and fashion editorials. His formula of "simplicity, light, construction, and distance" became his trademark, remarkably adaptable over time. A perfectionist, Penn quickly imposed an aesthetic control over every stage of photographic creation.
"It's important to remember that the only way to ever view his work is through positives," emphasizes the curator. "His son, Tom Penn, confirmed at the exhibition opening that all the negatives had been either scratched or destroyed. Since the print was as important as the shot, Irving Penn knew that no one would ever be able to replicate his work."
Psychological intensity
The exhibition highlights the formal conciseness of framing, textures, contrasts, and shadow effects that Penn created in tight, sharply angular spaces in the controlled environment of the studio or, on rare occasions, on location. The result of this rigorous process remains modern, creating profoundly emotional works.
Penn's most famous sitters include Colette, whose clothing contrasts with the simplicity of the setting; Ingmar Bergman, captured with her eyes closed; Marlene Dietrich, a different version of whose portrait is on view at Palazzo Grassi; and of course Picasso, featured in the main room. "This large platinum print offers an insight into Irving Penn's work," notes Humery. "The photographer and his camera are reflected in the sitter's eye at the center of the composition. He makes his own self-portrait, like a kind of mise-en-abyme, reflecting a vivid image of the photographer in the eyes of the painter."
The two levels of the villa then give way to lesser-known shots, such as Alfred Hitchcock sitting on an old carpet; a totally unrecognizable Josephine Baker; as well as the incredible play of perspectives with the architects Ludwig Mies van der Rohe and Philip Johnson. But the real rarity lies in the never-before-exhibited portraits of David Bowie and Iman, John Cage, Spike Lee, Al Pacino, Leonard Cohen, and Nicole Kidman, while yet others expand the frame. Take, for instance, the New York's Ballet Theatre Group (1947), hung in the corridor on the second floor, which dialogues with the group of artists Jasper Johns, Robert Rauschenberg & Co. (2002).
This fresco of faces transcends the evolution of "Penn's visual grammar, his art of composition, his mastery of light and his talent as a photographer." More than that, the matrix of a universal photographer on which many of his contemporary counterparts continue to draw inspiration.
Irving Penn. Artists' Portraits. Photographs from the Pinault Collection. Villa Les Roches Brunes, Dinard, France. June 11 to October 1, 2023.