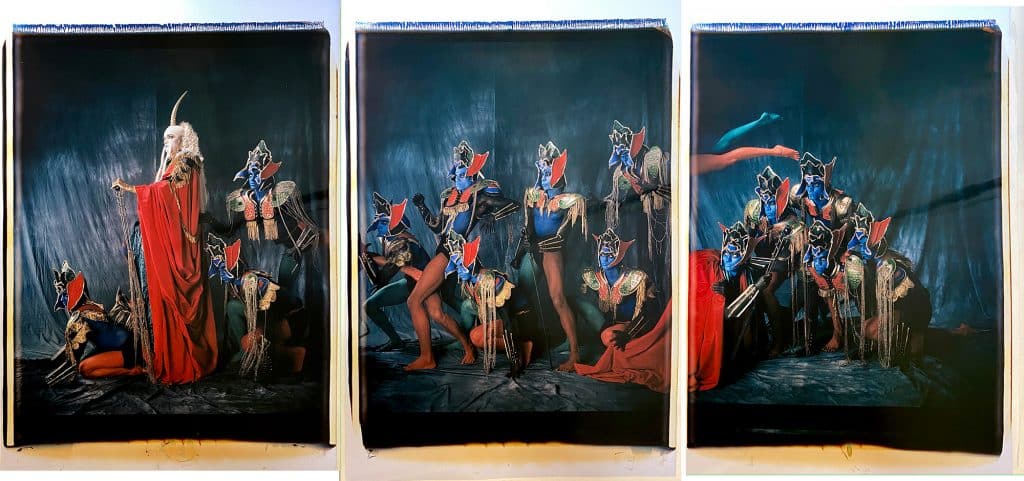 The Polaroid is perhaps the most famous camera in existence, and every year, the Expolaroid festival celebrates the instant camera and all the magic that can be created with it. For the 10th edition of Expolaroid, Galerie Taylor presented imagery from four artists with greatly contrasting styles: Irène Jonas, Hélène Guétary, Éric Bouvet, and Frédéric Jourda in a show called "Poesie, Sex & Love".
Photographer Irène Jonas captures twinkling moments on the beach, and then paints over them, giving the images an unusual aura. Calling the series "Endless Summer", Jonas presents summertime scenes with an almost 1970s film quality, with muted tones and a slight fuzziness. "There is something timeless about childhood summers," she said in a statement. "On this small beach in the South Finistère, where friends, cousins, nephews, nieces and grandchildren meet every year, nothing stands in the way of freedom of movement. The beach offers an unlimited playground and only the landscapes and activities vary with the rhythm of the tides. This time so pleasantly repetitive – beach, swimming, snack – gives a feeling of eternity, the summer can not end … Summer is endless."
The documentarian Éric Bouvet presents perhaps the most recognizable form of instant photography, with large-format black-and-white images from his series "SEX, LOVE…", where he describes photographing « People who have fun, people who work, people who have made choices…". One subject stands nude, save for a thin gauzy fabric enrobing their body, and sheer wings, like a butterfly, spread out behind them. There's a palpable joy in the imagery. The most colorful of the bunch is Frédéric Jourda, a noted landscape photographer, who captures a scene that almost appears Dali or Tanguy-esque, with barren trees bending in an otherwise empty desert, forming long curved shadows in the sand. Jourda also gets up close with flowers; one image, showing a field of sunflowers, seems to extend into infinity under a similarly yellow sky.
The most striking of the group are the large-format triptychs by Hélène Guétary, a filmmaker and photographer using a Polaroid 50×60 camera. Guétary creates surreal tableaux that at first glance, look as though they come from a bygone era. In Banquet Triptyque, pink, blue, and green men and women ornamented with frills and ribbons lounge and gather around a woman clothed in a white wedding dress, as if The Last Supper was instead a debauched affair that took place in a hypermodern court of Versailles. It's a marvel and a testament to Guétary's skill as both a photographer and filmmaker that this scene was able to be captured using instant film, with ultraprecise staging.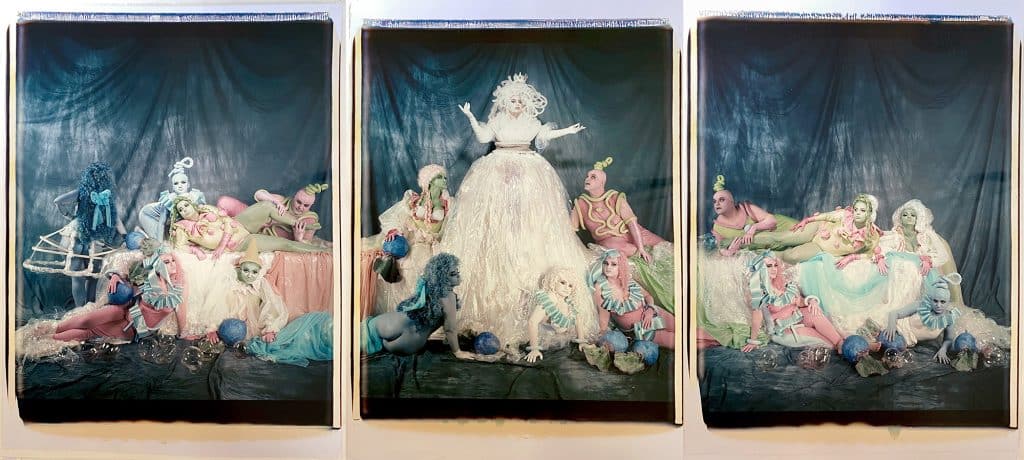 Instant photography has sometimes been viewed as restrictive, taking away the printing process where so many photographers get the opportunity to experiment. But as Jonas, Bouvet, Jourda, and Guétary show, the possibilities are endless; Polaroids can be just as experimental and expressive as any other photographic form.
"Poesie, Sex & Love", Galerie Taylor, 7 Rue Taylor, Paris.