Built on the site of former railway warehouses, Photo Élysée in Lausanne is one of the first museums in Europe to be devoted exclusively to photography. While last summer's exhibition focused on the railroads, Photo Élysée now celebrates the female voice.
The Prix Élysée is one of the most prestigious photography prizes in the world. The winner receives CHF 80,000 (approximately EUR 74,480) toward their project and book publication. This year's winner is American photographer Debi Cornwall, for her Model Citizens series. The photographer, who began her career in civil law, explores American power. Half-fictionalizing violence, half-performing citizenship in the United States, she wonders: what does a model citizen look like?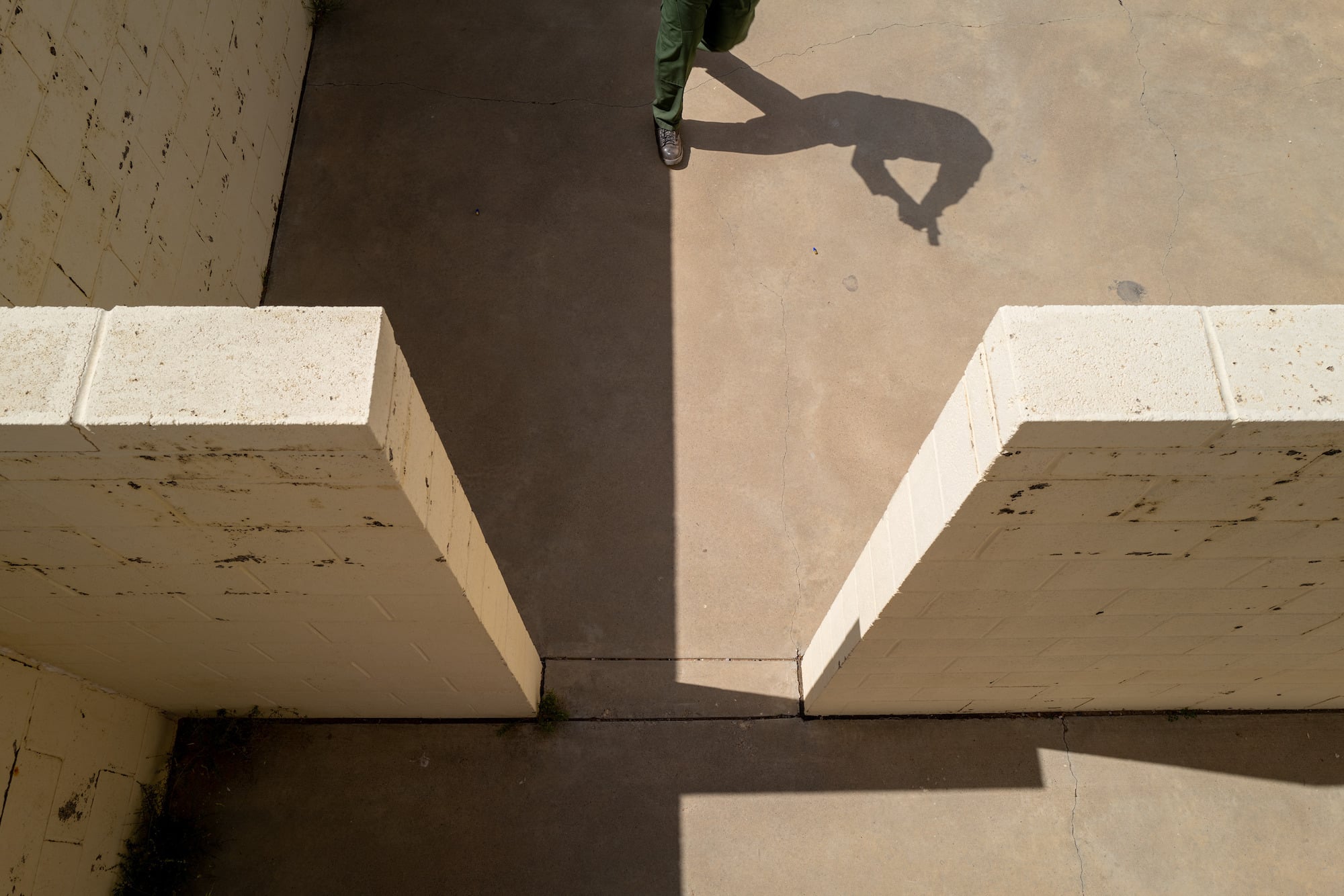 What remains outside the frame
At the entrance to the Model Citizen gallery, we are confronted with an image plastered on an otherwise immaculate wall: it's a close-up of a patient's face in a hospital bed. In fact, it's not a real person but a mannequin from a World War II diorama at the Camp Roberts Historical Museum in California. Long eyelashes, perfect skin: the "victim's" beauty signals a fictionalized reality. Americans are presented as heroic or innocent. "This is the foundation of a society in which misinformation is deployed by the authorities, a society in which we are all represented on social media where you can't really trust what you see."
"This is America," Childish Gambino's voice is heard repeating, as if to echo the images pasted on the walls. Next comes Public Enemy's "Fight the Power"; Miley Cyrus's "Party in the USA"; and a whole host of other U.S.-themed songs. When silence finally settles in the room, the images speak for themselves. In an attempt to capture this representation of participation in a political process, Debi Cornwall documents Save America rallies. She focuses on gestures, not faces. "I look at who is outside the frame," she says. In her images, heads are cut off or camouflaged: "I think there's something more universal about not seeing. When I first worked on Guantanamo, it was forbidden to show faces for security reasons. That's what I did."
Citizenship is protean. You can project anything you like on it, like onto the green backdrop where archival photos are pinned on display. In front of us, racial violence, lots of gun enthusiasts, the famous useless atomic bomb exercises organized in American schools until the late 1980s, a U.S. Marine pointing at us Uncle Sam-style on a military recruitment poster, or Alvin Ailey, iconic American choreographer. Debi Cornwall offers a visual lexicon of citizenship.
Oppression and mass resistance
In 2007, nearly 600 students at the Villa de las Niñas Catholic boarding school in Chalco, Mexico, suddenly lost their ability to walk. In 2012, more than a dozen teenage girls in Le Roy, New York, began experiencing uncontrollable muscle spasms and tics similar to those characterizing Tourette's syndrome. Between 2009 and 2022, several Cambodian garment factories were the scene of an epidemic among the female workers. All around the world, women were experiencing episodes of fainting, paralysis of limbs, tremors, convulsions, tics, and other symptoms. There was no apparent underlying cause.
Catalan artist Laia Abril has taken a closer look at this phenomenon, which affects mainly groups of women. Nominated for the Prix Elysée in 2018, her work is part of a project entitled Une Histoire de la Misogynie, in which she questions abortion, rape, feminicide and menstruation. "It started with an article reporting that a group of teenage girls had suddenly fainted in a school in Nepal," she explains. "I thought it was an isolated case, then I did some research and discovered that there were hundreds of other similar cases, and not just in Nepal. It was happening all over the world. I began to study what is commonly known as 'mass hysteria'."
The title of the exhibition On Mass Hysteria deliberately echoes the misogynistic prejudice surrounding hysteria, a "women's disease," often used to diagnose disturbing behavior. Behind this supposed disorder lies a method of controlling women. Hysteria has long been a convenient way for men to negate women's political awareness. Virginia Woolf and certain British suffragettes were also diagnosed as hysterical.
"Almost seems like they pretend to be sick"; "They faint because of their feelings"; "They wear too much makeup": the sexist discourse propagated by the media and local press appears in large red letters over the images of these "fainting spells." "The fact that there is no physiological, biological explanation has generated a divided response: we either deny what has happened, saying that the women are faking it or imitating one another, or we take hysteria as a sort of diagnostic dead end lumping together illnesses related to women's physiology or mental problems," comments Abril. Ignored or minimized by society, these phenomena fuel the stereotype of female vulnerability.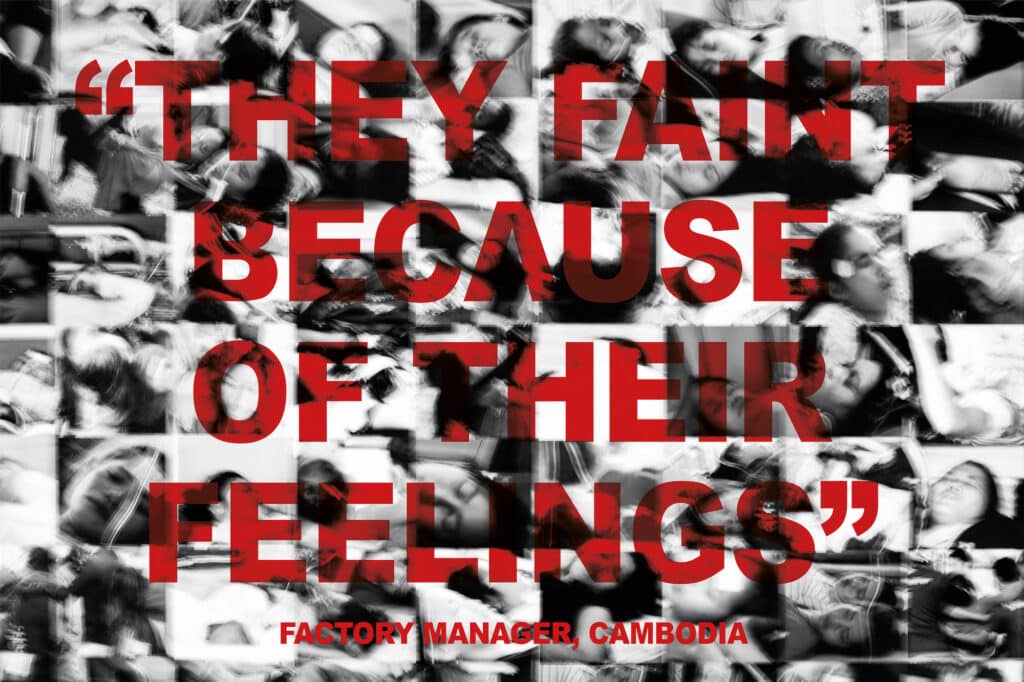 The exhibition details three contemporary cases that took place, respectively, in Mexico, Cambodia, and the United States. Archival material displayed on the walls indicates that the different cases, continents apart, have some common triggers: intense stress, rejection, or inability to express one's thoughts or emotions. "Perhaps what's making them ill is society's oppression," speculates Abril. She sees these symptoms as a body language of protest: "One theory holds that these phenomena are an unconscious way of protesting. Because you're not allowed to protest, the body becomes disconnected from reality. It's quite metaphorical."
The final part of the exhibition features Mass Protest, a video installation which pays tribute to women around the world who have protested against social injustice. In a dimly lit room, three screens project some hundred clips, each a few seconds long, of women's or feminist revolts that have taken place over the last decade. Meanwhile, three monitors placed on the floor run images of the fits of "mass hysteria." The installation turns the stigma on its head, reappropriating the word and giving it new meaning.
Laia Abril, On Mass Hysteria & Debi Cornwall, Model Citizens, Photo Elysée, Lausanne, until October 1, 2023.