Picture this: you are nonchalantly pulling a pack of cigarettes out of your pocket and slowly pressing your finger against one of the filters. There's a metallic sound, the pack gives a bit, and then: click. You are holding the spy camera Kiev 1978. At least that's what the maker wanted Westerners visiting Ukraine during the Cold War to believe. In other words: a tourist decoy.
Federico B., an engineer born in Geneva, has plenty of such cameras in his collection. But there is much more to this treasure trove of nearly 2,000 cameras dating from the early 1900s through 1980, which he was kind enough to share with Blind.
This collection is a legacy: "My father passed away suddenly at the age of 80 two years ago. He was a great collector." As a tribute to his father, a former engineer at CERN (European Council for Nuclear Research), Frederico B. decided to keep this impressive collection of devices alive, which is completed by a set of alarm clocks, miniature cars, and radios…
"These collections can make your head spin," Federico admits. So he started off by plunging into the history of photography. And last September, the 99 Cameras Club project was born.
50 years of collecting
Somewhere in Ile-de-France, a few hundred cameras are shelved in display cases, each unique in its own way—the rest of the collection is stored in Switzerland. There are large ones, small ones, miniatures, encased in metal or plastic… Like a child opening a box of toys, your mind is on fire.
"This selection does not represent the best cameras in the world, nor is it a history of photography; rather, it is centered around a collector who followed his heart. It's a collection that is the result of fifty years of wandering," Federico explains, recalling the days spent scouring flea markets with his father.
The 99 Cameras Club project aims to share the story through a handpicked selection of ninety-nine cameras. Since September 15, the day of his father's birthday, Federico has been posting on social networks and on his website one camera per day, with its history and characteristics. The result is fascinating. "For me, it's also a way to spend more time with my dad. He left suddenly, and by immersing myself in his world, I have a chance to maintain that connection."
From the spy camera to the Coca-Cola can camera
Diving into this collection means discovering objects of beauty and often dazzling ingenuity. Federico brings us his little jewels.
Like the MinoxRiga, a spy camera made in Latvia in 1937, the size of a lighter. The model was popularized by James Bond and George Lazenby who used a Minox A III in On Her Majesty's Secret Service (1969). A favorite tool of intelligence agencies around the world, the Minox was known for its diminutive size and impressive macro focus. "These cameras are witnesses to a bygone world. The represent the high tech of the time."
One of Federico's favorites is a camera used by the KGB: "The KMZ Ajax-12 uses a spring-loaded clockwork mechanism, which allowed agents to take a series of shots without having to manually rewind the film. It was very discreet, extremely resistant, and protected the film at all costs."
There is a miniature camera that can be concealed in a man's tie; a wrist-watch camera; ancestors of the GoPro hanging on the tail of the terrible German Stuka planes. Every device tells a story.
The collection is also full of true timepieces: the 1937 Compass made by the Swiss watchmaker Jaeger-LeCoultre, for example. "For me, this is the coolest thing I have ever seen! It was so complicated that it took a watchmaker to craft the mechanism," Federico says as he handles the aluminum case with its stunning finish and features that would make any digital camera buff green with envy: built-in filters, a tab to feel the right aperture, a telescopic sunshield… A gem.
Other cameras are real fashion objects with their sleek design, like Kodak's Bantam Special, introduced in 1936 in the United States. In pure art deco style, it was designed by Walter Dorwin Teague. There is also a mini Rolleiflex, the size of a lighter, and the very trendy and colorful Kodak Petite in the vest-pocket series. Even more original is the Ginfax model, shaped like a can of Coca-Cola…
The collection also includes the great Leica classics, such as the Leica I, also known as the A Model. These cameras were plagiarized many times over, including by the Soviets: "except that there, it was designed as a camera of the people."
It is difficult to estimate the value of this collection, even though Federico's father kept a precise record of the purchases. Federico B. had in any case become a fine connoisseur of this great family of cameras. "Once you dive in, it's impossible to get out."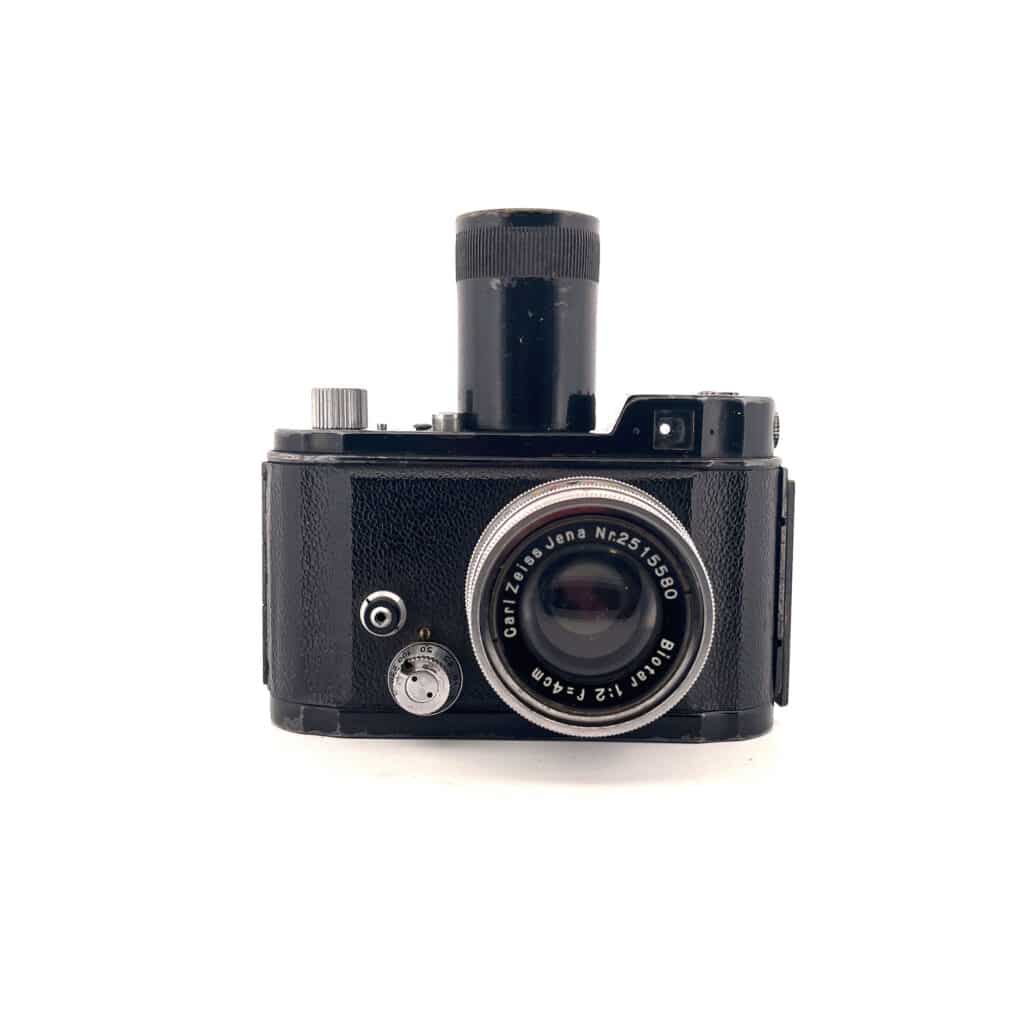 Starting one's own "digital collection" of cameras
The 99 Cameras Club project does not end by simply listing these iconic cameras. An engineer of "digital collectibles"—guaranteed unique by digital certificates of authenticity, the famous NFTs—Federico intends to use new technologies to enhance this precious heritage. "I would like to offer a membership card and make one NFT per device so that people can create their own digital collection."
It must be said that the photography market has already integrated the NFT market. The AFP (Agence France Presse), for example, has just sold its first NFT photos, priced at nearly 15,000 euros, including 7,500 euros for the plain shot of the American politician Bernie Sanders seated and wearing hand-made mittens, which had gone viral on the Internet.
But the goal here is not to make money. Federico wants to offer "fun content" to photo enthusiasts— "the way we collect Pokémon cards"—and to finance the life of the collection, which will lead to a book and a possible exhibition to "tell the story of each of the cameras, which are themselves witnesses to an era."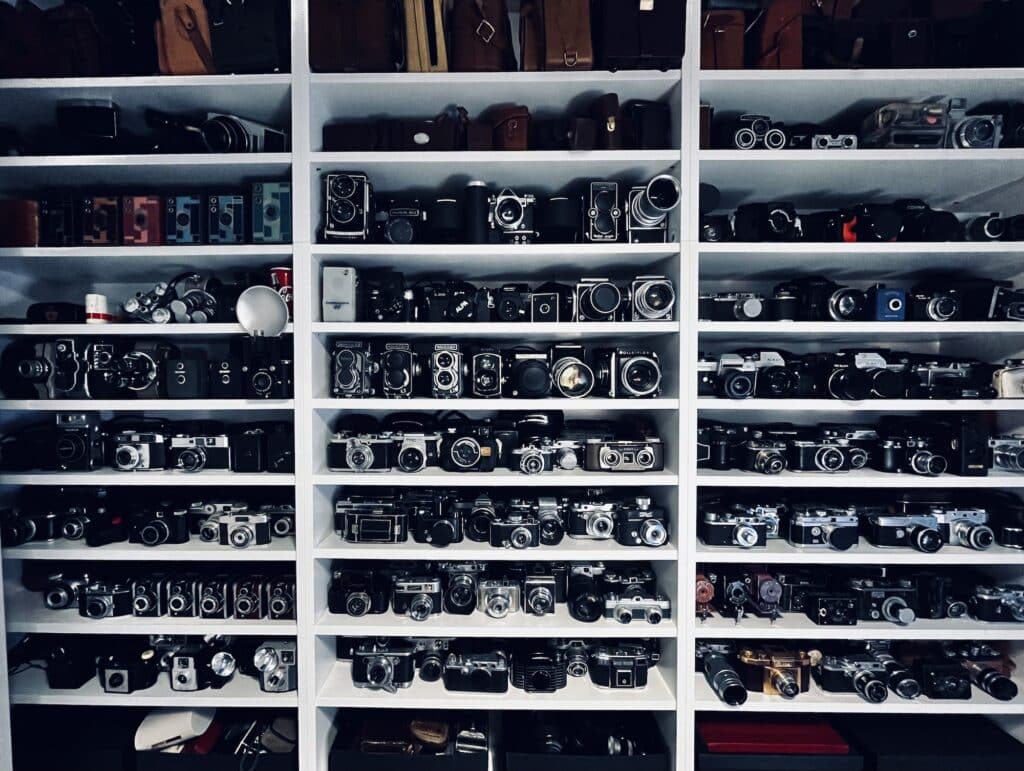 Each "digital collectible" will contain exclusive media of the device and allow its owner to participate in the life of the collection. Distribution will begin as soon as all 99 devices are revealed on the site, in early 2023. By obtaining one of the 99 special membership cards, it will also be possible to receive several "cards" at random, thus starting one's own collection.
With the 99 Cameras Club, Federico wants to launch a sharing dynamic through the website and social networks "that is not exclusively aimed at expert enthusiasts but at a wider audience of curious people. The use of a very visual format and innovative technologies such as NFTs aims to interest a younger and natively digital audience, which paradoxically is increasingly interested in film photography."
Find the whole collection on the website and on the instagram page.