Classic Catherine Deneuve. Last Wednesday night, April 19, the Cannes Film Festival unveiled the poster for its 76th edition, which will take place between May 16 and 27. The icon of French cinema appears in luxurious black and white, her arms combing through her golden hair and a smile on her lips. In the distance, the peaceful Mediterranean.
This was the French Riviera, June 1, 1968. Catherine Deneuve was on the Pampelonne beach, outside Saint-Tropez, shooting Alain Cavalier's La Chamade, also starring Michel Piccoli and Roger van Hool. The film is adaptation of a Françoise Sagan novel. Then aged 24, Deneuve played Lucile, a young girl who passionately led a superficial life of luxury in the arms of her lover (Michel Piccoli). Four years earlier, Deneuve had the lead role in Jacques Demy's The Umbrellas of Cherbourg, which went on to win the Palme d'Or at Cannes in 1964.
This was followed by a career spanning decades, always at the top of her art, becoming an eternal star of French and international cinema. "Catherine Deneuve embodies a sort of magic: pure, incandescent, and sometimes transgressive," describes the festival's press release, highlighting the beauty of "this timeless poster."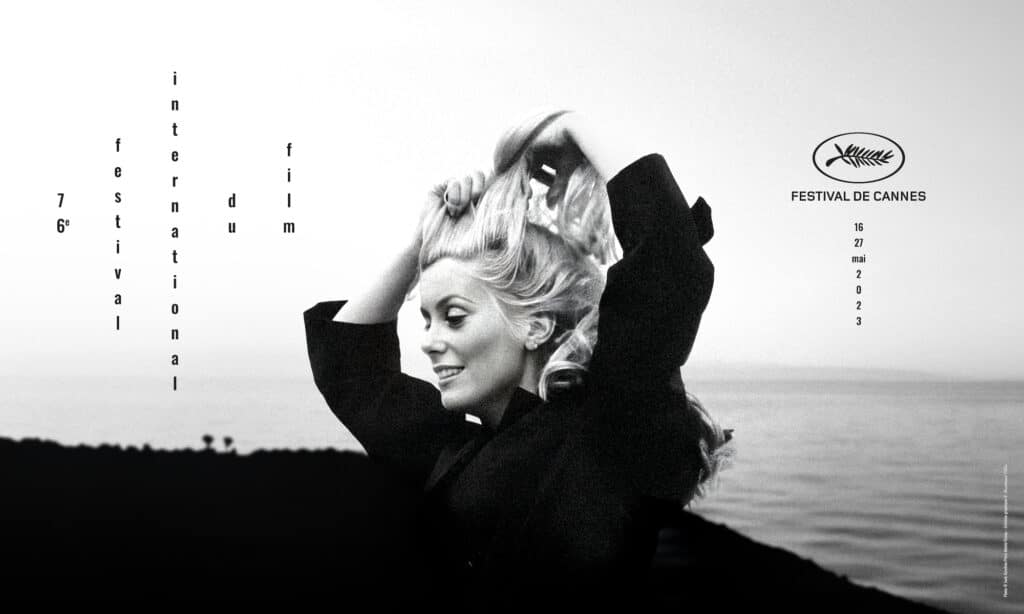 An image by a Paris Match photographer
This serene pose was captured by Jack Garofalo (1924–2005). Known as "Garo" to his colleagues, the photographer epitomizes the heyday of Paris Match, where he worked from 1960 to 1980. "Funny and mischievous," as he is described by the magazine, Garo immortalized such cinema stars like Alain Delon, Brigitte Bardot, and of course Catherine Deneuve. Considered to be a genius of light, he traveled with his camera to the four corners of the world, covering international news, including conflicts and other major events.
Garo was an old-fashioned photographer who never parted with his camera. This is how he managed to take this unguarded photo of Catherine Deneuve. He was having a shooting session with the actress on this French Riviera beach. When they were done, the photographer stayed on alert, and just as Deneuve was beginning to relax and put her hair up, he released the shutter.
"All of a sudden, click: he took a picture just like that, a snapshot of Catherine Deneuve on the fly. This is all in black and white: she is wearing a black coat and fixing up her hair. This is a magical moment, a little gem, and the Cannes Festival pounced on it," Marc Brincourt, former photo editor of Paris-Match, now the curator of the Grand Prix Paris-Match, narrated on Europe 1 on Thursday, April 20.

For the festival poster which is going to enhance the red carpet and the Croisette, Garofalo's original photo has been slightly reframed by the Hartland Villa design studio, headed by Lionel Avignon and Stefan de Vivies. A slice of the sky has been replaced with a seascape, and the actress has been raised above the hillside visible in the background. This slight retouching makes room for the text and the palm leaf logo. And Deneuve's natural elegance just pops.
Garofalo took other photos during that shoot. For example, we find Catherine Deneuve wearing a yellow bathrobe and sunglasses, basking in the sun with a book in her hands. Garofalo knew how to capture these moments suspended between two shots, where the actress was as much Catherine as she was Lucile.
"Buddies" with Fellini, Hemingway, and Malraux, Garofalo left behind a remarkable body of historic photographs. There is a nice one of a laid-back President Jacques Chirac aboard the Concorde on his way to New Caledonia in 1987: a sleep mask over his eyes, he stretches out, his feet encased in slippers. There is a marvelous shot of Alain Delon playing tourist in the Piazza San Marco in Venice, his camera besieged by pigeons. "The Leopard" can be seen posing bemused before this picture in 2012 during a retrospective of Garofalo's work at the 75Faubourg Gallery. "You were a lot of fun, relaxed, we toasted champagne, and you made everything seem easy! You deserve this tribute and I am happy for you!," wrote Brigitte Bardot in a letter tribute to "Garo."