January 2023: Italy's most wanted mafia boss, Matteo Messina Denaro, was arrested in Palermo, Sicily, after thirty years on the run. The arrest of this Cosa Nostra baron has stirred up memories of a tragic period in Sicily which Fabio Sgroi had experienced firsthand.
Aged 20, the photographer and member of a punk band, who had cut his teeth by covering the underground scene in Palermo, found himself thrust into the heart of mafia crimes. From 1986 he worked for the local newspaper, L'Ora. He recounts these three years in his life in his recent book, Chronicles of the Newspaper L'Ora: Palermo 1985–1988. His story, unfolding like a diary told in photos, captures the pulse of the city, with its anti-nuclear demonstrations, vibrant nightlife, politics, and little pleasures, all overshadowed by the mafia.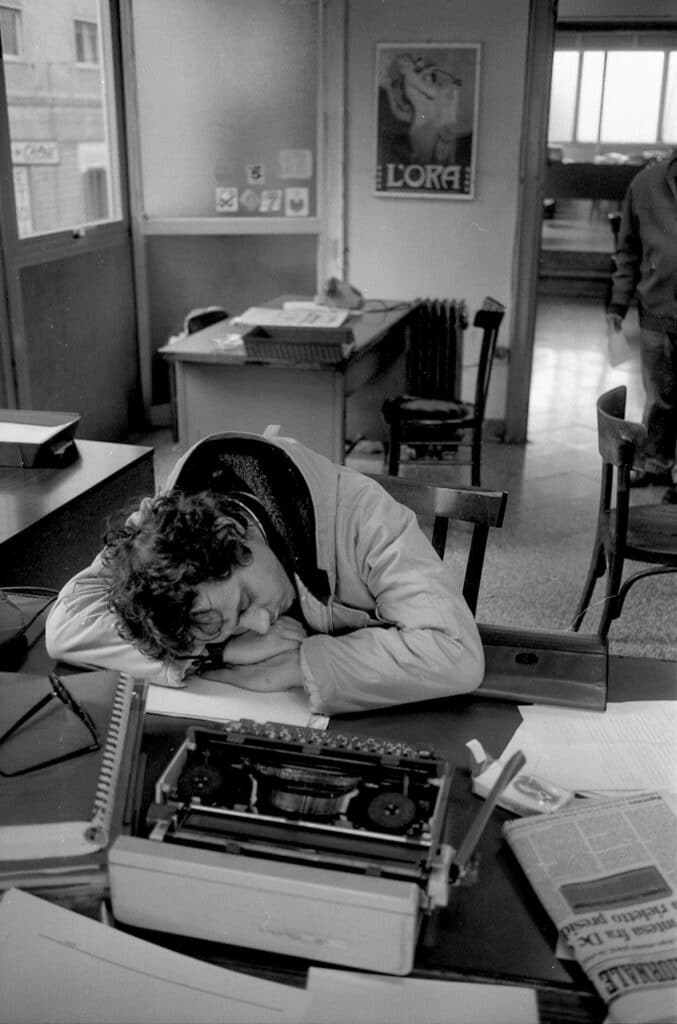 How does one end up, at the age of 20, as a photographer covering scenes of the crime of the Sicilian mafia?
I started working for the newspaper L'Ora because I wanted to be a photographer, and above all I wanted to escape my city. I dreamed of traveling, working in different places, and having plenty of different experiences. But I ended up staying in Palermo. There was no "business as usual" at L'Ora: Sometimes we had only routine news to cover; other times there could be three or more murders within the span of a few hours. We lived one day at a time, and we ran a lot.
What was the newspaper's policy regarding the publication of crime scenes?
L'Ora came out in the early afternoon; it was a left-wing paper with a team of excellent journalists who conducted delicate investigations. Some of them were eliminated by the mafia. Most of the time, we asked that the photos not be cropped, but it was the editorial staff that made the final decision.
In the book, unlike what was published in the newspaper, you can see sequences that illustrate my way of working. You can see the scene from several angles, which gives you a full picture.
For this project, as elsewhere, you use black and white. What prompted this choice?
Black-and-white was the only film used by the newspaper. After 1984, I started trying out other types of film, even transparencies, but black and white fits better my way of seeing things: it allows me to play with the notions of time and space, has its own language, which I identify with.
The media increasingly started to cover mafia-related crimes. Were you often the first on the scene?
I don't really remember if I arrived before the others. But what I do know is that once I got there, there wasn't much time to photograph. I would try to get into position quickly and concentrate on framing the scene as best I could. You had to find your own space, away from other photographers or TV networks. I was usually alone, rarely with another reporter, and I didn't stay on location very long. I was very focused, almost alien to the scene. There was little time, and I had to get the picture back to the newspaper. There was tension in the air, we were just witnessing of the rise of the Corleonesi, Totò Riina's clan.
In many photos the bodies have not yet been collected or even covered with a sheet… How did you get there so quickly?
I moved around on my moped or by car, and I ran. I had a pager: as soon as it rang, you had to call the editorial office to find out what had happened and rush to the scene. Next you ran to the darkroom to develop. When time was really of the essence, I would carry the freshly developed, dripping wet photo to the newsroom.
Did being confronted with these murder scenes at such a young age leave lasting marks?
Fortunately, I don't think I suffered much trauma. Partly because, even as a youngster, I had already come across a dead body on my way to school on the bus. Palermo was a violent city that was going through tough times, especially with the escalation of hard drugs like heroin and cocaine. A whole generation was ruined. Those were the times I lived through.
As a photojournalist, did you ever receive threats after your work was published?
Even if I didn't realize it, it is certain that the mafia was watching me. I remember one event in particular: late at night, I was on my scooter, giving a friend a ride. A Fiat Panda with four men inside pulled up alongside us, and the driver stared at me. He pulled out a gun and rested it on his arm, pointing it at us. I pretended nothing was wrong, turned my head to the street in front of me, and when the light turned green, I drove off. This was the prevailing mood in Palermo. At dusk, the city would turn into a ghost town. People used to disappear at night.
You also covered the so-called Maxi Trial in Palermo (February 1986–December 1987). What was it like?
I went to the courthouse twice. The scene was surreal: this large, high-security complex, the cages with the defendants behind bars, and the police posted in front of them. All of us, photographers, journalists, and cameramen, were in a dedicated section up high (newspapers from all over the world were covering the trial), or next to the family members of the detainees. I remember the strange feeling of seeing these people who had lost their charisma, this was especially true of Tommaso Buscetta.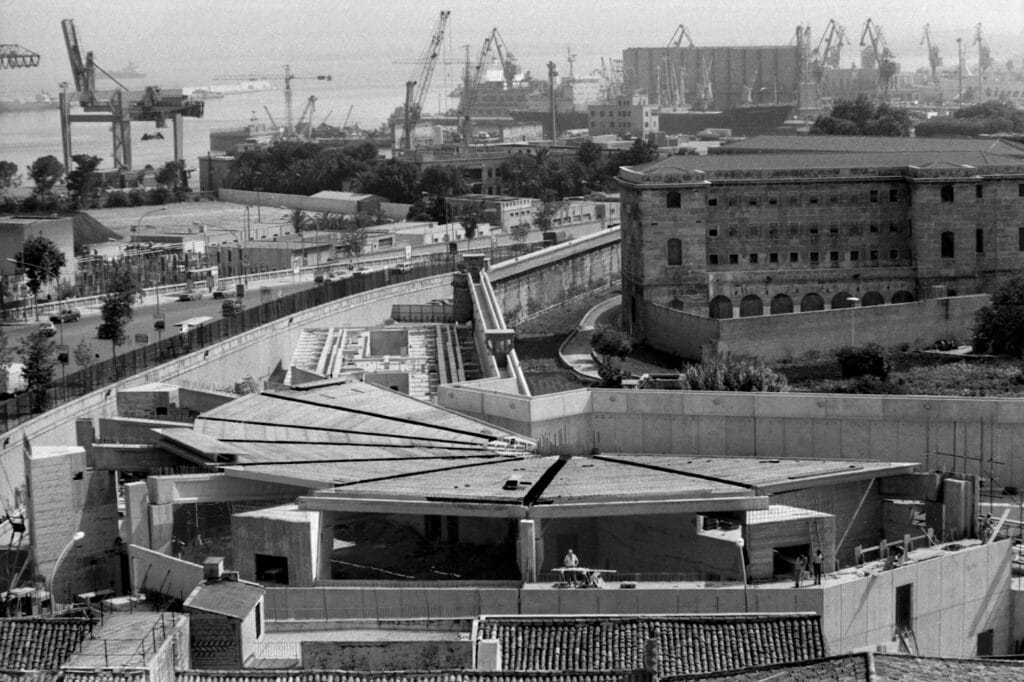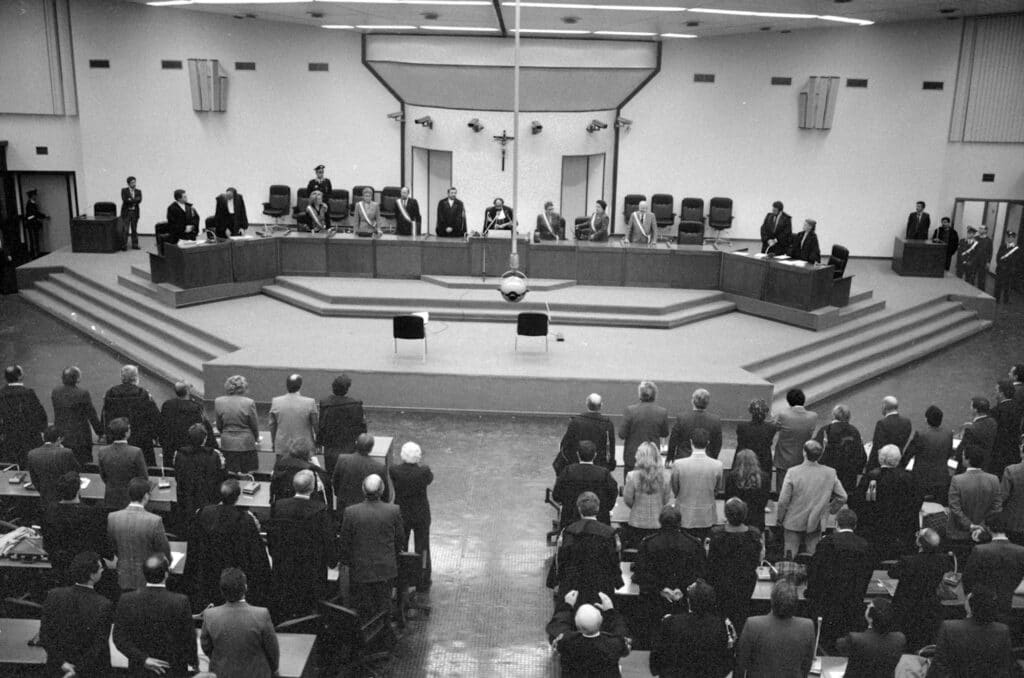 In a recent interview for Vice, you mentioned the crime scene involving the soccer player Salvatore Marino as the most striking. Why that scene more than any other?
In this case, the crime was not committed by the mafia, but by policemen from the Palermo HQ, who staged a fake suicide, throwing the victim's naked body into the sea after a night of torture. This was one of the first victims I ever photographed. There is a whole series in the book about this scene. You could feel the cruelty and the sense of helplessness that was felt on both sides of this war.
What made you dive back into your archives and publish this book?
The idea came from a meeting with Giandomenico Carpentieri (Yard Press and Union Editions), a great friend and collaborator. These photos describe an era, a historical moment. My approach was a little different from that of other photographers. I tried to evoke a scenario, a mood, and I think I did a good job.
What is Palermo like today?
The city has changed, it has lost its ghoulish aura. It has evolved, become more European, open to mass tourism. Back then, this would have been unimaginable, it was a scary place. Collective well-being has come to replace the malaise we experienced in the 1980s. But Palermo has put on a pretty coat and shows it off in broad daylight, even while dirty business is conducted in the shadows. The mafia never stops changing, and its legacy is passed on from generation to generation.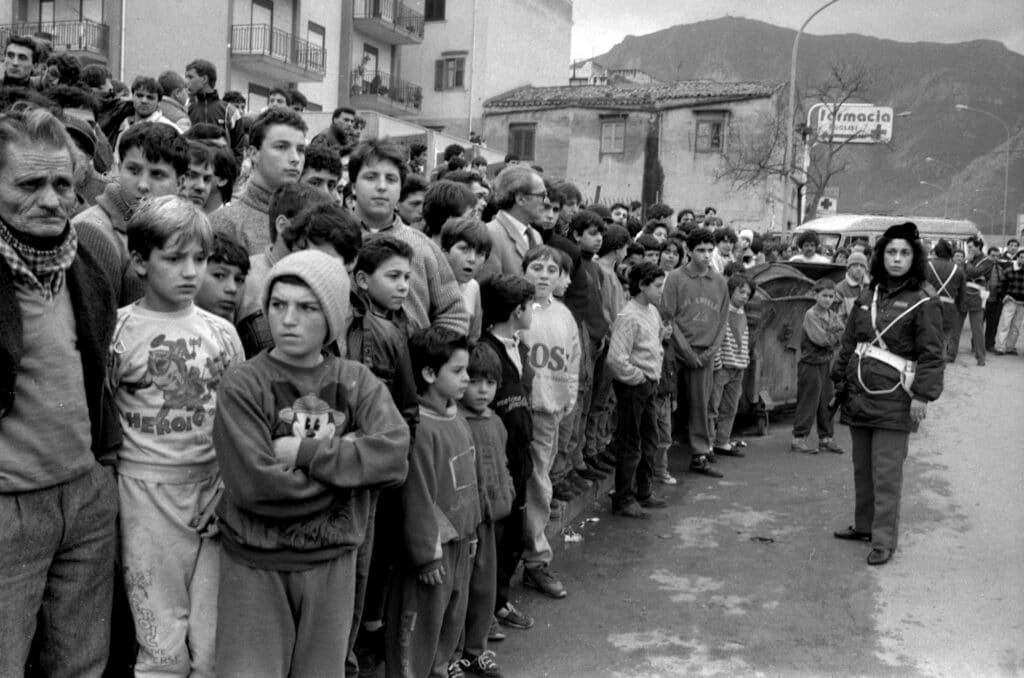 Fabio Sgroi, Chronicles of the Newspaper L'Ora. Palermo 1985–1988, Union Editions, 21 x 29,7 cm, 116 Pages, November 2022, 50€.