A photographer, photojournalist, and professional diver, Alexis Rosenfeld wanted to share with Blind his incredible photographic, scientific, and human adventure: the world's largest animal migration off the coast of South Africa.
A member of Jean-Jacques Cousteau's last expedition to Madagascar, he took part in the epic adventure of Marseille-based Comex (Compagnie Maritime d'Expertises) as well as participated in the discovery of the wreck of Antoine de Saint-Exupéry's plane. Using text and image, he tells us about his latest adventure in marine biodiversity.
One of the photos taken during this mission was selected among July's best science photographs by the journal Nature: "In this crazy shot, just as he's filming, Steven Surina is surprised by two gannets. I was lucky enough to be there at the right time," says the photographer.
Episode 1 can be found here.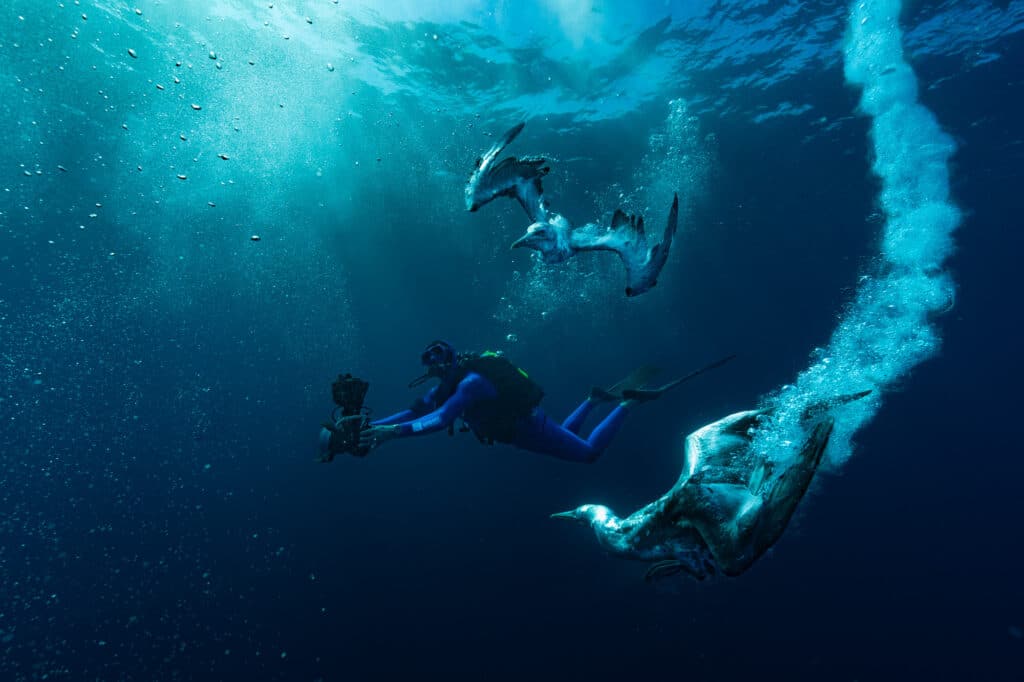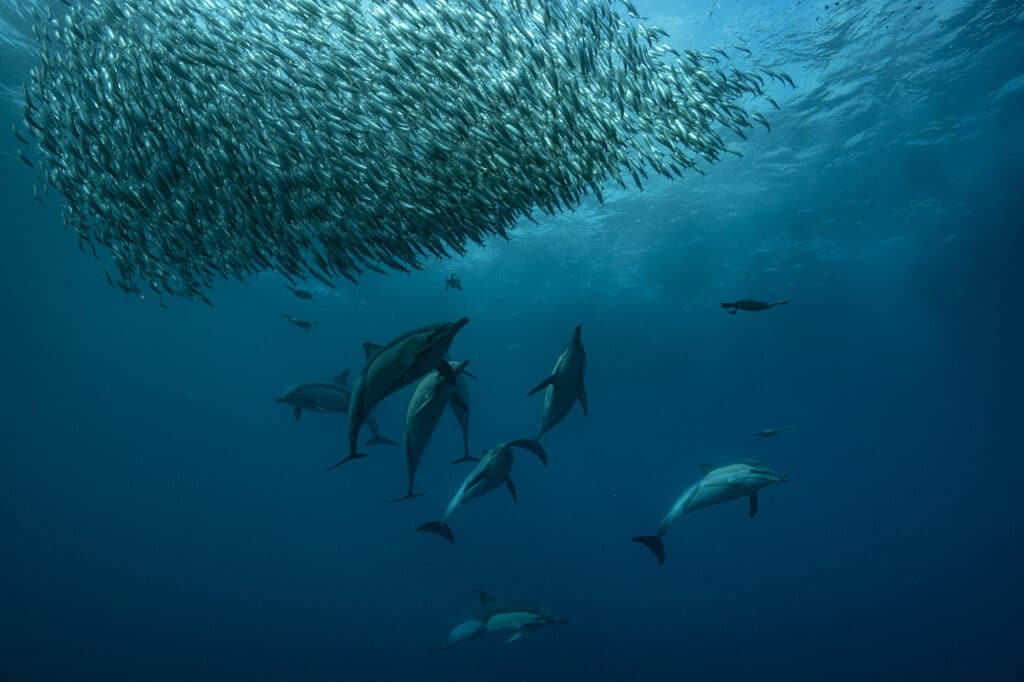 Monday, July 10, 2023. Log entry no. 2: Jumping hurdles
"Ever since the mission began, we've been running ragged, from early in the morning till late at night… Today was another mind-blowing day. The whales were jumping hurdles. Frankly, I've never seen a whale jump so many times in a row. Don't forget that when a whale leaps into the air, it hoists some 20 to 30 tons of flesh. So it expends a phenomenal amount of energy in terms of power.
You must also bear in mind that some 20,000 whales arrive in this area to mate and give birth. Their objective is to burn as little energy as possible. But today, for a single whale, I easily counted 35 leaps. The researchers explained to me that these jumps indicate that the whale is upset and expressing its discontent. And, indeed, there were other whales all around: it was a scuffle.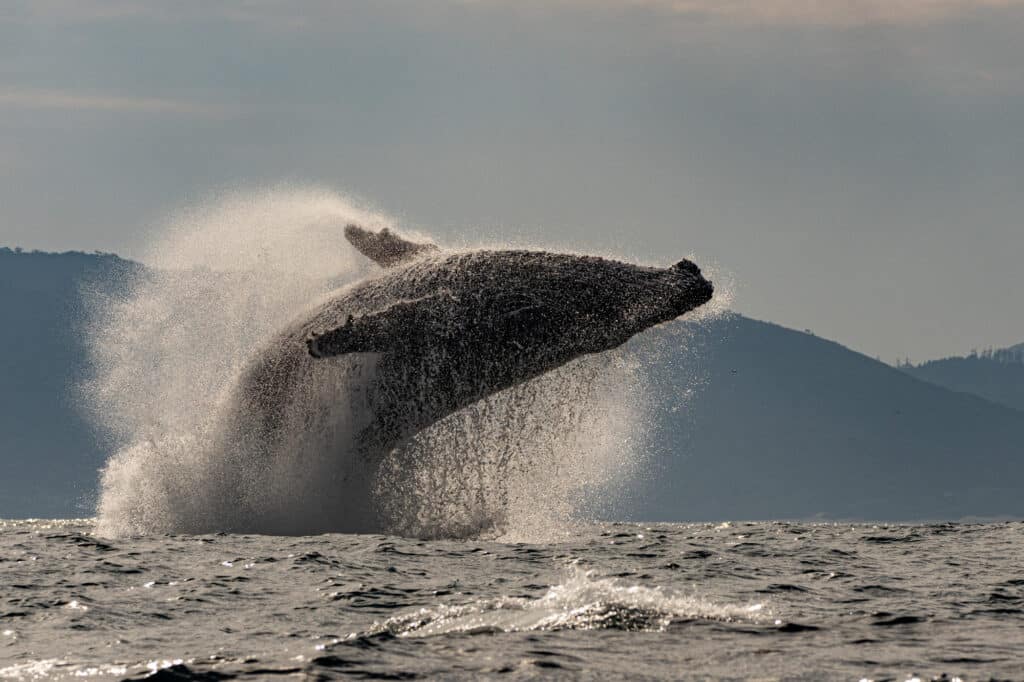 I tried to make the images a little different, because we've all seen whale jumps before. The idea was to generate a creative performance within the frame. I tried to frame as low as possible to accentuate the animal's majestic dimension. My goal was to offer a different viewpoint, a different take on wildlife photography: all the elements come together here, which is extraordinary. The challenge is to do something other than what had already been done.
The fact that we're on a boat further complicates things. The boat is rolling, there's a lot of spray, and you have to be able to keep an eye on the horizon, and focus on the whale where you want to without it surfacing… But the hardest thing is anticipating where it's going to surface. Because you can never know, it comes out very quickly. That's what a whale jump is, even if it's gigantic, it's two seconds, and you need to figure out how to capture it.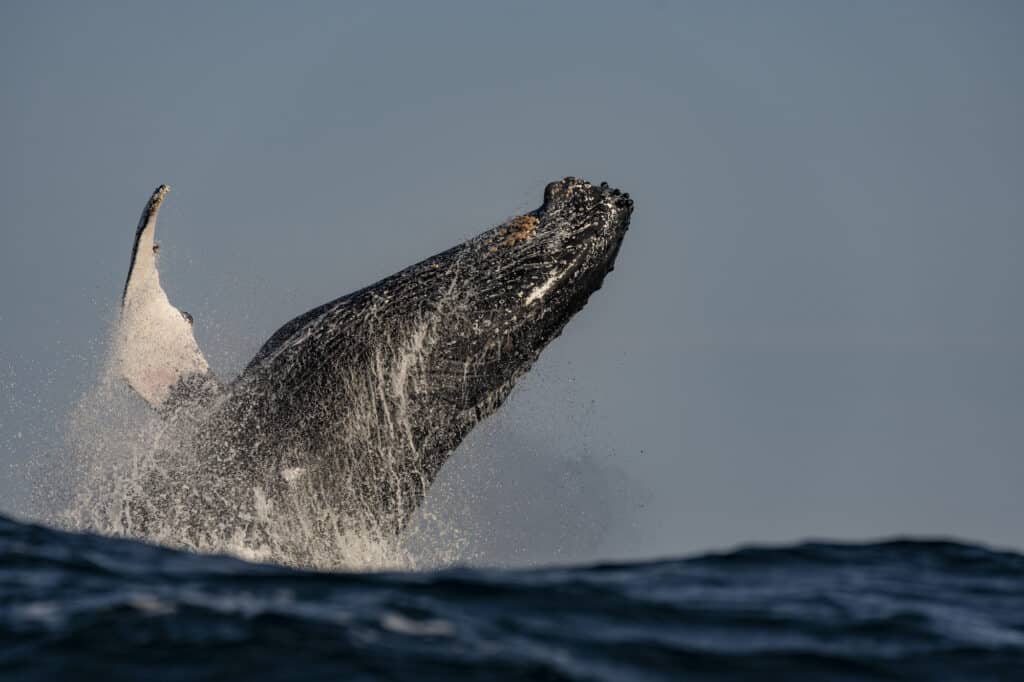 And then there are some photographic surprises. One morning, the sea was choppy and the sky hung low. Exceptionally, the water was limpid. I dove in with Armel Ruy who operated the camera. We were after a big shoal of sardines. Underwater, everything was going very fast, birds were diving and fishing; dolphins, some fifteen of them, were on the move, twirling around the school of fish. I was focusing on the action. Then, out of nowhere, its mouth wide open, a Bryde's whale comes in and gobbles up the whole lot of sardines. I didn't even realize I'd taken that picture until I transferred the photos to the computer!"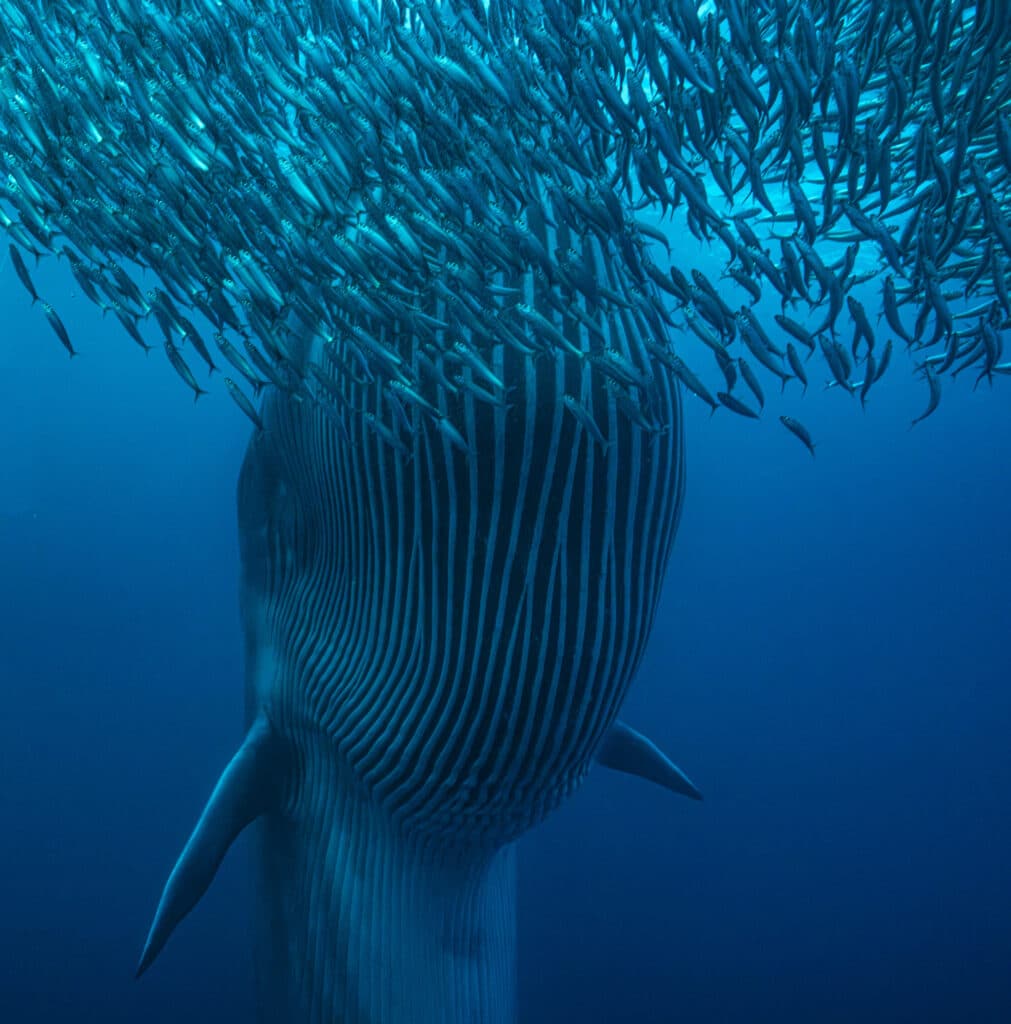 To be continued…
The mission, led by the 1 OCEAN team and UNESCO, is followed by a documentary team from the French TV channel ARTE. Two documentaries will be produced by John Jackson and Thomas Labourasse with the support of Lacaz'a Productions.