When native New Yorker Oluwanisola "Sola" Olosunde started college in early 2013, he was ready for a new look. After years of rocking sportswear from Stüssy and Supreme, Olosunde wanted a more tailored aesthetic that he could rock with equal finesse, whether going job interviews or hanging out with friends. One day, while perusing Urban Outfitters, the Brooklynite happened upon a copy of Jamel Shabazz's groundbreaking 2001 monograph, Back in the Days.
Paging through Shabazz's street portraits, made in 1980s New York, Olosunde was transported back to an earlier era of cool. As the '70s gave way to the 1980s, athleisure began to make its debut with the early years of sneaker culture and hip hop. But the polished look of reggae dancehall culture had a firm hold on the West Indian community of Flatbush, where Shabazz made many of these photos. Admiring the vintage ensembles, from Kangols to Clarks, Olosunde discovered what he describes as "a visual reference for the way I wanted to dress."
But Shabazz's book wasn't the only one that would shape his life. As a first generation Nigerian American growing up in Clinton Hill during the late '90s and '00s, Olosunde watched as his corner of Brooklyn underwent rapid gentrification with the construction of the Barclay's Center. Priced out, the family moved to Far Rockaway, a barrier reef island on the Atlantic Ocean that time had forgotten. The last stop on the A train, it was far too remote to interest gentrifiers and as a result, the landscape hadn't changed much since the time of Shabazz's 1980 photos.
Fascinated by the ever-changing landscape of the city, Olosunde wanted to understand why things are the way they are. He picked up a copy of Jane Jacobs' 1961 expose, The Death and Life of Great American Cities, which reveals the way in which "rationalist" planners like Robert Moses systematically destroyed non-white communities under the guise of "urban renewal." Olosunde, who now works as a city planner for the borough of Queens, says, "It helped me look at New York in a new light."
The World is Yours
"Growing up, I hated taking pictures," Sola Olosunde remembers of his youth. His parents, keen to document their lives, children, and friends, eschewed the snapshot for a more formal approach to picture making. "My parents would make us take turns getting our picture taken. It would be like, 'Okay, Sola, stand here with your mother.' 'Now your brother is going to be next,' and my parents had five kids. We were taking photos for 30 minutes at Six Flags. I was so aggravated but looking back I totally understand why they were doing this and I appreciate them for it, because all we have now are the memories. If we didn't have the photos, we wouldn't have something tangible to look back on."
Although Olosunde came of age during the explosion of digital technology and camera phones, he admired the permanence of film photography. During the summer of 2017, he purchased a film camera for seven dollars on Myrtle Avenue and immediately set to work documenting street culture as a way to preserve the city of his youth. That same year, Olosunde also began making self-portraits out of pure necessity. "My brother went away to school and I had no one to take pictures of me," he says. "I was by myself a lot. My dad had a tripod in the shed, so I took it out one day and started taking pictures in my neighborhood. I didn't want to bring someone out of their way so I just decided to do it myself."
Olosunde hopped on his bike and began riding around, scouting out scenic vistas that would complement his outfit and pull the picture together with the panache of a professional fashion photographer. In that moment of D.I.Y. inventiveness, a passion for street self-portraiture was born, one that Olosunde has continued over the past six years. Riding around the city, he happens upon locales by pure serendipity, hops off his bike, sets up the tripod, and transforms the city into a makeshift photo studio.
"Far Rockaway is a very desolate, underdeveloped area. It looks just like old New York," Olosunde says. "I'm privileged to live in New York because it's a very old city with very preserved neighborhoods like Bed-Stuy and Fort Greene. I'll go over to a historic district or a place that's not really developed, and stumble upon something that still looks the same as it did when I was younger."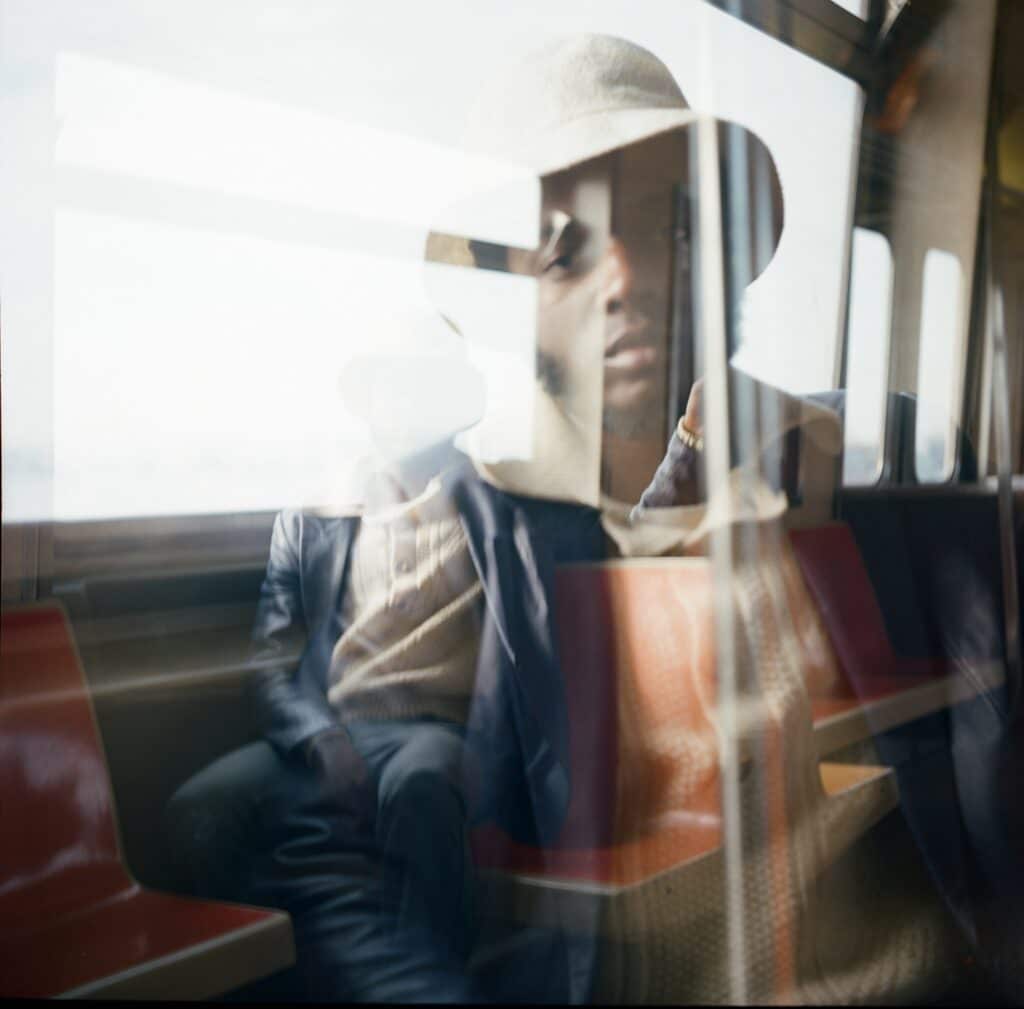 It Ain't Hard to Tell
With his distinctive blend of personal style and knowledge of city planning, Sola Olosunde's self-portrait practice continues to evolve as he introduces experimental techniques like double exposures, which evoke the spirit of Nas's landmark 1994 Illmatic album cover. Olosunde started making double exposures while working with an old 120 Yashica camera from the 1950s that he purchased on eBay. "I'm the easiest person to work with because it's my own time," he says. I don't feel like doing it today, I can do it tomorrow."
Like artists such as Samuel Fosso, Tseng Kwong Chi, and Cindy Sherman, Olosunde is both photographer and subject — but unlike them, he is neither conceptual photographer nor performance artist. Instead, he is closer to the space where portraiture and fashion photography merge, which is perfectly attuned to his own work as a model. Although he is not with an agency, Olosunde has modeled for Dapper Dan and Fila — all natural extensions of his own sense of style.
"I see style as a form of expression, and in New York you see how expressive people are," he says. "Places like this and Tokyo, which are public transit rich areas, you tend to be more conscious about how you dress because you're among people all the time so you care about how you look. In New York, everyone's in this public space together, so they think about how to present themselves in a way that may stand out and represent who they are. I'm definitely one of those people."