"A picture can change a life," says Chantal Colleu-Dumond. The director of the Domain of Chaumont-sur-Loire and curator of the exhibition, designs each edition of Chaumont-Photo-sur-Loire. She has always believed in the power of photography, now more than ever.
Among the Loire Valley castles, the Domain of Chaumont-sur-Loire has become the go-to location in the field of art and gardens. With an unusual mix of culture, tourism, and natural environment, the Domain is part of several networks, including the Réseau des Châteaux, the Plus Beaux Jardins de France, the Association Parcs et Jardins de la Région Centre (APJRC), the Association des Centres Culturels de Rencontre (AACR), and the Amis des Jardins Remarquables Européens (AAJRE).
An event such as the photography festival requires an investment of no less than 100,000 euros—with the Domain putting up 75% of the sum.
For this fifth reiteration, the Centre d'Arts et de Nature de Chaumont-sur-Loire has organized a group exhibition, inviting four photographers to share their respective views of nature. This is a celebration of the natural environment which reverberates across contemporary issues.
Michael Kenna: The shape and skeleton of trees
Dark, slender, delicate silhouettes line the walls of the Château de Chaumont-sur-Loire: trees. "Welcome to my family," Michael Kenna says joyfully. Since childhood, the photographer has thought of trees as friends. His story begins in Widnes, a small industrial town in the north of England. Across the street from his home there was a park where he would often play with his siblings. Each of them had "their" favorite tree.
Whether abroad or at home, in a city or in nature, trees are ever-present in Kenna's work. Passionate about trees, he has been photographing them since 1973. Yet he refutes the word "capture" to insist instead on the idea of gift: to photograph means to harvest what nature freely offers. Whenever he can, he revisits a tree he has already photographed. He says that he spends some time "getting to know" a tree before taking the picture.
Straddling melancholy and poetry, Kenna's photo work is reminiscent of Bill Brandt's: they are both unrepentant observers. Kenna's images reveal details unsuspected by the naked eye. Often taken at dawn or in the middle of the night, the extremely long exposures can take up to ten hours.
An avid traveler, Kenna has photographed in England, Japan, Russia, China, and France. In love with France, the British artist has recently donated his entire photographic archive to the French government.
Kenna does not consider himself a "tree photographer," despite some 700-plus photos dedicated to trees. He looks at nature at large, always using the same small format and exclusively black and white film. The blended shades and gradations of pearly gray create a sense of the sacred. The shots span seasons, accentuating the metaphor of man and tree. Like trees, we take root, grow, and rise tall.
Eric Bourret: Inner vibrations
Like English regional photographers and land artists, Eric Bourret starts by surveying the natural area over five or six months. As a "pedestrian of the altitude," he tries to take into account the modifications of the landscape and its specific movement. When the photographer walks around, he purposefully adopts a protocol that consists in photographing multiple times over the same negative.
This detailed procedure generates a poetics. Time is a constant, unstoppable flow, and the totality of temporal sequences settle in the same image. His photographic paintings present a multitude of superimposed moments: a real temporal mille-feuille.
Bourret never knows the exact rendering. The final choice of images is made during editing. He then leaves room for chance and randomness, so that only what the landscape wants to give gets into the image.
According to Bourret, the landscape is a living body that mutates, transforms, and moves. The goal is to convey this using a photographic tool whose function is to stop time. Bourret questions the notion of temporality in two series: Arbos and Primary Forest.
Although formally similar, the former is the result of his walks along the Loire River between 2020 and 2022, while the latter portrays the primal forests in China, Finland, and Macaronesia. These large-format photos bring us face to face with an organic surface.
What Sylvain Tesson describes in words, Bourret expresses in images. Cleaving close to reality, the artist has associated walking and photography for thirty years. The idea of overprinting came to him through listening to contemporary music: micro-tonality, the flow, and time.
At the end of a walk, Bourret is no longer sure if he sees with his eyes or with his body: "I photograph more with my body than with my mind. During my walks, I am no more than a biped sensitive to the environment and endowed with inordinate visual and olfactory acuity."
FLORE: Literary imagination, ivory, and tea tints
FLORE offers us, not a trip to Asia, but a trip to "Durasia": Her black-and-white, tea-tinted, waxed prints invite us to cross Indochina in the footsteps of the young Marguerite Duras. According to FLORE, the series is "a fiction that tries to respond to another fiction."
FLORE's family on her father's side lived in Saigon at the same time as Marguerite Duras, and thus the series also echoes a family myth. Childhood memories, narratives, and stories told serve as the basis for her photographic work.
L'odeur de la nuit était celle du jasmin (The Night Was Fragrant With Jasmine) gave rise to a Nadar Award-winning book. The series is a sequel to Lointains souvenirs (Faraway Memories), which was a variation on the Indochinese youth of Marguerite Duras.
FLORE carefully picks her paper and process: she creates tea-tinted and wax-coated prints, pigment prints on Japanese paper, wine heliogravures, Polaroids… The grain, the blur, the depth of the black, and the chromatic choice all underscore the ambiguity of memory.
Contemplating her images is a bit like perusing the pages of a travelog: they exude atmospheric memories. No caption accompanies her prints: FLORE doesn't want to facilitate the viewer's task, everyone is free to explore worlds of their own.
Rigor and experimentation: Denis Brihat
Flowers, fruit, and natural details are on view at the Cour Agnès Varda. Close friends, Varda and Denis Brihat had their first exhibition together. The photographer uses his images to embark on a philosophical quest.
Marked by the work of Edward Weston, he worked for eight years with black-and-white film photography. Then, in the late 1960s, he began exploring color by way of metallic toning and gelatin etching process, two techniques that he has developed and perfected ever since.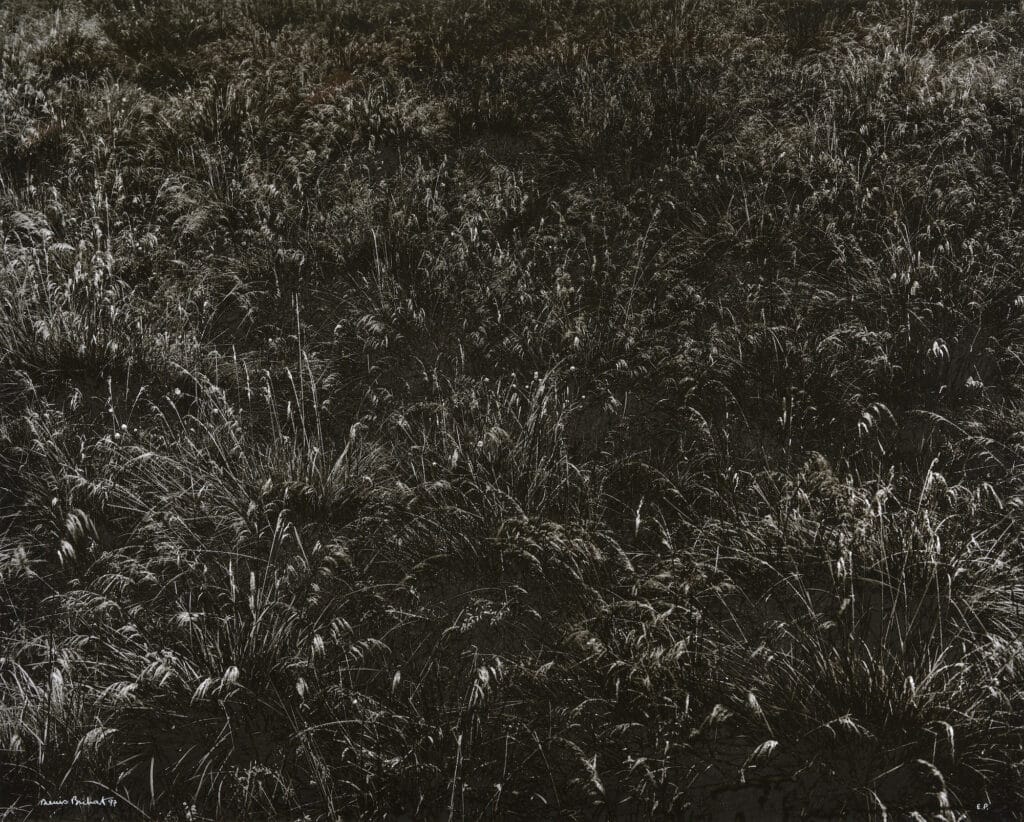 Rigor is key as Brihat focuses for long periods on the same subject. Around 1967, his subject was tulips, followed cherry trees. He then did a series devoted to kiwis, which amounted to about fifteen photographs, each printed in three copies. Fully devoted to his creation, he once said: "Basically, the most important thing is the moment I take the photo, it's the emotion that comes through."
Like the Rorschach test used to evaluate the personality of an individual, bulbs and pistils metamorphose into whatever we want to see. Lichen, grasses, cedar needles, tulips, onions, and even seaweed come to life before our eyes. Photography becomes nearly choreographic.