There's something so powerful about standing at the edge of the Frey House II in Palm Springs. It's not the view of the city below, or the house's shape built around a boulder, or the modernist details in the galley kitchen, though all of those things are also beautiful. It's standing in the exact spot where the legendary Julius Shulman stood to photograph the house, famously designed by architect Albert Frey and finished in 1964, pointing his camera inside the house's glass walls to highlight its beams, its corrugated metal roof, and of course that boulder.
Julius Shulman's photographs of mid century modern architecture, particularly those that came to be known as Desert Modernism in Palm Springs, were in part responsible for the style's explosive influence during the 1960s, an influence so strong it continues today. "Julius was such a big part of Southern California modern architecture, this incredible flowering of creativity in that period. But he certainly created so many of the images that that era was known for around the world," says architect and historian Alan Hess. Hess worked with Shulman and artist and curator Michael Stern to create the book Julius Shulman: Palm Springs in 2008 for Rizzoli. "In some ways, what we think of as mid century modern, southern California, is Julius's creation, his image of it."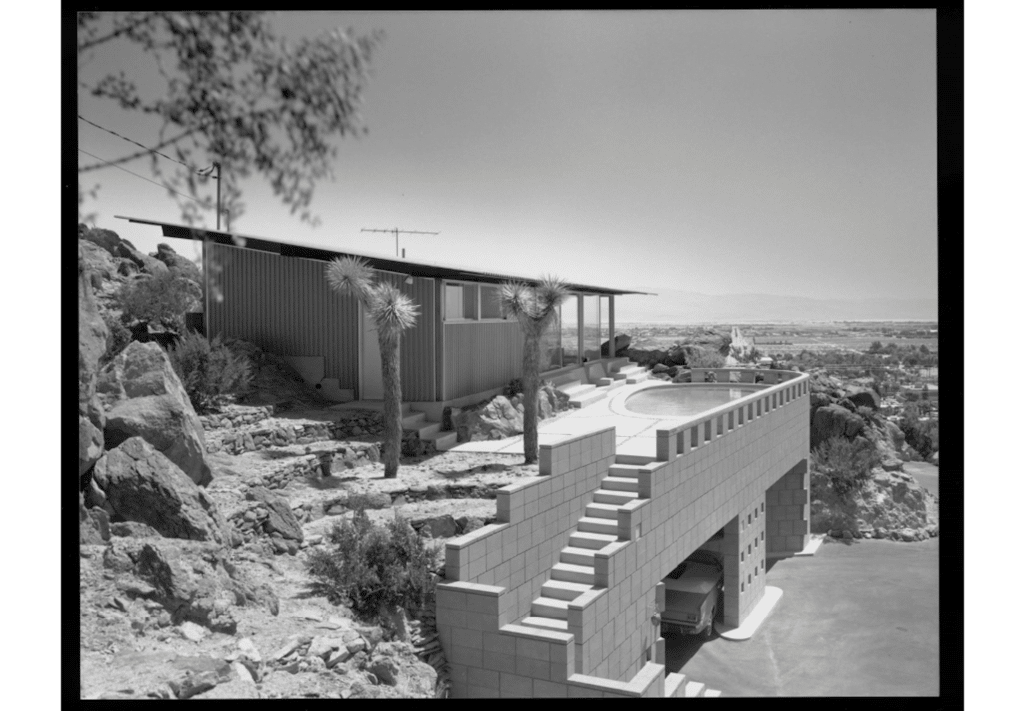 Shulman photographed his first modernist home in 1936, one designed by famed architect Richard Neutra. "It was the first modern house I had ever seen," Shulman told Artforum in 2001. A self-taught photographer, he shot it using only a Vest Pocket Kodak camera. Neutra hired him and shortly after he began photographing the work of even more architects who became known as the voices of modern design, like Frank Lloyd Wright, Rudolph Schindler, Albert Frey, and countless others. It was partly with Schindler's input, actually, that Shulman began to grow as a photographer and understand the many facets of the work both of them were making. In Artforum, Shulman remembered the architect viewing his early work, reminding the photographer light was never equally distributed across all walls at the same time, which architectural photographs should also duplicate.
California modernism
As his career progressed, Shulman's photographs of architecture became almost as important as the work itself: for most of his career, he was a commercial photographer who sold pictures of his work to magazines. There became a wealth of people who fell in love with modernist design by seeing it in a Julius Shulman photograph first. 
While there were other architectural photographers at the time, what set Shulman apart, Hess says, was that his photographs weren't just of beautiful buildings, but an entire lifestyle, a mythos of the elegant and exciting future as it existed in Southern California. America in the 1950s and 1960s became fascinated by what seemed to be California's ease, with its clean homes that allowed for pleasurable living away from city grime, Hess says. In Shulman's famous image "Case Study House #22, Los Angeles, 1960. Pierre Koenig, Architect," for example, two women sit chatting in a stylish, glass-walled home that seems to look out onto a glittering Los Angeles evening. "You're just spending your evening looking out at this beautiful city laid out before you. That's about pleasure. That's not about theory at all….That, I think, is one of the things people liked about California modernism, and Julius captured that," Hess says.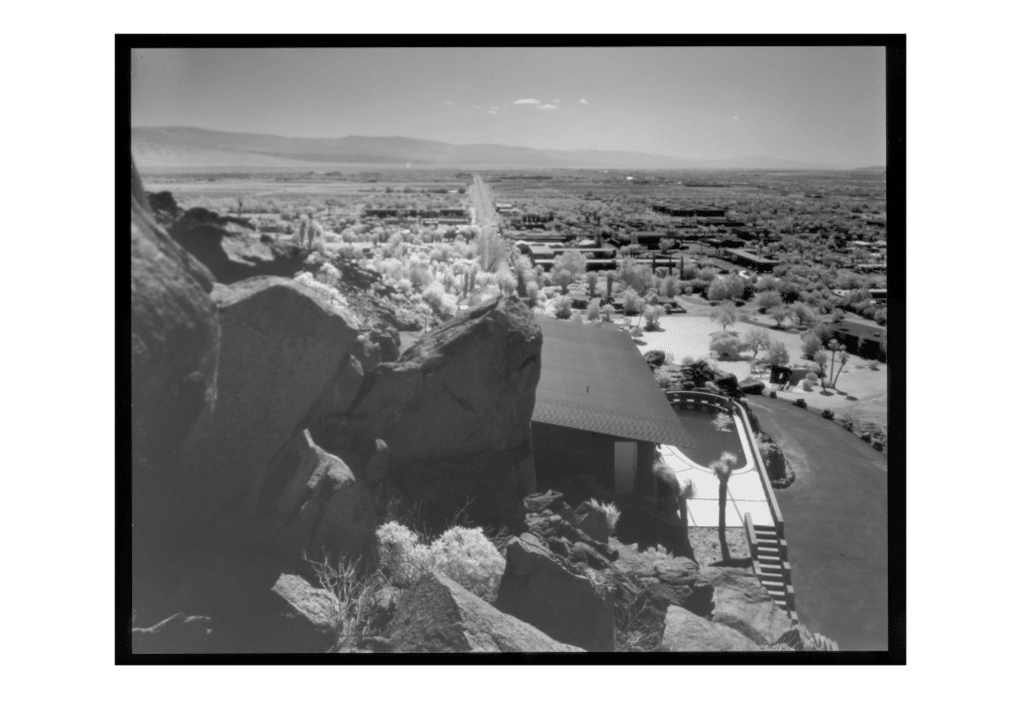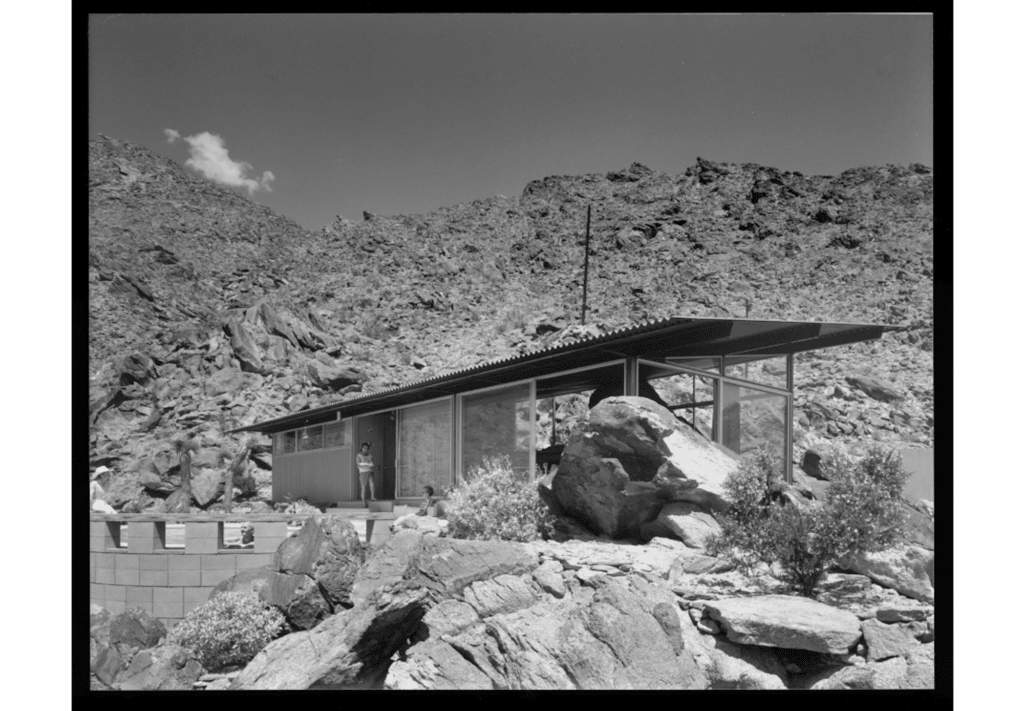 "It's different than a more straight-forward, modern take on those buildings which might be more mechanistic, more emphasizing the structure, the regularity, the asymmetries, the composition of the building," Hess says. "They are almost a glamorized idea of what these beautiful buildings, what setting these might provide for what Julius considered a modern person. So they're well dressed, their houses are immaculate, and they are connected to the city…things like that expressed Julius's idea of how these beautiful modern buildings could be lived in by the modern man and woman."
For modernist architects in Palm Springs in particular, Hess says Shulman became something of a "patron saint." Aside from famed residences like the Kauffman House, designed by Richard Neutra, and the Elrod House, designed by John Lautner, Palm Springs architects were largely ignored. "They were creating a really interesting version of modern architecture out there that nobody was noticing at the time, except Julius," he says. Magazines wouldn't publish his work of Palm Springs at the time, but the work experienced a resurgence in popularity later on.
Hess estimates that, while Shulman's work is stirring and important as both artwork and history, part of the reason it remains such a part of the cultural consciousness is because, well, Shulman outlived many of his peers. Shulman passed away at 98 in 2009, and continued making work throughout his life. In the last 20 years before his passing, Shulman came to be seen by the art world not as a journeyman photographer but as a fine artist, a label he had never previously tried on himself. "He was a businessman. He made his money by selling to magazines, and that was the main media of that time. And [he was] very successful at it.
He learned what sold, what didn't, and he worked at it in that way," Hess said, but an exhibition in the 1990s at Los Angeles's Craig Krull Gallery changed all of this. "He really began to see his work in a whole new way." This led to books of his images, including Hess's, as well as museum and gallery exhibitions, lectures, and international recognition. People came out in droves to hear him speak, have their books signed, and listen to his stories. He became the "only photographer to have been granted honorary lifetime membership in the American Institute of Architects," according to the International Center of Photography, which also presented him with a Lifetime Achievement Award in 1998.
Shulman's archive, including over 260,000 images, was acquired by the Getty Research Institute in 2005, and became a treasure trove of design history. "He was just very conscious," Hess says. "He had an idea about modern architecture, which was as specific as Richard Neutra did or Rudolph Schindler or Pierre Koenig or the others, just that they were expressing them through their architecture, he was expressing it through his very specific photos."