In 2016, on a spring Sunday at the beach in Grand-Bassam, three men began shooting into the crowds of beach-goers, killing many and injuring many more. The Ivory Coast was left shaken and grief-stricken, but with seemingly nowhere to put that grief, no tools to process what had happened. Joana Choumali was out of the country doing an artist residency when the terrorist attacks occurred, and when she returned home, no one wanted to talk about what had happened.
But the attack had left an indelible mark on the town and the people, and Choumali decided to start photographing the once-bustling town and all of the newly empty, quiet places. Those photographs served as the foundation of a series, "Ça Va Aller", in which Choumali printed the images on canvas, and then embroidered atop them. These works are now on view in her first American solo exhibition, titled "It Still Feels Like The Right Time", at the Sperone Westwater Gallery.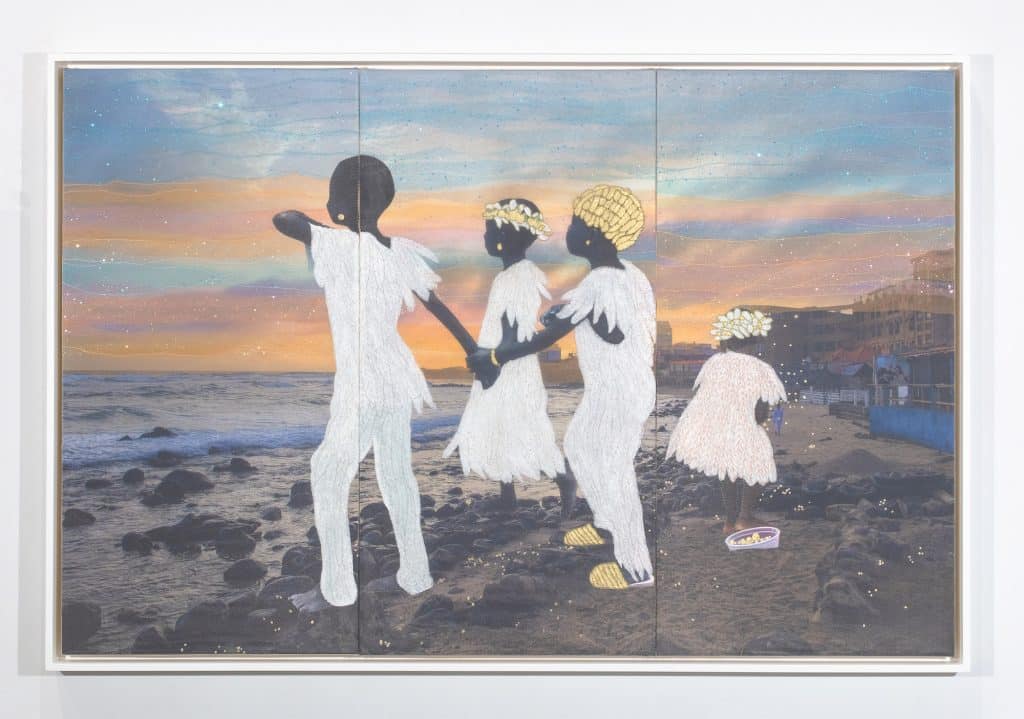 Choumali began her career as an art director in the advertising industry before she shifted to photography, and in 2019, she won the coveted Prix Pictet for her novel series of embroidered photography. It came about, she says, as an instinctual response to the attacks. "There was a contrast between how I felt and how I could express myself, and the way other people were refusing to do so. So the work started out of kind of a frustration," she says. The title is a nod to the Ivorian expression used to wave off anything maudlin, a reluctance to engage in difficult conversations: ça va aller, it will be ok.
But Choumali didn't want to wave off what had happened. Embroidery came naturally to her; her grandmother had done patchwork, and so Choumali began embroidering some of her pictures, adding bursts of color, and fantastical elements. In one, a girl walks down the street with flowers and branches growing out of her head; in another, the image of the beach is covered by a perforated veil. The embroidery didn't begin as a planned artistic statement, but as a meditative process, and a way of spending more time with the photographs. "It was a silent conversation, and a very deep conversation," she says. "I was so concentrated on the work that even now, when I look at one piece, any piece, I can tell you what I was listening to, what I was feeling, what music was there, what was the weather. It's as if each piece was filled with QR codes of that special moment." And it was an outlet for her creativity that gave her joy: "I was really working for the sake of working, just for the pleasure of doing it without even having a schedule, and that was new to me," she adds.
In 2020, Choumali's mother suddenly passed away. Choumali had begun work on a new series, titled "Alba'hian", an Agni word for the dawn. Building upon the original concept for "Ca Va Aller", in this series she went further, employing photomontage, collage, quilting, and embroidery. The result is dreamlike and ethereal. In the wake of her mother's death, she focused on this series: "All the works became imbued by my grief, and it became like a journal, a diary of this grief," she says. "It was so painful. But at the same time, I was still grateful to be a creative and to be able to translate all this emotion that I have and download it again in the works in a very personal way. I had this window to sublimate my pain, and at the same time, have this silent conversation with my mother, and say goodbye to her."
Choumali was able to find meaning throughout all the loss and devastation, and she hopes that viewers of her work can, too. "I felt maybe my work would open a window of beauty through pain," she says. "And through pain and hardships and grief there still can be beauty and hope, and also growth and strength. Because if you're not challenged in your life, you cannot know how strong you are and you cannot see and you cannot appreciate what you have when times are better."
Hope is woven throughout. In one frame, I AM ENOUGH, a woman floats above the water, arms outstretched. Golden rays emanate from her head as planets orbit around her in a perfect circle: she is the sun, holding the fabric of the universe in her hands. Light breaks over the harbor, and flecks of gold dot the sky: pure serenity.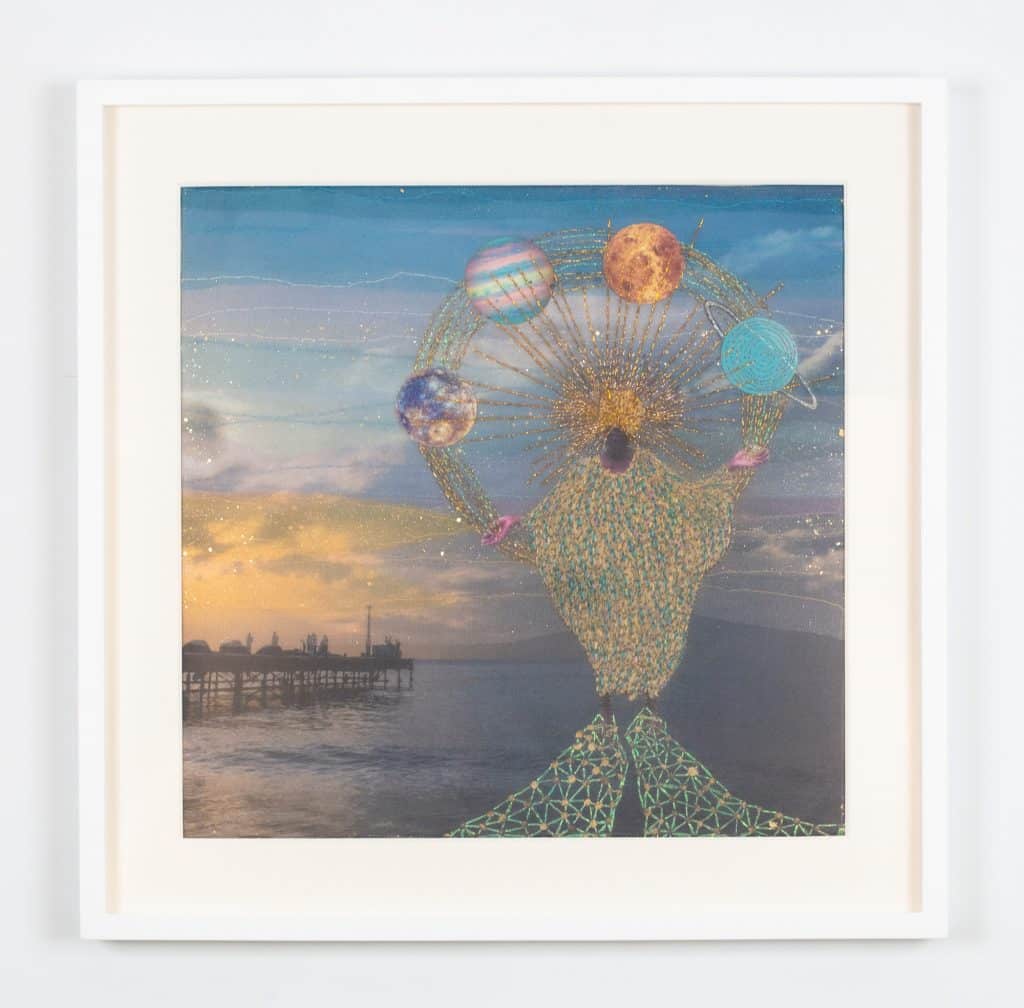 Though so much of her work is rooted in Ivorian culture, there's a universality to these images, a clear emotional through line that can be felt without knowing any backstory or context. "I'm really convinced that there is a dimension that is beyond color or culture or shape or size or skin tone, and it's the core of what makes us human," she says. "And this is what also allows someone from New York to see my work without knowing me, without talking to me, and getting things—and giving me feedback that I thought that I was the only one to feel or think. It's the most beautiful reward of being an artist to be able to share something with someone I don't know and maybe touch him or her through my work."
"It Still Feels Like The Right Time" exhibition, Sperone Westwater Gallery, New York, on view until April 30, 2022.