In the current exhibition at Sweden House — the Swedish Embassy in Washington, DC — twenty-five examples from the career of a man with exacting vision and precise control of what he chose to photograph is on full display in a space painted black, all the better to view the saturated images of daily life. The work includes examples from the major thematic groupings that define his output; it pops and crackles as the vivid, almost garish colors and use of on-camera flash heighten the mundane to an elevated plane.
According to Helene Larsson Pousette, the Counselor for Cultural Affairs at the embassy, "During Sweden's presidency of the EU in the spring of 2023, the choice to show Lars Tunbjörk's photographs was obvious. His photos reveal warmth and humor and a deep fascination for people's loneliness and longing for meaning…many Swedes recognize themselves in his photographs."
An invisible third eye
With a career cut short at the height of his powers, Tunbjörk (1956-2015) had amassed over a half-million negatives when he died of a heart attack at the age of sixty. His recognition of the absurd is not limited to his home country but comprises a world view that almost seems to have resulted from an invisible third eye, an algorithmic explosion of a man in awe of the built environment.
In perhaps his most iconic image, Times Square, New York, 1996, a dynamic jumble of rectilinear shapes and colors seems to suggest what's to come in one of the most recognized urban tableaux in the world, while managing at the same time to stop time.
The presence of humans only becomes evident after the visual acknowledgement of the carefully rendered shapes and colors in this carefully crafted homage to Mondrian. Yellow squares dominate the crystal-clear scene of an early morning view that remarkably echoes much of the photographer's output where he captures his view of the world aided only by an on-camera flash, the precision of Hasselblad optics, and the specific quirkiness of where he chose to stand.
It's very difficult for a photographer to be defined by a few images, but Lars came very close to achieving just that. His early black-and-white work (like Island/Iceland 1986) stays close to the best examples of documentary street photography and sits smack dab in the footsteps of Chris Killip and Josef Koudelka.
His reverberating, Paolo Roversi-like portrait of Ingmar Bergman from 1984, along with his saturated color work like Tomteland, Mora, 1988, Fageras, 1991, and Öland, 1991, reveals his influences while hinting at the steady quest to find his own, singular voice — a difficult task in photography when one is navigating the thin seam between commerce and art.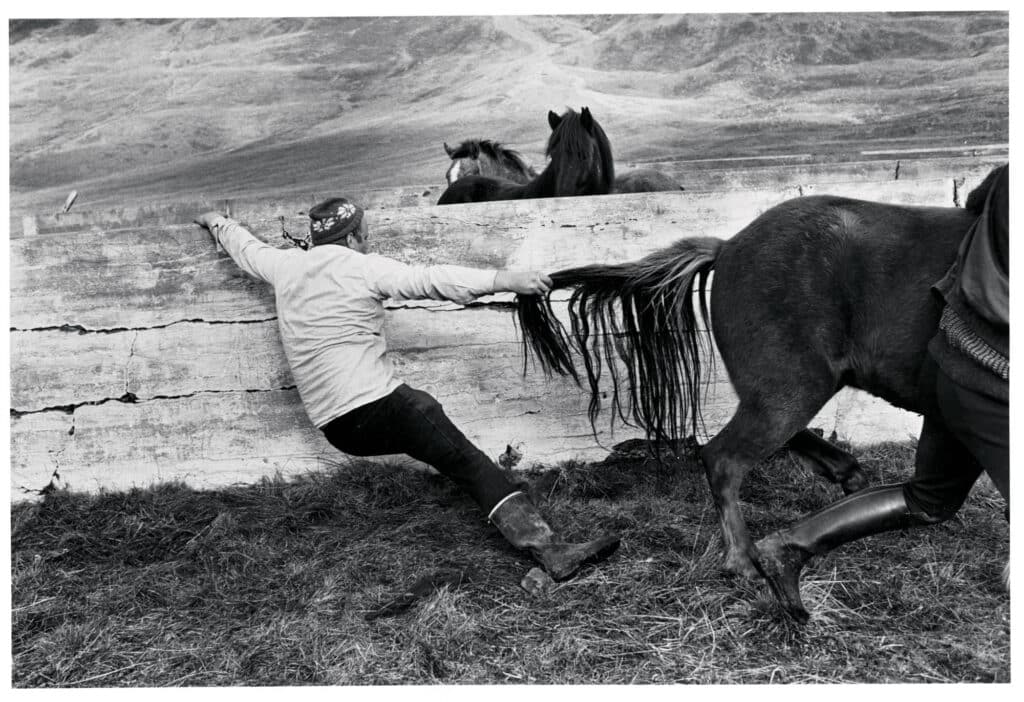 The late 1980's and early 1990's were especially fertile periods for Tunbjörk as that voice found increasingly steady footing by depicting the odd juxtaposition of the ordinary with the extraordinary, and the humorous with the empathetic. We see not only ourselves in his depictions of daily life, but a deeper universal connection with the pathos and melancholy nature of modern life.
Color is rendered in the robust use of many of those things we take for granted as life flows by, and with the use of Cerulean blue, cardiac-arrest red, and multi-dimensional yellow in all its vibrant iterations, the corners, borders, and edges of the frames that the photographer chooses to share with us create an alternative universe just past our doors.
Add the on-camera flash, a tool that pushes and punches the photographic process by adding an extra layer to an already surreal tableaux, and you have an artist in full command of his medium.
A diversified collection
In 1995 Tunbjörk, was assigned to contribute to a story on wealth in America for the Times Magazine. The photographer relied on a micro-second of inspiration when he grabbed one of those career-defining shots soon after his subject agreed to jump on a trampoline while dressed in rancher dud — cowboy boots and all — in USA, 1995.
By the time of his 1997 assignment to photograph offices — again for the New York Times Magazine — Tunbjörk had come of age in his unspoken quest to grab the quirky lurking just below the surface of the most banal of subjects. Only an artist with a healthy respect for the absurd could recognize the veritable needle-in-a-haystack of someone working underneath a conference table while office life continued unabated as in New York, 1997, or in Göteborg/Gothenburg, 1997, Lars' photo-homage to Lee Friedlander's genre-defining and extensive series of people at work.
From Paris couture in 2004 to Dubai in 2008 to China in 2010, Lars Tunbjörk plied his trade with a remarkable adherence to humor and appreciation in the myriad meshing of moments that is contemporary life. Unthreatening while working quickly due to a command of his tools in concert with his instincts, Tunbjörk did suffer with winter depression, a common thread among the citizens of Sweden due to the omnipresent cold and isolation felt across the country. This malady crept into his work as he got older — as evidenced by several powerful but sad images, and he found it increasingly hard to shake
As Kathy Ryan (Director of Photography at The New York Times Magazine) says in her tribute to Lars in the posthumously published volume simply titled Lars Tunbjörk:
"The great thing about being an artist, a writer, a musician, is that you leave something behind. And Lars left something extraordinary behind. Lars left pictures that are going to inspire photographers, which will bring meaning to this world we live in to the people that see them – and that's a positive thing. He was lost to us too young, there's no upside to that, but all of us gain from the fact that there's this body of work."
Lars Tunbjörk, A View From the Side. House of Sweden, 2900 K Street N.W., Washington DC 20007. From March 4 to August 27, 2023.