Each year, the James Barnor Foundation awards a Photography Prize to an artist from a different region of the African continent. In the first edition of the prize, in 2022, Beninese photographer Sènami Donoumassou won a €10,000 grant. This year, Mário Macilau, a photographer from Mozambique, won over the jury with three of his photographic series: "Circle of Memories", "Faith" and "Growing on Darkness".
Mozambique's photographic tradition reveals a profoundly humanist approach to social issues. Mário Macilau is precisely in this vein, claiming photography "not only as an aesthetic object, but also as a tool for positive influence." In an interview with curator and consultant Gabriela Salgado, he declares, " I believe that we Africans need to start telling our own story by ourselves or else we will continue to be the subjects of representations by others."
While Mário Macilau's work revolves around social and political issues, in particular human rights and environmental conditions, the motif of forgetting is almost always present. Oblivion and, above all, the forgotten, the "ghosts of society" neglected by the country's social system. Using portraiture as a starting point, he unveils hidden histories and restores dignity to those whom misery has erased.
"Photography has always had a fascinating relationship with life, where it complicates, illuminates or even conceals things. It is the photographer's role to demonstrate a level of sensitivity and consistency towards his medium and subject that will determine what is made visible through these cracks and thus revealed to the collective psyche," Roger Ballen thus wrote in the preface to his first book, Growing in Darkness, in 2015. In it, he describes the lives of homeless children in Maputo, his hometown in Mozambique. The project took four years to complete, and no photos were taken on the streets. Mário Macilau was keen to immerse himself in the children's living spaces, to understand their daily lives, capture their voices and learn about their dreams.
With the "Circle of Memories" series, the ghosts this time are not people, but the spectre of a failed ideology: the immoral practice of colonialism and its violent nature in the name of progress. Other ghosts are those of traditional religious beliefs, which seem to play an important role in everyday life in Mozambique today. In his "Faith" series, the photographer looks at the contemporary practice of animism, the belief that the universe and things hold a soul analogous to the human soul. Wrapped in sheets, covered in powder, paint or candles, individualities disappear to make way for spirits. With a benevolent eye, Macilau captures all the beauty and eerie strangeness of these ancestral ceremonies.
Black on white, white on black, the faces emerge and assert themselves. Mário Macilau's images reflect the world in which he grew up, a harsh world of darkness and light. An enthusiast of monochrome, he also assumes this bias: "With color photography, all our attention is focused on the first step, so that the image begins to fade as we leave it, whereas with black and white, we are more likely to absorb the details and deep, poetic meaning of the image and retain it in our memory."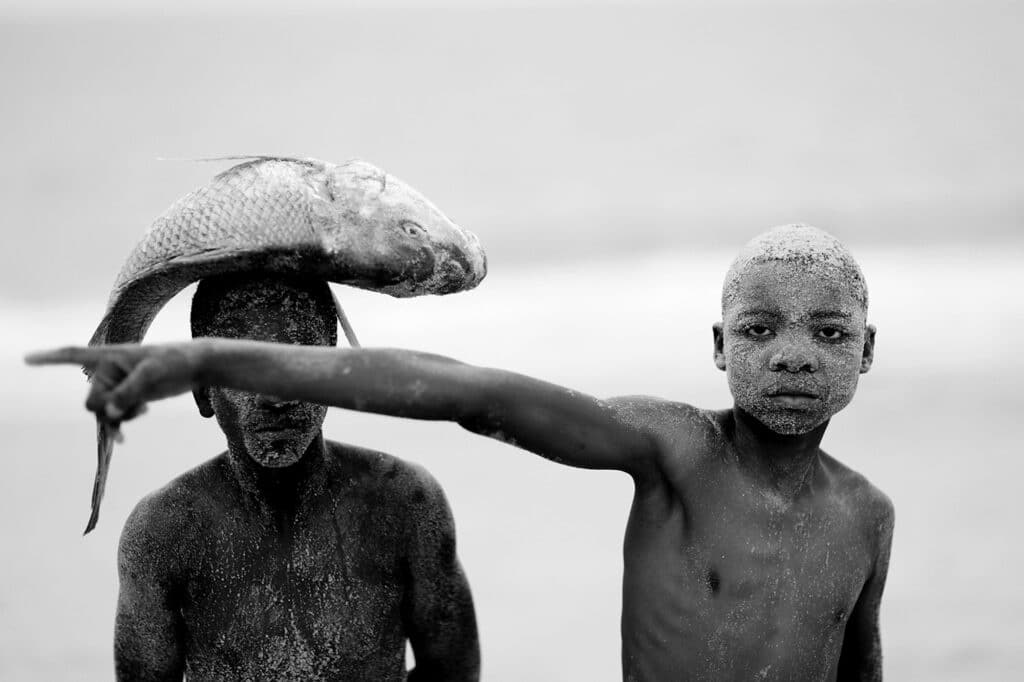 Further information on James Barnor and his Foundation can be found on his website.