Almost exclusively exhibiting photographs of women by women, Our Selves: Photographs by Women Artists at the Museum of Modern Art in New York through October 2, is a curious exhibition in both content and execution.
Constrained by the limitations inherent in one collector's eye, Senior Curator of Photography Roxana Marcoci has worked creatively to enhance collector Helen Kornblum's vision while still imprinting her own tastes into the mix. Indeed, through the quiet imagery and creative yet respectful pacing, the curation emphasizes contemplation while never letting go of the fact that historically women artists who use a camera had to toe a fine line between classicism and provocation.
Photography, a tool of resistance
Justine Kurland's languid image Bathers, 1998 sets the tone for the exhibition and illustrates the opening hypothesis that asks, "How have women artists used photography as a tool of resistance?" The photo is a classic example of Kurland's quest to portray girls on the cusp of womanhood while showing them in full command of their surroundings, as if living in a world devoid of men.
In counterpoint, Ruth Orkin's iconic photograph of Ninalee Craig striding confidently through a group of admiring men in Florence, harkens directly to tropes that infuse playful flirtatiousness with a common infatuation with women. Though the image appears set-up, when Orkin and Craig met while staying at the same hotel in Rome in 1951, they decided to traverse the city; shopping, visiting landmarks, and just being tourists. Though interpreted as an example of chauvinism, Craig said: "The photograph is not a symbol of harassment. It's a symbol of a woman having a wonderful time…Italian men are very appreciative."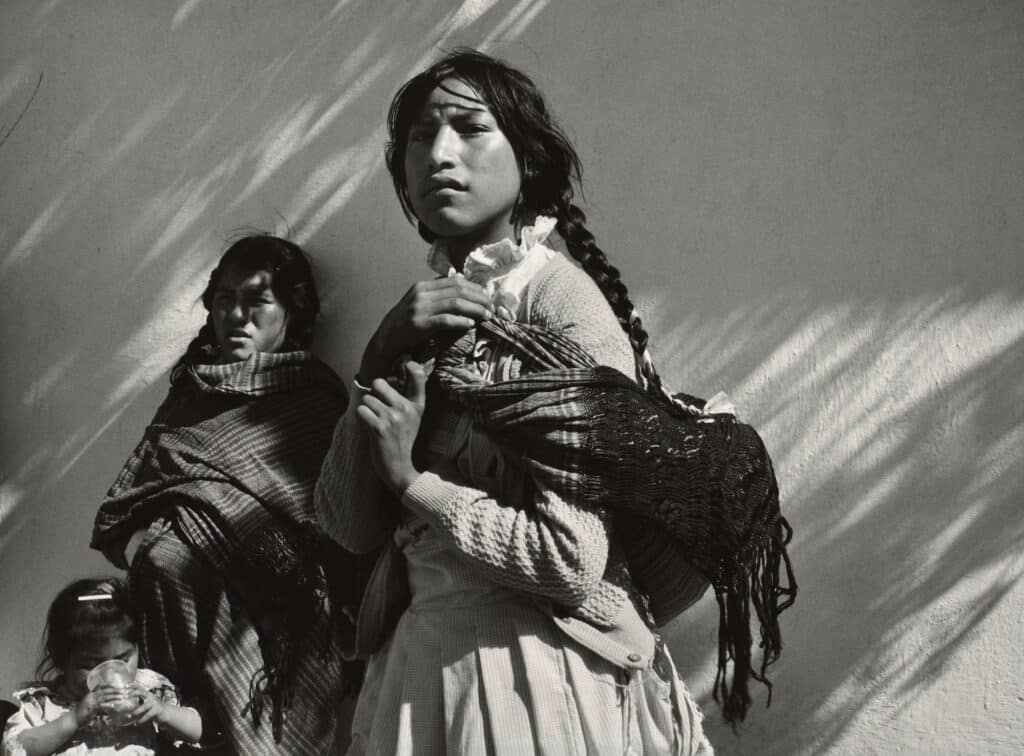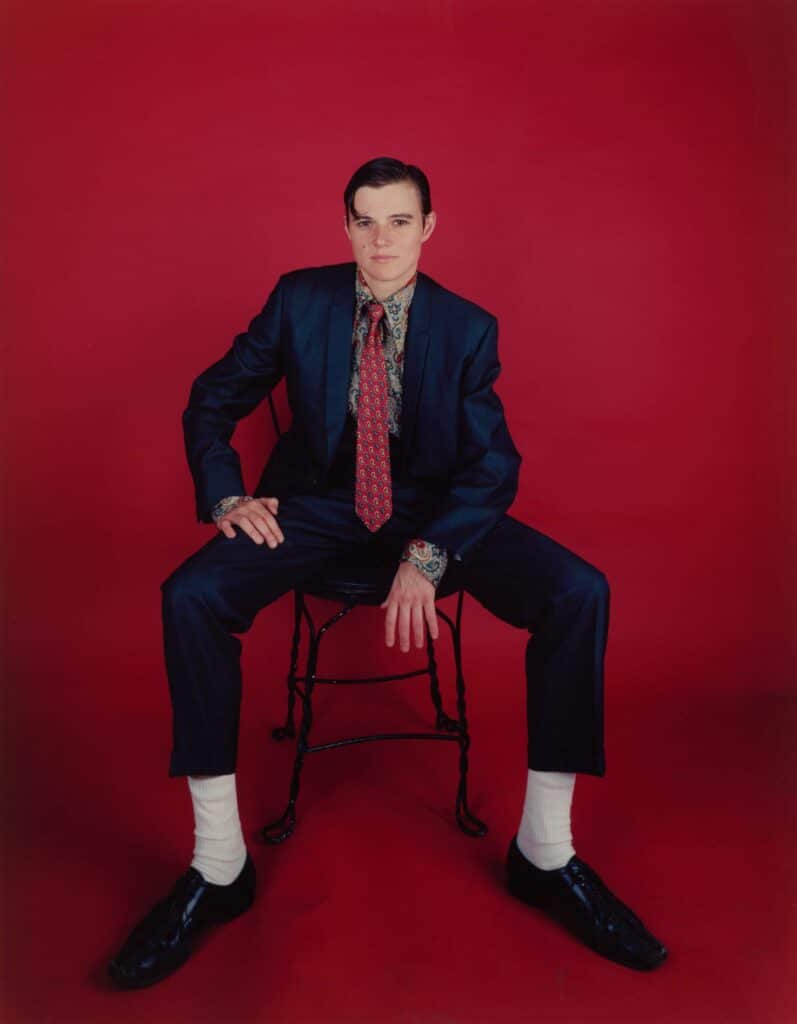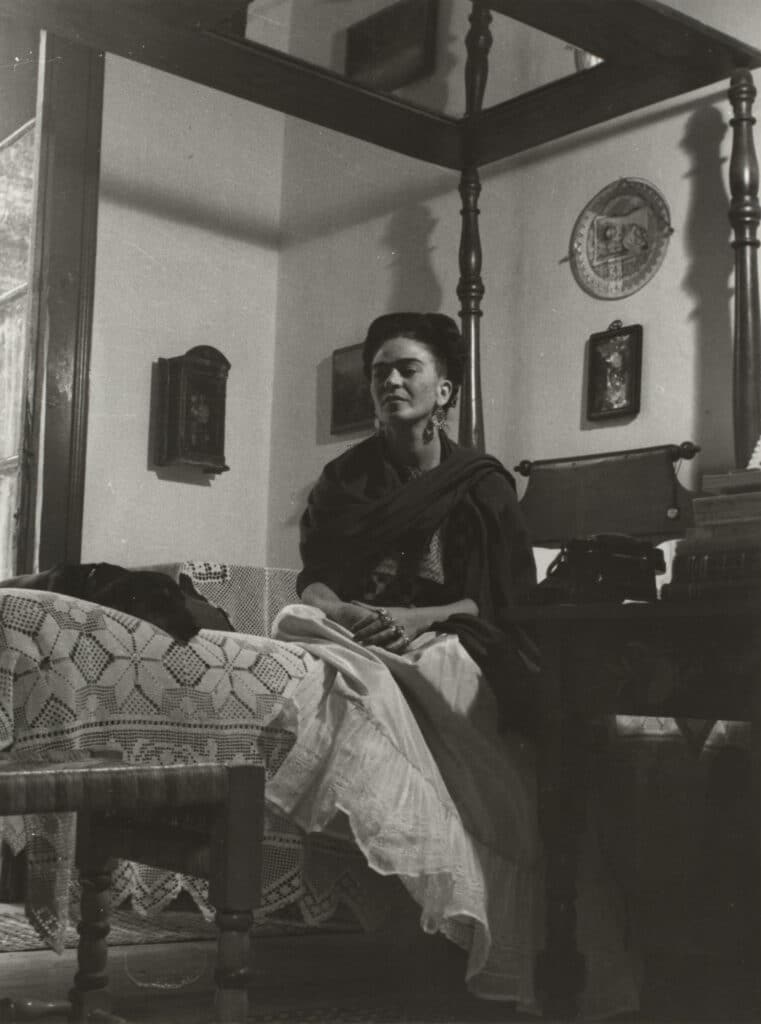 Upon repeat viewings of the work in the show, it becomes evident that many of the women featured in the photographs are universally strong and comfortable in their own skins. Perhaps the very nature of being photographed by another woman lends comfort and clarity to the women in the photos and imbues their myriad poses with a sense of calm.
Direct, non-apprehensive responses come through clearly in many of the images — from Lotte Jacobi's Head of a Dancer, 1929 to Margaret Bourke-White's powerful Woman, Locket, Georgia, 1936 to Angela Scheirl, 1993 by Catherine Opie — these and other images allow the viewer to examine the subject at length without any sense of artifice or forbearing where the person posing almost says: "Here I am!".
Occasionally, themes repeat that don't always support photography as a tool of resistance — applying make-up while looking in a mirror, traditional renditions of classic still-life's, and implied nurturing through the presence of a child or small animal.
Fortunately, that comfortable flow is interrupted by images like Lorie Novak's multiple-exposure Self-Portraits, 1987 and Mary Ellen Mark's riveting portrait of Tiny, Halloween, Seattle, 1983 from her seminal study of homeless and troubled youth. A little research reveals how Mark stuck with her subject for over thirty years and created one her most significant long-term projects.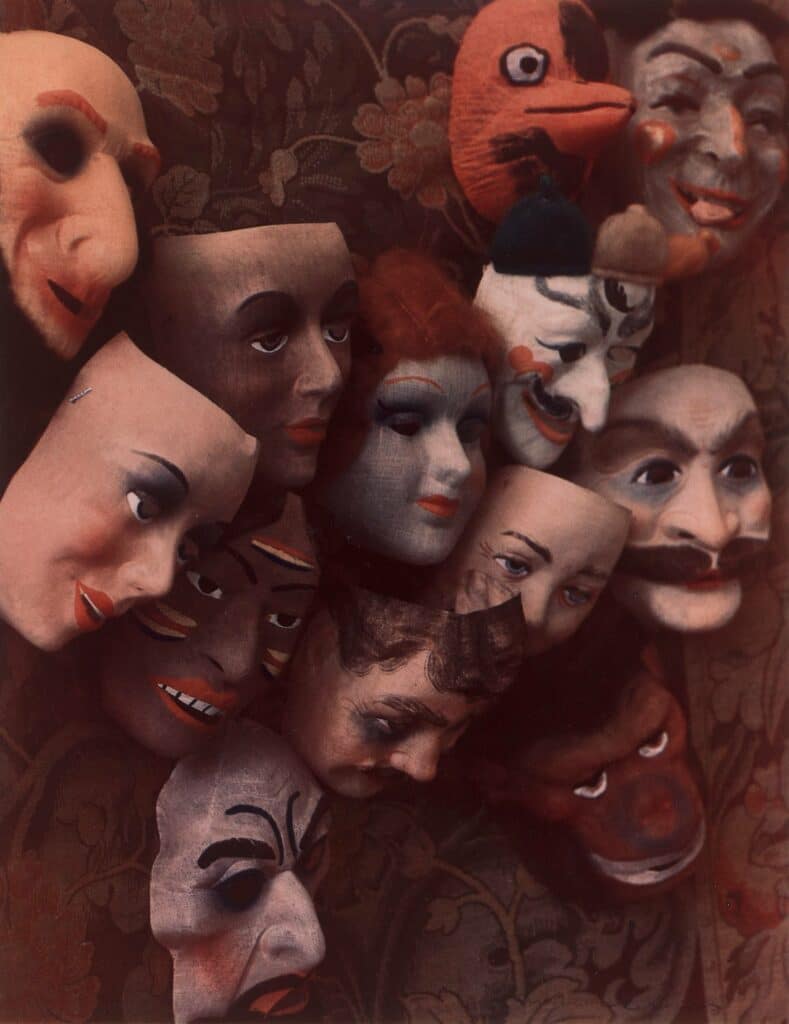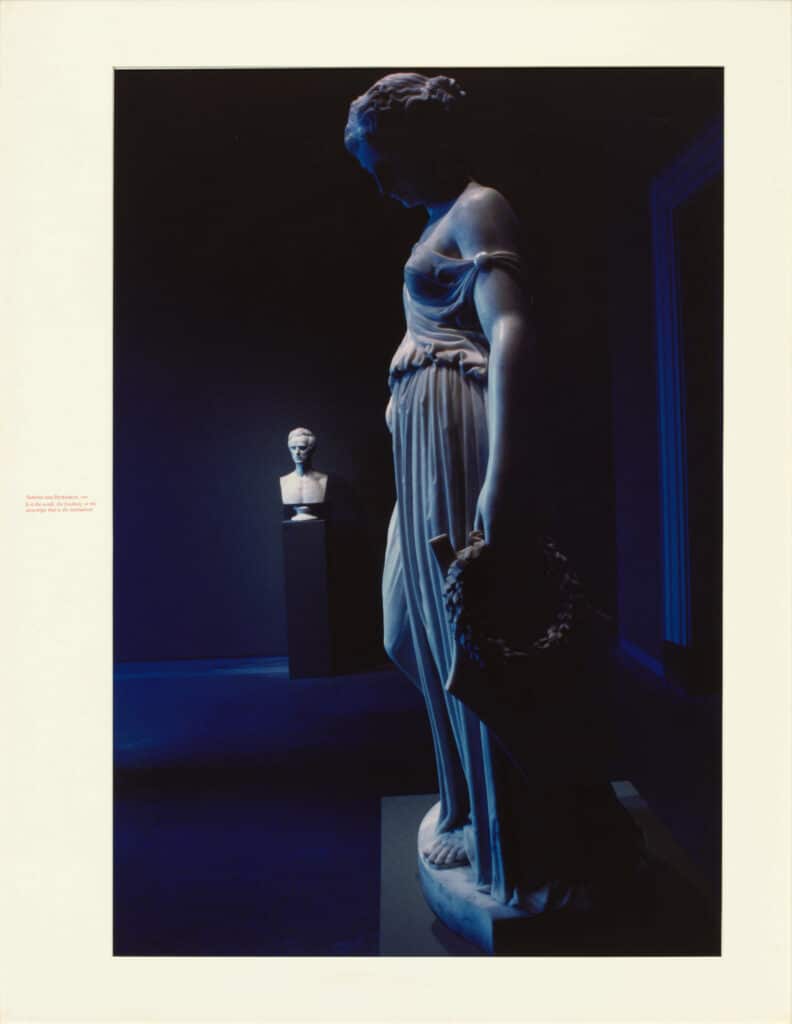 But it's the mid-point of the show — the rear wall of the rectangular gallery — where the curation takes wing and makes the boldest and most revelatory presentation. Bookended by Carrie Mae Weems' arguably best-known image Untitled (Woman and Daughter with Makeup), 1990, and Sappho and Patriarch, 1984 by Louise Lawler, works by Cara Romero, Catherine Opie, Jeanne Dunning, and Amanda Ross-Ho (in order from left to right) attack the issue of gender portrayal and the pervasive notion that men still have an urge to view women through the gauze of history while confirming their preference for sexual innuendo. The layout in this section commands attention through oblique placement and rhythmic certainty while playing masterfully with scale and color.
Photographs of women BY women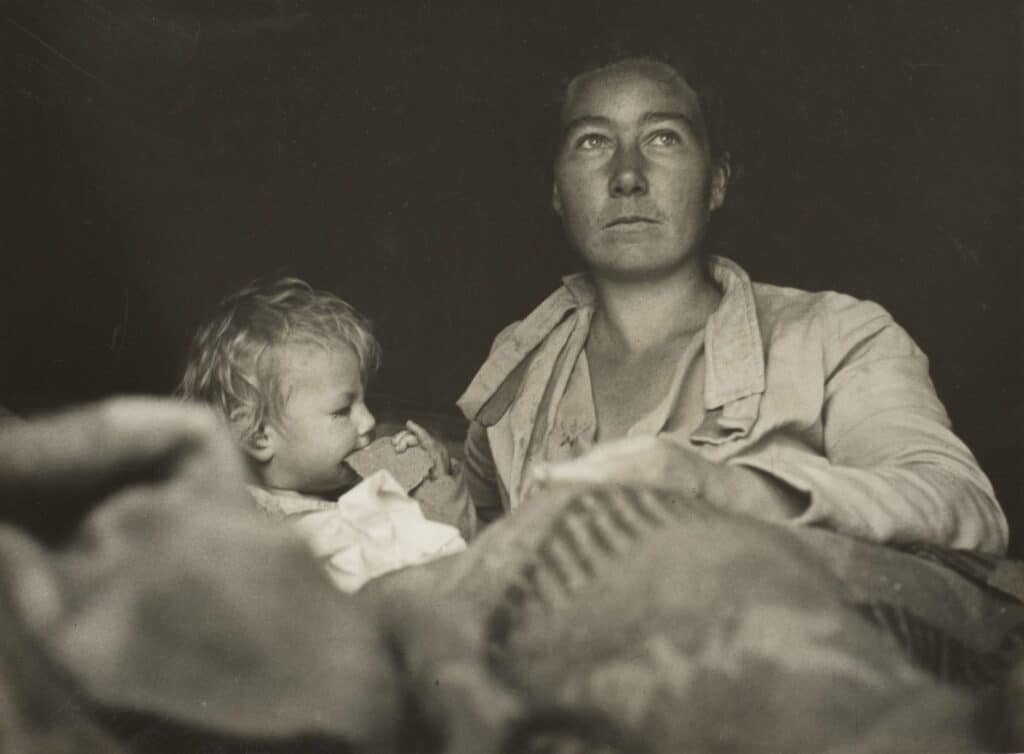 In the roughly one hundred images on view, there are powerful moments displayed nonetheless as in Tracey Moffat's Up in the Sky, 1997, and Susan Meiselas's A Funeral Procession in Jinotepe for Assassinated Student Leaders, 1978.
It's not until the third section of the show — where we are asked to slow down and consider the imposition of public technology that is presented in Exposure #78, NYC, Collister and Hubert St., 2010 by Barbara Probst — that a deeper thread of curatorial intent appears. In a conceptual pairing reminiscent of the Stasi — the official state security service of the German Democratic Republic from 1950-1990 whose main task was spying on the public — the best example in the show of message superseding medium appears.
A chilling sense of disquiet pervades the banal recording of two women on a New York street where multiple images of a single scene were shot simultaneously with several cameras via a radio-controlled system. Rather than certain exhibited examples of photographic manipulation, Probst's work asks us to both imagine and manipulate the concept simultaneously while viewing the commonplace.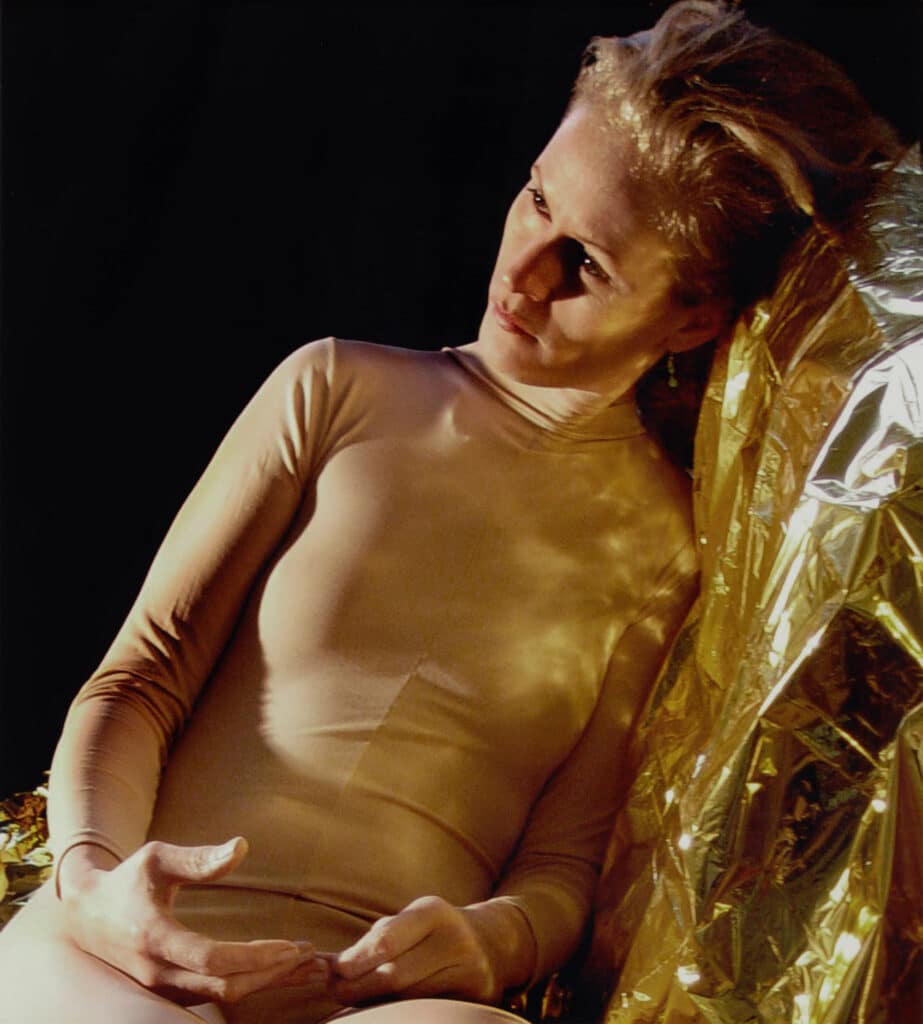 It's unclear if the selection of images implies resistance through challenging traditional image presentation or simply by the presented content. Photographs of women BY women does not empower those images simply by their provenance but suggests that maybe women must work harder to create a unique voice in a traditionally male-dominated field.
If any single photograph supports this theme it is Susan Meiselas' Tentful of Marks, Turnbridge, Vermont. 1974, a charged view of men in mid-thrall to the charms of an exotic dancer as seen from behind her and at stage level. By showing the trance-like faces of the men eyeing the dancer, Meiselas is taking a definitive stand in the traditional objectification of women.