In David LaChapelle's fantasy lands, celebrities are saints and martyrs. Kim Kardashian is a weeping Madonna; Michael Jackson an angel with white feathered wings. They exist on an astral plane, under star speckled skies or pink clouds, as LaChapelle bends reality in the fittingly-titled exhibition "Make Believe", a top-to-bottom takeover of Fotografiska New York.
In his largest exhibition to date, LaChapelle presents a career-spanning oeuvre, replete with religious iconography and art historical references, like his Kardashian-Madonna, or his Lepore-Monroe (the latter being LaChapelle's friend and muse, Amanda Lepore, photographed in the same style that Andy Warhol framed Marilyn Monroe in Shot Sage Blue Marilyn). Over 150 works are on display across the six floors of the museum, with the oldest works dating back to the mid-1980s.
Particularly noteworthy is the last-ever portrait of Andy Warhol before his untimely death. LaChapelle, who had started working at Interview Magazine as a teenager, found a kindred spirit in Warhol, who was a fellow Catholic. In the black-and-white portrait—the lack of color atypical for LaChapelle—Warhol practically glows, his famous white hair catching the light as he sits flanked by two Bibles placed strategically on either side of his head. Neither LaChapelle nor Warhol knew this photo would become Warhol's epitaph, and yet the unusually somber air seems foreshadowing.
The rest of the show is an explosion of color. There are toy airplanes colliding in a puff of pink smoke in a marbled blue and orange sky; the Sudanese supermodel Alek Wek standing in a shocking pink dress in front of drab suburban homes; Angelina Jolie in a bed of tulips. LaChapelle-land, as he titled one of his early books, consists of bright, happy colors, and surreal scenes. To achieve the punchiest effect, LaChapelle started with hand-painting his negatives and splicing them together; today, with a bevy of digital tools available, he no longer is reliant on physical analog manipulation. But whatever the medium, he has consistently pushed the boundaries to create fantastical scenes and shocks of color.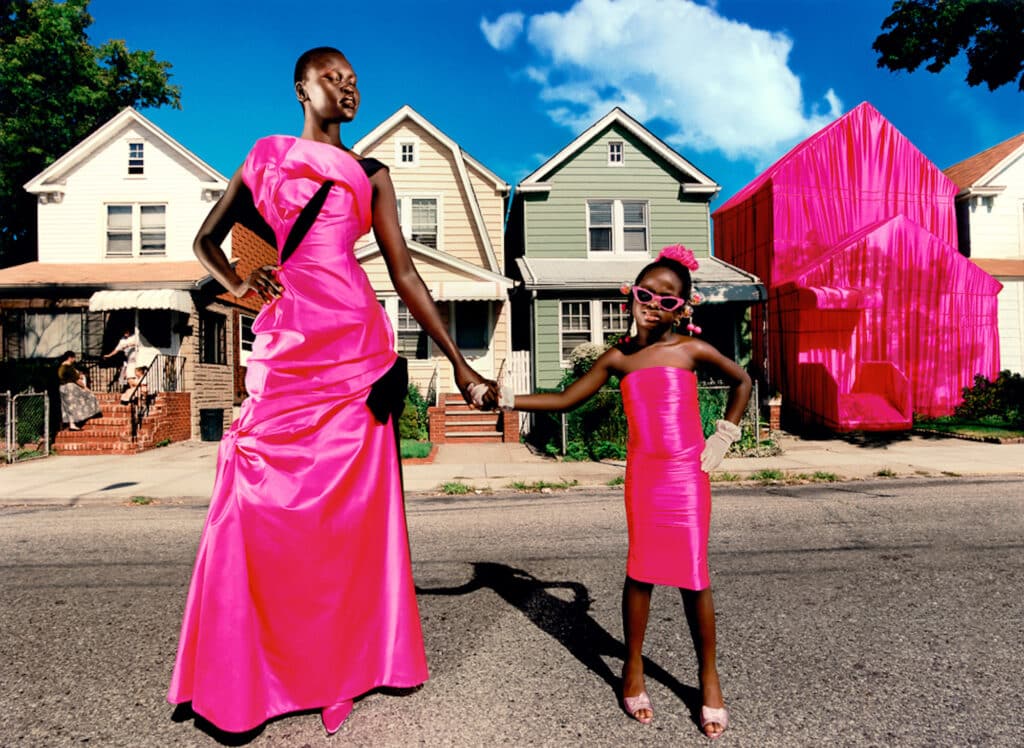 Of course, "Make Believe" is saturated with LaChapelle's calling card: celebrity portraiture. An 8-foot-tall and 22-feet-wide piece stitches together almost 15 photographs of pop culture icons from the 1990s to today, including Lady Gaga, Tupac Shakur, Madonna, Travis Scott, Dua Lipa, Eminem, and more. But despite the cultural emphasis on celebrity worship, and LaChapelle's own part within it, he maintains that his religious beliefs saved him from falling into the dark pit of chasing fame: "My profession led to working in popular culture and secular themes," he said in a statement. "Over time, I began to notice how my faith in God was keeping me grounded through my personal struggles, and meanwhile the world of pop culture was turning away from religion and focusing more on fame, wealth, and individualism… I feel the responsibility to bring light into the world and make imagery that can elevate and serve humanity," he continued. "Whether secular or religious, my images are part of the same experience and evolving perspective."
Exhibition: "David LaChapelle: Make Believe", Fotografiska New York, 9 September 2022-9 January 2023.