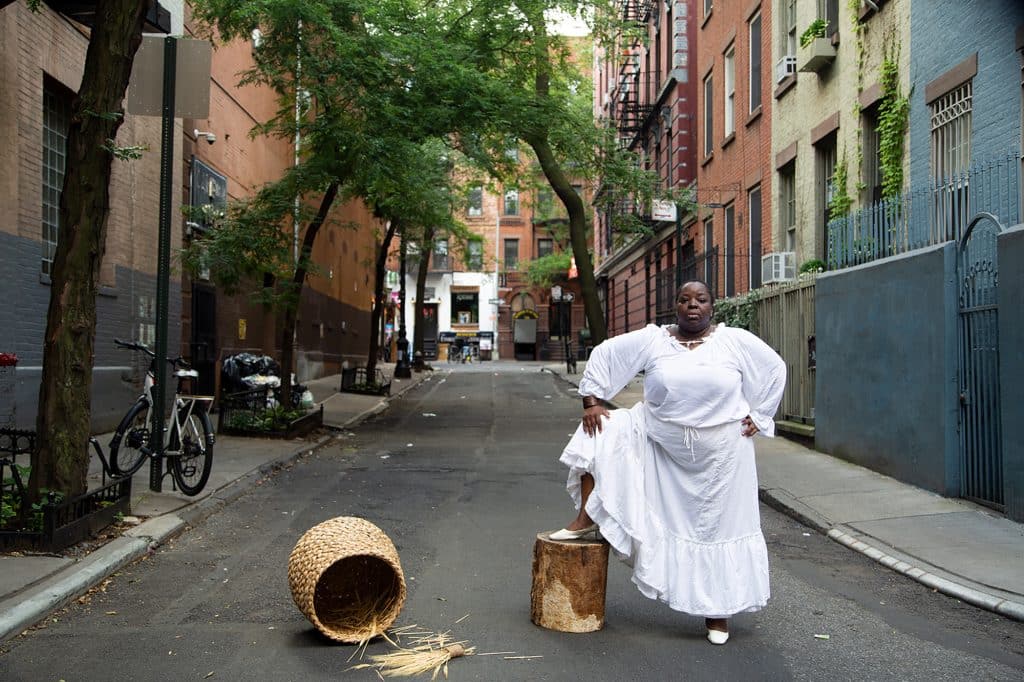 For centuries, New York City dominated the transatlantic slave trade, acting as a primary point in the triangular trade of enslaved Africans, rum, and sugarcane — yet its horrific history has largely gone unacknowledged and obscured. Seeking a connection between the present and the past, African American photographer Nona Faustine placed her bare body at the site of slave auctions, burial grounds, slave-owning farms, and the coastal locations where slave ships docked in a poignant tribute to her ancestors.
"What does a Black person look like today in those places where Africans were once sold a century and a half ago? What is it like to be that naked, that vulnerable, on display to the world?" Faustine asks in her new book, White Shoes (MACK). Determined to find out, the Brooklyn native made her way to the Financial District, where the first slave market stood — wearing white shoes, shackles, and nothing more on a 35-degree day in March at seven in the morning.
"I often wondered if it was my own feelings that I brought there that made the experience what it was. I wasn't able to feel a trace of the sorrow and pain of the activities that once went on there but I expected to," Faustine continues. "What I did feel was the energy of New York, and what it felt like to be a free woman of some degree, naked in the world, on display in my city. I felt my fear, fascination. My eyes were wide open, and still I had a sense I was there and not there."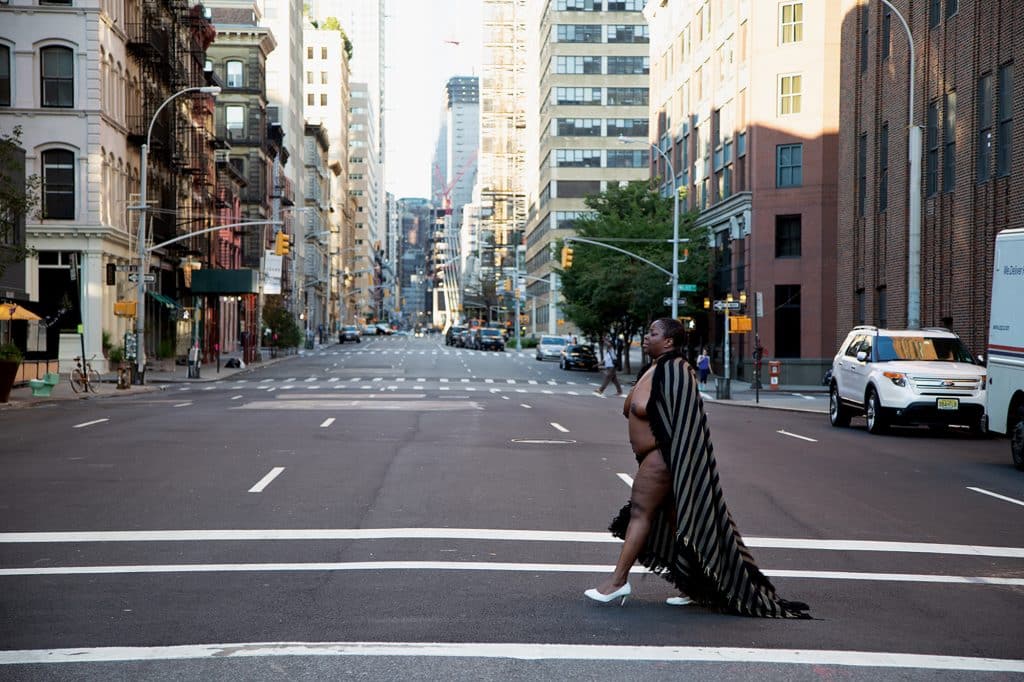 Scarred Earth
Although a free Black man named Juan Rodrigues became the first non-indigenous permanent resident of Manhattan in 1613, 11 Africans were brought to the island to work as slaves just 13 years later. Over the next century, the demand for free labor would increase exponentially as Dutch and English settlers built the southern tip of the island, which stands today as one of the financial capitals of the globe.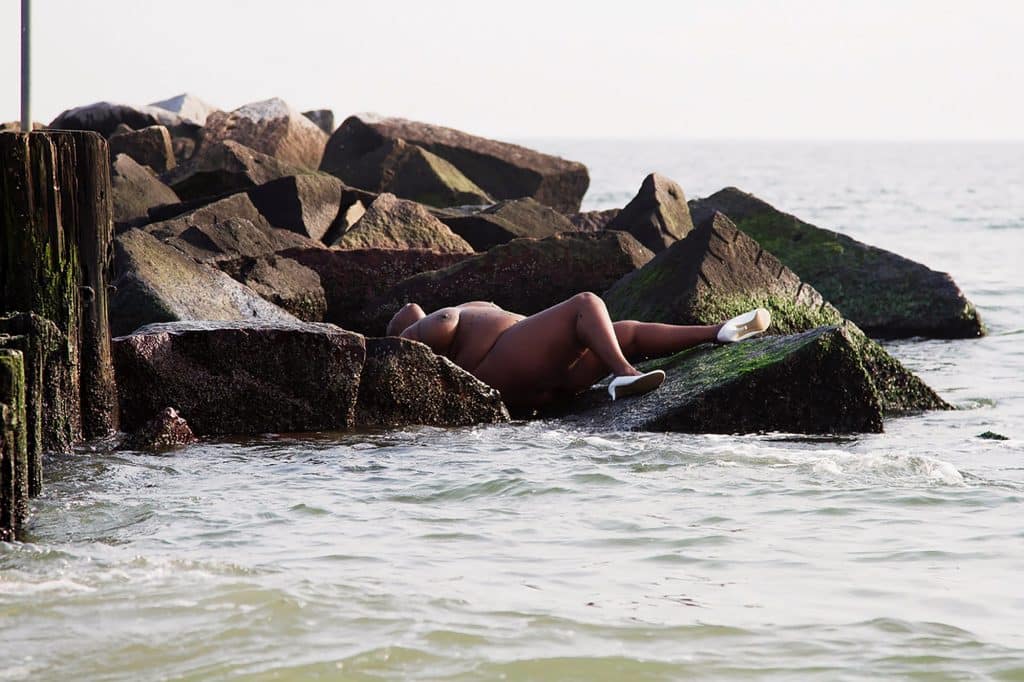 After the British conquered the city in 1664, they named it in honor of the Duke of York, who held controlling interest in the Royal African Company. New York soon had the largest slave population in the North, with enslaved people making up 25% of the population. With slaves forced to work in 41% of the city's households, New York rivaled Charleston as the city where slavery was most prevalent.
In 1711, the city established the first official slave market on Wall Street, which had been built by slaves in 1653 to protect Dutch settlers from the Lenape Tribe First Nation people. Over the next century, slavery flourished throughout New York. Captured Africans arrived at the pier known as South Street Seaport, a favorite tourist destination, before being sold into chattel slavery.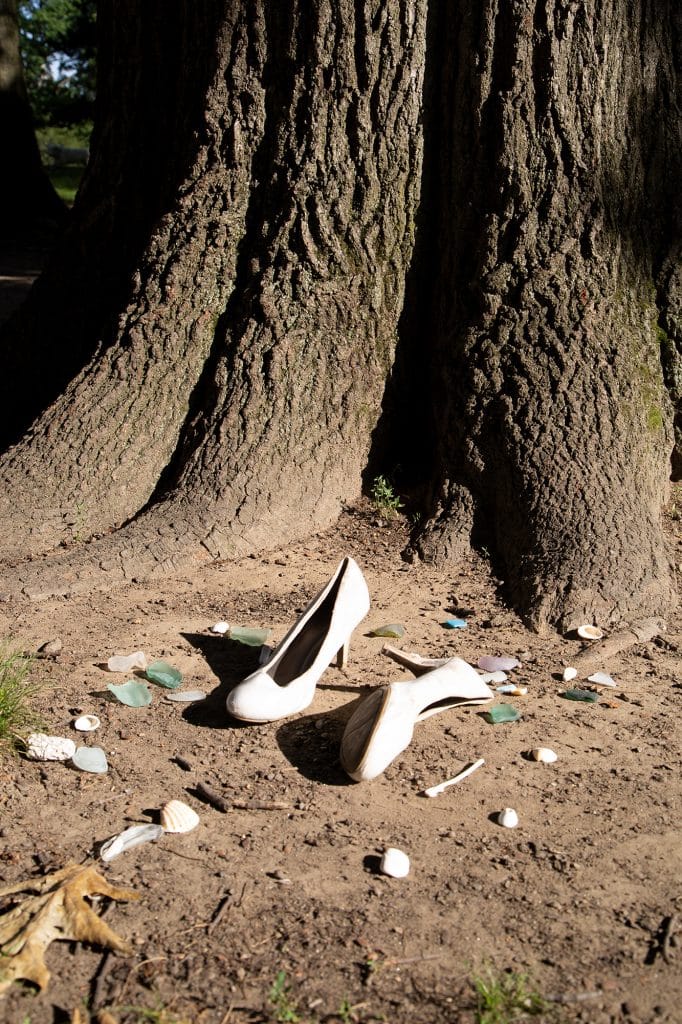 "How many great minds were imprisoned, sold, and reduced to the status of a horse, mule, or cow?" Nona Faustine writes in White Shoes. "I thought of the great potential lost in each instance, the great artists, the brilliant scholars, writers, princesses, princes, philosophers, teachers, architects, inventors, and scientists. People who could have contributed to society in a myriad of incredible ways. Praying and reflecting, changed. I was caught standing there, unable to move."
Standing in solidarity with millions of men, women, and children who bore this brutal fate for centuries, Faustine's quiet images of strength and vulnerability defy a history of photography that was often used to uphold white supremacy. She traveled across the city to sacred lands, most of which bear no markers of the past, to uncover their buried histories.
From Her Body Came Their Greatest Wealth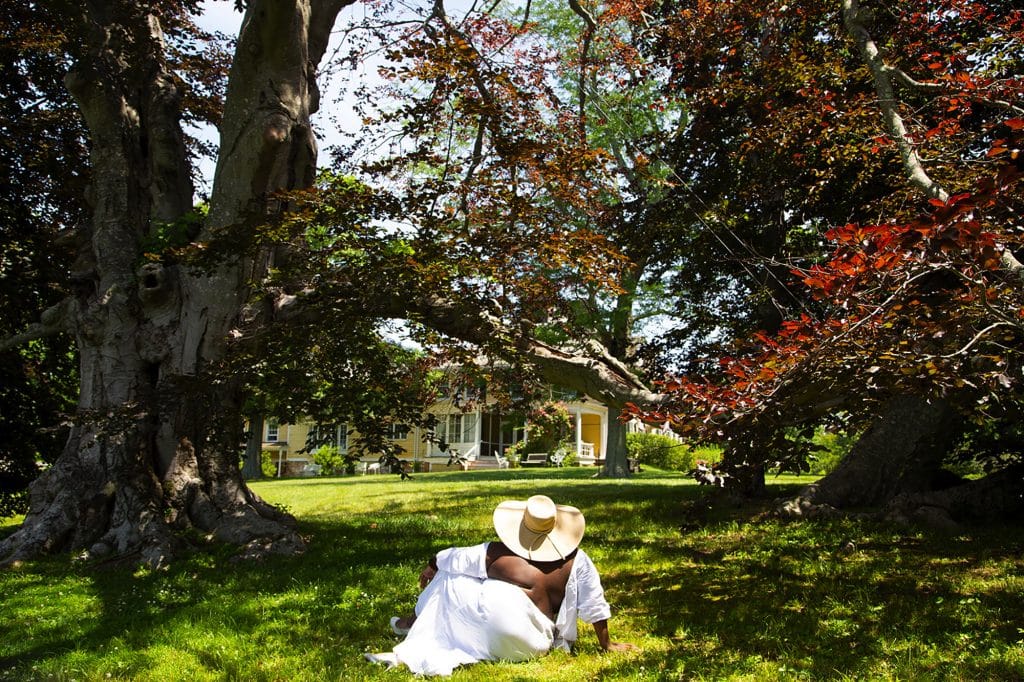 Then, as now, the one percent dominated the political, economic, and social structure of New York — with just a dozen families controlling New York's slave trade. Though we may have forgotten, the streets have not. Some 82 streets in Brooklyn bear their names in tribute. Even after slavery was abolished statewide on July 5, 1827, New York dominated the illegal slave trade to the American South, Cuba, and Brazil. Leading banks, insurance companies, and institutions including Columbia University, JP Morgan Chase, Lehman Brothers, and New York Life profited from human trafficking, building a strong pro-Confederacy alliance in the North. 
As Nona Faustine reveals throughout White Shoes, vestiges of slavery hide in plain sight. Perhaps the most tragic losses are the stories of those who fought back, be it through uprisings or political action. Faustine photographed herself at the site of Thomas Downing's Oyster House on Broad Street, a restaurant that catered to the city's elite businessmen and politicians during the 18th century and also served as a stop on the Underground Railroad. She also visited the sites of slave uprisings, historic Black settlements, and places Black abolitionists once walked in their relentless quest for freedom.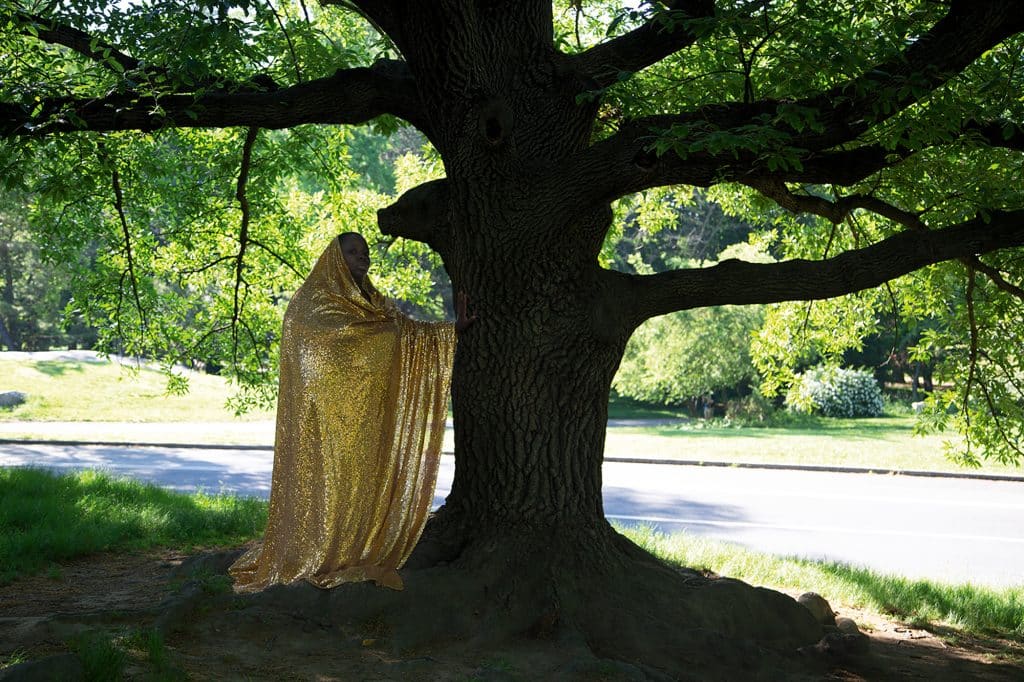 Guided by her ancestors, Faustine fills in the blanks of a history riddled with omissions and misinformation to create a deeply touching tribute to those whose stories have gone untold. "Faustine makes her naked body a witnessing body, a transgressive body, a heroic body, a potent body," art critic Seph Rodney writes in the book. "And in all these ways she demonstrates to her viewers that one's body, in all its aspects, must be one's own, or indeed all is lost."
Nona Faustine: White Shoes is published by MACK, €50 £45 $60.